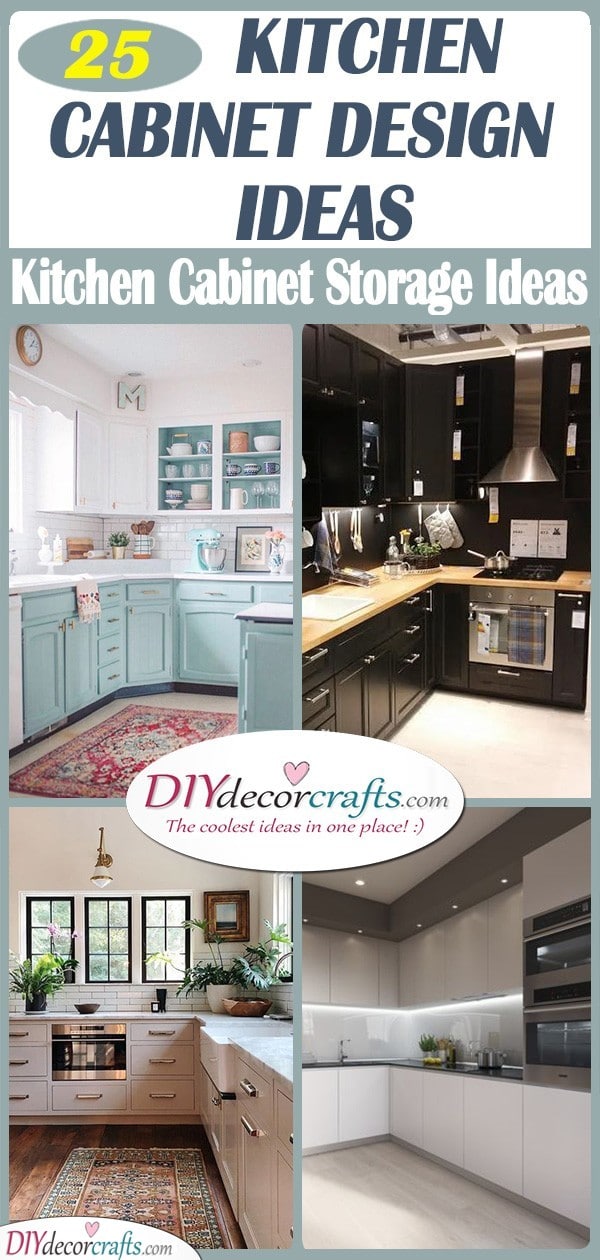 Kitchens are definitely one of the most important rooms in any house. Kitchens are the rooms in which you can prepare lovely food in and sometimes become the places where you spend most of your time after work. So, if you ever need to cook or bake, you will most likely be in the kitchen. But it's not only a place for cooking, but it's also the heart of your home. The place you gather with the family for morning coffees or late suppers. Since you spend quite a bit of time in this room, you will want it to be cosy or have a nice atmosphere. This depends on your tastes. While you wouldn't think it, kitchen cabinets actually play a huge role in creating a lovely vibe in the kitchen as well! That's exactly why we have collected 25 kitchen cabinet design ideas for you to find some inspiration amongst. So take a look through our small collection of kitchen cabinet storage ideas!
1. Modern and Elegant – Try Out a Chic Grey
Perhaps you have always been an admirer of more elegant furniture or a sophisticated style for a while now. If you have been thinking of redesigning and refurbishing your kitchen, then make sure you stick to your favourite sort of style. Opt for a chic, modern and elegant kitchen cabinet! You can try out a simple colour like grey, which is perfect for a kitchen! Using grey as a dominant colour will mean you won't have to clean your kitchen every day because it looks dirty.
2. Stylish in White – Kitchen Cabinet Design Ideas
As we mentioned before, the kitchen is the heart of the home. So it's important to make your kitchen a space in your home where you will feel comfortable in. If you like a natural effect or a bohemian vibe, why not try this idea out? If you have already covered your kitchen floor in laminated wood, then why not add some brightness and space to it with white cabinets? The combination of brown wood and white cabinets will look gorgeous, as you can add practically any sort of decor to them.
3. Nice in Navy Blue – Practical and Relaxing
Depending on what sort of colour you surround yourself with, it will have an effect on your mood, emotions and behaviour. This is known as the psychological effects of colours. This means it is crucial to use colours which will serve your well-being in your house. For example, if you would like to make your kitchen a peaceful and calming space, then why not use the colour blue? You don't have to go overboard and paint everything in shades of blue, but you can use blue cabinets for a relaxing and stylish look.
4. Brilliant in Black – Kitchen Cabinet Storage Ideas
Have you been considering going for a minimalist approach concerning your kitchen? Black has become a popular colour for modern kitchen cabinets, it brings a depth and a chic vibe with itself. Black is also a great colour if you don't have time for a lot of cleaning. You won't be able to notice small stains or dust on it, as you would with white cabinets. So if you would like to create a sophisticated, yet cosy space in your home, try out black cabinets in your kitchen.
5. Vibrant and Vivid – A Bubbly Atmosphere
If you are a happy and bubbly sort of person, make sure your kitchen brings the same sorts of vibes with itself. This means using a lot of colours to make your kitchen pop with a vivid and vibrant atmosphere. For example, use turquoise for the colour of your cabinets. Make sure to mix it up with a few different colours which you use around different parts of the kitchen. Canary yellow will look fabulous for chairs. Make sure to add a few flowers around your kitchen for that extra joyful effect.
6. Sleek in Monochrome – Elegant and Refined
If you prefer monochrome furniture over colourful, then make sure to create a space in which you will feel your best! If you decide on using white and black as the main colours of your kitchen, this means you will need to use monochrome coloured kitchen cabinets. For example, you can use white coloured cabinets with black handles. Or cover the tops of the cabinets in black marble. Your kitchen is guaranteed to look elegant and refined!
7. Modern and Contemporary – Kitchen Cabinet Storage Ideas
Using a contemporary and modern design for your kitchen will lend it a relaxing and peaceful atmosphere. Remember that your kitchen cabinets are not just spaces for storing plates, cutlery and kitchen gadgets. Kitchen cabinets will also help create an ambience in your home. So it is important to pick something out that will suit your tastes and style! A modern set of kitchen cabinets will definitely create a chic look in your kitchen. You don't need to overdecorate a kitchen which incorporates this style. Simple and clean is the way to go!
8. Glass or Plastic Cabinet Doors – Spruce Up Your Kitchen
Are you in search of a modern way of redesigning and recreating your kitchen cabinets? Here is an easy idea! Instead of using built-in cabinets, use floating shelves on the walls to store your things on. Depending on what sort of colour fits in your kitchen best, it's up to you to decide what you'd like. Then create sliding doors for your floating shelves, which are either made out of glass or plastic. This will give your kitchen a simple, yet fabulous look!
9. Green Cabinets and Floating Shelves – Kitchen Cabinet Ideas
Create an organic ambience in your kitchen with this simple solution! For the kitchen drawers or lower cabinets, place dark green coloured ones. Instead of using the same sorts of cabinets for the upper half of your kitchen, place some floating shelves there. This is a practical solution, especially if you are in search of a way of storing ingredients. You won't have to open your cabinets again and again while cooking. You will only have to reach up and take the ingredients off your floating shelves.
10. A Rustic Kitchen – Kitchen Cabinet Designs
Do you like rustic take on designs? Rustic furniture or home décor definitely brings a cosy ambience with itself. If you would love to feel cosy and comfortable in your kitchen, then opt for a rustic design. To help boost this rustic essence, make sure that your kitchen cabinets are also designed in the same style. Use wooden furniture to achieve this, which are coated in white paint. The cabinets on the wall can contain small windows on their sides. This might make it easier for you to find things in your kitchen if the doors of your cabinets are made of glass!
11. Wood and Black – A Unique Combination
13. A Clash of Colours – Red, Blue and Yellow
Here is another vibrant option for anyone who would like a unique set of kitchen cabinets! Using a clash of colours, including red, blue and yellow, will definitely give your kitchen a spurt of life and joy. So if you want to create a lively space in your kitchen, try out an idea such as this!
14. Chic and Minimalist – Kitchen Cabinet Storage Ideas
As we have mentioned before, going for a minimalist and chic design for your kitchen cabinets will help bring a modern environment to your whole home. Use a combination of black and wood to create this minimalist atmosphere, using glass doors for the cabinets. Using minimalist designs will assist in also creating a calming space, which is great for a kitchen!
15. A Farmhouse Ambience – Gray Kitchen Cabinets
Bring farmhouse vibes to your kitchen! The farmhouse design has the same feeling of a rustic atmosphere. It's cosy, cute and a generally happy place to be in. A great way to accentuate a farmhouse design is by the kitchen cabinets you choose for your kitchen. Why not try out a set of grey kitchen cabinets? Grey is a simple colour, not too dominant and you can pair it with any other sorts of colours! You can also place a cabinet on one of your walls which acts as a wine rack. Also, make sure to make the most of the space you have by adding some corner kitchen cabinets!
16. Serene and Peaceful – Baby Blue and White
Another beautiful combination of colours for your kitchen is baby blue and white. The use of these two shades will bring a serene atmosphere to your kitchen, as well as making it look clean and spacious. You can use both light blue and white cabinets in your kitchen for the perfect look.
17. Another Minimalist View – Elegant and Sophisticated
As we have mentioned before, the combination of black furniture with natural wood will look beautiful and elegant. Especially if you have it created in a minimalist style. This modern interior design idea has become very popular over the years.
18. White With Wood Accents – Kitchen Cabinet Design Ideas
While we have talked a lot about combining wooden furniture with black, we have not mentioned another idea. Instead of mixing black with wooden accents, try it out with white. This will help lend your kitchen a spacious ambience, as well as helping it look more clean and tidy.
19. Black and White – Kitchen Cabinet Storage Ideas
If you have white walls and a light coloured floor, why not add a bit of energy and dynamic to your kitchen? Use black furniture, including black or dark gray kitchen cabinets. Besides making your kitchen look elegant and modern, it won't look clamped either, thanks to your white walls.
20. Fun and Fresh – A Colourful Scene
If you have a bright and happy personality, make sure to bring all this joy into your kitchen as well! Create an atmosphere that bursts with colour and vividness! For example, use pale blue kitchen cabinets on the walls. But throw a bit of extra spunk into your kitchen by getting bright orange chairs!
21. A Modern Rustic Look – Kitchen Cabinet Design Ideas
Make sure to create some space in your kitchen! Instead of placing kitchen cabinets on the walls, use floating shelves. You can also create hooks on these floating shelves to hang kitchen utensils off them. For example, you can hang a spatula, a cooking ladle or just a bunch of herbs from these hooks! They are super practical!
22. A Natural Essence – Fabulous and Easy
We know we have mentioned before that using wooden and natural furniture in your kitchen is something you must try! It will give your kitchen an earthy and natural essence. You can add some white coloured kitchen cabinet design ideas in your wooden kitchen as well!
23. Stunning and Spectacular – Wooden Accents
Add an earthy touch to your kitchen, by using wooden accents on white design. You might achieve this by placing white cabinets on your walls with wooden handles. But you might also decide on adding wooden cabinets to your kitchen. The brown wood and white will complement each other beautifully.
24. Built-In Cabinets – Sleek Kitchen Cabinet Storage Ideas
A practical and beautiful way of arranging modern kitchen cabinets is by actually building them into the walls. This will help save space in the kitchen. Depending on your style and likes, you can opt for something more rustic or something more on the modern side. It's really up to you! Having built-in kitchen cabinets means you won't ever bump your head into them!
25. The New Age – Kitchen Cabinet Ideas
Do you prefer a modern take on things? Make your kitchen look as if it has stepped out of the future! Using a lot of white in your kitchen, combining them with modern and minimalistic kitchen cabinet lighting will give your kitchen a futuristic look.
We hope this pick of 25 kitchen cabinet design ideas helped you out! For more kitchen ideas, such as kitchen cabinet organization ideas or kitchen cabinet lighting, check out our website.
Advert