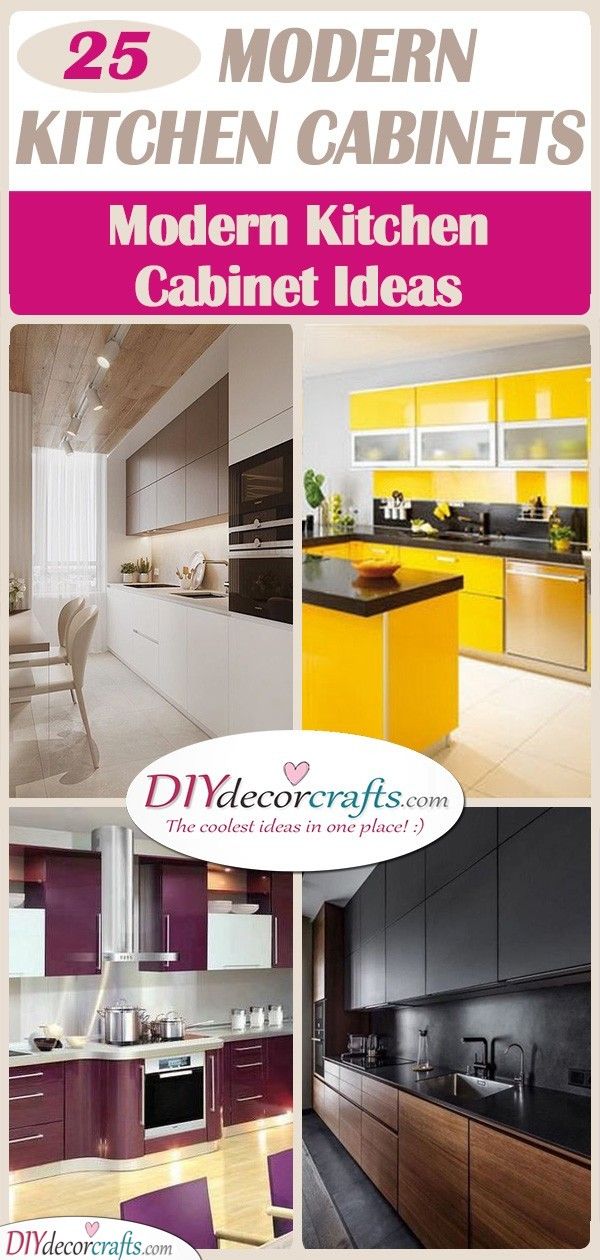 Have you ever come to the conclusion that kitchens are one of the most important rooms in any house? These are the rooms in which you can prepare lovely food and sometimes become the places where you spend most of your time after work. But it's not only a place for cooking, but it's also the heart of your home. The place you gather with the family for morning coffees or late suppers. Since you spend quite a bit of time in this room, you will want it to be cosy or have a nice atmosphere. This depends on your tastes. While you wouldn't think it, kitchen cabinets actually play a huge role in creating a lovely vibe in the kitchen as well! That's exactly why we have collected 25 modern kitchen cabinet ideas for you to find some kitchen inspiration amongst.
1. Modern and Minimalistic – Modern Kitchen Cabinets
If you are in search of some modern cabinets, why not opt for a minimalistic style? Minimalism is all about proving that less is sometimes better. So try conveying this minimalism in your kitchen, by using modern kitchen cabinets. You can go for simpler colours, such as a combination of white and grey. Depending on how modern and minimalistic you'd like to go, you can get a kitchen cabinet design that resembles boxes. They don't even have to have handles. This design will blow anyone away.
2. Black With Green Accents – A Chic Look
Here are modern kitchen cabinet ideas you are bound to love! Instead of going for minimalist colours, make sure to add a burst of vibrant shades to your kitchen! This will uplift the whole kitchen by adding a bit of colour! A combination of two colours to get a modern effect is no other than black and green. Use black as the dominant colour and create green accents for parts of the kitchen. If you have decided on using this combination, make sure the walls are painted in a pale colour, so your kitchen won't look cramped.
3. Stunning and Delicate – White and Grey
Make sure that the kitchen cabinets you find don't only look stunning, but are actually super practical and full of space! After all, you will have to store quite a few things in these cabinets. A beautiful combination of two very simple colours is white and grey. This will help make your kitchen look as if there were a lot more space inside than there actually is. Try placing led lights underneath the kitchen cabinets, not only will these expand the space of your kitchen, but they will prove themselves useful! So use some modern white kitchen cabinets!
4. Glass Doors – For Your Modern Kitchen Cabinets
As we have mentioned before, going for a minimalist and chic design for your kitchen cabinets will help bring a modern environment to your whole home. Use a combination of black and wood to create this minimalist atmosphere, using glass doors for the cabinets. This will definitely take anyone's breath away. Using minimalist designs will assist in also creating a calming space, which is a great vibe for a kitchen!
5. Happy and Bubbly – Try Out a Bright Yellow
Just because you are in search of modern kitchen cabinets, does not mean you have to stick to something boring or something without colour. Make sure to add a few bursts of colour to your kitchen in the form of a vivid yellow! This will create a happy and creative atmosphere in your kitchen. Use yellow for the modern cabinets as well as for the kitchen counters. While yellow is a beautiful shade to use for your home, make sure to calm it down a little. Mix it up with grey or white for a lovely look.
6. Gorgeous in Wood – A Contemporary Design
There's no better material you can use for your kitchen than beautiful and natural wood. Using wood does not mean that it will bring a rustic or old-fashioned look to your kitchen. You can have a minimalist and modern kitchen cabinet design! But keep in mind that using wood for your cabinets will definitely bring a natural and earthy ambience to your kitchen. If that's what you are going for then this will be a perfect touch to your kitchen!
7. Marvellous in Monochrome – Modern Kitchen Cabinet Ideas
If you prefer monochrome furniture over colourful ones, then make sure to create a space in which you will feel your best! If you decide on using white and black as the main colours of your kitchen, this means you will need to use monochrome coloured kitchen cabinets. For example, you can use modern white kitchen cabinets. Try adding hints of black marble to one of your walls for a beautiful and elegant vibe. Your kitchen is guaranteed to look elegant and refined!
8. Pretty in Purple – Eccentric and Exciting
If you adore the colour purple, make sure to use it in your kitchen design! After all, designing and decorating your home is all about expressing yourself. It's up to you whether you use metal or modern wood kitchen cabinets, but either way, make sure that they are coloured purple! If you decide on using purple as the colour of your kitchen cabinets and counters, make sure to mix it up with another colour. This will ensure that your kitchen doesn't look too cramped! We recommend using natural wood or white to go with your purple kitchen furniture.
9. Unique and Creative – Easy to See
If you have a small kitchen, a great colour to use in the design is no other than white. This will help get rid of any cramped feeling in the room. So make sure to use white for your modern kitchen cabinets! To give them a truly modern and unique look though, why not use plastic or glass for one of the sides of the cabinets? This way, you will only have to peep in on the side, to know where whatever is what you are looking for! If you want to make it look extra special, you can add lights to each shelf!
10. Hints of Yellow – A Positive Vibe
Modern designs are all about combining items in a unique and creative way. If you are fond of artistic and contemporary designs, then these modern kitchen cabinet ideas are something you might love. Use black as the dominant colour of your kitchen cabinets. Then highlight a few parts of them in canary yellow. For example, the handles of the cabinets or one shelf could be coloured in this bright and vibrant colour. Using a bit of yellow amongst black furniture will add a positive vibe to your kitchen!
11. Bold and Red – A Daring Shade
Trying out something modern is all about going for something new and daring. That's exactly why we have brought a bold and daring kitchen cabinet for you to see. If you love trying out new things, you will love to design and decorate your kitchen with red cabinets! Whoever steps into your kitchen will feel a bold attitude hit them! Use white, grey and wooden elements in your kitchen to complement the dominant red shade present in the room.
12. Trendy and Cool – Modern Kitchen Cabinets
If you are a fan of following the latest trends, whether it's fashion or interior design, you are guaranteed to be blown away by this idea. Create your modern kitchen cabinet design using a combination of white and deep violet. You don't have to go for the classic shapes and forms of kitchen counters. Try out something new and make your cabinets and counters bent in wavy and unique ways. You can use deep violet for the bodies of the cabinets and counters while using white for the countertops.
13. A Sleek Image – A Timeless Classic
If you prefer a modern take on things then this kitchen cabinet design is meant for you! Make your kitchen look as if it has stepped out of the future! Using a lot of white in your kitchen, combining them with modern and minimalistic lights will give your kitchen a futuristic look. You might consider choosing black as a colour for any accents in your kitchen. For example, black countertops on white cabinets will definitely look stunning!
14. A Floating Shelf – In Between Glass Kitchen Cabinets
Here is another beautiful contemporary design for your kitchen! Use large cabinets with glass doors. This will not only look lovely but is also super practical as you can spot whatever you are searching for easily! Between the glass kitchen cabinets, why not place a floating shelf or two? This is also a practical solution, as you can place anything on them, making them easily accessible. For example, placing small bottles or packets of spices are the perfect things to put on a floating shelf!
15. A Unique Use of Colours – Modern Kitchen Cabinets
A simple way of giving your kitchen cabinets a modern look is defined by what sort of colours you use for them. A great idea is to use three or two dominant colours that form stripes across your kitchen counters and cabinets. These stripes should form straight lines throughout your kitchen. Just check out the picture above for a fantastic example of this idea!
16. Simple in White – Elegant and Refined
Perhaps you have always been an admirer of more elegant furniture or a sophisticated style for a while now. If you have been thinking of redesigning and refurbishing your kitchen, then make sure you stick to your favourite sort of style. Opt for a chic, modern and elegant kitchen cabinet! Also, make the most out of your kitchen space, and add a corner kitchen cabinet to the design! You can try out a simple colour like white, which is a perfect colour to add space and brightness to your kitchen!
17. Easy and Sophisticated – Fabulous in White
Here is one of many modern kitchen cabinet ideas, which looks absolutely fabulous in white. White really brings a modern style and elegance with itself. Try using cabinets that are also built in a more modern form and shape.
18. Beautiful in Beige – Lacquered and Polished
Give your kitchen a beautiful and soft glow in order to give it a homely ambience. Why not try using a pale beige for the dominant colour of your kitchen? To make the glow of your kitchen even more radiant, make sure you have your beige cabinets and counters lacquered beforehand. These modern wood kitchen cabinets will perk up your whole kitchen!
19. Try Out a Deep Purple – Modern Kitchen Cabinet Ideas
We have already mentioned a few times, that if you love the colour purple, feel free to use it in your kitchen design! It will definitely bring a modern and cool vibe with itself. Especially if you combine it with white!
20. A Source of Inspiration – Grey and White
You can't really go wrong with a combination of grey and white for your kitchen! It's the perfect mix of shades for a modern kitchen design. Naturally, for a contemporary look, you will have to make sure that the shapes of the kitchen cabinets you decide on using are modern as well.
21. Unique in Turquoise – Modern Kitchen Cabinet Ideas
Are you in search of an exciting and fun colour to use in your kitchen? Why not try out a brilliant turquoise? Whoever steps into your kitchen will have their breath taken away! Turquoise is a unique and beautiful colour which will channel happy vibes to your kitchen.
22. White Cabinets – With Marble Walls
Here is another idea of combining modernity with elegance. Use a set of white cabinets in your kitchen or pale grey ones. Have them designed in a modern and minimalistic look. To bring an essence of elegance, place thin marble tiles on the walls. These will definitely lend your kitchen a sophisticated and unique appearance.
23. Black and Wood – Interesting and Sleek
The combination of black furniture with natural wood will look beautiful and elegant. Especially if you have it created in a minimalist style. Using black and wooden elements together has become a popular interior design idea over the years. Not to mention, it has a calming ambience together.
24. A Mix of Tones – Red and Blue
Choice of colours is an incredibly important option when it comes to your kitchen. If you want your kitchen to exude a bold yet chill ambience, why not use a few different coloured kitchen cabinets? For example, use a few different types of blue shaded cabinets and combine them with a red counter. Just check out the picture above as a fabulous example of this modern kitchen cabinet design.
25. Serene and Bright – Modern Kitchen Cabinet Ideas
If you have a small kitchen, make sure you create more space by placing your furniture in your kitchen in an intelligent manner. Make sure to use an abundance of white cabinets, as these won't create a feeling of being cramped. Instead, they will make your room look a lot bigger than it actually is. Also, consider adding an indoor herb garden to your kitchen, to add a bit of colour to the room!
We trust that this pick of 25 modern kitchen cabinets inspired you. For other kitchen ideas, such as kitchen cabinet lighting or kitchen cabinet organization ideas, check out our website.
Advert