Everyone knows that the heart of any home is the kitchen. It's where the family gathers during the mornings for a coffee, or where you will spend your time in the evening cooking. If you spend a lot of time in your kitchen, you will also want it to look a certain way. You may like your kitchen to look organized. Perhaps you have a pantry as well, where you store the bulk of your food. Well, make sure you give it a makeover by organizing everything inside in a stylish manner and something that makes sense to you! That's exactly why we have collected 20 amazing corner kitchen cabinet ideas to help you out a bit! So take a look through our collection of kitchen ideas and our kitchen corner units!
1. Large and Bulky – Fantastic Corner Kitchen Cabinet Ideas
When you are in search of finding the perfect sort of corner kitchen cabinet, what are your needs? For storing numerous items inside of it, including various kitchen appliances? If so, you might be in need of a larger corner kitchen cabinet, which contains a lot of shelves inside itself. A great way of solving a large kitchen cabinet's door is by placing a sliding door inside of it, which you can just slide to the side when you need to take something out. The colour and style of the corner cabinet are completely up to you, it all depends on what complements your kitchen.
2. Combined with an Oven – Make Use of Space
While a corner cabinet is definitely a useful and practical way of storing items, you might also need that space for placing other appliances. Like, for example, an oven or a microwave oven. Corner cabinets are useful at times like this because you can practically place an oven inside of it. This makes corner cabinets a great way of saving space around the kitchen, which is great if you have a smaller kitchen.
3. A Sink in the Corner – Practical Kitchen Corner Units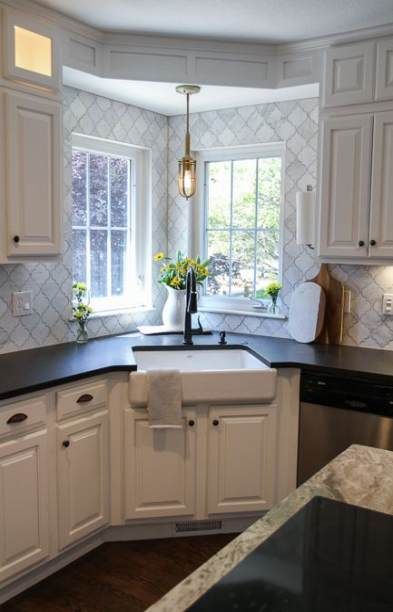 Now here is another practical way of creating a kitchen layout. If you are going to be placing cabinets all around the kitchen's walls, this means you will have a corner cabinet. Perhaps you aren't thinking about placing floating cabinets above the corner one, otherwise, it might look too cramped. If that is the case, why not place a sink on the cabinet? It's a practical and logical way of using the space given in the kitchen. Not to mention, every kitchen needs a sink and this is the perfect space where you can place it!
4. An Array of Floating Shelves – An Easy Solution
Are you bored with the big, bulky kitchen cabinets which hog all the room in kitchens? Then why not get some floating shelves for your kitchen as an alternative to actual cabinets? They are easy to place onto the walls and also bring a chic, modern and refined ambience with themselves. They are also great for storing things, such as spices or placing a few decorative items on them. The only downside to floating shelves is you will need to clean them more often, as a lot of dust seems to settle on them.
5. A Pull-Out Cabinet – Corner Kitchen Units
Maybe you have been considering having a pull-out kitchen cabinet placed into the corner of your kitchen. If so, it will definitely make it easier for you to find things inside of it. Not to mention, it will also be easy to just simply pull it out to take anything out you might be in need of. This is also a great solution for storing your plates, cups and bowls. You don't necessarily have to place a door on this pull-out sort of kitchen cabinet, you can leave it open.
7. A Whole Pantry – In the Corner of Your Kitchen
Do you have a relatively large kitchen but don't actually have a small space for a pantry? Why not create a pantry in the corner of the kitchen then? This will make a great way of storing everything inside. Pantries are great places for storing all sorts of preserved ingredients which you use from time to time, for example, canned food or jams. They are also fantastic for storing kitchen appliances, which you don't need in your everyday life but use during special occasions.
7. Shelves and Drawers – The Perfect Sort of Cabinet
Here is another fantastic idea of what sort of kitchen cabinet you can place in the corner of your room! It doesn't necessarily have to be so massive that it reaches from the floor to the ceiling. You can get a kitchen cabinet which rests on the kitchen countertops and ends around the ceiling of the room. For a very professional cabinet, make sure you have shelves and drawers inside of it. The combination of shelves and drawers will make it a lot easier and simpler for storing all sorts of items inside.
8. Keeping it Simple – Kitchen Corner Units
While you will want your corner cabinet to be practical and useful, you will also want it to fit into your kitchen. Naturally, you will want it to look good as well. If you already have an abundance of kitchen cabinets covering the walls of your kitchen, make sure you use the space of the corner and place a kitchen cabinet inside there as well. It will look like a continuation and a link between the two sides of cabinets coming together at the corner. 
9. A Kitchen Corner Cooktop – With an Oven
We have already talked about placing an oven inside a corner cabinet, or even a microwave. But why not completely replace it with a big oven as well as a cooktop? Placing an oven into the corner of your kitchen is a great way of saving space, as well as making the oven the centrepiece of your kitchen. You should be able to place your oven diagonally in the corner. You can create a small indent in the wall behind the stove itself, which will allow you to place any sort of spices you need for your everyday cooking inside of it.
10. Drawers in the Corner – Corner Kitchen Cabinet Ideas
Sometimes it is a bit tricky to find an idea for what to do with your corner cabinets. A simple solution to your problems might just come in the form of pull-out drawers. This will make it easy to reach inside and search for whatever you are looking for. Whether it is a pot or an ingredient, this will make it a lot easier to find! You might create three or more drawers for your corner kitchen cabinet and organise each drawer in a different way. For example, the top drawer might be for cutlery, the next one might be for serviettes or cleaning items, etc.
11. Watching a Bit of TV – Corner Cabinet Ideas
Another thing you can use for your kitchen corner cabinet is no other than to create a space for entertainment. Place a TV inside the open corner cabinet! This way whenever you will be in the kitchen, cooking or cleaning, you will have a bit of TV bringing some entertainment into your life. Or you can even watch a recipe video while trying to prepare it!
12. Corner Kitchen Cabinet Idea – A Bit of Decor
While you may be thinking about designing your kitchen layout in a way, where you place an oven or microwave inside, you might as well use the space above these appliances to create a lovely ambience. A kitchen sometimes really does require a bit of decoration and this is a perfect space to use up for that goal. Have a few shelves placed above your oven or microwave, which make up the same cabinet which the appliance is also inside. Then you can place a few recipe books on the shelves, a candle or two or a vase with flowers.