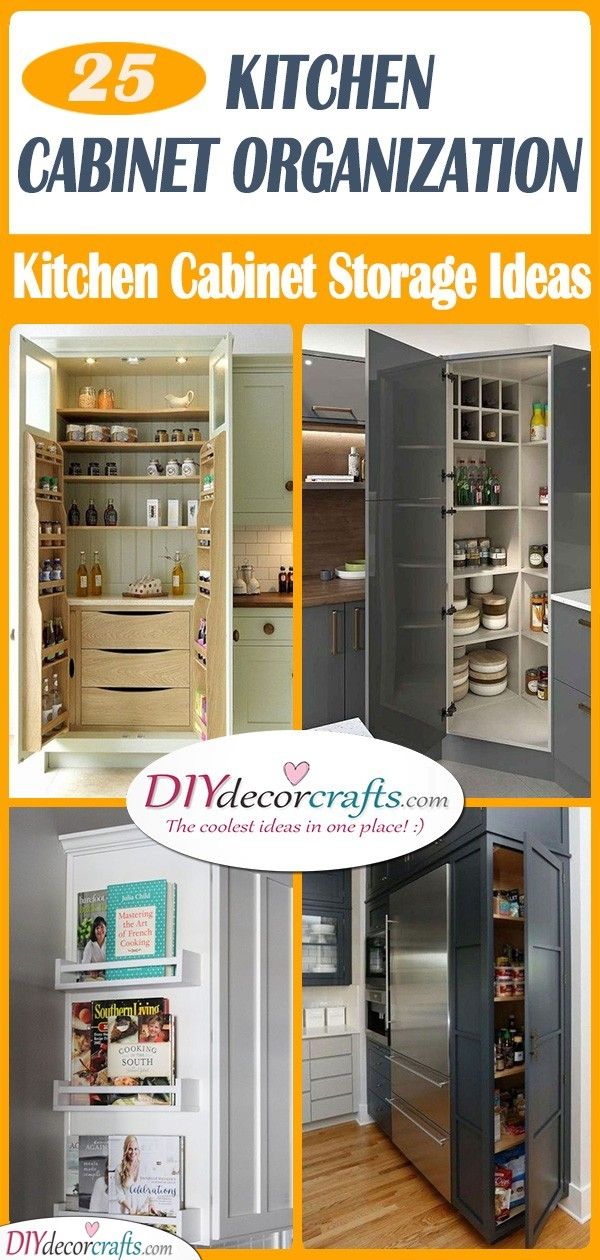 Everyone knows that kitchens are one of the most important rooms in any house. They are in which you can prepare lovely food in and sometimes become the places where you spend most of your time after work. But it's not only a place for cooking, but it's also the heart of your home. The place you gather with the family for morning coffees or late suppers. Since you are likely to spend loads of time in this room, you will want it to be cosy or have a nice atmosphere. Naturally, this depends on your tastes. You might not think of it, kitchen cabinets actually play a huge role in how to organize or store your kitchen items! That's exactly why we have collected 25 kitchen cabinet organization ideas for you to find some inspiration amongst. So take a look through our pick of kitchen cabinet storage ideas!
1. A Full Shelf – Kitchen Cabinet Organization Ideas
There are so many ways of organising preserved foods as well as your kitchen utensils. If you have large kitchen cabinet designs, it will actually be easy to organise everything, as you will have numerous ways of storing everything. With large cabinets, you might have drawers and all sorts of shelves present in your cabinet. A great way of storing things is to place plates, mugs and cups on the top shelves. Preserved foods can be placed underneath them. Placing plates or mugs above will mean that you won't whack anything off accidentally.
2. Drawers Two Ways – Unique and Practical
There are a lot of smart and practical ways you can design your kitchen cabinet storage solutions. Here is just one of many of them. For example, try creating a kitchen counter or cabinet, which has drawers pointing in two ways. This means you will be able to use up space inside the counter in a wise and logical way. Naturally, it's completely up to you on how you organise the items you decide to place inside each drawer. Plates, cutlery, all sorts of utensils are perfect ideas of what to place inside.
3. A Cleaning Cupboard – Kitchen Cabinet Storage Ideas
It's always hard to find a space to store all your cleaning items inside. You usually end up placing them together with other things. We just want to remind you that even the smallest of spaces inside a kitchen cabinet can help you organise your things for a much neater look! If you have a small shelf, ready for usage, then make sure to place a few brooms or dusters inside. If you find the space to create a small cleaning cupboard it will mean that you have everything in one place and nothing will get lost!
4. Shelves in a Cabinet – Coordinating Everything
Here is another great idea if you love to coordinate your things according to the function of the colour of them. If you have decided to fill a corner cabinet in your kitchen with a cabinet, then make sure to place an abundance of shelves in it. For example, you might create a shelf for pasta, a shelf for spices and a shelf for jam. This will be a great way of organising all your things. Not to mention would also make great small kitchen storage cabinets!
5. A Pull-Out Table – Great for Small Kitchens
You might have always wanted a space in your kitchen to sit down and drink your morning coffee. If you have a small kitchen this might be a bit harder to achieve. When you don't have much space in a room, you have to really think about the placement of the furniture. Instead of placing a table in the middle of the room and taking away the remaining space in your kitchen, why not create a pull-out table? You can pull it out from a cabinet whenever you are in the mood for sitting down a little in your kitchen.
6. A Place for the Trays – Kitchen Cabinet Organization Ideas
A lot of people have a multitude of trays. Depending on what occasion it is, they will use the tray which most fits the event. For example, for a tea party, you might use one sort of tray or for taking dessert out to guests, but for a breakfast in bed, you will use a different sort. Find a place in your kitchen where you can place and organise your trays. For example, a cabinet above the oven might always come in handy!
7. Rotating Shelves – A Modern and Practical Idea
A smart way of creating more space in your kitchen cabinets as well as making items easier to access is by placing rotating shelves inside them. With the help of rotating shelves, you will be able to spin the shelves around until you find what you are looking for and then just spin them back into place. This is a modern solution which is very practical and logical, as it will make your job a lot easier!
8. A Modern Look – Contemporary Kitchen Cabinet Storage Ideas
Another fantastic idea you might like to create in your kitchen is pull-out shelves. Have you ever found it somewhat difficult to climb onto a chair and rummage through the back of your shelf, trying to find what you are looking for? Instead of repeating this procedure over and over again, why not simply install a pull-out shelf in your kitchen? All you need to do is tug on it and you will be able to see clearly what you store on the levels of the shelf. This is a great and simple solution!
9. Smart and Neat – Storing Your Spoons
If you love to cook and bake and spend an immense amount of time in the kitchen, why not create spaces for your kitchen utensils? This might include storing your wooden spoons or spatulas in a more tidy and neat manner. Instead of throwing everything inside a cupboard or shelf, place your utensils in boxes or cans. You might arrange these in a pull-out cupboard, which will make it easier to see through all the things you have! Anything that doesn't fit into these boxes, yet is classified to be in the same category, should be placed next to them or underneath them.
10. Cookbooks – Kitchen Cabinet Organization Ideas
Are you the sort of person who collects cookbooks and magazines? If so, why not organise them in a neat and tidy way? You can place a few floating shelves on the sides of one of your kitchen cabinets. Then it's up to you to arrange all your cookbooks and magazines on these floating shelves in a way that makes sense to you. Of course, you can place a few decorative ornaments on the shelves as well!
11. A Space for Sponges – And Other Cleaning Items
It looks a bit messy when you leave your washing up tools on the kitchen counter. If you would like to give your kitchen a neater and more organised look, then create a pull-out shelf in which you can store everything you use for washing up. For example, you can create small pockets in which you can place a bundle of garbage bags or sponges for washing up. It's really up to you, but organising a shelf in your kitchen for cleaning items is a great idea.
12. Corner Storage Ideas – Brilliant Kitchen Cabinet Storage Ideas
Sometimes it is a bit tricky to find an idea for what to do with your corner cabinets. A simple solution to your problems might just come in the form of a pull-out cabinet. This will make it easy to reach inside and search for whatever you are looking for. Whether it is a pot or an ingredient, this will make it a lot easier to find!
13. Shelves in a Drawer – Cute and Simple
Not sure how to store cutlery and small coffee cups? Why not create a few shelves inside your drawers? You will be able to organise your cutlery in a neat and stylish way, putting everything in its right place. Other items you can place inside these drawers are smaller bottles of spices or even some tiny coffee cups! By the end, you should have everything organised beautifully!
14. Pull-Out Boxes – For Some Fruit and Vegetables
If you are in search of how to store your fruits and vegetables, then you have come to the right place! In one of your cabinets, place pull-out boxes. Get the boxes made out of wood with small holes decorating the sides of them. The holes on the sides will ensure that enough air reaches the fruit and vegetables, and they won't become mouldy!
15. A Side Shelf – Kitchen Cabinet Organizers
Feel inspired to rearrange your kitchen and bring some tidiness and order into it! If you have a thin cupboard framing your refrigerator, then make use of it! You can place shelves inside of it, to place all sorts of miscellaneous items inside of it, like cereals, bread or spreads! This will act as a miniature small kitchen pantry!
16. Keeping it Easy and Simple – Garbage Bins
Sometimes it's a bit tiring when you are chopping and cleaning your fruit and vegetables, prepping everything, and you need to keep going over to another part of your kitchen to throw the peelings into the bins. So why not create a pull out drawer, which has a chopping board on top? Underneath the chopping board, you can place a few bins. This will make your job a lot simpler when cooking and baking!
17. A Galore of Goods – Kitchen Cabinet Storage Ideas
Naturally, you can create a cabinet in your kitchen, in which you can store practically anything and everything. You can make your cabinet into a big cupboard, with two doors, which contain shelves. But the inside of the cabinet can also contain drawers and shelves.
18. A Spice Rack – Close to the Stove
Do you often add flavour to your foods while cooking or baking? Then make sure that your spice rack is close at hand! You can create a drawer that pops out from underneath the stove or from above the oven, in which you can place wooden pockets for all sorts of spices. Another great item to store in a drawer is measuring spoons and cups! If you need to measure anything out and add to the food, the measuring spoons and cups will be easily accessible.
19. Keep it in Order – Kitchen Cabinet Organization Ideas
Are you in search of kitchen cabinet organization ideas which will help you keep your drawers and cupboards neat and tidy! You might decide on organizing your kitchen utensils and cutlery according to their function in a drawer.
20. Use Up All the Space – Great for a Tiny Kitchen
Do you have a tiny kitchen with practically no space? Then you will be in need of small kitchen storage cabinets! If you have decided to add a few empty kitchen cabinets to your kitchen, to make it look more aesthetically pleasing, you might as well make use of them! Place shelves inside of them to enable you to store items inside.
21. Storing Plates in a Smart Way – Kitchen Cabinet Storage Ideas
Here is a great hack for anyone who has decided to place plates in drawers! These kitchen cabinet organizers will help avoid the plates from clashing together and breaking, while you open the drawer. Place a pegboard inside a drawer and stick wooden pegs inside of some holes, depending on how large the plates are.
22. A Spot for Charging – For Tech Lovers
Organise one of your drawers to create a spot in the kitchen for charging phones or tablets. This is a great idea for anyone who loves technology and likes to listen to music or watch videos while cooking and baking! This charging spot will ensure that the battery or your phone or tablet won't die while you are in the kitchen.
23. Frying Pans – Brilliantly Organized
Make sure you put your frying pans in order as well! You can buy a pan holder with more levels, so you can organise your pans on it. These are easy yet fantastic kitchen cupboard organizers!
24. Hooks for Mugs – Saving Space
Don't have enough space to store your mugs in? We have an easy solution for you that you can easily create by yourself at home. All you will need to do is place hook nails into the top board of the shelf and hang your mugs off them! It's really that simple.
25. Plastic Boxes – Easy Kitchen Cabinet Organization Ideas
Here is yet another modern idea out of many kitchen cabinet storage solutions! For staple vegetables, such as onions or potatoes, you might as well buy large plastic boxes that you can put in your cabinets. You will be able to pull these out easily in order to select which veggie you'd like to use!
We hope that this selection of kitchen cabinet organization ideas has helped you out! For other kitchen ideas, besides kitchen cupboard organizers, such as kitchen cabinet lighting or kitchen cabinet organization ideas, check out our website.
Advert