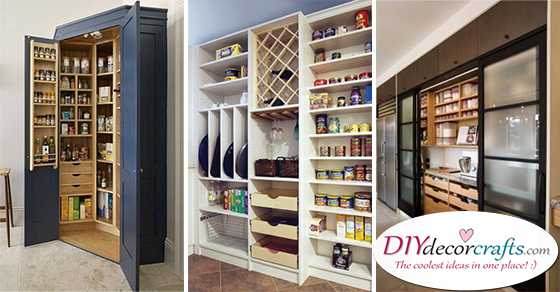 Everyone knows that the heart of any home is the kitchen. It's where the family gathers during the mornings for a coffee, or where you will spend your time in the evening cooking. If you spend a lot of time in your kitchen, you will also want it to look a certain way. You may like your kitchen to look organized. Perhaps you have a pantry as well, where you store the bulk of your food. Well, make sure you give it a makeover by organizing everything inside in a stylish manner and something that makes sense to you! That's exactly why we have collected 20 kitchen pantry shelving ideas to help you out a bit! So take a look through our pick of small pantry organization ideas as well as our collection of ideas for your kitchen!
1. Shelves for Everything – Practical and Logical
If you have a relatively small space for storing things in your pantry, make sure to make the most of it! Why not place an array of all sorts of shelves in your pantry? You can use pull-out shelves or a pull-out table to make anything you need to take out easily accessible. Also, make sure to use baskets in your pantry! You will be able to place all sorts of things in them, and whenever you need them, a basket is easy to take out of its place! This will make your pantry a super practical place for storing any sorts of items or food!
2. A Whole Shelf – Small Pantry Organization
Perhaps you don't have a separate room which you can create a pantry out of. If not, don't worry about it. Here is a fantastic idea just for you! You will need to place a large kitchen cabinet design or shelf in your kitchen, which you can open up during any time of the day. You can place small shelves filling each part of the cabinet as well as drawers. It's really up to you on what you'd like to place inside. Whether it's spices or cereal, we're sure you will be able to find a place for everything!
3. Sliding Doors – Fabulous Kitchen Pantry Shelving Ideas
Are you planning on creating a pantry space right next to your kitchen? If so, make sure to make it a room or space which will be easily accessible! A great idea on how to achieve this is by using sliding doors as the entry for your pantry. To leave your pantry simple and stylish, just create an array of shelves or floating shelves on which you can place everything. 
4. Make Use of Your Whole Home – Ideas for a Pantry
Do you have a small home? Make sure to use all parts of it to store your things more efficiently! For example, if you have a staircase leading up to another story of the house, then why not use the cabinet space underneath the stairs as storage space? You can store all sorts of things inside and create a pantry out of it! This is a fantastic idea, especially if you are looking for all sorts of ideas on how to save space in a tiny home!
5. Corner Shelves – Small Pantry Organization
6. Swing Out the Pantry – Cute and Fabulous
Don't have much space in your kitchen? Then create your own little cabinet which contains swing-out shelves and drawers. This is another fantastic way of saving space. If you think about it all you need to do is place a cabinet in a spare corner of your kitchen. Then you can place all sorts of foods inside which you would normally store in a pantry. Having swing-out shelves is also great because they take up even less space! This means with a cabinet such as this, you will have all the space in the world to store your things!
7. A Place for Everything – Pantry Organization Ideas
If you are creating a shelf in your pantry, it is important to create a small space for everything! For example, you might get a box to line up your spices in or a wine rack for storing a few bottles of booze or wine glasses! With numerous shelves, you will find a place for everything you need! A few shelves for preserves, jam and spreads, a few shelves for canned food and even a few hooks for storing any pots, pans or kitchen utensils, which didn't fit into your actual kitchen cabinets!
8. Enhance Your Pantry – A Lovely Idea
This is a small pantry organization idea anyone will love! Get some spinning shelves in your pantry! This is a super practical idea, which will save you time whenever you are cooking or need something quickly! With spinning shelves, anything will be accessible in moments, as all you will need to do is spin your shelf to the item you need to take out from it! This is a great way of saving space, especially if you put your spinning shelves in the corners of your overall storage organizer.
9. Create A Stylish Place – Out of Your Pantry
Do you perhaps have a small room which you can use as a pantry? If so, make sure it is not only practical but stylish as well! So also consider adding kitchen cabinet lighting to it! You can use the same style with which you created the kitchen. For example, using kitchen counters all around the pantry, not only for storing different foods but also making it a space for any extra cooking you need to do. Make sure to place a lot of cabinets or shelves above your counters, creating a lot of space for you to store anything!
10. Unique and Creative – Kitchen Pantry Shelving Ideas
Here are exciting new pantry storage ideas that don't fit into your kitchen! If you have a staircase, this will work perfectly. You will need to place wooden boards or planks underneath each step of the staircase. These wooden boards will act as areas on which you can place any sort of food. For example, jars of spices or canned foods will fit perfectly in these small space. And if you don't believe us, just check out the example above, which embodies the perfect way of saving space in your home in a way you wouldn't have even thought about.
11. Open Without Doors – Neat and Orderly
Now here is another terrific kitchen cabinet organization idea! Besides creating an array of cabinets, make sure none of these cabinets has doors. Your cabinets should be open, so you will be able to take out anything easily! You can use the larger, more solid cabinets for heavier items. Such as any kitchen utensils or machines or plates. Use the upper, floating cabinets as space for any food, such as canned food, jam, cereals or dry ingredients. Your pantry will be ideal for organizing food in a proper and orderly way!
12. A Huge Cabinet – Kitchen Pantry Shelving Ideas
Perhaps you aren't thinking about building a pantry and would simply like a big cabinet in your kitchen that is filled with all your cooking staples! Getting a huge cabinet is perfect for a kitchen and making it openable means you will be able to store all sorts of ingredients, food or drinks inside the doors as well. For example, jam or even wine is perfect to store in these bulky cabinets! This is especially great if you move around a lot since you will be able to take this shelf with you!
13. Awesome Pantry Doors – Modern and Elegant
If your kitchen pantry isn't in another room, but in your kitchen, and you would like to cover it up then make certain to try out this idea! Separate your pantry from the rest of the kitchen with a few sliding doors. Sliding doors are perfect for dividing one part of the room from another, as well as making the pantry easily accessible! Just simply slide your doors to one side while you take out what you need from the other side!
14. A Cosy Look – A Homely Vibe
Here is another great idea to use for a small pantry organization! Besides placing a whole lot of shelves in the pantry, making sure that you can store everything in its own place, why not create a small desk space as well? This will act as the perfect place for sitting down and trying to find a recipe in a book or just writing down a few thoughts. It can also be used as a safe space for reading or rewriting a recipe or just taking a bit of time out while cooking or baking in the kitchen.
15. Making Use of the Colour White – Spacier and Neat
It's time to make a mountain out of a molehill with these pantry storage ideas! Make sure to use all sorts of boxes or trays on your shelves. You will be able to these pull out whenever you need something from them! For example, you can store a lot of kitchen utensils inside these drawers or practically any sorts of preserved food! Of course, make sure to include a few shelves as well for anything else you need to store. Using white is the perfect colour to create space with!
16. A Place for Spices – Fantastic Ideas for Saving Space
Do you by any chance love spices and using them in all sorts of cooking? Then you will probably have a huge spice rack, but with the problem that you're not sure about where you should store them. This is something everyone is quite picky about, making sure that your spices are in the same place and in proper order. So why not create small shelves on the door of your pantry? This is also a great way of saving space with small pantry ideas.
17. Large Shelves – Kitchen Pantry Shelving Ideas for Organization
If you have a larger pantry, then make sure to organize it beautifully, finding a place for everything! Use an array of shelves and drawers. You can place all sorts of items on your shelves, anything from canned foods to spreads or dry ingredients. Pantries are also great placing for putting away kitchen devices when you don't need them. For example, if you aren't using your blender or your slow cooker then all you will need to do is pop it in your pantry!
18. Pull-Out Shelves and Drawers – Kitchen Pantry Shelving Ideas
As we have mentioned before, pull-out shelves and drawers are a great solution for small pantry ideas! With swinging out pantry doors you will be able to store a lot more things inside, without using up too much space! This pantry is a dream come true if you need a bit of order and neatness!
19. Wonderful in White – Easy and Simple
Is your pantry a small room next to your kitchen and doesn't necessarily have a window? If so, make sure to use a lot of white inside the room. The colour white helps make things look a lot spacier than they actually are. Use white coloured walls and modern kitchen cabinet shelves to create a beautiful and organised look in your pantry.
20. Under the Stairs – Creative and Awesome
Do you have a staircase that leads up to the second story of your home? If so, make use of the space underneath the stairs. Place a cabinet in this wedge and use it as a mini-pantry. This is one of many great small pantry organization ideas.
We hope that you found this collection of small pantry organization ideas useful and inspirational! For other kitchen ideas, besides kitchen pantry shelving ideas, such as kitchen island lighting or kitchen cabinet design ideas, visit our website.
Advert