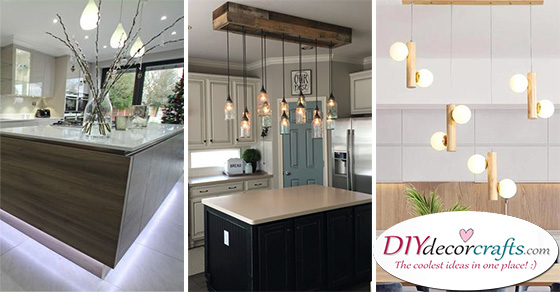 Advert
Maybe you have been thinking about sprucing up your kitchen by refurbishing it. If this is the case, you will want it to look amazing when you are finished with it. This includes even the smallest of details when designing it! From the material you use for your kitchen furniture to the arrangement of your decorative elements, everything is going to matter. So, taking this into consideration, one important element you can't forget about is the lighting of your kitchen. This also means adding lighting right above your kitchen island if you have one. If you are in need of a few ideas then check out our pick of 20 modern kitchen island lighting ideas! Thanks to some help, maybe you'll find some modern pendant lighting for kitchen islands below! 
1. Surrounded in Light – Modern Kitchen Island Lighting
When it comes to adding lighting to your kitchen, there are so many ways you can go about it. If you have a kitchen island with seating standing in the middle of the room then you might consider highlighting it. The easiest way of doing this is by surrounding it with light. For example, you can add rows of led lights to it that encircle its whole. Add lines of led lights underneath the countertop of the island, as well as the very bottom of it. Then, of course, don't forget to light it from the top of the ceiling either, to really provide enough light.
2. Globe Lights – Modern Pendant Lighting for Kitchen Island
Perhaps you are looking for a way to perk up your kitchen in a simple manner. Sometimes, all you need to do is change the lighting inside the room. This can even result in something as simple as changing the lampshades of the pendant lights that are hanging right above your kitchen island. For a modern and unique look, how about trying out globe lampshades? These will definitely take your whole kitchen to the next level!
3. Under the Island – A Gorgeous Glow
One part of your kitchen you might not have thought about adding lighting is right underneath the countertop of your kitchen island. By adding some led lights in the to it, you will be able to illuminate it with stylish light. This is a perfect idea for anyone who has a kitchen, which is dimly lit. When adding lighting to the important parts of your kitchen, such as your kitchen island, you'll be able to highlight anything which deserves to be illuminated. This may include any kitchen cabinet designs as well! Obviously, lighting the part underneath your kitchen island is just an option, but it will add that modernness you might be in search of.
4. A Long Light – Instead of Multiple Smaller Ones
Have you been pondering about what sort of lighting you should install right above your kitchen island? Perhaps you are torn between choosing several pendant lights, hanging from your ceiling that will light up the island and a lengthier light. How about trying one light which is longer, instead of multiple small ones? After all, if you really want to incorporate a sort of modern and contemporary style or design, this will assist in doing just that.
5. A Creative Design – Innovative and Beautiful
There really is a number of interesting and creative lighting ideas, when it comes to illuminating your kitchen island. If you have decided to use pendant lights hanging from the ceiling, you might as well try giving them a unique look or purchase gorgeous types of lamps. For example, check out the type of lighting above. Globe lampshades attached to tubes of wood to create an absolute marvel. By hanging a few of these next to each other from the ceiling, not only will your kitchen island be lit, but the whole room will gleam of style.
6. Stunning and Sublime – Modern Kitchen Island Lighting
Are you still trying to find some source of lighting which will illuminate your kitchen beautifully? If you are unsure about pendant lights, then you can always try out using much more simplistic lighting, which revolves around using spotlights. By installing some lights in the desired spaces above your kitchen island, you will be able to create intense lighting. Especially if you decide on installing led lightbulbs in the ceiling. This will ensure that you really do get enough light while sitting down at your kitchen island.
7. Recycling and Reinventing – Brilliant and Bright
Do you have a set of jars at home which you haven't used for anything recently? Why not recycle and reinvent them, by giving them a new purpose? If you have already thought about installing pendant lights right above your kitchen island, then how about you incorporate your empty jars in it as well? You can use these jars as lampshades, attaching them to the lights to create a romantic and whimsical atmosphere.
8. The Colour Plan – Modern Pendant Lighting for Kitchen Island
One thing you shouldn't forget about when designing your kitchen is colours! After all, you don't want to use a tonne of colours for creating your kitchen out of, as they might clash and look chaotic together. Instead of using a whole variety of colours to build your kitchen out of, stick to a few, for a cleaner and more modern look. So, if you have decided on sticking with pendant lights when illuminating your kitchen island, you should definitely think about what colour lampshades you want to attach to the lights. For example, if you used a combination of black, white and wood in your kitchen, then make sure that the lampshades of your pendant lights fit right in!
9. A Led Oval – Hanging Lights for Kitchen Islands
There are so many great styles and designs when it comes to lighting, so you'll have plenty to choose from when deciding what you'd like in your kitchen. A fantastic idea would be to install a led oval right above your kitchen island. Leave it hanging somewhat above the island, making certain that it won't get in the way if you're eating food or drinking a coffee there. Thanks to the led lights, it will provide sufficient light for your kitchen.
10. A Rustic Ambience – Vintage and Old-fashioned
Maybe you'd like to create a rustic atmosphere inside of your kitchen. This will include the design you give to the room, including everything from the furniture to decorative elements. Keeping this in mind, lighting is just another part of the room you want to make sure fits the kitchen's design. So, if your kitchen is put together in a rustic style, the lighting should complete it by being created in an old-fashioned or vintage look. This might come in the form of placing old glass lampshades over your lightbulbs! 
11. An Abundance of Lights – Modern Kitchen Cabinet Lighting
Bask your kitchen in an abundance of lights, including your kitchen island. We have already mentioned adding more than just one source of light to your kitchen island. For example, you can encircle the bottom of your kitchen island with a row of led lights, to create a special sort of glow. Naturally, you can add lighting to other parts of your kitchen as well, such as pendant lights hanging right above the island. Or some kitchen cabinet lights to the counters and shelves. Make sure that there is enough lighting in the room, in order for you to see everything clearly!
12. Under the Counter – Simple and Trendy
Here is another fabulous idea to give you inspiration for lighting a kitchen island! This is an especially great idea if your kitchen island has some sort of unique pattern engraved in it. All you need to do is add strips of led lights, right underneath the countertop of the island. By attaching some strips of led lights here, it will illuminate the whole island in a unique way and will also create a friendly and cosy atmosphere. So, make sure to give this idea a try!
13. Serious Farmhouse Vibes – Creative with Cages
Maybe you have a kitchen which embodies the sense of the well-known farmhouse style. This means that the furniture you install in your kitchen, such as the cabinets and cupboards, should be designed in the same style. This will include the lighting as well, which you create right above your kitchen island. For that farmhouse atmosphere, you can use lights which are all fixated to a wooden beam. You can then attach some lampshades to it, which are made from metal and are shaped to look like cages. These will complete the whole farmhouse look.
14. Versatile and Vivid – Keeping It Simple
As we have discussed before, there is an incredibly large amount of ways you can illuminate your kitchen in light. You are probably looking for interesting ways to install lighting to your kitchen island. After all, your kitchen island will probably be in the middle of the room, so it would only make sense to turn it into a sort of centrepiece you'd like to highlight. Besides adding some spot or pendant lights above it, you can install small lighting units all around the bottom of the island. This is just a simple way of adding extra light to your kitchen.
15. Refined Beauty – Modern Pendant Lighting for Kitchen Island
You don't necessarily have to stick to only one sort of lighting when it comes to your kitchen island. Trying out a few sorts of lighting may help you in creating the perfect illumination for the room as well as the island. Again, depending on how the kitchen is designed, you will want to choose lighting which matches and exudes the same ambience. This might come in the form of either spot or pendant lights, according to how much brightness you'd like in the room.
16. Amazing and Breathtaking – Modern Kitchen Island Lighting
When it comes to choosing the best lampshade for your pendant lights, it can prove to be a difficult task! After all, when assembling everything in your kitchen, you want it to look perfect. As we have mentioned before, it is crucial to take into consideration what sort of style your kitchen already incorporates, as you don't want the lighting design to clash with it. We would recommend you to try out glass lampshades for any pendant lighting you have above your kitchen, as these will reflect light in a gorgeous way!
17. A Contemporary Chandelier – Chic and Sleek
How about you install a contemporary chandelier right above your kitchen island? This can incorporate any sort of shape you'd like, as long as it provides sufficient light! An amazing idea would be to have metal rods linked to each other with lightbulbs sprouting out at the end of each rod. A modern chandelier will not only be a great source of light, but it will definitely make your kitchen look incredibly unique!
18. Wood and Glass – Modern Pendant Lighting for Kitchen Island
If you are using a lot of wooden elements in your kitchen, then make sure to incorporate some wood in your lighting as well! For example, if you are looking for a gorgeous type of lampshades, why not combine wood with glass? You can have wooden frames built, in which glass is carefully placed. The light seeping through the glass will create a cosy and friendly ambience, especially if you decided on placing warm coloured lights in them.
19. Wonderful in Wood – A Creative Choice
Another stunning idea is this one! Create lighting right above your kitchen island, but not any sort of lighting! You will need a wooden board which you attach to the ceiling. Before fixating it, you will have to drill through the board, placing small spotlights in it. With the help of this wooden board that is filled with small lights, you will be able to add a new dimension to the room.
20. Monorail Lighting – Kitchen Island Light Fixture
One type of lighting we haven't talked about is monorail lights. It consists of bright lights, which are all linked to the same metal rod and then fixated to the ceiling. This will create a practical way of lighting up your kitchen, as well as your kitchen island.
We hope that this pick of ideas has helped you find ideas concerning modern pendant lighting for kitchen islands. For other ideas, such as best lighting for bathrooms or kitchen cabinet lighting ideas, visit our website.
Advert