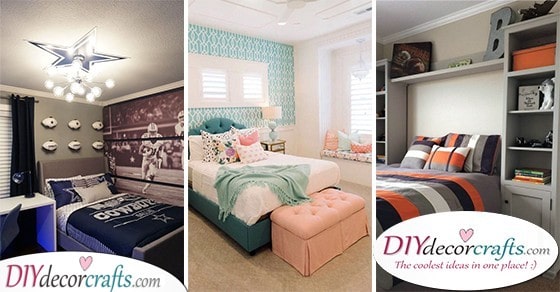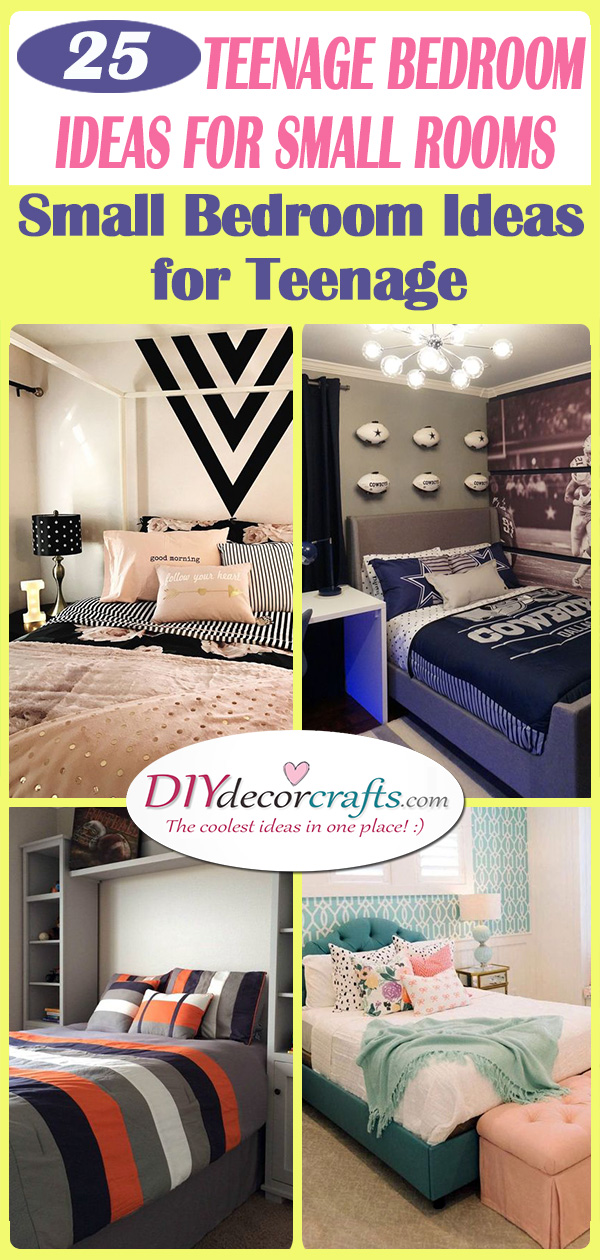 Have you decided to renovate and refurbish your house? If so, you might be looking for bedroom ideas for small rooms. Sometimes it proves hard to decorate a small room or find the right sort of furniture for it. As it is small, you will need to find practical pieces of furniture with which you don't clutter the room's aura. Also, think about creating an illusion that the room is bigger than it actually is. There are a few ways you can achieve this! When it comes to creating a gorgeous bedroom for a teenager, you will also need to consider their personality and their needs. We have collected 25 teenage bedroom ideas for small rooms to give you some inspiration concerning home decor. So take a browse through our small bedroom ideas for teenage girls!
1. A Single Bed – Small Bedroom Ideas for Teenage Girl
When it comes to small rooms, a practical solution is using smaller sized furniture. Since you don't have that much space, smaller sized furniture will help make the room look somewhat bigger. For example, instead of getting a queen or king-sized bed, why not go for a single bed? Using a single bed will definitely provide more space in your teen's room. Then it's up to you and your teenager on how you decide to decorate it!
2. A Fantastic Shelf – Saving Some Space
Shelves are a great way of storing a lot of items, including books or pieces of decor. Sometimes they are too large though and take up too much space! When it comes to a small bedroom, you will want to find a practical shelf. Why not create a shelf which acts as a frame around your teenager's bed? Create the shelf out of the same material as the bed frame is made out of and make sure that it's the same colour. This shelf will also function as a bedside table, which is a fantastic idea!
3. Storing Stuff Under the Bed – A Logical Idea
While you might not have space in your teenager's bedroom for an extra shelf or closet, there are many other ways of storing their things. For example, storing clothes or other sorts of things in boxes under the best is a logical idea. All your teen will need to do is pull out the box from underneath their bed and take out whatever they need. It's a great way of saving space in a small room! The rest is up to you and your teen, on how you would like the decorate the room.
4. A Hanging Chair – Teenage Bedroom Ideas for Small Rooms
Since you are designing a room for a teenager, you will also want to make sure to add an element of fun. A hanging chair is a fabulous example of this! Hanging a chair from the ceiling won't take up much space. Not to mention, it will also create a safe spot in the room. Fill the hanging chair up with pillows to make sure it is extra comfortable. This hanging chair is guaranteed to become your teen's new favourite place in the house.
5. Monochrome Shades – A Stylish Room Design
Here is a stylish room design, which is perfect for teenager boys! Use monochrome in a trendy way, for example, by linking the colours to a sport like soccer. You can use soccer as inspiration for their bedroom, which will give their whole room a sporty and active vibe! While you might decide on painting the walls in monochrome shades or patterns, make sure the leave the ceiling white. A white ceiling will create an illusion that the room is spacier, then it actually is. So give this fabulous idea a try!
6. Adding a Burst of Colour – Yellow Sunshine
Another great way of adding more space visually to a room is by using a dominant burst of colour in it! For example, try out a vibrant yellow. Use this vivid colour in the furniture as well as in the decor. Using yellow will bring a happy and sunny vibe to any room, so if you and your teenager love this colour make sure to use it. To save space, use drawers underneath the bed for storing things, and attach a few shelves to the desk. This way your teen will have more place in their room!
7. Black and Pink – A Gorgeous Combination
Make sure to give your teenager's room a gorgeous design. Here is a beautiful idea that any teenage girl will love! Use a combination of soft pinks and black geometric patterns to create a unique and beautiful look! You can even paint a few black patterns on the walls just to enhance the look of the whole room! Give the bed itself a unique look as well, using a combination of pink and black bed sheets and blankets. And naturally, don't forget to get some decorative pillows as well!
8. Bed on a Closet – Teenage Bedroom Ideas for Small Rooms
If you don't have enough room in your teenager's room to place a closet in it, don't worry about it! There are a few ways of creating a closet which won't take up much space in the room! For example, building a closet underneath their bed. Fill the part underneath their bed with drawers and even shelves. This way they will have plenty of room to store anything in the closets. Your teenager will still be able to easily climb up onto their bed!
9. Find a Place for Everything – Great Ideas for Small Rooms
In a small room, it is crucial to find a place for everything. Naturally, it can be hard to place everything in the right place, without giving the room a cramped feeling. Try placing the furniture as far away from each other as possible, trying to leave an area in the middle of the room which is bare. This might possibly help make your teenager's room look a bit bigger. You can play around with the colours as well. Make sure to paint the walls in pale shades to create an illusion that it is larger.
10. Using Space Wisely – Where to Place Furniture
As we mentioned before, creating more space in a room is all about placing furniture wisely. For example, place a desk next to a bed. You won't have to get a bedside table for your teenager this way,  as the desk will function as the table instead. Also, consider placing shelves right above or right next to your desk. This way you won't take up that much space in the bedroom. Use light or pale shades of colour to decorate the room with, in order to create a spacier effect.
11. Bunk Beds – Teenage Bedroom Ideas for Small Rooms
If you have to fit two kids into one room a bunk bed has got you covered! It's the easiest solution for creating two sleeping spaces and taking up the least amount of room possible. There are hundreds of types of bunk beds, so try finding the best one for you and your teenagers, which will fit perfectly into their room!
12. Wall Shelves – Practical Girl Bedroom Ideas for Small Rooms
Placing shelves on the walls is a super practical way of storing books, as well as saving space! You can get wall shelves practically anywhere now and in any colour or material. So if you need more space, but need a place to store books, make sure to get wall shelves!