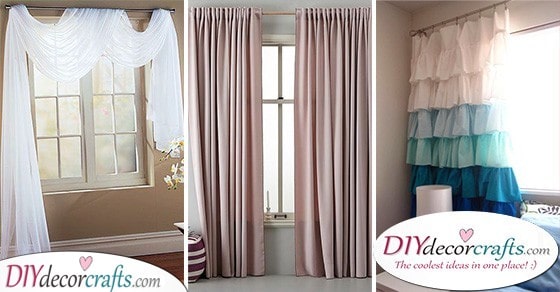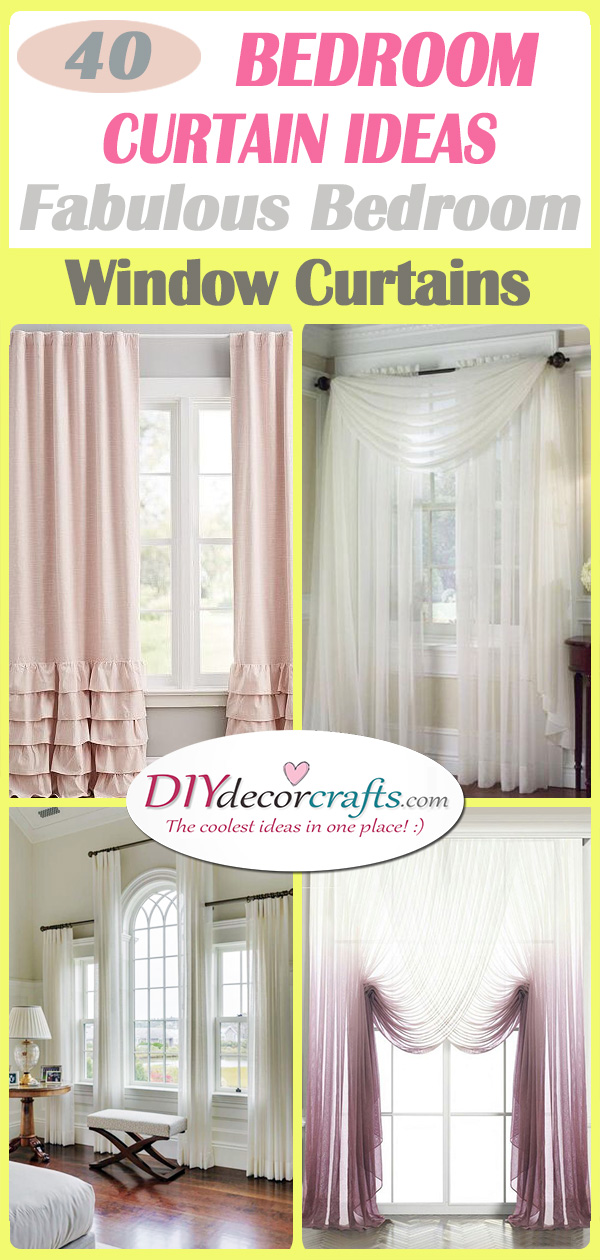 When it comes to having the perfect bedroom, you would like everything to be on point. The whole colour scheme of the room, the pieces of furniture and the decor are all important elements! You will want every single item to complement the rest of the bedroom. A small element of bedrooms people tend to forget about is bedroom window curtains! What they don't realise is how much colour or space a curtain can help bring to a room! We have collected 40 bedroom curtain ideas to help you out in order to find a bit of inspiration concerning home decor.
1. Silver Elegance – Bedroom Window Curtains
A simple touch you might like to add to your small master bedroom is silver curtains. The colour silver will bring an essence of mystery and elegance to your room. They look great whatever colour furniture you have, whether it's white, natural wood or black.
2. A Starlit Sky – Hundreds of Sparkling Stars
Now here is a curtain which is anything but boring! Get whatever colour curtain you'd like, then attach strings of fairy lights to them. This will create a magical glow to your curtain and will look like a starry night sky. This is also a great way of adding a bit of ambience to your room.
3. Simple Beige – Bedroom Curtain Ideas
Sticking to a simple pale shade of beige will definitely create more space in your bedroom! There are a few interesting ways of twisting and arranging curtains, which is an awesome idea to try out if you would like to add a bit of spunk to your bedroom!
4. Two Layers – A Classic Look
Classic curtains are all about having two layers. A layer of sheer fabric, which lets light inside the room and a layer of a heavier fabric, which prevents people from peeking inside your room. This curtain layer is also capable of darkening the room during the day. Having curtains made out of two layers is a practical and logical solution!
5. Pure White – A Twisted Curtain
Give your bedroom curtain a look of elegance and sophistication. Twist the fabric around the curtain pole in a manner that you would a scarf around your neck. It will fall beautifully!
6. Beautiful and Refined – Coffee and White
Here is another example of a curtain made up of two layers. This one uses a creamy coffee colour for the darker layer, which is guaranteed to add refinement to your bedroom.
7. Adding Some Colour – A Pale Purple
Adding colour to your bedroom curtains is a fabulous idea, as it will also add a burst of colour to your room! Depending on what other sorts of decor you have in your room, you will want your curtains to match it. If you have a tonne of pink or purple decor, we recommend trying out pale purple curtains!
8. Turquoise and Light Yellow – An Exquisite Combination
If you like an exquisite combination in colours, why not get a set of turquoise and yellow curtains? These will look amazing when put together, especially if your room decor already includes these two colours.
9. Brilliant Brown – Comfy and Cosy Vibes
If you would like to add a warm tone, which will easily fit into the rest of your bedroom, why not try out brown curtains? Getting brown curtains will add cosy vibes to your bedroom, which is what you want!
10. Three Curtains – For Three Windows
If you have three windows providing light to your bedroom, why not create a symmetrical look for them? Get the same curtains for each window! If one window is larger than the other two, all you need to do is place that curtain higher.
11. Champagne Shade – Bedroom Curtain Ideas
A neutral colour which goes well with practically anything is champagne! If you like this colour as much as we do, why not try out a champagne coloured curtain? You can try out a lighter and thinner material, to allow some sunlight to brighten your room.
12. Decorative Bedroom Window Curtains

– Unique and Funky
Instead of having plain white curtains, why not get some which have patterns on them? This will add a bit of funkiness to your bedroom. You can even swap it up and use two different types of curtains to decorate your bedroom windows with, just like in the picture above!
13. Chic and Sleek – Grey Bedroom Curtain Ideas
If you are using mainly monochrome tones in your bedroom, how about getting pale grey bedroom curtain ideas to complement your bedroom? Try using two layers of chic grey curtains. When you aren't using the darkening curtain, you can tie them up elegantly at the bottom with a curtain rope.
14. Stylish and Shiny – A Gorgeous Atmosphere
It's important to find beautiful bedroom window curtains for your room, as they will add a newfound depth and atmosphere to the bedroom. A gorgeous addition to any bedroom are metallic curtains, a faint gold, silver or bronze will shine beautifully in the sunlight. According to what sort of furniture and decor you have in your room, make sure that the colour of the curtains will match it.
15. Blue Ruffles – Cute and Quirky
Here is an awesome and quirky design for curtains! Ruffles and ruffles on top of each other, each one becoming a shade lighter than the ruffle below. You can get a ruffled curtain in whatever colour you'd like! It all depends on what sort of colours you already have present in your bedroom. This idea would look perfect in a teenage girls' bedroom!
16. A Rustic Look – Farmhouse Vibes
Instead of getting a curtain pole for your bedroom window curtains, why not make your own curtain rods out of reclaimed wood? So if you have been looking for a way to add a rustic vibe to your bedroom, this is it! Then all you need to do is simply attach your curtains to the hooks you attached to the wood.
17. A Bright Glow – Bedroom Curtain Ideas
Here is another great example of attaching strings of fairy lights to your curtain for an amazing effect! You can use light coloured curtains to create a bright glow in your room. These look especially beautiful at night when they are glowing serenely! So, how about combining your bedroom curtains with some bedroom lighting? These will make the best curtains for bedrooms if you want something magical!
18. Adorable Pom Poms – Cuteness Overload
If you are thinking about sprucing up the area in your bedroom around your window, why not add some pom poms to your curtains? Add a few pom poms to the curtain rope and hang some from the borders of your curtain for an amazing look.
19. A Stylish Look – Adding Luxury to Your Bedroom
Depending on how you style your bedroom window curtains can give your room a completely new look. Just check out this curtain design. Both curtains are tied with curtain ropes at a different length, creating gorgeous asymmetry. This way of styling your curtains will add a look of luxury to your bedroom.
20. A Basket Weave – Styling Your Curtains
If you aren't thinking about buying new curtains, why not try styling them in a different way? An awesome way of sprucing up your old curtains is by adding a basket weave to the top of them.
21. Darker Shades – Sheer Bedroom Window Curtains
Here is a beautiful example of using a darker shade of drapes. Made out of sheer fabric, it will block most sunlight out, but will still allow a soft glow to enter your bedroom. These thin drapes will create an airy and light atmosphere in your bedroom.
22. Glamorous Gold – A Fabulous Addition to a Bedroom
When you think of the colour gold, you will immediately be reminded of luxury and glamour.  Add a hint of this brilliant colour to your room by getting golden curtains! They will definitely add a miraculous glow to your whole bedroom!
23. Airy and Elegant – A Simple Design
Even if you have plain white curtains in your bedroom, you can still bring out the best of them and create something elegant and unique! Simply fixate both sides of your curtain with curtain rope to create a unique shape.
24. A Blushing Pink – Bedroom Curtain Ideas
Add some warmth to your bedroom by getting pale pink curtains! Pink is the colour of love, harmony and peace, so it would only make sense to use this colour as inspiration in your room!
25. Add Some Buttons – Creative and Unique
If you love making handmade crafts, why not customise your curtains? Sew some larger buttons to the top of your curtains, adding a cute look to them! You can try this out with similar buttons, but for a more funky and groovy look, use different shaped and sized buttons! These are the best curtains for bedrooms for anyone who loves to make handmade crafts!
26. Glowing in Gold – The Best Curtains
We have already mentioned getting gold curtains for your bedroom, as they will add a bit of luxury and glamour! When tying them up, because you'd like to let some sunlight in, don't attach them to the wall with a curtain rope. Instead, place a curtain wrap on each one for an elegant appearance.
27. Curtains on Doors – Fantastic Ideas
If you have a French door in your bedroom, which leads out onto the balcony or garden, make sure you put some curtains on it! This will help keep your room a bit cooler during the summer by not letting in too much sunlight!
28. A Gorgeous Rainbow – A Burst of Colour
If you are considering adding a fun and vibrant burst of colour to your room, why not achieve this with your curtain? You can get a rainbow-coloured curtain for your bedroom, which will add a vivid glow to your room when the sun shines through it.
29. Friendly Farmhouse – Handmade Curtain Hanger
As we have already discussed, you can create your own curtain hanger, instead of using a curtain rod for your drapes! All you need to do is get a plank of wood and hammer some hooks into it from which you can hang your curtains from. This will create an authentic farmhouse vibe in your bedroom!
30. Ruched Tabs – For Your Curtains
To give your bedroom blackout curtains a bit of sophistication, create ruched tabs on them! You can purchase curtains such as these, but you can also create this at home easily by yourself!
31. An Earthy Essence – Using a Branch
Create your own curtain rod at home by using a tree branch! Using a straight tree branch as a curtain rod will add an essence of nature to your bedroom, as well as look awesome!
32. A Fancy Twist – Bedroom Curtain Ideas
Here is yet another brilliant example of using sheer, thin fabric as your curtains, to create a light and airy look in your room. Twist it around the curtain rod at two places, allowing it to fall into cascades of fabric.
33. Elegant Drapes – Balloon Drapery Panel
Are you considering adding an old-fashioned vibe to your bedroom? If so, why not attach your curtains to a balloon drapery panel? This will add a beautiful vintage touch to your room!
34. Ruffled on the Sides – Inspiration for Bedroom Curtains
Add a fancy touch to your curtains! Sew some ruffles on the sides of them to enhance their look! It's completely up to you on what sort of colour you choose for the curtains!
35. Curtain Wraps – A Sense of Style
If you have more than one curtain shielding your bedroom windows, then make sure to style them elegantly! Place wraps onto the middle of each curtain, giving each one an hourglass figure.
36. A Mix of Colours – Pink and Grey
If you have a few curtains, each coloured differently, you can try creating a braid of curtains! A great colour combination involves using pink and grey for your drapes. These two colours will look stunning together!
37. Blue and White – Bedroom Curtain Ideas
Two beautiful colours which go really well together are blue and yellow. They create a beach-like ambience when used together. So if you would like to bring a feeling of summer into your home, why not combine these two colours for your curtains?
38. Pom Poms as Curtain Wraps – A Cute Idea
If you don't like the standard wraps you use to attach the curtain to the wall, why not replace them with pom poms or felt balls? This is a quirky and cute idea which you can create yourself!
39. A Very Chic Look – Modern Sophistication
Combining more than one texture and colour of curtains is always a great idea! Try combining a few colours and textures of fabric. Try combining sheer fabric with silk, and also add a different texture, like velvet or linen, for bedroom blackout curtains!
40. Ruffles on the Bottom – Cute Bedroom Curtain Ideas
Another way to sweeten up your bedroom is by adding ruffles to the bottom of your curtains! A few layers of ruffles will add that final touch of cuteness, which you might be going for.
We trust that you were able to find some inspiration amongst our 40 bedroom curtain ideas! For more interior design inspiration, besides bedroom window curtains, like children room ideas or jewellery organizers, just visit our website!
Advert