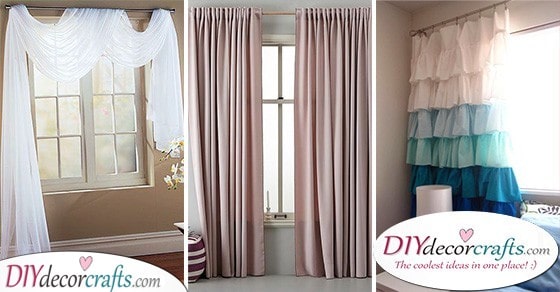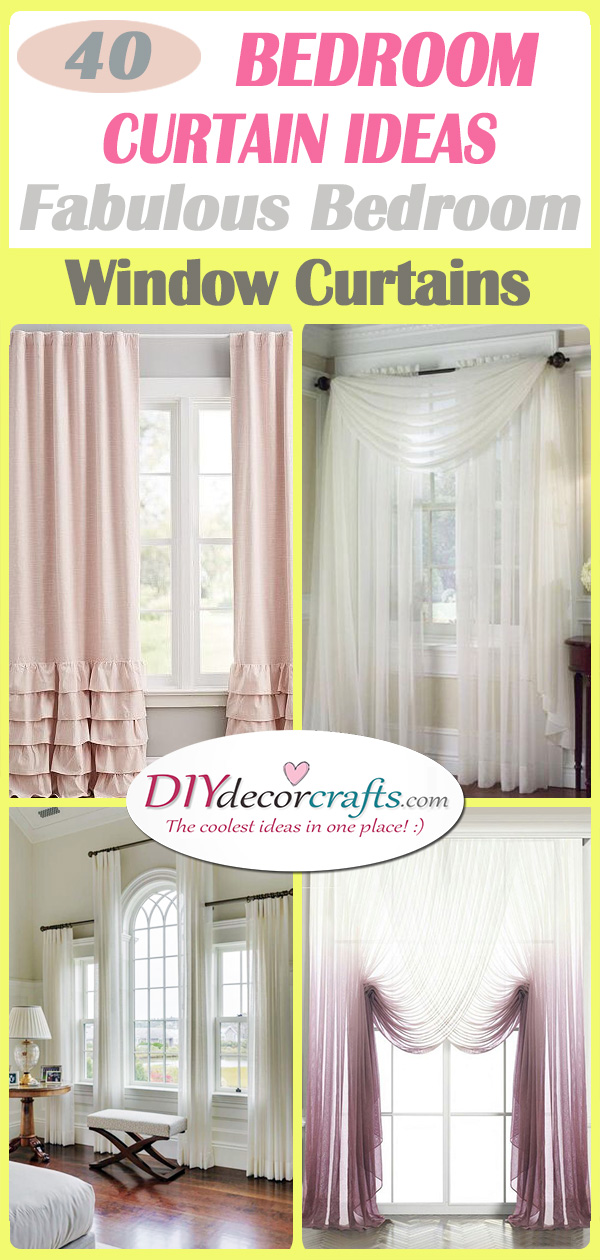 When it comes to having the perfect bedroom, you would like everything to be on point. The whole colour scheme of the room, the pieces of furniture and the decor are all important elements! You will want every single item to complement the rest of the bedroom. A small element of bedrooms people tend to forget about is bedroom window curtains! What they don't realise is how much colour or space a curtain can help bring to a room! We have collected 40 bedroom curtain ideas to help you out in order to find a bit of inspiration concerning home decor.
1. Silver Elegance – Bedroom Window Curtains
A simple touch you might like to add to your bedroom is silver curtains. The colour silver will bring an essence of mystery and elegance to your room. They look great whatever colour furniture you have, whether it's white, natural wood or black.
2. A Starlit Sky – Hundreds of Sparkling Stars
Now here is a curtain which is anything but boring! Get whatever colour curtain you'd like, then attach strings of fairy lights to them. This will create a magical glow to your curtain and will look like a starry night sky. This is also a great way of adding a bit of ambience to your room.
3. Simple Beige – Bedroom Curtain Ideas
Sticking to a simple pale shade of beige will definitely create more space in your bedroom! There are a few interesting ways of twisting and arranging curtains, which is an awesome idea to try out if you would like to add a bit of spunk to your bedroom!
4. Two Layers – A Classic Look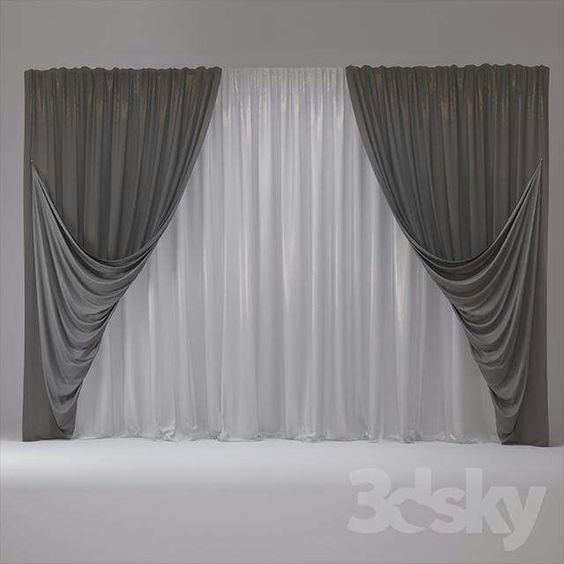 Classic curtains are all about having two layers. A layer of sheer fabric, which lets light inside the room and a layer of a heavier fabric, which prevents people from peeking inside your room. This curtain layer is also capable of darkening the room during the day. Having curtains made out of two layers is a practical and logical solution!
5. Pure White – A Twisted Curtain
Give your bedroom curtain a look of elegance and sophistication. Twist the fabric around the curtain pole in a manner that you would a scarf around your neck. It will fall beautifully!
6. Beautiful and Refined – Coffee and White
Here is another example of a curtain made up of two layers. This one uses a creamy coffee colour for the darker layer, which is guaranteed to add refinement to your bedroom.
7. Adding Some Colour – A Pale Purple
Adding colour to your bedroom curtains is a fabulous idea, as it will also add a burst of colour to your room! Depending on what other sorts of decor you have in your room, you will want your curtains to match it. If you have a tonne of pink or purple decor, we recommend trying out pale purple curtains!
8. Turquoise and Light Yellow – An Exquisite Combination
If you like an exquisite combination in colours, why not get a set of turquoise and yellow curtains? These will look amazing when put together, especially if your room decor already includes these two colours.
9. Brilliant Brown – Comfy and Cosy Vibes
If you would like to add a warm tone, which will easily fit into the rest of your bedroom, why not try out brown curtains? Getting brown curtains will add cosy vibes to your bedroom, which is what you want!
10. Three Curtains – For Three Windows
If you have three windows providing light to your bedroom, why not create a symmetrical look for them? Get the same curtains for each window! If one window is larger than the other two, all you need to do is place that curtain higher.
11. Champagne Shade – Bedroom Curtain Ideas
A neutral colour which goes well with practically anything is champagne! If you like this colour as much as we do, why not try out a champagne coloured curtain? You can try out a lighter and thinner material, to allow some sunlight to brighten your room.
12. Decorative
Bedroom Window Curtains
– Unique and Funky
Instead of having plain white curtains, why not get some which have patterns on them? This will add a bit of funkiness to your bedroom. You can even swap it up and use two different types of curtains to decorate your bedroom windows with, just like in the picture above!