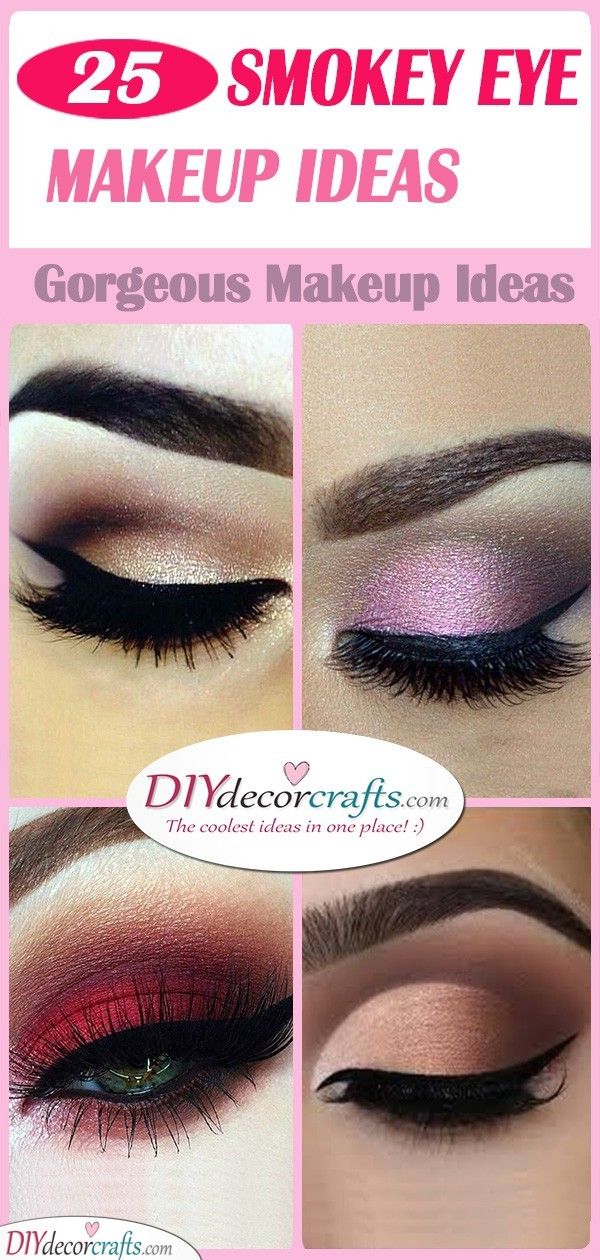 Are you getting ready for a special occasion or a big event in your life? It might just be a casual get together with colleagues after work or maybe it's a romantic first date. Well, whatever the occasion is, you will want to look your best from head to toe. This means wearing the perfect clothes and adding your favourite accessories to the outfit. Of course, don't forget about your hair or your makeup! These will add a gorgeous glow to your whole look! If you are in search of a fashionable and beautiful makeup look for your eyes, then go no further. Besides making sure to check out our collection of makeup ideas, we have gathered 25 ideas for smokey eye makeup for you to choose from!
1. The Classic Look – Simple and Sophisticated
When you hear the words "smokey eye makeup," you immediately think of your inner eyelid coated in a pale or nude colour, while the outer eyelid turns into a darker shade of black. This beautiful look is a timeless classic, which is perfect for any sort of occasion, especially something on the fancier side! Instead of using very glittery eyeshadow, stick to something matte for a more sophisticated effect. The rest of the makeup is up to you. For example, what shade of lipstick or lipgloss would you like to match with the smokey eyes?
2. Bold and Beautiful – Smokey Eye Makeup Ideas
Take your smokey eye makeup to a whole new level of boldness! Start with your eyelids, using white in the inner corners and inner lids. Slowly work your way into shades of brown, then the outer lid should become a darker shade of black or brown. Accentuate the shape of your eyes, using liquid eyeliner on your eyelids, drawing wings as well. Naturally, don't forget to use mascara for your eyelashes! This will give your smokey eyes a beautiful and bold glow, which is perfect for any sort of party or fancy dinner you might be going to!
3. A Bit of Green – Adding Some Colour
Green is the colour of nature. If you like this colour, or more importantly, have a splash of green in your outfit, why not add some of this vibrant colour to your eye makeup as well? Since we are talking about smokey eyes, you will want to add green to this conception. You can coat the middle of your eyelids in green, leaving the inner lid glowing in white, and the outer lid turning into black. Adding green to your eye makeup will add an overall vibrancy to your whole look.
4. Simple in Silver – An Elegant Glow
Silver is such a mystical and magical colour, reminding people all around the world of the moon. If you would like a mysterious glow to your image, why not use silver combined with dark blue as smokey eyes? Coat your inner lid with a bright and glittery silver. Work your way towards the outer lids using a shade of dark blue. This is a perfect idea if you already have an element of silver in your outfit. You can add a final touch by painting your waterlines with a white eyeliner.
5. A Shimmering Gold – Perfect Smokey Eye Makeup Ideas
Give your eyes a stunning glow, by covering them in shimmering gold. A golden eyeshadow will create a bold and seductive look. So if you are thinking about going to a party, this is definitely a design to try out! Coat the outer eyelid in a dark and glittering brown, which will look beautiful next to the gold. You can paint around your creases with this same dark brown to create an even more stunning look. Draw with black eyeliner above your lash line, creating wings for both your eyes.
6. A Splash of Red – Hot and Fiery
When you think of the colour red in makeup, you wouldn't usually associate it with your eyes. Red is something you would use for your lips or for adding blush to your cheeks. Here is a gorgeous example of using a splash of red in your smokey eye makeup. Coat only the inner corner and inner part of your eyelid in a striking red, covering the rest of your lid in a dark brown. Your eye makeup will be on fire, that's for sure!
7. A Glimmer of Gold – Stylish and Unique
Are you going to be wearing gold-coloured clothes or golden accessories? If so, make sure to use gold in your eye makeup! Use a bright gold starting from your inner eye corners lasting until the middle of your eyelids. Then add some dark brown or black to your outer eyelids and outer v. Gold is truly a stunning colour with which you can add a natural and beautiful glow to your whole look. So if you are looking for a bit of spark and a warm accent, use gold for your smokey eyes!
8. Pink and Purple – A Fantastic Combination
Now here is a stunning combination of pink and purple. This one is for everyone who loves a feminine touch on makeup! Use a brighter pink for the inner parts of your eye and use a sparkling white for your inner corners. Reaching the outer parts of your eyelids, start using a sparkly purple. Create a smokey appearance between the meeting of the pink and the purple. Using black liquid eyeliner, draw a line with a wing above your lashes for that extra effect. This mix of pink and purple is perfect for any time of the year!
9. Intricate and Stunning – Dark Shades of Green
As we mentioned before, using a colour already in your outfit on your eyelids is a great idea! If you have an element of dark green in your clothes or accessories, make sure to use it as a defining colour in your eyeshadow as well! If you are getting ready for a party, make sure to use a sparkling dark green instead of matte colours! Add some smokiness around the corners of your eyes using both shades of sparkly dark brown and black.
10. A Soft Glamour – Smokey Eye Makeup Ideas
Sticking to the classic look of smokey eye makeup, means bright or pale shades of eyeshadow, turning into a smokey black. Would you like to paint your eyes using this technique and with its classic colours? Simple smokey eyes are perfect for any sort of occasion. Whether it's something more casual or something more elegant, smokey eyes are definitely a winner! So stick to the classic colours of it, using white and nude colours for the inner lids and a smokey black for the outer eyelids.
11. A Sensational Look – Pretty in Pink
If you adore the colour pink, you will love this eyeshadow design! Use different shades of pink to complete a full smokey eye look. Use the brightest shades of pink in the inner corners and the inner eyelid. Then let the eyeshadow turn into darker shades as you move towards the outer parts of the eyelid. It's completely up to you if you want to use matte shades of pink or sparkly ones.
12. Silver Brilliance – Make Your Eyes Look Bigger
We have already talked about using the colour silver for your smokey eye design. It will give you an air of mystery and magic. Besides that, using sparkling silver will also create an illusion that your eyes look bigger than they actually are. Use bright tones of silver for the inner corner of your eyes and the inner eyelids. Then use darker greys for the outer lids. This is a smokey eye makeup which would look perfect at a winter or Christmas party!