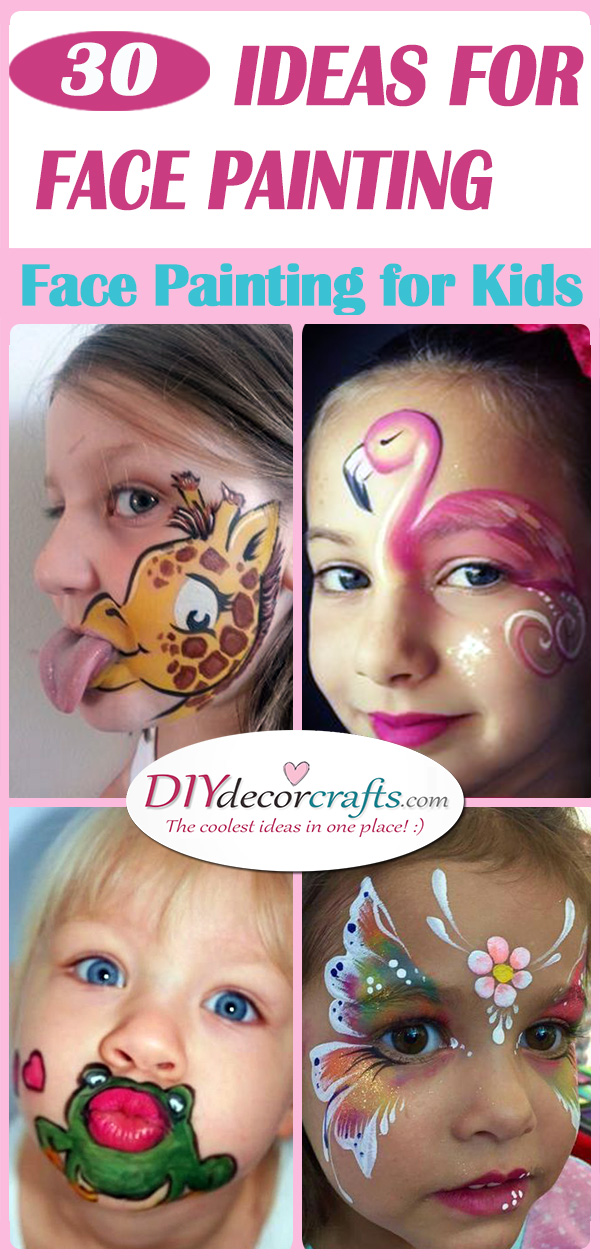 Face painting is a fabulous activity to try out, especially for kids. Whether you are strolling through a seasonal fair in your town, a theme park or carnival there is sure to be a face painting stand. If your child is hosting a party, you might try out learning face painting for parties. This way you will be able to give all the children at the party an exquisite look. We have collected 30 face painting for kids below to help you out in finding some awesome ideas! If you are interested in face painting and makeup ideas, make sure to check out our collection!
1. Captain America – Face Painting for Parties
If your kid is a fan of the Marvel Cinematic Universe and all its superheroes, then they will love this face painting idea! Paint the symbol of Captain America on their forehead. Then create two wings on the place of their eyebrows, adding a few white sparkles here and there. This face painting idea is perfect for marvel fans!
2. A Cute Giraffe – Favourite Animal Ideas
Giraffes are super cute animals with their long necks and long tongues! If giraffes are your kid's favourite animal, why not paint a giraffe on their face? Create this animal on the side of the child's face, as if the giraffe were facing sideways as well. The point is to have its mouth at where the kid's actual mouth is. This way whenever the kid sticks out their tongue, it will look as if the giraffe is sticking it out!
3. A Beautiful Bird – Glitters and Sparkles
Another fantastic idea to paint on your kid's face is a bird! Make sure it is colourful and vibrant, using a set of various colours to make it look exotic. You can also coat the bird in a few layers of sparkle or glitter to give it an additional glow of beauty.
4. A Rainbow Pony – Face Painting Ideas for Kids
Rainbows are a combination of colours that children absolutely love. So make sure to use it in their face paint! Draw a pony on the side of their face, which is covered in a multitude of stripes. Instead of colouring the stripes with a simple black, making it look like a zebra, colour the stripes in a spectrum of rainbow!
5. An Amazing Dragon – Fierce and Fiery
Dragons are mythological creatures which were thought of as fire-breathing, winged serpents. These fictional beasts have become popular in modern culture.  If your kid loves dragons, why not create their face to look like a replica of a dragon? Don't forget the horns and try creating small spots on your kid's face, representing the dragon's scales. This would be an awesome makeup idea to match a Carnival costume for kids.
6. Blossoming Beauty – Face Painting for Parties
Here is a beautiful face painting idea which the girls will love! Paint some pink flowers on their forehead, creating a gorgeous look! It will resemble a floral crown. Naturally, you can add some different coloured flowers as well, according to preference!
7. A Rainbow Fish – With Bubbles
Does your kid love creatures of the deep sea or the rivers and lakes of our planet? Why not paint a cute, rainbow fish on the side of their face? You can even add some bubbles floating up to the forehead of the child.
8. A Happy Turtle – Face Painting for Kids
Turtles are such adorable animals. Paint a turtle on the side of the kid's face, making sure that the mouth is at the same place as the kid's mouth is. This way whenever the kid opens their mouth to speak, it will look as if the turtle is speaking.
9. A Baby Chick – Learning to Fly
Here is another super cute idea! Paint a baby chick on the kid's face, painting most of its body on the nose. Then have its wings flapping on the eyebrows. Use yellow for the body of the chick and orange for its beak and feet.
10. Flowers Over a Rainbow – Gorgeous Face Painting for Parties
Now here is an exquisite look that any little girl will love! Cover the parts around her eyes in sparkling colours of the rainbow.  Make sure you use a lot of glitter for that extra glow! Then paint an abundance of small white flowers all over the rainbow. This will look like a magical garden of flowers!
11. Lizard and Fly – Green Galore
Lizards are cute animals, especially when it comes to quick face painting ideas! They are also super easy to create, you need two oval shapes and a curling tail. Have a tongue sticking out of the lizard's mouth and a fly attached to the very end of it as if the lizard had just caught his dinner! Perch this lizard on one of your kid's eyebrows for a fantastic look!
12. Beautiful Butterfly – With Rainbow Wings
Butterflies are beautiful and spectacular animals. Kids are always enchanted by these fluttering insects. Use them as inspiration for face painting, and paint two rainbow wings on a kid's face, around their eyes. You can also draw a flower on their forehead for an extra effect.
13. A Slithering Snake – Face Painting for Kids
If your kid adores snakes, in every form and size, why not use these slithery animals as an idea for face painting? You can draw the head of a snake on the forehead of your kid. Naturally, don't forget the forked tongue of the snack either!
14. Rainbow Unicorn – A True Classic
A classic face painting idea is using a unicorn as inspiration! All the kids are guaranteed to love this magical animal. Paint a unicorn on the side of your kid's face, using white as the main colour of the fur. Use the colours of the rainbow for the mane for a special and stunning effect!
15. Teenage Mutant Ninja Turtle – Quick Face Painting Ideas
Does your kid love to watch Teenage Mutant Ninja Turtles? If so, make sure they get one of their favourite turtles face-painted on them! Depending on who their favourite character is, choose the colour of the mask, as every ninja turtle has a different coloured mask. This would look amazing for a Halloween costume for kids.
16. A Cute Puppy – Easy and Simple
Dogs are a lot of kids favourite animals! If your kid likes puppies and dogs very much, then why not use man's best friend as inspiration? Paint a "furry" ring around one eye of your kid and also recreate the nose and mouth of a dog, with a tongue hanging out to the side. Your kid will really look like a dog when this is ready!
17. Kissing a Frog – Funny Face Painting for Children
There are a lot of tales talking about frogs that are actually princes. Once you kiss this frog, it will turn back into a prince! While we don't believe these children tales, we can still gather a few ideas from these cute stories! Paint a frog over the mouth and chin of your kid. You can even create the lips of the frog to be the lips of the kid, making the face paint funny!
18. A Rabbit – With a Carrot
Here is another one of many adorable face paint ideas for kids! Transform your kid's face into that of a bunny's. Paint a carrot sticking out of their mouth onto the side of their face! Don't forget to paint the tip of their nose pale pink! This face painting idea will be perfect for any kid who loves animals!
19. A Rainbow Clown – Happy Face Painting for Parties
A classic face painting idea is the face paint of a clown! But instead of sticking to the traditional face paint of a clown, take it to a bubbly and happy level for your kid! Leave the nose and mouth red. Then paint rainbows above their eyes, adding the typical clown eyebrows as a final touch. This will look spectacular on any kid who loves to clown around!
20. A Striped Zebra – Face Painting for Kids
Zebras are quirky and unique animals with an exquisite set of stripes! If your kid adores these animals, make sure to use their white and black pattern as inspiration for their face paint! You can even recreate the head of a zebra on their face!
21. A Pink Flamingo – Brilliant Birds
Flamingos are brilliant birds known best for their vibrant pink colour! If your kid loves this colour and these birds, make sure to use flamingos as inspiration for their face paint! Paint a flamingo above one of their eyes as if it were resting. A few feathers streaming out at the bottom are a fantastic idea as well!
22. Adorable Dog – Face Painting for Kids
Here is another puppy face painting idea which your kid will be guaranteed to love! Paint the whole face of a puppy on your kid's face, including the hanging out tongue and fluffy ears as well. You can even consider adding a bow to one of the dog's ears.
23. A Unique Clown Look – Melting Rainbow
Here is another cool clown look for kids! After covering their face in white, adding a colourful nose and lips, paint a melting rainbow at the top of their head. This will take the clown look to a whole new level giving it a new interpretation!
24. A Magical Unicorn – Stars and Flowers
As we mentioned before, unicorns are super trendy in all sorts of ways! So it would only make sense to use them as an idea for face painting! Draw the horn, ears and mane of a unicorn on the kid's forehead. You can further decorate this image with flowers blooming on the sides and stars shining above the unicorn's horn.
25. A Majestic Butterfly – Face Painting for Parties
There's nothing quite like the intricate details of the wings of a butterfly. Recreate the wings of a butterfly on your child's face. This is one of many very beautiful and unique face paint ideas that will look spectacular at any party! Use warm colours, like yellow and orange for the wings of the butterfly and don't forget to add a bit of glitter to the tips of the wings!
26. Spiders Everywhere – A Scary Look
Are you getting ready for this year's Halloween? Make sure your kid has a spooky outfit or at least some scary face paint! Why not paint the shapes of spiders all over their face for a super cool look? You can even use temporary tattoos instead of using face paint to achieve this whole spooky image.
27. A Bumble Bee – Overload of Cuteness
If you are in search of something more on the cute side of things, why not use a bumblebee as inspiration for your kid's face paint? Simply draw the image of a bumblebee on one side of the child's face, with a trail of spots following behind it. You can also add a few images of flowers around the bumblebee, as flowers fit right into the whole picture.
28. Minnie Mouse Face Paint – Face Painting for Parties
Is your kid a huge fan of Disney films and loves Minnie Mouse especially? If so, make sure to use Minnie as inspiration for your child's face paint. Paint her ears above the kid's eyebrows, and don't forget to add Minnie Mouse's signature bow to the design of the face paint. This Minnie Mouse face paint is a perfect look for a Disney themed party or as makeup for Carnival costumes for babies!
29. The Flash – Another Superhero Idea
Does your kid love superhero movies and tv series? If so, make sure you include an element of a superhero on their face paint! For example, if your child loves The Flash, why not use the mask of this superhero as a bit of inspiration? If your kid is going to a superhero-themed party, then this face paint mask will be perfect!
30. An Awesome Rooster – Face Painting for Kids
Here is a farm animal you can use to create a special face paint design! A rooster! You can paint the rooster on only one side of your kid's face. The rooster should also be painted from the side. Use red for the rooster's comb and wattle, white for the feathers and yellow for the beak. This rooster face painting for children will look awesome!
We hope that this collection of 30 ideas for face painting for parties has helped you out in finding some inspiration! For other ideas concerning children, like Nail Ideas for Children or Cute Hairstyles for Little Girls, just check out our website!
Advert