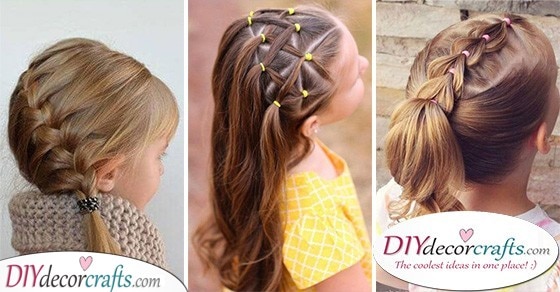 If you are getting ready for a special occasion, like a casual day out with friends or a formal and elegant party, you will want to look your best. This means looking great from head to toe. Your appearance includes your outfit, your accessories and last, but most importantly, your hairstyle! No matter if you are over seventy or under ten, you will want your hairstyle to look gorgeous. This is exactly why we have collected 25 cute hairstyles for little girls. This way you will make sure your little girl looks her best wherever she goes! As well as allowing her to express herself! So take a browse through our easy little girl hairstyle ideas, to find the best one for her!
1. A Top Bun – With a Bow
Here is a simple and cute hairstyle, which will look perfect on your little girl! Tie her hair up in a top bun for an effortless look! It doesn't matter if the bun itself is more on the neat or the messy side. You can create the bun according to what sort of occasion she is going to! Then all you will have to do is attach a bow to her bun. Choose the colour of the bow according to what sort of colours she is dressed up in. Make sure the bow matches the rest of the outfit!
2. Minnie Mouse Hair – Easy Little Girl Hairstyles
Give your little girl a super adorable look, with the Minnie Mouse hairstyle! It's all about creating a bow out of her actual hair! This hairstyle is perfect for little girls who love Disney movies, especially Mickey Mouse! And even though it looks hard to style, it's actually super easy to create! Just check out the step by step tutorial above for a few tips on how to create it!
3. Braids Crossing Each Other – Cute
Hairstyles for
Little Girl
If you are taking your little girl to a more elegant event, then consider giving her this hairstyle! It's all about braiding two strands of her hair from the front, crossing them over each other and tying them into two ponytails. You can add some cute clips to the ponytails, giving them a special glow. So if you and the family, including your little girl, are heading off to a refined event, like a fancy dinner party, this hairstyle will be perfect! The great thing about this hairstyle is your little girl doesn't need very long hair to create this out of!
4. Braids and a Bun – A Lovely Look
Here is another fabulous hairstyle for your little girl, if you are taking her to a more elegant occasion! Create two braids, running from the side of her head, turning into a messy bun at the back. Braids turning into a bun are a perfect combination for any event more on the sophisticated side. After all, it is important for her to look her best, wherever she will be going! You can add a few accessories if you'd like to this hairstyle, like flowers or beads.
5. A Braided Ponytail – Sweet and Simple
If your little girl loves wearing her hair in ponytails, then make sure to give her a spruced-up version of it! Add a braid to her ponytail, running from the front of her head to the back. A braid always seems to elevate any sort of hairstyle! This hairstyle is also very practical for little girls who love to run around and play a lot. Tying her hair up in a ponytail will prevent her hair from getting in the way during playtime.
6. A Beautiful Braid – Great Hairstyles for Little Girls
As we mentioned before, adding a braid to hair will always add an extra glow to the whole hairstyle. Naturally, you can centre the whole hairstyle around a braid. There are so many types of braids you can add to a hairstyle. For example, French braids, Dutch braids or even a waterfall braid! Then, of course, it's up to you where you place the braids. It might just be a braid running from the front of your little girl's hair to the back. Braids are the perfect solution to a casual day at school or even a more formal event!
7. Two Cute Pigtails – A Happy Glow
There's nothing as fun or cute as a pair of pigtails! Not only are they super easy to create, but they bring a fun glow to their wearer! Pigtails are the sort of hairstyle any parent can master, even dad! So if you would like to give your little girl a fabulous glow on the weekdays, just try out this simple look! It's perfect for any season and any sort of day! Pigtails are also a practical hairstyle, as they prevent hair from getting in your little girl's eyes, while she might be playing.
8. An Intricate Design – Using Elastic Bands
You can now buy small elastic bands practically anywhere! These small accessories are great because you can use them for so many things and create a whole variety of different and unique hairstyles! You can divide strands of hair and create a criss-cross pattern out of them, tying the strands of hair together with the small elastic bands. You can even make something extremely intricate using just these small bands! It's really up to your creativity on what sort of patterns you can make out of your little girl's hair!
9. Fabulous Braided Look – Little Girl Hairstyles
We have already mentioned that braids help take your hairstyle to the next level. This is no different with hairstyles for little girls! If you have been searching for something more on the elegant side, because you and the family are going to a fancier event, then check out this hairstyle. The top of your little girl's hair should be braided, in the same way as a french braid. But instead of braiding it further, create a ponytail out of it! This hairstyle will definitely give your little girl sophisticated vibes!
10. Two Braided Buns – An Angelic Appearance
If you have the time to style your little girl's hair eccentrically, then you might like to give this hairstyle a try! Creating intricately braided buns are guaranteed to take up some of your time, but it will be worth it! Starting off by creating two pigtails, you will need to continue by braiding her hair in a circular shape. This way you will be able to create two gorgeously braided buns. So if you have been in search of the perfect hairstyle for an elegant event, then you might have found it!
11. A Simple Braid – Done Quick and Easy
Something easy to create, which takes no time at all, is a simple side braid! This is a great idea when you don't have that much time in the mornings. You are getting ready for work, while your girl gets ready for school! Luckily, a simple side braid takes up no time at all! You can add an accessory or two, to give this hairstyle a special glow. For example, a headband is a fantastic idea to add to a braid!
12. Crisscrossed Pigtail – Including a Few Braids
Here is yet another super cute hairstyle, perfect for little girls! First of all, you will need to create braids, starting from the top of her hair. Cross these braids over to the opposite sides and tie them into pigtails. This hairstyle will definitely give your daughter a groovy and fun vibe, no matter where she is going!