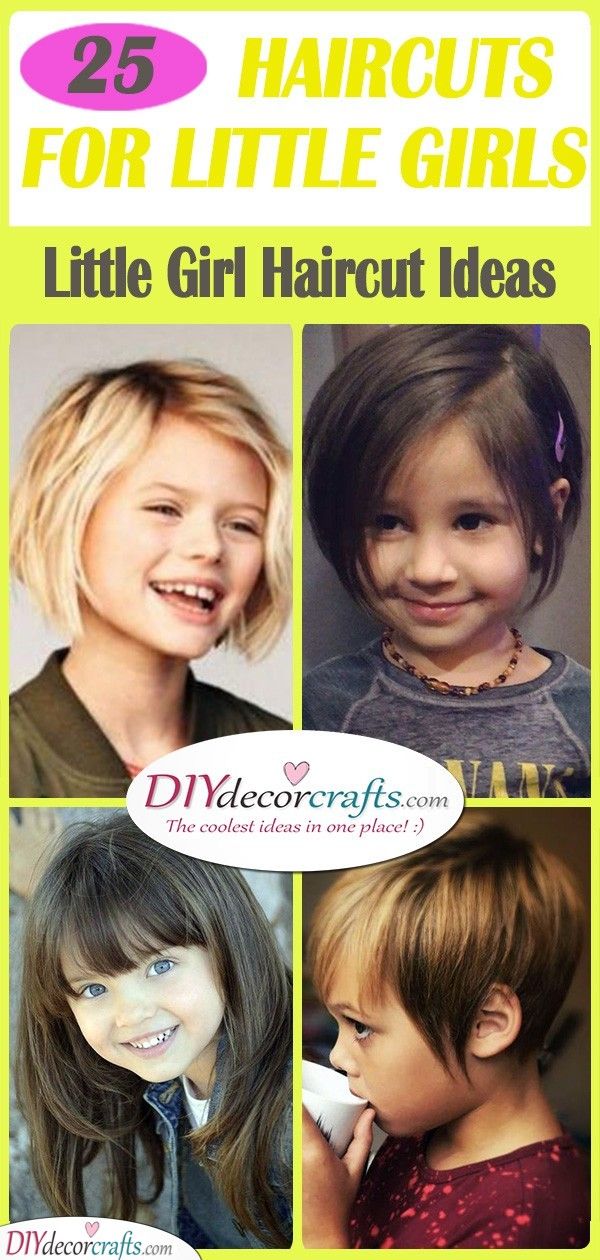 If you are getting for a special event, like a day out with friends or a fancy dinner party, you will want to look your best. This means looking great from head to toe. So it includes your outfit, your accessories and last, but most importantly, your hairstyle! No matter if you are over seventy or under ten, you will want your hairstyle looking fabulous. This is exactly why we have collected 25 cute haircuts for little girls. To make sure your little girl looks her best wherever she goes! As well as to allow her to express herself! So take a browse through our little girl haircut ideas, to find the perfect one for her!
2. Long With a Fringe – Cute Haircuts for Little Girls
A stylish look for any little girl is definitely when you leave her hair long and flowy. A cute addition to this is to cut front bangs for her. Long hair and front bangs are a perfect combination and also easy to style! So whenever your little girl wants braids, a ponytail or two top buns, you will be able to grant her wish! That's the great thing about long hair, you can create whatever you would like out of it!
3. A Short Pixie Cut – Amazing Little Girl Haircut Ideas
Does your little girl have a bold and daring personality? Make sure to emphasize it with an awesome haircut! There's no other haircut in the world as bold as a pixie cut, so why not try it out? It gives off a unique and adventurous look. While you may not think it, there are actually a lot of creative ways to style this short haircut. You can place all sorts of accessories in it, to give your little girl's hair an extra burst of fun. Add a side fringe or some bangs to the pixie for an even more stunning effect! Little girl pixie haircuts are the best!
4. A Messy Long Bob – Adorable and Stylish
You might consider going for a shorter cut, but not too short! If you've heard of a bob, you will probably already know how stylish and trendy it is at the moment! It's true that bobs are usually short, but you can opt for a longer bob! It will give your little girl's hair just enough edge as well as an adorable look. Add some bangs or even better, a side fringe, to her long bob. If this doesn't look great, we don't know what will!
5. The Perfect Pixie – Little Girl Haircuts
As we have already discussed, little girl pixie haircuts are a great way of showing off your little girl's bold and daring personality! Not to mention, the pixie cut itself looks absolutely gorgeous. So if your little girl isn't afraid about going short, then we definitely recommend trying out the pixie! It can be described in a few words, but what definitely comes to mind is "iconic." Wherever your little girl is going to be going, she will look super cute with this new and exciting haircut. For an additional effect, you can add some hair accessories to the pixie!
6. A Beautiful Bob – Bringing out the Best
Most little girls like medium-length or longer haircuts. A stylish hairstyle idea for little girls is to try out a bob. It will give a lot of volume and definition to her hair, as well as look super gorgeous! A standard bob is a great look, it's not as short as a pixie cut, which might make it a better choice for small girls. You can add bangs to it, for example, side bangs will look terrific with this look! Also, don't be afraid to add accessories to this haircut either, you can spruce it up in instants if needed! Make sure to give little girl bob haircuts a try!
7. Long and Cool – Simple and Pretty
Here is one of many cute haircuts for little girls, that is simple, but easy to work with! A medium-length haircut parted on the side, with a side fringe is the perfect sort of hair to style! Parting hair on the side will give her whole look a bit of edge and funk! You will be able to braid your little girl's hair, or tie it up in a ponytail when she asks for it! We don't even need to mention a hairstyle such as this one is easy to accessorise!
8. A Bob With Bangs – Short and Fun
Here is another example of a super cute shorter length bob! Give your little girl's hair an A-line cut, meaning the hair at the back will be a little bit shorter, than the strands of hair at the front. Add some front bangs for an extra effect. This stylish haircut will definitely bring out the best of your little girl's hair. Bobs tend to add volume and definition, so if your girl has thin hair, why not try out little girl bob haircuts? It will create an illusion of her hair looking thicker.
9. Long Hair, Don't Care – Fabulous Little Girl Haircut Ideas
A lot of little girls want long hair! Long hair comes with a lot of duties though. You have to wash it and condition it. You will also have to trim it every month or so to prevent split ends from forming. And of course, long hair needs to be brushed properly every day so it won't get tangled. If your little girl is aware of all this, then let her hair grow long! Add some front bangs to her long locks for a beautiful look!
10. A Super Short Pixie – Cuteness Overload
We have talked quite a bit about pixie cuts, but here is another super cute example of it! For a pixie cut, you will want to go as short as possible, as it's all about creating a bold look! Naturally, you will be able to add all sorts of accessories to her hair. Cute hair clips or a headband are all fantastic choices. There are also a lot of ways to style a pixie cut to make it stand out even more. A cute pixie cut will make your little girl feel like a pixie!
11. An Angelic Look – Short Haircuts for Little Girls
For an easy and cute look, try out a shoulder-length bob for your little girl! We have already talked about how trendy and chic bobs are. So if your little girl is going for an edgy yet elegant look, a bob will definitely be the way to go! Try parting the bob on the side and add some side bangs as well! If the side bangs turn out to be a nuisance, you can easily pin them to the rest of your little girl's hair with a clip!
12. A Wavy Bob – A Great Choice for Short Hair
Keeping your little girl's hair short is a great idea! And we all know that the best option for shorter hair is a bob! Instead of sticking to a standard bob, why not try out a messier version of it? If your girl has wavy or curly hair, a messy bob will look perfect! Add some front bangs to the haircut as well for an even more fabulous look! Naturally, there are loads of short haircuts for little girls to choose from!
13

. Cute and Comfy – Cute Haircuts for Little Girls
The best sorts of hairstyles and haircuts for little girls are when their hair is short! It's a comfortable cut, perfect for playtime and easy to take care of! You can add bangs to the hairstyle. Of course, if your little girl would like it, you can style her hair whenever! This length of this haircut is still long enough to create braids out of or a ponytail!
14. A Long Bob – Undeniably Gorgeous
If your little girl isn't completely sure she'd like a shorter haircut, feel free to leave her hair in a longer length! Why not try out a longer version of a bob? Its shape will exude a stylish and chic vibe. So if your little girl would like something more sophisticated, this haircut will be the one for her!
15. A Boyish Cut – Little Girl Haircuts With Bangs
Here is a super cute haircut. While it's short and has a boyish feel to it, it also brings a sense of fun and youthfulness to its wearer. If your little girl has been in search of something short and simple, then she might like this haircut!
16. Adding Some Accessories – Like a Headband
Depending on what sort of outfit your little girl will be wearing, you might consider adding some accessories to it! A stylish and gorgeous accessory you can use to spruce up any outfit is a headband! A headband is a perfect ornament, no matter if your girl has long or short hair!
17. Long Wavy Locks – A Gorgeous Appearance
A beautiful look for any little girl or woman is longer locks curled into bouncy curls or waves. This will create an elegant and feminine look. While it takes a bit of time to curl hair it's definitely worth it! Make sure to blow some hairspray over it after you have finished the curling procedure, this will make it stay in shape!
18. An Edgy Look – Short Haircuts for Little Girls
Here is an edgy look for little girls! Cut your girl's hair short and leave it falling down in messy waves. This is an effortless look that is perfect for any time of the year. So if your daughter is going to a sleepover or just a casual day at school, this hairstyle will be a great option!
19. Layering Hair – Adding Volume and Definition
If your little girl decides on keeping her hair long and flowing. why not add textural definition to her hair? You can easily achieve this by adding a few layers to her hair. You don't have to layer her whole hair, just around the tips. Layering hair will definitely add volume to any type of hair. So if your little girl has fine hair, layering it will be the perfect solution to make it look thicker.
20. Shaved on the Side – Brilliant and Stunning
Now here is a haircut which will definitely make your little girl stand out from the crowd! Have her hair cut into a pixie cut, but leave a strand of hair in the front longer than the rest. Then shave one of the sides of her head, creating a very edgy look!
21. A Groovy Look – Little Girl Haircut Ideas
Here is yet another groovy shoulder-length haircut that will look great on any little girl! Add layers to the top part of her hair, to give it volume and definition! This is perfect for any girl with thin hair! Consider adding some front bangs. You'll be able to try out all sorts of different hairstyles with this length of hair, for example, braids for little girls!
22. Simple and Sweet – Great for Any Occasion
Give your little girl a simple haircut, which will be perfect for any day of the week! Whether she needs to go to school or you are taking her to a fancier event, a chin-length haircut will look adorable! Especially if her hair has a few natural waves in it. You can add a few accessories to it for an even cuter look!
23. A Pixie-Bob – Cute Haircuts for Little Girls
Combine a pixie cut with a short bob for an awesome haircut! This way it won't be too short, but will still have a cool edge to it! Leave a few strands of your daughter's hair in the front longer than the rest. This will complete the so-called bob look.
24. Quirky and Cute – A Short Haircut
Your little girl might like to try out something short and messy. Here's the perfect haircut for her then! Cut her hair above chin-length, adding layers to it. Also, cut front bangs for her. You can try out French bangs, which end above her eyebrows.
25. Layered With Funk – Short and Boyish
Here is one of many great short and comfortable little girl haircut ideas, perfect for little girls who are incredibly active and love to run around and play. Cut your girl's hair short and messy, this way whenever she is playing, she won't have to care about her hair getting in the way!
26. The Best Hair Ornaments – Little Girl Haircut Ideas
No matter what sort of haircut your little girl has, remember you can always spruce it up with a hair accessory or two! A beautiful headband or cute hairclips will definitely uplift your daughter's look!
We hope that this collection of 26 cute haircuts for little girls has given you some inspiration! For more ideas besides little girl haircut ideas, like Cute Hairstyles for Little Girls or Little Girl Braid Styles or face painting for kids or cute nails for kids, visit our website!
Advert