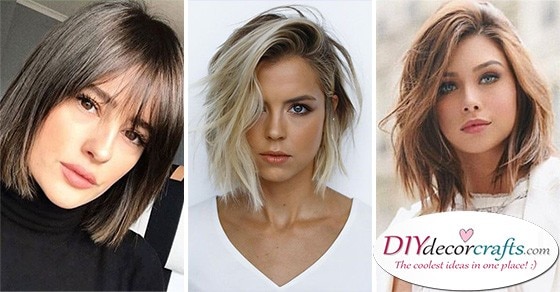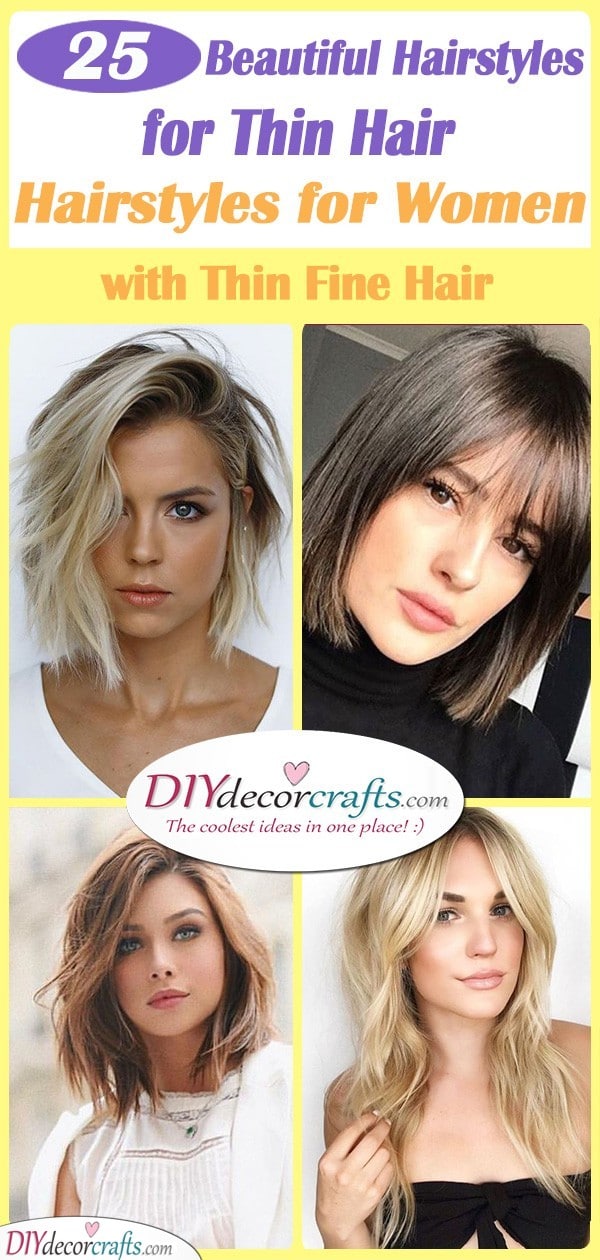 Hair comes in all shapes, forms and colours. Whatever type of hair you have, you'll want to find the perfect hairstyles for the occasion you are getting ready for. Whether it's for a summer festival or a fancy cocktail dress party, it's important how you style your hair. A lot of women complain about having thin hair, instead of thick. It doesn't really matter though, because all types of hairstyles are beautiful! We have collected hairstyles for thin hair, for all the ladies out there who don't know how to style their hair! So look through our collection of 25 hairstyles for women with thin fine hair.
1. Flicked Ends – Blonde and Beautiful
Here's a fantastic hairstyle that will look great at any time of the year! Whether it's a house party or a night out at the museum you're going to, it'll be the perfect fit for any occasion! This is a hairstyle for thin and medium cut hair. Layered a bit at the bottom, the ends of the hair are flicked up to produce a youthful vibe. Have the bottom half of your hair bleached blonde, giving it a sun-kissed glow.
2. Short and Cute Bob – With Bangs
Another stylish and bold idea is this one! A short bob with bangs! Bobs have been in fashion for decades now. You can spot famous celebrities working this awesome hairstyle, from actresses to pop stars. Bobs are all about bringing a modern and chic look to your image. It doesn't matter whether you have thin or thick hair, this short bob is guaranteed to look great and trendy! Not to mention this hairstyle looks great with any sort of clothes you wear, whether you are rocking a glamorous and elegant look or a bohemian vibe, the short bob will bring you sophistication and youthfulness!
3. Wavy Beach Vibes – Hairstyles for Women with Thin Fine Hair
Are you getting ready for summer, which is all about hitting the beach and going to all sorts of great festivals? Make sure your hair is on fleek as well as your outfits! If you've been thinking about getting your hair bleached a platinum blonde shade, now is a perfect time! To give it a great, summery vibe use a hair straightener or curler to create natural-looking waves in your hair. This will lend you a fresh and happy look as if you've just come from the beach.
4. A Cute Pixie Cut – Hairstyles for Thin Hair
Great hairstyles are ones which look good for any sort of age group. Whether you are still in your twenties or over your forties, you should be able to rock the same hairstyle! The pixie cut has been a bold and daring look for women, ever since it appeared first! It gives it's wearer an edge and a cute vibe. Short hair is perfect for summer since it won't allow your head to heat up so quickly under the warm summer sun.
5. Medium Length Bob – A Timeless Look
If you wouldn't like to cut your hair extremely short, but would still like an elegant and classy look, why not try out a medium length bob? It's perfect for any time of the year, it lends you youthfulness and bounciness during spring and summer, while for autumn and winter it lends you timeless elegance. Layer the bob for extra volume and to make your hair look somewhat thicker!
6. A Messy Bob – Gorgeous Hairstyles for Thin Hair
Do you wake up thinking your hair is flat and lifeless? Well, breathe some life into it then! Whether your hair is short, medium or long, you can cut it and layer it into the shape of a bob. Of course, you don't have to leave your bob in a straight and elegant shape, grab your hair straightener and create some messy looking waves with your hair! This will give you a natural vibe as if you've just been walking on some sandy shores and the wind has frizzled up your hair, making it perfect for summer!
7. A Messy but Beautiful Updo – Great Ideas for Thin Hair
If you are going to be attending a fancy event, for example, a wedding, you will have to make sure your hair is full of volume and texture! Even if you have medium length hair, you will be able to create a messy yet elegant updo, which looks effortless, but complex at the same time! You will need a lot of hairspray for this, to make it stay in one place. You can curl the strands of hair before tying it into a bun.
8. Layered Pixie Cut – Hairstyles for Women with Thin Fine Hair
Look cool and bold all year round, with this layered pixie cut! While it sounds a bit difficult to layer a pixie cut, all you need to do is shave a small portion of the lower half of your hair off. This hairstyle is great if you prefer having a more boyish look, or if you're channelling glam rock vibes. Either way, this makes a great hairstyle for summer, as your hair won't feel sticky and sweaty after being in the sun too long.
9. A New Gorgeous Hair Colour – Mushroom Brown
All you need to do is type in mushroom brown into your browser or Instagram to find out that mushroom brown is the new trendiest hair colour around. It doesn't matter what sort of hairstyle you have, try out this shade of mushroom brown and add some volume to your hair by adding a few highlights! This fashionable new colour will go perfectly with any outfit you wear!
10. Long Layered Haircut – With Curtain Bangs
Give your long hair a new and exciting look with these curtain bangs and layers! By adding curtain bangs to your hairstyle, you can add volume and thickness, that you usually wouldn't have. By adding a few highlights in some strands of your hair, you can also increase this effect. This hairstyle will lend you a natural and lively vibe, making it perfect for any event you're looking forward to going to!
11. A Bold Colour – Cool Hairstyles for Women with Thin Fine Hair
Have you been thinking about trying out new and interesting hair colour for the coming season? Don't hesitate and just do it! Tones of grey, silver and white have become increasingly popular over the past few years. They give it's wearer an edgy and stylish look, not to mention it brings an attitude of boldness and extravagance with itself! Whether your hair is long, medium or short length, this cool tone of colour will give you an extra wow factor!
12. Natural Looking Highlights – Elegant Hairstyles
If you are having trouble with flat and one-dimensional hair, give your hair some highlights! This is a great way of giving your hair depth and volume. Naturally, we aren't talking about the obviously fake highlights, which don't match your natural hair colour or skin tone at all. We mean the highlights which give your hair a natural look, but just make it look thicker than it actually is!