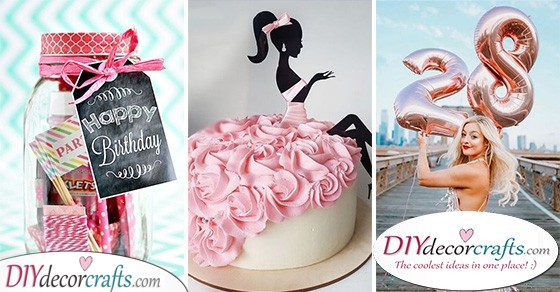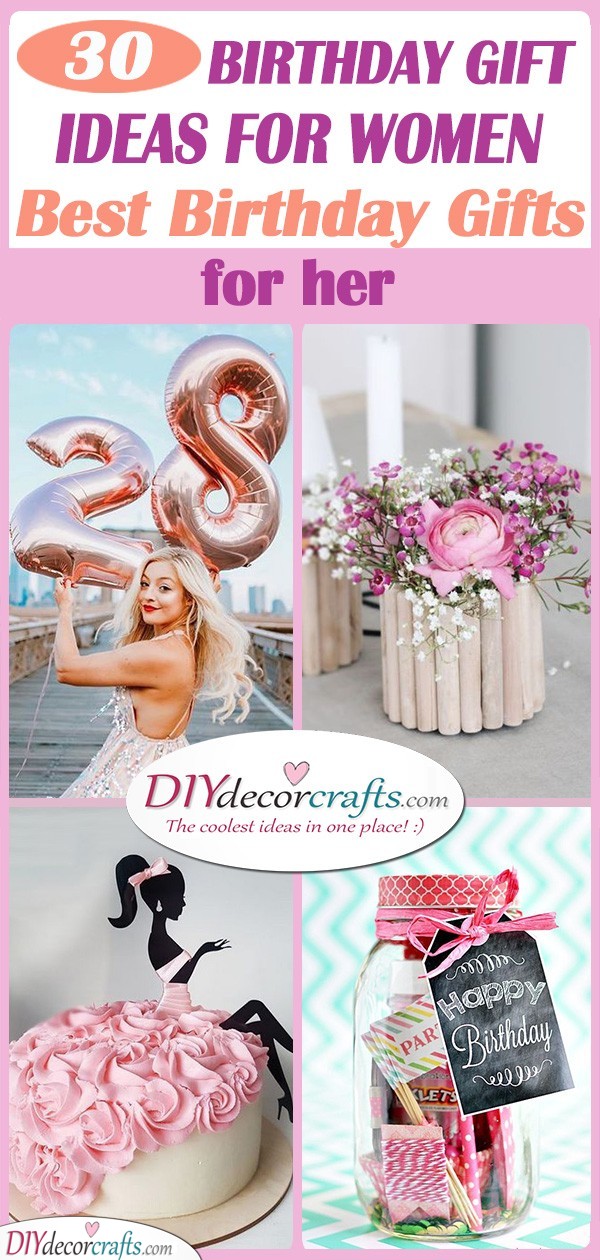 With so many important women in everyone's life, it might be a bit difficult sometimes to find each and every one of them the perfect present for their birthdays. Naturally, every woman or girl has their own personal style, which might make it a bit harder to gift them something that they will genuinely like. To make your job somewhat easier, we have collected 30 birthday gift ideas for women so you can find a present for whoever you need to find it for. Whether it's your mother, your best friend or your girlfriend, you are guaranteed to find some inspiration in our collection of birthday gift ideas! So get ready to find the best birthday gifts for her!
1. Shiny Balloons – Best Birthday Gifts for Her
There's nothing which screams birthday, like two balloons which are indicators of the new age you have reached in your life. Depending on who you're getting the balloons for, make sure their balloons are in their favourite colour. If you don't know what colour to stick with rose gold is always a great option! This stylish colour is becoming more and more trendy!
2. A Beautiful Birthday Cake – Birthday Presents for Women
Here's one of the best birthday gifts for her that you can't really go wrong with! A birthday cake! If you like to bake, you can even make this yourself! You can create two cakes out of numbers, stating the age your friend has reached. You can decorate it yourself with fresh fruit, flowers and frosting to get something truly beautiful.
3. A Jar of Things – Effortless Birthday Gifts for Her
Are you thinking about what to get a girl for her birthday? How about a few birthday-themed gifts and put them in a jar? For example, confetti, party decor and small treats will all look great arranged in a jar! You can attach a tag or label around the jar itself wishing your friend a happy birthday!
4. DIY Flower Vase – Birthday Gift Ideas for Women
Everyone loves receiving a bouquet of fresh flowers for their birthday! Why not present your flowers in a vase you can make at home by yourself? Using a glue gun, stick small wooden sticks around a mason jar, covering it completely. Then all you need to do is place the flowers inside of it and give them to the birthday girl! She'll be able to use this as decor, such as a dining table centrepiece!
5. A Birthday Breakfast – Creative and Delicious
Make the birthday girl feel special during her whole day, from morning until night! For a small morning treat put together a tray of breakfast for her! Include some freshly baked pastries, a bit of yoghurt with granola, slices of fruit, orange juice and coffee! This is sure to give her a great start to the day!
6. A Unique Birthday Card – Ideas for Cards
A necessity of all birthdays is birthday cards! Why not design and decorate your own card, instead of buying one in a shop? Here's a great 3D card idea! Create a Polaroid camera out of paper, so when you open the card it will pop up immediately. Then place a Polaroid picture of you and the birthday girl coming out of the camera as if the picture had just been taken. This is a great way of wishing someone a happy birthday!
7. Paper Birthday Cake Box – Best Birthday Gifts for Her
The only problem with birthday cakes is that they disappear entirely after a few days. Why not make the birthday girl a birthday cake out of paper, so it will last forever? You can use it as a box and put the actual gifts inside of it.
8. Brilliant Bath Bombs – Birthday Gift Ideas for Women
When you're having a stressful day and nothing seems to be going your way, the best way to relax is to get home and take a long and warming bath. Make sure your female friend gets some self-care time as well, by gifting her a bath bomb! You can attach a small card to the bath bomb saying "you are the bomb, happy birthday!"
9. A Birthday Bucket – An Array of Gifts
If you can't decide on what to get when it comes to birthday gifts for her, why not get her a little of everything! From nail polish to chocolate, to socks, arrange it all in a bucket! Then remember to add a small note to the bucket saying "hope your birthday is buckets of fun!"
10. Jar of Notes – The Best Birthday Gifts for Her
11. Notes for Bad Days – Brightening Their Day
Everyone has bad days when they're feeling under the weather. Write your friend notes and letters for each of these days so they can get through them easier! For example, write one for when they have had a terrible day and one for when they can't sleep. This is an awesome gift because it's so personal and heart-warming!
12. A Birthday Ice-Cream – Birthday Gift Ideas for Women
Are you wondering about what sort of card you can make for your friend's birthday? Here's a great DIY card idea just for you! Make the scoops of ice-cream out of pompoms and cut the cone out of cardboard. Stick these on the front of the card and write up "happy birthday!"
13. A Small Booklet – With Lots of Love
Here's one of many good birthday gifts for girls that is on the more personal side! Cut out small slips of paper, decorate each with a message or stick of a photo of you and the birthday girl on some cards. Then clip them all together, creating a small, flip-through booklet. This is guaranteed to draw a smile on your friend's face! This would make an amazing birthday gift for a best friend!
14. A Special Birthday Cake – Pretty in Pink
Does the birthday girl love a girly and a pink twist on things? Make sure her birthday cake brings this same essence with itself then! Have a figurine or a cut-out silhouette of a girl sitting put on the cake. Then dress her up in a big, puffy pink gown, make out of buttercream frosting or fondant. Just take a look at the picture above to see how great it will look!
15. A Message in a Bottle – Birthday Gift Ideas for Women
Sometimes you don't have much time to go shopping for presents, furthermore, make something at home for the birthday girl! If you still want to send them a small birthday wish, how about getting a small jar, decorating it with glitter and placing a small note inside saying "happy birthday!"
16. A Box of Treasures – Personal and Lovely
Create a small surprise for your friend's birthday! Find a box and from the lid, string down photos and cut out cardboard messages and shapes. This is a great idea if you've run out of time to make your friend something big, but still want to give her something personal!
17. A Box of Butterflies – Birthday Present Ideas
If you're thinking about gifting the birthday girl a bit of decor, here's one of the best birthday gifts for her! Create small and colourful butterflies and hearts out of patterned paper, then string them up from the lid of a box. When she opens the box, a flurry of butterflies and hearts will appear in front of her eyes!
18. Surprise in a Box – What to Get a Girl for Her Birthday
Make the birthday girl work for her present! Whatever you end up making or buying for her hide it in the bottom of a box, which you fill up with scraps of paper or confetti. She will have to dig around to find out what her gift is!
19. A Box of Photos – An Alternative to an Album
Do you have an abundance of shared memories with the woman or girl whose birthday it is? Organize and arrange photos of the two of you in a creative way! Fold up a long piece of paper, on each fold place a picture of the two of you enjoying a fun moment together. Fold up the long page of photos and place it in a box.
20. Sweets for a Sweet Person – Best Birthday Gifts for Her
Birthday gifts don't always have to be grand gestures, something small can mean a lot to the receiver of the gift as well! If the birthday girl is a real sweetheart, make sure you get her something that complements her personality. Pour candy or sweets into a jar, and attach a label to the jar that reads "happy birthday, to one of the sweetest people I know."
21. A Unique Alternative to a Frame – Photos as Presents
How old is your friend turning? 18? 25? 30? Cut out the numbers from cardboard and paste photos of the two of you on the numbers. This is a great alternative to a simple framed picture of the two of you, not to mention it's a cheap and easy DIY present to make.
22. Fabulous Roses – Birthday Presents for Women
One of the main problems concerning flowers is how quickly they wilt. Make sure you get the birthday girl a bouquet of flowers which will never die! Create roses out of crepe paper following the tutorial in the picture above. You can choose whatever colour you would like the flowers to be.
23. Chocolate Bouquets – Alternative to Flowers
Chocolates are a girl's best friend! If you're thinking about gifting chocolate, make sure to do it in a creative manner! Arrange them to look like flowers which are tied together in the form of a bouquet. You can add another present, like a teddy bear to the bouquet.
24. Handmade Birthday Cards – Blow it Up
Make a creative card for the birthday girl's birthday by incorporating a balloon. Blow up the balloon at home, then write a message on it. After finishing off the message let the air out of it and attach it to the card. Your friend will have to blow up the balloon itself to find out what you wrote on it!
25. A Fantastic Mug – Birthday Gift Ideas for Women
A mug is a great gift to get anyone if you've run out of present ideas. You can have a custom-made mug made for them. For example, have the sentence "Queens are born in" with the month of the birthday girl's birthday written in at the end.
26. A Pocketful of Gifts – Good Birthday Gifts for Girls
Get the birthday girl a pocketful of gifts! Like an actual pocketful! Cut out the pocket of some old jeans you have lying around at home and stuff it with all sorts of small gifts. You can include bars of chocolate or even makeup products! This is a great idea for anyone!
27. Another Bouquet of Chocolates – For Chocolate Lovers
You don't need to visit a florists' for this bouquet! Instead of arranging flowers beautifully, arrange bars of chocolate to make them look like a bouquet of flowers! This is the perfect gift for a chocolate lover!
28. A Shining Idea – Candles of Love
Candles are the sort of presents that any girl will love! You can try out this DIY tutorial, to make a candle that has a picture of the two of you on it! This is an awesome gift that the birthday girl will be sure to love!
29. Happy Pills – For a Happier Day
Does your friend need a bit of happiness every day? Make sure she gets it by gifting her a jar of happiness for her birthday! Fill up a mason jar with her favourite types and flavours of candy or chocolates! This will serve as a mood-brightener when she's having a bad day.
30. A Box of Memories – Birthday Gift Ideas for Women
We hope that these 30 best birthday gifts for her have lent you some inspiration on what to make or buy for your friend's birthday!  For more ideas concerning gifts, like gift ideas for women or birthday gifts for girlfriends, make certain to visit our website.
Advert