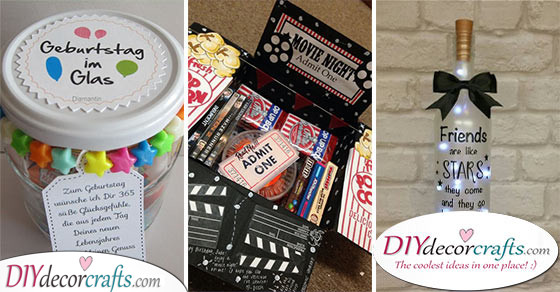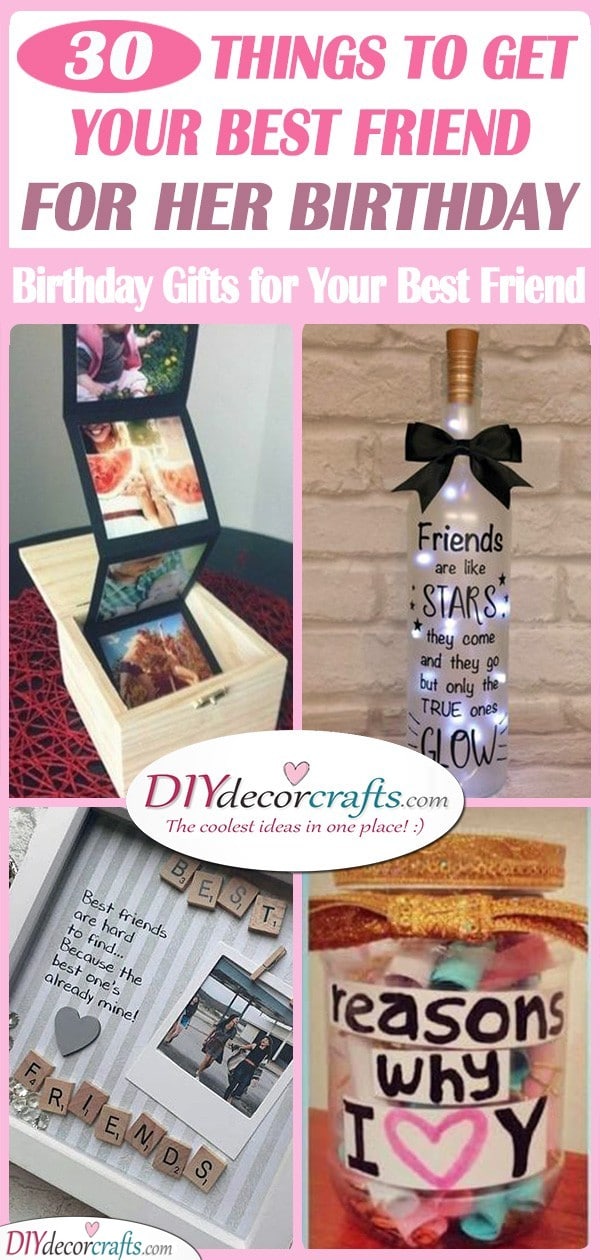 When it comes to your best friend, you have to make sure you get her the best gift you can for her birthday! Why not try making something handmade for her? DIY gifts are an awesome idea because they show that you put the effort and time into creating something special for them! Here is our collection of 30 things to get your best friend for her birthday to help you find some inspiration! So don't hesitate and take a look at our pick of birthday gifts for your best friend!
1. Muffin in a Jar – Mini Birthday Cake
If you love to bake then here's a perfect idea for you make! Instead of baking a huge birthday cake, make a small birthday muffin. Place the muffin in a jar which is is decorated with confetti and other birthday ornaments. Then put a few candles in the jar as well. This way when your best friend receives the cute birthday muffin, they will be able to light a few candles as well, as well as making a birthday wish!
2. A Tissue Box – Pull Out Presents
Trick your best friend into thinking she got a box of tissues for her birthday! First of all, empty the contents of a tissue box. On a tissue write up happy birthday, and string a variety of things your best friend loves to it, for example, tickets to the movies, bars of chocolate or pictures of the two of you. When she pulls out the tissue a whole trail of other items will follow!
3. Friends Inspired – Keychains as Gifts
If you and your best friend practically grew up watching Friends, then why not get her a gift which was inspired by this great TV series? Get yourselves matching keychains, which has the logo of the show engraved into it!
4. Adorable Mugs – Great Gift Ideas for Your Best Friend
There are so many ways you can surprise your best friend on her birthday. How about gifting them a mug, which has a drawing of the two of you on the front of it? You can have a quote or one of your sayings written up on the back of the mug, just to make it even more personal!
5. Balloon Room – Things to Get Your Best Friend for Her Birthday
Another great way to surprise your best friend on her birthday is by arranging an array of balloons in her room. String photos of shared memories and moments to the balloons. This is a super cute and personal idea!
6. An Alternative to an Album – Birthday Gifts for Your Best Friend
Everyone loves looking back at old pictures and sinking into an ocean of nostalgia. It can be a great feeling, looking back at all the times you've spent together. Instead of placing photos in a standard album, create an alternative. Attach photos to an oval or circular shaped wooden board or even a blackboard, on which you can write a few words.
7. A Box of Photos – DIY Unique Birthday Gifts
Create a unique photo album for your best friend's birthday! While this box looks like an ordinary box, it's actually a pull apart album. The photos are glue inside on each side of the box. Use a lot of photos to achieve to best possible effect. Use stickers to decorate it further and write messages on the sides.
8. Reasons – Gifts to Give Your Best Friend for Her Birthday
If you're thinking about giving your best friend something more personal for her birthday, you'll love this idea! Cut out small slips of paper. The point is to write down reasons why you love your best friend, and why you're grateful for their being in your life. Write up as many reasons as you'd like, then put them in a jar!