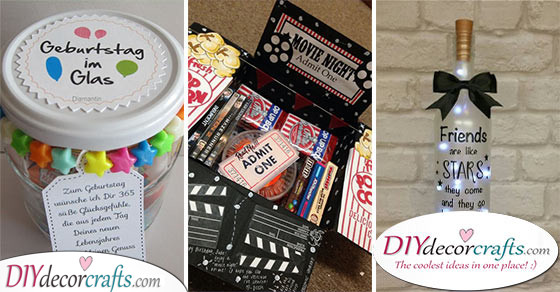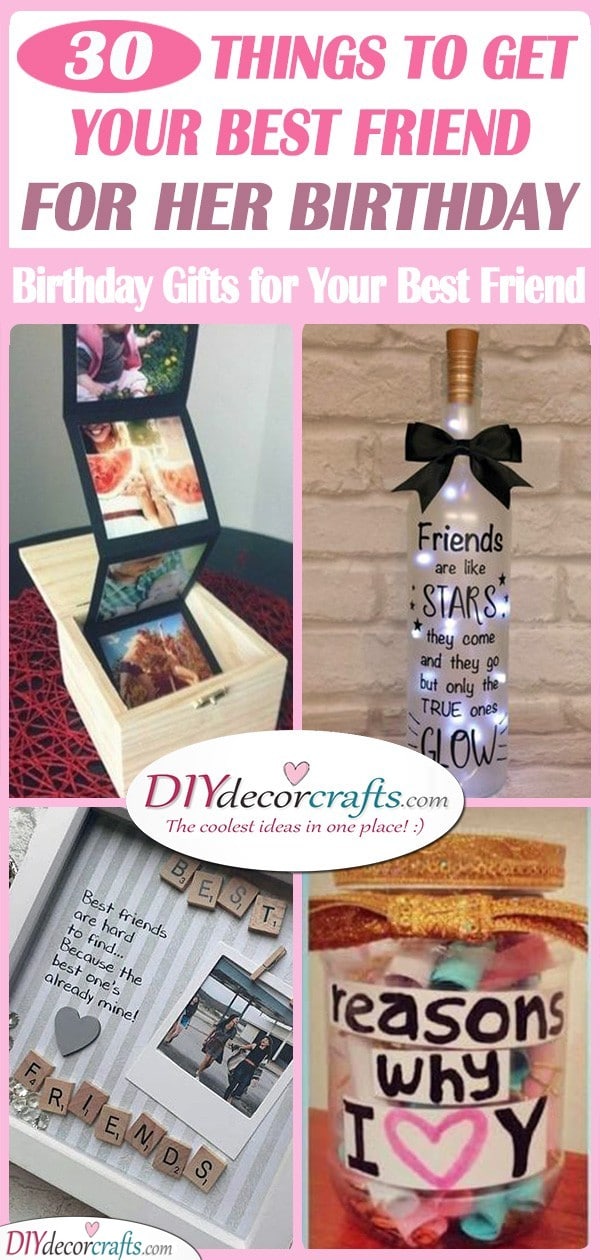 When it comes to your best friend, you have to make sure you get her the best gift you can for her birthday! Why not try making something handmade for her? DIY gifts are an awesome idea because they show that you put the effort and time into creating something special for them! Here is our collection of 30 things to get your best friend for her birthday to help you find some inspiration! So don't hesitate and take a look at our pick of birthday gifts for your best friend!
1. Muffin in a Jar – Things to Get Your Best Friend for Her Birthday
If you love to bake then here's a perfect idea for you to make! Instead of baking a huge birthday cake, make a small birthday muffin. Place the muffin in a jar which is is decorated with confetti and other birthday ornaments. Then put a few candles in the jar as well. This way when your best friend receives the cute birthday muffin, they will be able to light a few candles as well, as well as making a birthday wish!
2. A Tissue Box – Pull Out Presents
Trick your best friend into thinking she got a box of tissues for her birthday! First of all, empty the contents of a tissue box. On a tissue write up happy birthday, and string a variety of things your best friend loves to it, for example, tickets to the movies, bars of chocolate or pictures of the two of you. When she pulls out the tissue a whole trail of other items will follow!
3. Friends Inspired – Keychains as Gifts
If you and your best friend practically grew up watching Friends, then why not get her a gift which was inspired by this great TV series? Get yourselves matching keychains, which has the logo of the show engraved into these birthday gift ideas for best friends!
4. Adorable Mugs – Great Birthday Gifts for Your Best Friend
There are so many ways you can surprise your best friend on her birthday. How about gifting them a mug, which has a drawing of the two of you on the front of it? This would also make a great birthday gift idea for a sister! You can have a quote or one of your sayings written up on the back of the mug, just to make it even more personal!
5. Balloon Room – Things to Get Your Best Friend for Her Birthday
Another great way to surprise your best friend on her birthday is by arranging an array of balloons in her room. String photos of shared memories and moments to the balloons. This is a super cute and personal idea!
6. An Alternative to an Album – Birthday Gifts for Your Best Friend
Everyone loves looking back at old pictures and sinking into an ocean of nostalgia. It can be a great feeling, looking back at all the times you've spent together. Instead of placing photos in a standard album, create an alternative homemade birthday gift. Attach photos to an oval or circular shaped wooden board or even a blackboard, on which you can write a few words.
7. A Box of Photos – Lovely and Intimate
Create a unique photo album for your best friend's birthday! While this box looks like an ordinary box, it's actually a pull-apart album. The photos are glue inside on each side of the box. Use a lot of photos to achieve to best possible effect. Use stickers to decorate it further and write messages on the sides.
8. Reasons – Birthday Present Ideas for Best Friends
If you're thinking about giving your best friend something more personal for her birthday, you'll love this idea! Cut out small slips of paper. The point is to write down reasons why you love your best friend, and why you're grateful for their being in your life. Write up as many reasons as you'd like, then put them in a jar!
9. A Jar of Birthday Gifts – A Fabulous Idea
Are you having trouble deciding on what things to get your best friend for her birthday? Why not get them everything you thought of and put it all in a jar! Chocolates, a fortune cookie and other small tidbits can all fit in a glass jar. You can attach a small note to the lid, wishing them a great birthday.
10. A Collection of Pictures – And Memories
Here's yet another great idea if you're not sure about what to get your best friend for her birthday! Arrange a collection of photos of the two of you on a big board or on a big piece of paper. You can write a message or a quote in the middle, which resonates with your relationship.
11. A Jar – Things to Get Your Best Friend for Her Birthday
If you like the idea of gifting someone a jar of various things, then give it a go! Place your best friend's favourite things, for example, chocolate and beauty products make perfect gifts! Attach a note to the jar for a personal touch.
12. An Amazing Card – Birthday Card Ideas
Another one of many awesome birthday gifts for your best friend might be a pop-up card. While it looks like a box, you open it and out pops a paper birthday cake and a few cards. This is an awesome way to surprise your best friend!
13. Matching Mugs – Birthday Present Ideas for Best Friend
If you love the idea of matching objects, why not create two mugs, one for each of you. You can have a small drawing of you painted on one of the mugs, a drawing of your best friend on the other of the mugs. If you put the two mugs next to each other, you can have something draw that links the two mugs together. Your best friend is guaranteed to love this birthday gift!
14. A New Age – Another Year Down
You only realise that you're a year older when your birthday arrives! Get wooden shapes of the number of what your friend turned. Then print out pictures of the two of you and glue them onto the numbers. This will serve as a great source of home decor for her!
15. Showing Gratitude – In the Form of Chocolate
Show a bit of gratitude towards your best friend! Say thanks to them for all the great things they have helped you out with and been there with you through thick and thin. Get her a box of chocolates, and around each chocolate attach a small message giving thanks to her! This is an awesome and very personal gift on what to get your best friend for her birthday!
16. Movies Night – Things to Get Your Best Friend for Her Birthday
You don't necessarily have to get your best friend a huge present. Why not throw a girls night, take some snacks over to their place and watch a movie together? Get all her favourite snacks, maybe include a few of your baked goods in there as well. This might seem like a simple birthday gift, but heartfelt gestures will definitely make her day great!
17. A Polaroid – What to Get Your Best Friend for Her Birthday
Best friends deserve the best sorts of presents! Let your best friend know how much they mean to you. Create a picture that has a scrapbook feeling to it. Stick a polaroid on it of the two of you, a few stickers, write a quote, it's really up to you how creative you'd like to get! Then stick this in a frame and present your best friend with it! They will be able to put it up on their wall or bedside table!
18. A Scrapbook – Filled with Memories
Scrapbooks are an awesome gift to give, especially for birthdays! Collecting pictures of fun times, gathering motivational quotes and sticking all sorts of decorative papers and stickers inside are just a few of the things you need to do to create a scrapbook! Even though it takes a long time to make, it's completely worth it, because by the end of the process it will be a book of your friendship, a timeline of your relationship!
19. A Loving Message – Rustic Wood
An awesome gift to give your best friend might be a message. Stick old blocks of wood together, washing them down with pale paint. Then write your message on the blocks, just like in the picture above. Your friend can use it as home decor, and whenever she looks at it, she will be reminded of you!
20. Time to Party – Gifts to Give Your Best Friend for Her Birthday
Make sure the birthday girl really parties on her birthday with this great idea! Cut a circle shape out of cardboard or wood, coat it in paint and draw small notches around the edges, making it resemble a clock. Instead of writing up the numbers though, stick small bottles of schnapps to each hour of the day. You can make the hands of the clock out of folded paper money. This way your friend will have to drink a small bottle of schnapps each hour of the day!
21. Confetti Dipped Champagne – Fun and Ready to Party
Champagne is a must for birthdays! So if you are considering buying your best friend a bottle of champagne, spruce it up a little, by dipping it in confetti! It will look absolutely fabulous when it pops open.
22. Heartfelt Card – Things to Get Your Best Friend for Her Birthday
Get the best sort of card for your best friend! You can design it yourself and write a simple message on the front page. Then it's completely up to you on what you write inside for her birthday!
23. A Bottle of Fairy Lights – Brighten Her Nights
Home decor gifts are great, especially unique lamps! Why not place a string of fairy lights inside a wine bottle? Engrave or write up a message on the bottle, which will stand out when you light up the string of lights. This will make a great present for your best friend!
24. A Beautiful Keychain – Birthday Gift Ideas for Best Friends
Does your best friend always have trouble finding their keys? Get them a keychain to make it a bit easier for them! You can have a custom keychain made, a picture of the two of you on one side and a small message from you on the other side.
25. Messages – Personal Birthday Gifts for Your Best Friend
Everyone has bad days when they're feeling under the weather. Write your friend notes and letters for each of these days so they can get through them easier! For example, write one for when they have had a terrible day and one for when they can't sleep. This is an awesome gift because it's so personal and heart-warming, making it perfect for birthdays!
26. Jar of Notes –

Things to Get Your Best Friend for Her Birthday
A great birthday gift idea is to write your friend a message for each day of the year. Colour code the notes, for example, messages on orange slips of paper can be shared memories, pink paper notes can be motivational quotes, etc. Your bestie can only take out one each day! If you're searching for birthday gifts for girlfriends or boyfriends, this would also make an amazing gift!
27. A Melt of Colours – Photo Gift Ideas
Create a unique mash of painting and photos for your best friend's birthday! First cover half of a canvas in a rainbow of colour, dripping the paint down. Then stick photos of the two of you above it. Finally, write a quote that sums up your friendship, like the one in the picture above.
28. A Series of Photos – In a Box
Are you bored of flipping through albums? Why not create an alternative to an album? A set of photos printed out on a long line of paper and then folded up to be placed in a small box. This is the perfect gift if you are going for something more personal and unique!
29. A Birthday Box – Filled with Fun
If you can't decide what to get your best friend, get her a multitude of things! Throw them all in a box, and cover it with confetti! This will give the whole present classic birthday vibes.
30. A Fun Balloon – Gifts to Give Your Best Friend for Her Birthday
Are you still in search of awesome things to get your best friend for her birthday? What about choosing a gigantic balloon! Have a message written on the balloon itself and filled with confetti or sparkles. After all, birthdays without balloons aren't really birthdays, are they?
Make sure you get or make your best friend something special for her birthday! After all, our best friends deserve the best! Check out our website for more gift ideas, we have Gifts for Best Friends or Best Friend Gift Ideas and Best Friend Present Ideas!
Advert