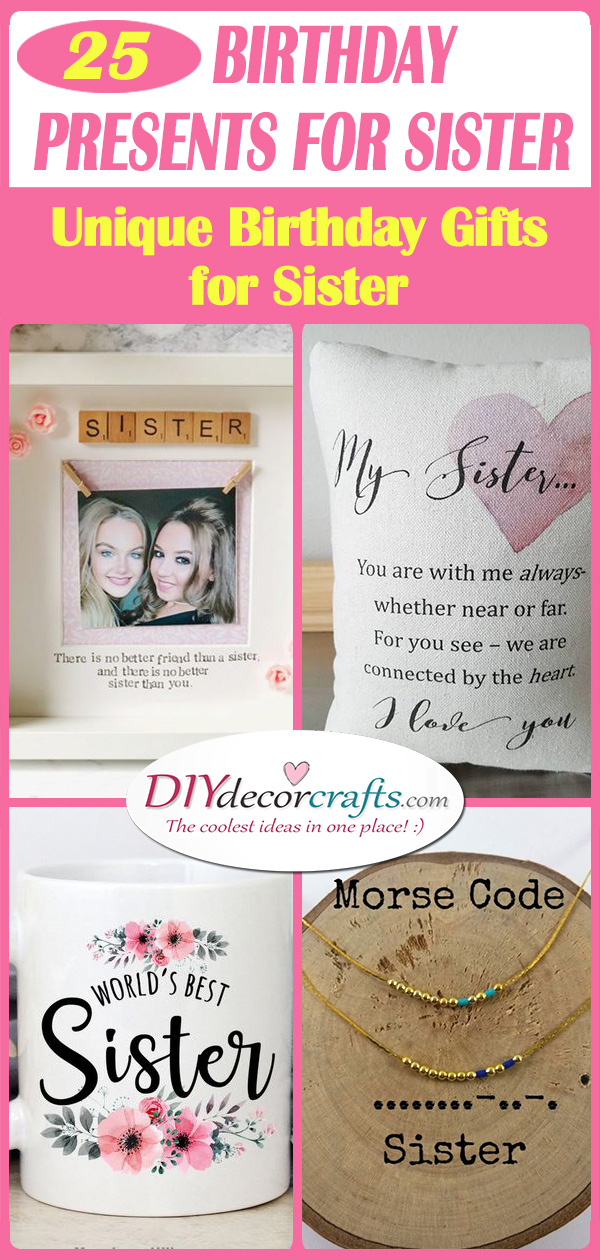 Celebrating birthdays are great fun. Eating birthday cake, chatting with everyone and dancing and singing are just a few of the things you get up to at a birthday party.  When invited to a birthday, it is important to take a birthday gift with you. Is it going to be your sister's birthday? Make sure you get her a special present then! We're not talking about store-bought items, which you can simply take off the shelf and pay for at the cashier's desk, we mean making her something! Handmade presents are the best gifts to give, as they shower the receiver that you put some thought and energy into creating unique birthday gifts for sister! So take a look through our pick of 25 birthday presents for sisters, to make your sibling's day more special!
1. A Sisterly Necklace –  Unique Birthday Gifts for Sister
You can't really go wrong with getting a girl some jewellery! Get your sister a necklace made up of a few metal discs. Each disc should have a small message engraved on it from you. You can write your names on one of the discs, on another you can just have the simple word "sisters" appearing on it, it's completely up to you!
2. A Bit of Morse Code – A Secret Message
Here's a creative and intriguing gift idea! Get your sister a necklace or bracelet with small coloured beads strung on it. Or you can even make this at home by yourself stringing the beads across the thread. The number and colours of the beads will represent "sister" in Morse code. This is just one of many unique birthday gifts for sisters that they are guaranteed to love!
3. Matching T-Shirts – Awesome Birthday Presents for Sister
Matching t-shirts are a great idea as a present for your sister's birthday! You can proudly show yourselves off together that in fact the two of you are birds of a feather! Have the words "sister one" and "sister two" written on the backs, depending on who is older and who is younger.
4. A Gorgeous Vase – Mason Jar Ideas
If you love getting creative with mason jars, then go no further! Here's a fabulous and easy gift to make out of a jar. All you need to do is dip the mason jar in paint, fully coating the outer layer of it. Then paint or write a message on the jar, after the paint has dried. You can mention how sisters make the best of friends, or just express your love towards her! She will be able to use this mason jar as a vase, to place flowers in.
5. A Picture of You Two – Best Birthday Presents for Sisters
There's nothing better to give your sister, than a memory of the two of you! Let her know how much she means to you. Get her a picture of the two of you, then frame it. Write a message for her above and underneath the picture, for example, you can use scrabble letters to make it more unique. Furthermore, decorate the frame any way you'd like to give it a lovely glow!
6. A Sweet Message – Alternative to Standard Birthday Cards
Here's a special gift for sisters, none other than a homemade birthday card, to use as an alternative to a store-bought card! Write a birthday message on a poster for your sister. Grab some candy, chocolate bars and chewing gum. Replace some words from the message with the candy bars. This is a creative idea, not to mention your sister will be able to take off the candy and eat it, which makes this card super tasty as well!
7. A Jigsaw – Unique Birthday Gifts for Sister
If you have not one, but two sisters, why not create a keychain for each one of you? Create a heart-shaped jigsaw keychain. Meaning the heart is only whole when all three pieces are connected to each other. You can engrave on each jigsaw piece, who is the big sister, middle sister and little sister. This way whenever the three of you are together, you can put all of your keychains together to create a heart.
8. The World's Best Sister – A Cute Mug
When searching for birthday gifts for your sister, you can't really go wrong with a mug, on which you have a personal message written. You can decorate a plain white mug by yourself and write a message on it, for example, "the world's best sister." This way, when she will be drinking her morning coffee or tea, she will always be reminded of you!
9. Open When – An Array of Letters
Everyone has days when things don't go their way or they are feeling under the weather. At times like this, it's always nice to get a bit of support or positive assurance. Make sure your sister gets through rough patches like this easier, by writing her a letter for every sort of occasion. Write down on the envelope when she can open the letters. For example, one can be for when she is feeling a bit down and another for when she misses you. This is a personal and homemade birthday present that your sister will love!
10. A True Definition
Candles are presents which anyone will be happy to receive! If you have been contemplating giving your sister a candle for her birthday, make sure to take it to the next level! Besides making sure that the candle is scented in her favourite aroma, you can also write a message on the candle's glass for her. On the very top, you can write the word "sister", underneath it "noun." This will bear a resemblance to a definition in a dictionary. The rest is up to you how you end up describing her.
11. A Lovely Pillow – With a Heartfelt Message
Pillows make great gift ideas for sisters, they are not only great sources of decor, but they make any couch or bed super comfortable! Consider buying your sister a pillow as a birthday present so she will be able to cuddle up with it during the day or night. You can write a lovely heartfelt message on the pillow, talking about your sisterly connection! Whenever she uses it she will immediately be reminded of you!
12. Sister Turds – Funny and Unique Birthday Gifts for Sister
Now here's a special gift for sisters that the two of you will definitely have a laugh at! Place some chocolate chips or chocolate drops in a plastic bag. Attach a small message to the bag which reads "no matter what shit happens, you are always my sister." The small chocolate drops will represent the shit that might occur in your lives. While it's a funny gift, it also shows that you will be by your sister's side no matter what!
13. In Case of Emergency – Break Glass
Everyone has emergencies! If your sister adores chocolate, make sure she has some for the rougher moments in life. But don't make her job easy! Pour chocolate into a frame, and write up the words "in case of emergency break the glass" on the glass part of the frame. This is a funny gift that will draw a smile on her face, not to mention satiate her chocolate cravings.
14. Small Surprises – Handmade Matchbox Gift Ideas
If you have been in search of an inexpensive, but quirky gift, look no further! All you need for this birthday gift is a few empty matchboxes and some decorating items, such as pens or pencils. Draw or paint small birthday moments on the tops of the matchboxes. Then hide small messages on the insides, for example, "make a wish." Your sister will have to pull out the inside of the matchbox to find out the hidden message!
15. A Manicure in a Jar – Birthday Ideas for Sisters
If your sister is a girl who loves doing her nails, make certain to get her a birthday present that she will be sure to use! Get her all sorts of nail polish, nail stickers or items from a manicure set. Place everything you got her in a mason jar. Attach a label to it which reads "manicure in a jar." If your sister is a fan of painting her nails, she will love this idea!
16. Spell it Out – Gift Ideas for Sisters
A gorgeous and sentimental item of decor that you can make at home easily is this! Spell out "sister" or your sister's name vertically on a piece of paper or a wooden board. Then add words to each letter which all describe her perfectly. If you created this on a piece of paper, place it in a frame before giving it to her. Just take a look at the example above to get an idea of how it's done!
17. Personalised Candle -Brightening Her Days
Everyone loves an aromatic candle. They are especially great to relax next to as they create a beautifully lit atmosphere, whether you're just lying in your bed or getting ready for a hot bath at the end of the day. Make sure that your sister gets to destress and relax every once in a while, by getting her a candle! You can write your own label on the candle with a birthday message on it for her.
18. Reasons Why – Showing Some Sisterly Love
Have you been in search of a more personal and unique gift for your sister's birthday? Why don't you write reasons why you love her on small slips of paper and place them in a jar? She can take out a small note whenever she is having a bad day, or just needs some sisterly words of love and support.
19. A Whole Box of Photos – A Unique Album
Create a pull-apart album for your sister, which contains all of your favourite shared memories! Stick the photos inside of the box, this way when she opens it, she will be surprised by the collection of photos that are all inside this unique album.
20. A Decorative Tile – Birthday Presents for Sister
Unlike chocolate or a bouquet of flowers, some gifts last for a lifetime, including a decorative ceramic tile! Get a ceramic tile made for your sister, on which you have your own heartfelt message written. She will be able to use this as decor later on in life, for example, in her room, even incorporate it in her kitchen tiles if she'd like to! This birthday or Christmas present idea for your sister is a fantastic choice!
21. Training with Snickers – Funny Birthday Ideas for Sister
Has your sister been wanting to get a bit of exercise recently, but she always puts it off for later? Make a joke out of it and create some arm weights for her out of candy bars! Instead of having actual weights made out of metal, place snicker bars at the ends of the arm weights. This might make a great birthday present for a brother as well!
22. A Vase of Memories – Mason Jar Crafts
Find some creative gifts for your sister that you can make yourself! Here is another vase you can create for your sister out of a mason jar! First of all, dip your mason jar in some paint, coating the outside layer of it completely. Print out a few pictures of you and your sister, then glue them around the mason jar, creating a band of photos. And you're already done! Place some flowers in it, before presenting your sister with it on her birthday.
23. A Movie Night – Unique Birthday Gifts for Sister
Here's a cute birthday present idea, which is centred around making a memory than giving her an actual present! This is a simple gesture, take some snacks over to her room and watch a movie together! Get all her favourite snacks, maybe include a few of your baked goods in there as well. Place these in a box, which you decorate with stickers to make it look like a box of snacks you can buy at the movies as well.
24. A Sunny Birthday – A Splash of Yellow
If you have run out of ideas on what to get your sister for her upcoming birthday, why not get her a whole bunch of yellow things? Yellow is the colour of happiness and sunshine. Place a whole tonne of yellow items inside a yellow box, for example, shampoo, lip balm, tea, chocolate and a face mask. You can write a message on top of the box which reads "may your birthday be filled with sunshine."
25. A Small Surprise – Birthday Presents for Sister
If you are trying to spruce up your gift for your sister with a simple trick, try this out! Place the gift you bought or made for your sister at the bottom of a large box. Then place some helium-filled balloons in the box as well, before sealing it. When your sister opens her birthday present, she will be surprised by the array of balloons floating towards her!
We trust that this pick of 25 birthday presents for sisters has helped you in finding some unique birthday gifts for sisters! For other present ideas, such as Present Ideas for Your Sister or Gift Ideas for Women, just visit our website!
Advert