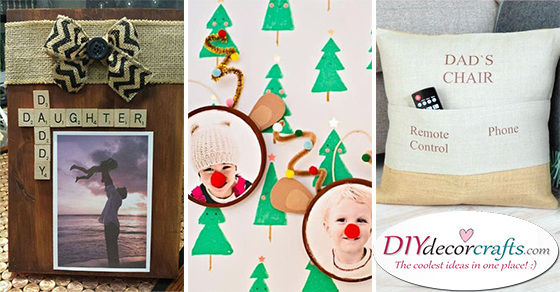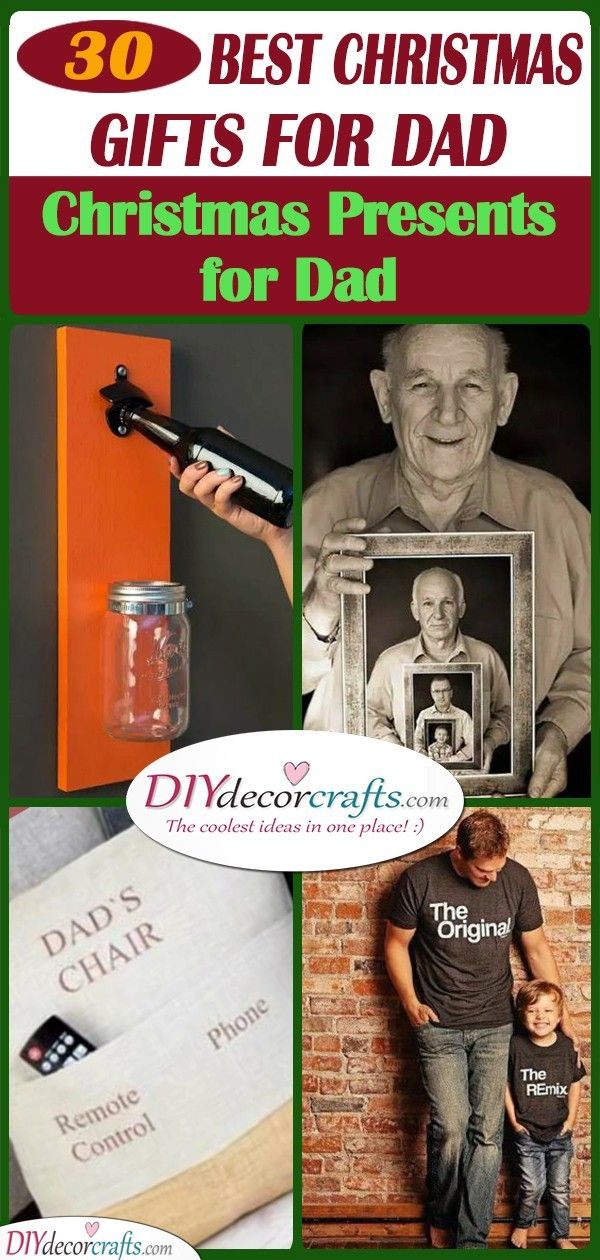 There isn't long until Christmas arrives and it's never too early to prepare for this special holiday! Christmas is the perfect time to spend time with your loved ones, with your family and friends. It's also a great time to express how much you treasure your loved ones, by showering them in an array of Christmas gifts! Perhaps you are in search of amazing Christmas presents for dad? If you have run out of time, or have no ideas what to get for your father, take a look through our ideas. We have collected 30 of the best Christmas gifts for dad, so you will be sure to find some inspiration!
1. Reindeer Beer – Add a Few Antlers
Have you decided on getting your dad a crate of beer for Christmas? This is a great idea, but make sure to give it a Christmas vibe! Decorate the bottles of beer with antlers, googly eyes and red pompoms for their noses. In no time at all, you will have a whole herd of reindeers instead of standard beer bottles! 
2. Photos of the Kids – As Reindeers
Get into the Christmas spirit by creating cute decor using the family as inspiration. Create red-nosed reindeers out of the kids, attaching antlers and red noses to their photos. Dad will love receiving photos of her kids as reindeers! He will be able to use them as decor in any room he wants to!
3. The Jar of Happiness – Personal and Lovely
Now here is a personal present which your father will love! Make a jar of happiness for him. This means filling a simple mason jar with small notes and messages. Each message should be motivational and positive! Your dad will be able to take out a message each day to read when he is having a bad day. It is all about brightening up his everydays!
4. A Beautiful Calendar – Best Christmas Gifts for Dad
Another fabulous idea on what to give your father for Christmas is a calendar! We're not talking about a standard calendar which you can buy in any shop, but one filled with happy memories of Dad and the family! This is a perfect gift for Christmas! Your dad will be overjoyed with such a personal gift!
5. An Advent Calendar – Involving Beer
Here is another great Christmas gift idea for dad! If he loves beer, he is guaranteed to love this Christmas present! Get him 24 bottles of beer, placing a number on the top of each one. This way, these cans of beers will become an advent calendar for him! This will make the perfect countdown for dad! He will only be allowed to drink one bottle of beer each day before Christmas!
6. A Pillowcase for Dad – His Chair
Does your dad have a favourite spot in your living room, which he thinks of as his chair? Then make sure everyone else knows it as well! Create a pillowcase for him, which has the words "dad's chair" written on it. You can even create pockets for the remote control or for the snacks on the pillowcase! He will definitely appreciate this as a Christmas gift!
7. An Honest Opinion – Best Dad Ever
Is there anything better than receiving a personal and heartfelt gift during the holidays? Create a compilation for Dad, using photos of the kids. In each photo, they should hold up a sign which reads "best daddy ever." You will have to place the photos together, for the words to make sense! He will be able to use this photo series of his children as decor around the house, always being reminded of how loved he is!
8. Photos of Generations – Christmas Presents for Dad
If you'd like to present your father with a sentimental and personal gift, then this might be a great choice for you! Take portraits of each generation of the family, holding the same frame, just like in the picture above. This might include your great grandfather, your grandfather, your dad and you! This is one of the best Christmas gifts for dad you can possibly get!
9. The Original Dad – Matching T-Shirts
Perhaps you have been thinking of getting a set of matching t-shirts for you and your dad. This will most certainly make an awesome Christmas present! Create two t-shirts, one big one for Dad and a smaller one for you (or the kid). Dad's t-shirt should have the words "the original" printed on it, while the kid should have the words "the remix." You can try wearing these shirts on the same days, to make it obvious to everyone that you are family!
10. An Awesome Keychain – Christmas Gift Ideas for Dad
Here's another fantastic gift your dad is guaranteed to love, a personalised keychain! Put together a keychain made up of a few metal discs. On each metal disc, write down an important year of your dad's life and the event linked to that certain year. For example, the year he was born can be on the smallest metal disc, then the year he got married, then the year he became a dad!
11. A Jar of Dad Jokes – To Entertain Everyone
Here is a perfect Christmas present for dads who love to crack jokes! Get him a jar of jokes, so he can entertain anyone at any time! Write up some dad jokes on paddle pop sticks before putting them in a jar. This will be an amusing way to spend an evening because your dad will be able to pull out a paddle pop at any random time and say something hilarious! If your dad has a great sense of humour or loves jokes in general, he will adore this gift for Christmas!
12. Father and Daughter – Personal Christmas Presents for Dad
Time to use a few scrabble ideas! Scrabble letters can create a beautiful design to express something! Use scrabble letters to write "daughter" horizontally with "daddy" vertically going through it. Glue these letters on a wooden board, then also attach a photo of you and your dad underneath it. This is a perfect and personal Christmas present to give to your dad!