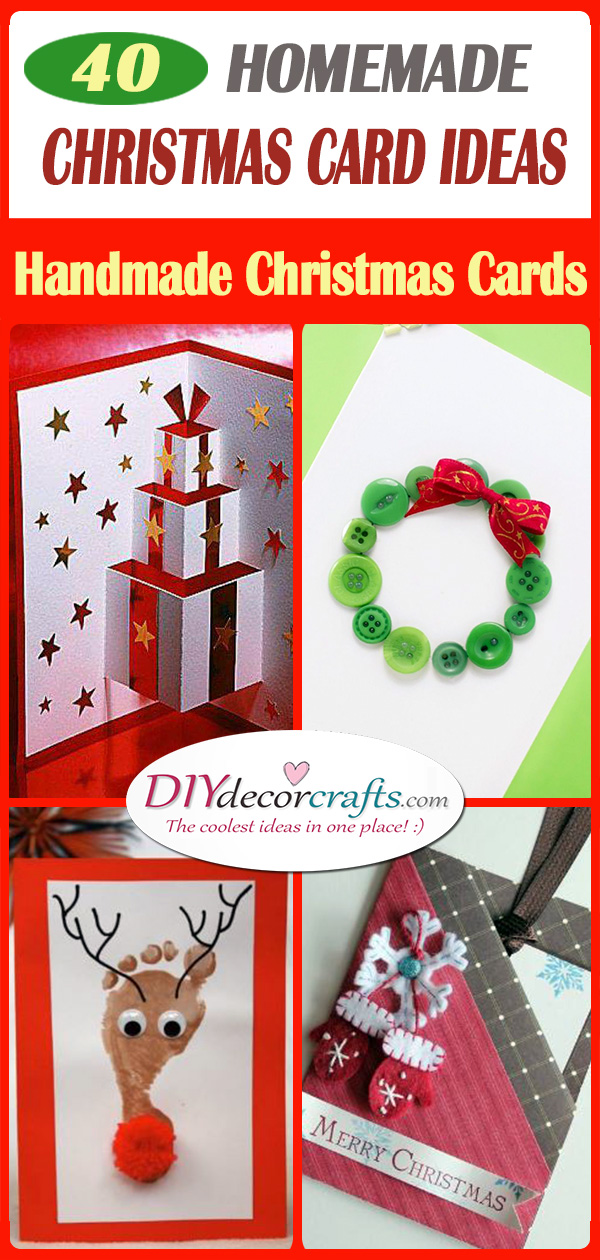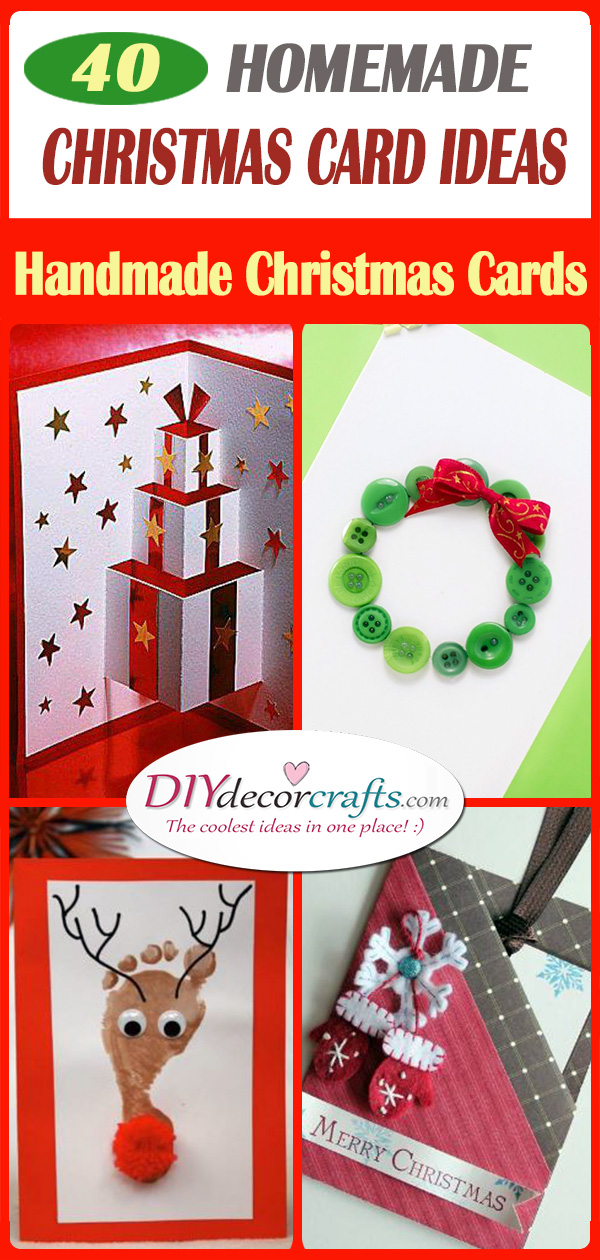 Christmas is going to arrive soon enough, and it is never too early to prepare for it! You might have already gotten everyone Christmas presents, but have you put some thought into the cards? Make sure you write everyone a small card as this will make your present truly personal! Since it's Christmas make sure you decorate and design your handmade Christmas cards to give it a wintery ambience! We have collected 40 homemade Christmas card ideas for you! Hopefully, you will be able to find some inspiration amongst our collection of Christmas ideas!
1. Reindeer Heaven – Ready for the Holidays
Here is a super cute design for your Christmas cards! Make sure to include reindeers on them. After all, they help pull Santa's sleigh! Reindeers have become a typical symbol of Christmas over the years, especially Rudolf! Create the reindeers out of peanuts, using the peanuts as heads! Then stick the peanuts onto the card and don't forget to wish everyone a Merry Christmas!
2. Red Christmas Trees – Handmade Christmas Cards
Is there anything which channels a Christmas vibe more than a few Christmas trees? Cut out strips of red wrapping paper and stick them on cards. Start with the largest strip on the bottom, getting smaller with each one as you work yourself upwards. You will have created Christmas trees with this simple idea! Add a tree stump and a star to the top of the tree!
3. Green and Gorgeous – Homemade Christmas Card Ideas
Just as we mentioned before, using strips of paper to create Christmas trees is a fabulous idea. Instead of using red wrapping paper for the trees, use green instead! Remember to paste the tree stump on the card and to place a star on top of the strips!
4. Fabric and Fun – Christmas Card Ideas
Do you ever hang up stockings on the night before Christmas? Re-enact this activity on your Christmas card, by creating small stockings out of cardboard, fabric or anything else! Then paste these small stockings on cards and add some snowflakes around it for a wintery atmosphere!
7. A Unique Tree – Paper Curling Technique
Create a Christmas tree out of paper curls! Curling strips of paper into spiralling circles is easier than it looks! After finishing the curling, paste the curled balls on your card. Use four curls for the bottom of the tree, three curls on top of these, then two and finally one! You can create a small paper star as well as a special effect for your Christmas tree!
8. Great Gloves – Keep Your Hands Warm
Gloves are a necessity during wintertime! Recreate gloves on your Christmas cards, by cutting out their shapes, colouring them and sticking them on the cards! You might also consider adding a snowflake or two for that wintery effect.
9. Unique Paper Technique – Homemade Christmas Card Ideas
Here is another fun and exciting way to create a Christmas tree on your cards! Create paper balls using crepe paper. Just check out the tutorial above on how to make them! After making enough paper balls, glue them all on your card in the shapes of a Christmas tree! You can add a few beads or a bow to it for that Christmassy touch!
10. 3D Trees – Handmade Christmas Card
Create a Christmas tree out of a single long ribbon! Paste one end of the ribbon on the top of the card, then slowly work your way down with it. Create the branches of the fir tree by folding the ribbon. You will need to paste the ribbon onto the card to make it stay in place! You can add an array of buttons to the middle of the ribbon. This can be a fun Christmas craft to make with kids!
12. Open Wide – Handmade Xmas Cards
If you have been in search of personalised Christmas cards, that will take everyone's breath away, you might have just found it! While it looks difficult to create, there is a template that will make it super easy to make. After cutting it out, you will have to fold it at the right places to create this card!
13. Boxes of Presents – Homemade Xmas card Idea
3D cards have become a sensation that makes complete sense. They look so awesome! Create a whole stack of presents for your cards. The trick to creating 3D cards is using more than one layer for the card and cutting out shapes in the right places.
14. Fantastic Folds – Handmade Christmas Cards
Are you in search of something easy to create? Cut out rectangles, which you will fold into openable triangles. Glue these on a card, making sure the largest triangle is on the bottom and the smallest on the top. This is a simple way of creating Christmas trees for your Christmas cards!
15. 3D Ornaments – Looking Fabulous
Get into the Christmas spirit and make some Christmas cards! A simple idea is to stick a button and a bow on your cards, as well as lining the card with some Christmas wrapping paper! Write "Merry Christmas" on it as well!
17. A Christmas Card – With a Gift Card
Surprise your card's recipients this year. Besides writing a personal message for them inside, why not stick a gift card inside as well? You can easily hide a Christmas present such as a gift card, in these personalised Christmas presents!
18. 3D Giftbox – Have Yourself a Merry Christmas
Here is another 3D card idea! When your recipient opens the card make sure that a 3D gift box pops out! Paste some ribbon to the pop-out box as well, to give it a Christmas vibe!
19. A Footprint – Cute Christmas Card Idea
A simple way to decorate your DIY Christmas cards is by robing it up with ornaments! Glue buttons onto your cards, drawing thin strings above them, as if the ornaments were dangling from these strings! This is simple and cute, making it perfect for Christmas!
21. A Santa Suit  Christmas Card
Use Santa's suit as inspiration for your Christmas cards! Cut out shapes using red paper. Add small sparkling stones to the middle of the shapes in a line, as if they were the buttons of the suit. You can even recreate Santa's belt using a black ribbon and placing the tab of a soda can on it! These would also make fantastic homemade Christmas tree ornaments!
22. A Beautiful Ornament – Sophisticated and Refined
When you think of Christmas, what image pops immediately into your mind? Perhaps a Christmas ornament? Recreate an ornament on your card, using small dots to make it! You can tie a ribbon to the top of it as if your ornament were hanging from it.
23. Shining Stars – Glittery and Charming
Stars are another symbol of Christmas! So it would only make sense to use them as decorative elements in your cards! Create stars out of glitter on your card to give it a special, wintery look! You can add ribbons as an extra touch to your card!
24. A Snowman – Made Out of Buttons
Create a snowman for your DIY Christmas cards this year! Use two white buttons for the body. Glue them on the card. Remember to add black beads for the eyes, and decorate it further with a hat and scarf.
25. A Pearly Tree – White and Snowy
Recreate the image of a snowy Christmas tree on your cards! Sew white lines across the card, each one getting bigger as you go down. You can place some artificial pearls on the strings, creating ornaments for the tree. Draw a star at the top of the tree for that Christmas vibe!
26. Ribbon Trees
Here is another simple idea on how to create Christmas trees on your cards! All you need is a stick, a star, a ribbon and some glue! Paste the stick on the card, pasting the star on top of the stick as well. Wind the ribbon around the stick, creating the shapes of a fir tree's branches. Paste the ribbon onto the card as well at several spots to ensure it stays there!
27. 3D Christmas Trees 
Fold fans out of different sized green paper! Paste these in the fold of your Christmas card. Glue the largest fan on the bottom of it, with each fan getting smaller as you head upwards. You can also consider including a start at the top of the 3D Christmas tree.
28. A Stylish Envelope – Using Scrapbook Paper Circles
Make sure you make a beautiful DIY envelope for your Christmas cards! Use paper circles to create this special envelope and fold each one in half. Place the circles together, making sure they fit. One side of each circle goes over and one side goes under the other circles. Glue them together and fold the top as you did the bottom!
29. Candy Canes – Christmas Patterns
One thing we haven't mentioned yet is to use candy canes as inspiration for your Christmas cards! Candy canes are a tasty treat and bring a true Christmas vibe with them! So make sure you use them in some form on your cards!
30. A Folded Card – Origami Ideas
Do you like origami? Then make origami Christmas trees as cards for all your family and friends this year! They will be able to use this as ornaments on their Christmas trees as well!
31. Rainbow Ornaments – Vibrant and Vivid
Here is a vibrant and vivid 3D Christmas card! Punch out circles out of different coloured papers. Glue one of the circles on your card as a base. Then fold the rest of the circles in half before glueing them to each other. This should create a semisphere of happy colours, perfect and merry for Christmas!
32. Adorable Stockings 
Cut out the shapes of stockings which you can use as cards for Christmas! You can write on the top white part of the stocking. Decorate the stocking itself in red patterns. Another cute addition is to add a small cut-out holly leaf to the stocking!
33. Boxes of Gifts – A Holiday Ambience
Here is another fantastic card for Christmas! Cut out small squares out of Christmas wrapping paper and tie ribbons or yarn around them. Stick them on the bottom of your card and you're already done. Simple but fabulous!
34. A Cute Christmas Tag – Ornament Inspired
Cut circle shapes out of different patterned wrapping papers. Glue them on your cards or tags, forming the shapes of Christmas trees. Add a cut-out star to the top of the ornament Christmas tree.
35. Cake Lace – Easy Christmas Card Ideas
Create snowy Christmas trees out of cake lace! Fold the cake lace a few times to form a triangular shape. The top should be pointy and you can place a cut-out star on it! Paste the cake lace and the star on your card! You can place these cards in the window, turning them into Christmas window decorations!
36. Another Reindeer – Homemade Christmas Card Ideas
If you are really into arts and crafts, try out this card idea! Cut out small pieces of brown and white paper. Stick them together to form a reindeer. Use glittery red paper for the reindeer's nose!
37. Wrapping Paper Crafts – Pretty Patterns
Use wrapping paper to decorate your Christmas cards! Cut a border for the card out of the wrapping paper, as well as the shape of a Christmas tree. Glue the tree in the middle of the card and add a star to the top of it! Use any sort of patterned wrapping paper that you'd like!
38. Elf Suits – Adorable for the Holidays
Let's not forget Santa's little helpers when Christmas arrives! If you love his adorable helping elves, use them as inspiration for your funny Christmas cards. Cut out the shapes of their suits, glueing buttons, a belt and a collar on them! This is not only adorable but very festive, which is what you need during the holidays!
39. Mittens and Snowflakes – Cosy for Christmas
Bring a wintery vibe to your Christmas cards! Attach small felt mittens and a snowflake to the front of your card. You can sew a few patterns on both the mittens and snowflake!
40. A Simple Snowman
Are you look for a simple and easy tag to create to accompany your Christmas gifts? Create a small snowman on your tag, placing two white buttons together. The small one becoming the head of the snowman, the larger button becoming the body. Draw a small hat on the snowman as well for that special effect! This is one of many great Christmas card ideas!
We hope that this collection of 40 homemade Christmas card ideas have inspired you for the holidays! For more ideas concerning Christmas, such as Christmas tree napkin folding or a frosty handmade Christmas gift, check out our website!
Advert