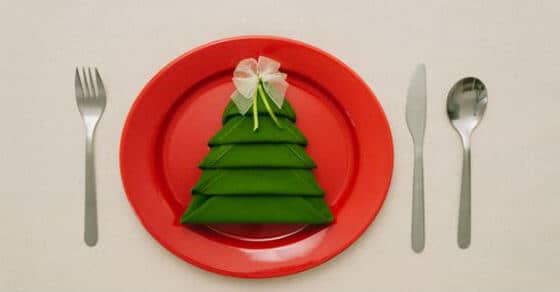 Christmas is about having big meals with your family and your friends, too. If you would like to surprise them with a special cover, check out how to make this amazing Christmas tree napkin fold technique! It's not difficult at all and you only need a few ingredients.
Ingredients
napkins (20″ x 20″ or 16″ x 16″)
pins
a lovely ribbon (if you would like to decorate your Christmas tree)
Let's get started!
Instructions
Take your perfectly square napkins, actually you can use any kind of colours, green is the traditional option.  If you can afford, work with cotton or linen because it's much easier to fold 100% natural fibers than simple paper.
You can even iron your napkins before you get started the folding.
First of all, smooth out the wrinkles and fold it in half.
Repeat this movement, fold your napkin in half again. It's important to check the corners, they should line up with each others. Spin it around.
After that, fold the corners up one at a time. Repeat your steps again and again, you will have 5 foldings. Don't forget to smooth!
Your next step is to flip the napkin over, be careful, it can slip through your fingers! To tell the truth, it's not that difficult: slide your hand under your napkin, just simply make a sandwich from it between your hands and flip your lovely craft over.
Fold the borders to their opposite sides, now you formed a tringle-shaped Christmas tree. As you can see in the pictures,  the tops should be parallel with you.
Flip you Christmas tree napkin fold again. Fold the little flaps up.
Hide the pointed corners and you are almost ready! Fix the folds, place it into a plate and you can even decorate it with a ribbon.
Your Christmas tree napkin fold is ready! Your guests will definitely adore your cover decoration!
Thank you for reading the article of "Learn the Christmas Tree Napkin Fold Technique"!
source of the pictures: Pinterest
[afterpage]