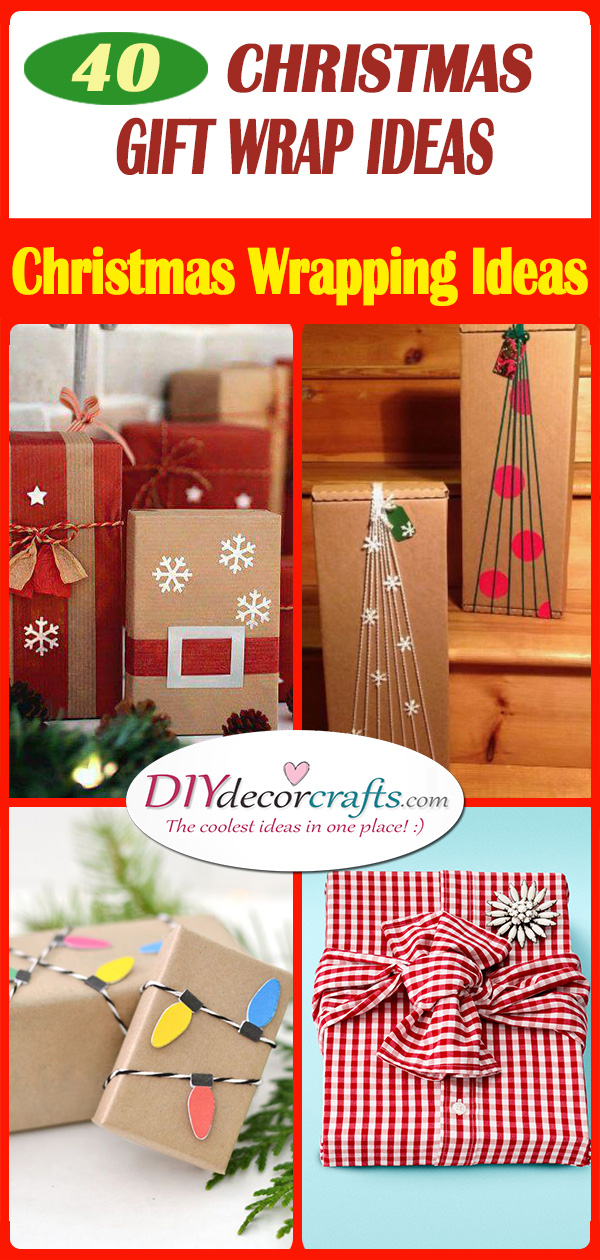 One of everyone's favourite holidays is definitely Christmas. A time to spend with your loved ones in peace and love. When Christmas is just around the corner it's time to start thinking about presents! It's a great feeling to give everything something they need or something they love. Of course, when you give everyone presents, you should also try wrapping the gifts in a meaningful and gorgeous way. That is exactly why we have collected 40 Christmas wrapping ideas. These Christmas gift wrap ideas should assist you in finding a bit of inspiration amongst our many ideas for Christmas!
1. Simple and Rustic – A Touch of Nature
When wrapping presents, you might think about what the other person's style is. If they like an old-fashioned or rustic take on things, why not use simple brown paper to wrap up their gift? Wrap a bit of fabric around it as well, as well as some yarn. Then add a touch of nature to the wrapping, slip a flower in between the wrapping of yarn.
2. A Christmas Vibe – Christmas Gift Wrapping Ideas
Since it's Christmas, it might not hurt to give your gifts a Christmas vibe. You can achieve this by wrapping up your gift in brown paper, adding small green and red polka dots to it. If you are going to attach a card to your gift, why not shape it like a fir tree?
3. Getting Creative – Wool Art
There are so many ways to uplift your Christmas wrapping. For example, by using wool or yarn art. After wrapping your present in some simple paper, it's time to decorate it with wool! Bend it and glue it to the wrapping paper in order to create Christmas shapes on each gift. You can create a Santa hat, a candy cane or a Christmas tree! It's all up to you!
4. Remember the Card – Personal and Intimate
If you've already wrapped up your gift in a fabulous way, then there is something you shouldn't forget. This is a card! A card is a great way to take your whole present to a personal and intimate level. Sometimes, what's written on the card is worth so much more than the present itself! So don't forget to write a few lines to your loved ones, telling them how much they mean to you.
5. Wrapped in Fabric – Creative Christmas Wrapping Ideas
Here is another creative and unique way to wrap a present for Christmas. Using no other than a checkered shirt! Use the two sleeves to tie a knot at the front!
6. Cute Flowers – A Delicate Ambience
If you are looking for a simple and delicate way to wrap up your Christmas present, look no further! Firstly, wrap your present in simple brown paper. Then cut out flowers and glue them to the wrapping. Create their stems out of yarn and tie them in a bow!
7. Include a Wreath – Christmas Wrapping Ideas
If you are giving something small, you can simply slip it in a paper bag. Then attach a small ribbon to it and a circular card! Create mini Christmas wreaths and place these above the circular cards. The wreaths will definitely bring a Christmas vibe to your presents!
8. A Woolly Sweater – For Your Christmas Wrapping
There are so many fantastic ways to wrap up a Christmas gift. Wrapping it up in a woolly piece of fabric is just another! This will give you winter vibes as if the gift inside were feeling a bit cold so it had to dress up properly.
9. Christmas Lights – Bright and Vibrant
When you think of Christmas, what image pops into your head almost immediately? Is it a string of Christmas lights, wrapped around a fir tree? If so, why not recreate these colourful bulbs all over your gift? As if a string of Christmas lights were wrapped around your presents. It will look fun and vibrant!
10. Suit and Tie – Christmas Wrapping Ideas
Make your gifts look like elegant suits with the addition of a bowtie or tie. After wrapping your present up, simply add either a tie or a bowtie with a few buttons underneath it. This is a great way to give a gift to a male friend or family member!
11. Pinecones and Mistletoe – Natural Christmas Gift Wrap Ideas
If you have decided on wrapping up your gifts in simple wrapping paper, make sure to give them a special wintery effect. Attach pinecones, a fir branch and a few sprigs of mistletoe to the wrapping of your gift. This will give your gift Christmas vibes!
12. Snowflakes and Bows – A Real Christmas Essence
Make sure to give your Christmas gift wrap ideas a winter wonderland effect! After wrapping your presents in red coloured paper, add a few special effects. Cut out stars and snowflakes out of white paper and glue them onto the presents!
13. Adorable Reindeers – With Red Noses
Here is an adorable envelope idea for your Christmas cards! Create reindeers out of the envelopes, glueing antlers onto the top of the envelopes and adding eyes to them. Don't forget to add a red nose to each one either! These will also make great Christmas crafts for kids!
14. A Cute Christmas Tree – Rolls of Wrapping Paper
Here is a cute idea for a card! Create small rolls of wrapping paper, each one should be a size bigger than the one before it. Then glue them together to create the shape of a fir tree. Paste this onto a card then you can add a start to the top!
15. Cute Fir Trees – Christmas Wrapping Ideas
Here is a creative and cute way to wrap some ribbon around your gifts! Attach small cutout fir trees to the ribbon. You can use different patterned and coloured paper to achieve this.
16. Cake Lace – Cheap and Easy
A cheap and easy way to uplift the appearance of any wrapping paper is by adding cake lace to it! You can buy cake lace in practically any shop and even though it's super cheap it will give your wrapping paper a look of elegance and sophistication.
17. Tasty Gingerbread – Cookies of Christmas
A Christmas favourite is no other than gingerbread! This tasty and spicy treat is perfect for the holiday season! If you love these cookies as much as we do, why not add a cookie to each present you wrap? You can decorate them with icing if you have some time on your hands!
18. Cute Hearts – Christmas Wrap Gift Ideas
Now here is a unique way to wrap your Christmas gifts! Use two layers of wrapping paper. The wrapping paper underneath should be a shade of red, the one on top can be any sort of colour you'd like! Cut out half of a heart shape in a few spots on the top wrapping paper. This will create a look of hearts when you place it on top of the red wrapping paper, making it a perfect way of wrapping up a Christmas gift for your wife or a Christmas gift for your husband! 
19. A Pullover – Woolly Ideas
Are you bored with placing wine bottles in bags? Then make sure to present your gifts in a unique way! For example, place knitted woolly material on them! It will look as if your wine bottles have wrapped up for Christmas in some knitted pullovers!
20. Paper Flower – A Special Effect
Create a paper flower as a special effect for the top of your present! Cut a flower out of crepe paper following the easy tutorial above! It's a cheap and simple way of uplifting your Christmas wrapping ideas a little bit!
21. Very Manly – Suit and Tie
If you are thinking about how to wrap a gift for a man, here is a fabulous idea! Create the image of a suit, with a bow tie and some buttons, using matte paper! Just check out the example above!
22. Rudolf the Red-Nosed Reindeer – A Cute Look
Here is a truly Christmasy idea for decorating your gifts! Create the image of reindeers by cutting out antlers and glueing them on the presents. Also, make sure to include eyes and a red nose! If this doesn't give your gifts a Christmas look, we don't know what will!
23. Mini Pom-Poms – Cute and Vivid
Here is a cute and easy way of wrapping your Christmas present! All you need to do is add pom-poms! You can create super small pom-poms and stick them all around the wrapping paper. Then tie a ribbon around the gift as well! You can attach a pom-pom to that as well!
24. Pom-Pom Ideas – Christmas Wrapping

Gifts
Pom-poms are easy to create by yourself at home! If you like making them yourself, why not add a few to your Christmas gift wrap ideas? It's completely up to you what sort of coloured pom-poms you would like to use!
25. Taking the Tree Home – Draw a Car
Here is a super cute idea for your Christmas present! Get each of your friends or family members a mini fir tree and attach it to the already wrapped present. Then draw a car on the wrapping paper. It will look as if the car were taking the Christmas tree home!
26. Search for the Word – A Game for Everyone
Create a small game for everyone to who you are giving gifts! Create a word search on them, they will have to find their names on it! Attach these to the presents beforehand and let them search around!
27. Paper Stars – Christmas Gift Wrap Ideas
Cut out large paper stars. You will need two paper stars for each present. Place the gifts inside before sewing the stars together. Your recipients will have to tear the stars apart to get their presents!
28. A T-Shirt – Fun and Exciting
Here is another creative and unique way of wrapping presents! Create the shape and image of a t-shirt! Create a collar for the t-shirt and add some buttons running up to it as well!
29. Simple and Stunning – Christmas Wrapping Ideas
Add a bit of sparkle and glitter to your Christmas wrapping! Instead of using plain old ribbons to wrap your presents in, add some stunning sparkling ribbons! This will give your present a whole new festive look!
30. Elements of Nature – Fir Branches
Add an element of nature to each of your wrapped presents! After wrapping them in some simple brown paper add a fir branch to each one. These will symbolise the Christmas tree! You can cut out the shapes of stars and paste them above each fir tree!
31. Fairy Lights – Wrapped Around the Gifts
Here is a simple way of illuminating your gifts in a warm light! After wrapping them up with paper, wrap a string of fairy lights around them as well! You can add some flowers or a card to the top of the gift for an additional effect!
32. Adorable Snowmen – A Winter Wonderland
Since Christmas takes place during winter, you can consider including a few wintery elements in your gift wrapping idea! For example, why not add a few snowmen to your gifts? These will definitely create a magical and wintery effect on your gifts!
33. A Winter Forest – Reindeer Ideas
Create a whole wintery landscape on your Christmas gift wrapping! Place small trees on the wrapping paper as well as the figures of two reindeers. You can add a cutout star to the top of the present or even some snowflakes! It will be hard for your loved ones to open their presents when they look like art!
34. Hot Air Balloons – Floating in the Sky
Create hot air balloons on your Christmas cards! Cut out clouds as well as hot air balloons and stick them on the card. You can draw the boxes underneath the balloons for the hot air balloons! You can even try to create heart-shaped hot air balloons for an extra touch!
35. A Sparkly Bow – A Hint of Gold
Add a hint of gold to your Christmas gifts! Tie a cute bow on top of your presents for an adorable effect! Get a gold bow for this, after wrapping the present together with a gold ribbon, attach a bow!
36. String Art – Creating Fir Trees
Create fir trees out of yarn or string! Just check out the picture above as an example! You can add snowflakes to the trees or Christmas decorations! This will definitely give your gifts a truly Christmas look!
37. Candy Cane Vibes – Using Paper Straws
Use paper straws which are striped with red and white! Attach them to yarn, creating shapes out of the straws. These might resemble the colours of candy canes! Depending on how you wrap the yarn around the gifts, you can create even star shapes!
38. Create a Bag – Lovely Christmas Gift Wrap Ideas
How about creating your own bag to place gifts inside? Here is a simple tutorial on how to make a bag. Creating a small bag will ensure that the presents won't fall out!
39. A Shimmering Blue – Picking the Perfect Colour
When in doubt about choosing a beautiful colour for your Christmas gifts, a great colour to stick to is a shimmering blue! Combine it with green and red ribbons to get a beautiful combination of colours!
40. Small Pyramids – Unique Christmas Wrapping Ideas
Create small pyramids to place your Christmas presents in! Make these out of paper by cutting them out and attaching the tops together. This is the perfect sort of box to place small presents in, like jewellery for example!
We hope we have given you some inspiration for Christmas gift wrap ideas! For other ideas concerning Christmas, like Christmas cards or Christmas tree decorating ideas, check out our website!
Advert