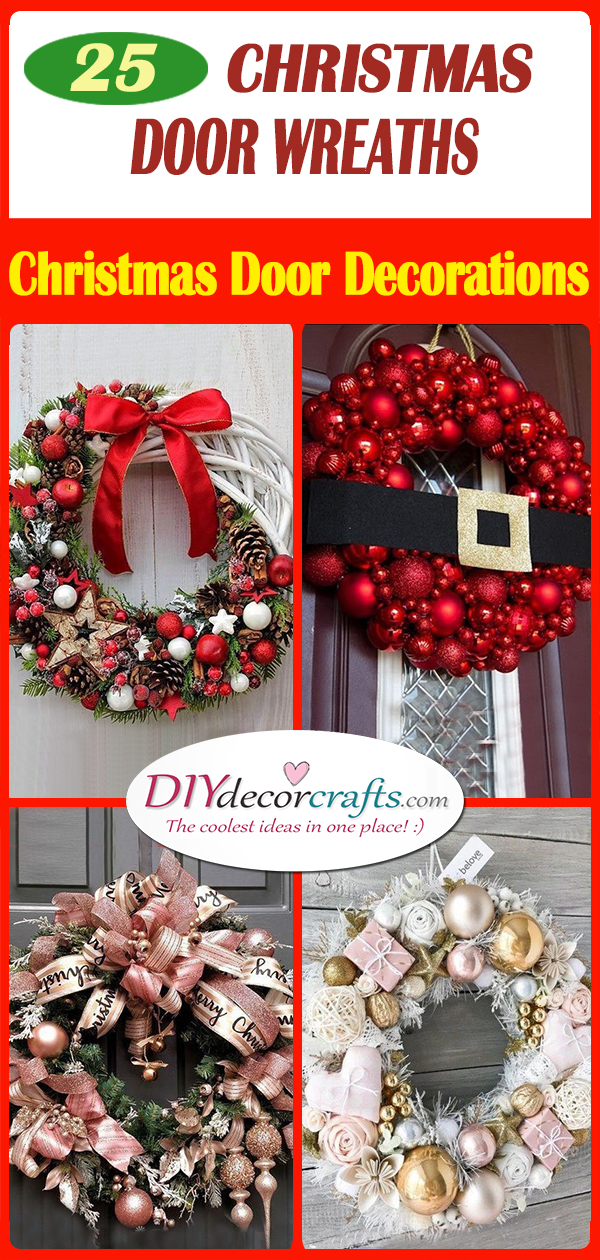 When winter has arrived and Christmas is just around the corner as well, it means it is time to get into the festive spirit! You can get into a Christmassy mood by making all sorts of crafts and decor, as well as baking. There is a whole pick of ideas for Christmas to choose from! If you have been contemplating creating some sort of Christmas decor for your home, why not create wreaths for your front door? There are so many gorgeous Christmas door decorations you can create to invite winter and the holidays into your home and heart! This way, whenever a guest arrives at your house, they will be uplifted by a sense of Christmas. We have collected 25 Christmas door wreaths for you to choose from!
1. Rudolf the Red-Nosed Reindeer – Christmas Door Decorations
When you hear the word Christmas, what image pops into your mind almost immediately? Perhaps it is Santa riding on his sleigh which is pulled by reindeers. If you love Rudolf the red-nosed reindeer as much as we do, make sure to use him as inspiration for your front door wreath. Use strips of burlap to decorate the wreath itself. Then make sure to add antlers to the wreath for the reindeer effect. Also, consider attaching a ribbon to the wreath. Naturally, don't forget to add a sparkling Christmas tree ornament as the nose on Rudolf!
2. A Winter Assortment – Elements of Nature
Another beautiful way to decorate your wreath for Christmas is by adding an assortment of wintery elements. You might consider adding a few natural pieces of decor to your wreath. For example, collect pinecones, mistletoe and branches of fir trees to make your wreath a lot lusher and more bountiful. Other beautiful items you might like to add to your wreath may include cinnamon sticks or tree bark. For a sparkly touch, also attach some Christmas tree ornaments to your winter wreath! This will help uplift the whole wreath and give it a festive touch.
3. Pink, White and Gold – Christmas Door Wreath Ideas
Now here is a gorgeous wreath that definitely brings sophisticated and elegant vibes with itself! Use a combination of gold, white and pink for the colours of the wreath. Add gold Christmas wreath decorations to it, you might even like to include a gold-painted walnut! Use white, artificial fir branches for the making of the wreath itself. Then perk it up with a few more elements, which are all coloured pink! This might include artificial flowers, Christmas tree ornaments or mini gift boxes! We recommend using artificial items so that your wreath won't wilt before time!
4. A Christmas Tree – Beautiful and Festive
Create a Christmas tree out of fabric for your winter front door decor. Use green ribbons or green strips of burlap to create this Christmas tree. Sew them together to create the shape of an actual fir tree, but naturally, you can use a glue gun to do this as well. Then all you will have to do is attach Christmas tree decorations to it, as well as wrap a whole string of fairy lights around it.
5. A Cute Elf – Christmas Door Decorations
Here is an adorable idea for creating a Christmas door wreath! Use a colour combination of red and silver, to bring a true wintery essence to your wreath. Wrap ribbons around the wreath itself, attaching pinecones that are painted silver as well as Christmas tree ornaments. In the middle of the wreath, place a Christmas elf inside, fixating it with a glue gun. You might also think about hanging lanterns off the wreath, which contain flameless candles. The flameless candles will make the wreath safe to hang on your front door!
6. Pretty in Pink – A Fancy Look
Why not try out a completely new and exciting colour for your Christmas wreath? A unique colour will bring a bit of spark and excitement to your front door just in time for Christmas! A colour you wouldn't normally associate with Christmas is pink, so why not give it a try? Use a whole variety of pink Christmas tree ornaments and pink ribbons to attach and hang up on your wreath. You will be able to create a stunning front door decoration in no time at all!
7. Trying to Get In – Christmas Wreath Ideas
Another cute way to perk up your front door for Christmas is by adding one of Santa's helpers to it. For example, place a toy elf in the middle of the wreath, as if it were trying to climb into it. This will help create a funny image! Also, make sure to use an assortment of Christmas candy to decorate the wreath. This means sticking candy canes and lollipops into the wreath! This will definitely give your wreath a Christmassy look, not to mention the combination of white, green and red will bring a winter vibe with itself!
8. Beautiful in Silver – A Wintery Wonderland
Make your Christmas wreath look like a winter wonderland! Use silvery fir tree leaves for the base of the wreath. Then it's time to add the other ornaments to your wreath! This might include an assortment of silver-painted pinecones, sparkling stars, Christmas tree decorations and pearly beads here and there. For a few hints of colour, you might consider adding a blue ribbon or two, or a few ornaments which are beige. Using a combination of silver and pale tones will definitely bring an essence of winter with itself! These homemade Christmas wreaths are bound to look amazing!
9. Jingle Bells – Gorgeous Christmas Door Wreaths
Here is a gorgeous Christmas door wreath that you can create all by yourself! First of all, you will need to buy a foam ring. This will act as the base of your wreath. Then using a glue gun, you will be able to attach and fixate Christmas wreath decorations to it. Try using ball ornaments for this. Finally, also attach bells to your wreath, they will compliment the ball ornaments. It will also bring a jingly vibe to your front door decor! After all, who doesn't love the song "Jingle Bells Rock"? This would also make a beautiful Christmas window decoration!
10. Taking the Tree Home – A Red Truck
Here is a simple Christmas door wreath, which has a natural and earthy touch to it! Create a wreath out of sticks or branches. Attach fir tree leaves to the wreath with a big bow. Then also attach a red truck toy to the bottom of the wreath, as if the truck were taking home a Christmas tree. This is a typical illustration of the holiday season when everyone is taking their fir tree home to decorate it for Christmas. So make certain to use it as inspiration for your wreath!
11. A Biblical Representation – Christmas Door Decorations
Christmas is the celebration of the birth of Jesus, so it would only make sense to use the nativity play as inspiration for your Christmas door wreath. You can use a small ornament, which illustrates the birth of Jesus, surrounded by Mary and Joseph and the barn animals. Use brown burlap for the bottom of the wreath, depicting the ground and dark blue for the top, creating the sky. You can run a string of fairy lights through the top, creating small stars in the sky. Naturally, you can place a big star ornament on top of the wreath, representing the star of Bethlehem.
12. Santa's Suit – With a Belt
Using a whole array of red ornaments create a wreath that will look like Santa's suit! All you will need to do is glue red Christmas tree ornaments to a foam ring. You can use sparkly ornaments or matte ones, it's really up to you! Then all you will need to do is cut out a black rectangle, embodying the belt which Santa wears. Attach a golden square to it, creating the buckle of the belt. And you already have a wreath that resembles Santa!
13. Pretty in Pink – Rose Gold for Christmas
Another great colour you can use for your homemade Christmas wreaths, which isn't exactly Christmassy, is pink! It will definitely bring a fancy and exciting look to your wreath! While it isn't a colour associated with Christmas it is the colour of love and harmony! So why not give it a try this year? Use tree ornaments and ribbons to create a lovely look!
14. Gold, Green and Red – Christmas Door Decorations
Now here is a front door wreath which exudes Christmas vibes! So if you have been searching for something truly festive, then this is it! Use a colour combination of green, gold and red for your wreath! Tie strips of red and green tulle around your foam ring to create the base of your wreath. Now all you will need to do is attach small golden bells to it or Christmas tree ornaments which are also green, gold or red.
15. The Nutcracker – A Symbol of Christmas
Here is another beautiful wreath for Christmas. Perhaps you and your family go to the ballet every year, or watch the famous Nutcracker at home! If so, why not use it as inspiration for your Christmas wreath? After decorating your wreath with ribbons and all sorts of ornaments, add the figurine of a nutcracker to it as well!
16. A Fluffy Wintery Landscape – Using Pompoms
Check out this wreath which captures the ambience of winter perfectly! Use a whole lot of white, fluffy pompoms to decorate your wreath and give it a base. Then attach a small figurine of a house to the bottom of the wreath as well as a few fir trees. This wreath will look as if it were a winter wonderland, which is perfect for Christmas!
17. An Elegant Wreath – Wreaths for Winter
Make sure you give your Christmas front door wreath a truly wintery vibe! Use Christmas tree ornaments to decorate it, as well as adding a few hints of nature. Such as a few pinecones here and there as well as sprigs of mistletoe!
18. A Pompom Wreath – Cute and Fun
In order to give your front door wreath a festive vibe, why not opt for using pompoms? Use pompoms which are coloured green, red and white. Attach them around the wreath itself and attach the word "merry" inside of the wreath. If this doesn't scream Christmas, we don't know what does!
19. A Selection of Wintery Goods – Christmas Door Decorations
Here is yet another wreath which is all about Christmas and the winter season! Cover the wreath itself in fir tree leaves, glueing sticks of cinnamon, ornaments, ribbons and pinecones all over it. Then spray some white paint over your wreath to give it a snowy look.
20. An Adorable Ornament – Perfect for the Winter Holidays
Make your front door decoration for Christmas look like a huge Christmas tree ornament! Cut it out from cardboard or use a wooden circle for this. Paint it however you'd like, and decorate it to create the look of an ornament. Also, write "Merry Christmas" on it for that extra festive vibe!
21. Jingle Bells Rock – Cute and Festive
Check out this gorgeous front door Christmas wreath for the winter holidays! You will need to buy a foam or wooden ring for this. Wrap a long, red ribbon around the whole ring, fixating it with glue as you wrap it around. Then simply hang a few bells from the wreath, giving it the "jingle bells rock" look. Try making this wreath as a DIY Christmas craft with kids!
22. Checkered Decorations – For an Edgy Look
One sort of ornament you might not have thought of are checkered decorations! Use checkered ribbons and ornaments to give your front door Christmas wreath an edgy vibe!
23. Add a Bit of Purple – Christmas Wreath Ideas
Purple may not seem like the most obvious choice to use as a dominant colour for any sort of Christmas decoration. But if you are in the mood for something more elegant, then purple is definitely the way to go! Use all sorts of violet ornaments to give your front door decoration a fabulous vibe!
24. Orange and Cinnamon – A Wintery Ambience
If you like to drink warm teas or mulled wine during the winter holidays, two ingredients you might include in your hot beverages are orange and cinnamon. Use these two ingredients as inspiration for your Christmas wreath. Add some pinecones to your wreath as well as a special effect.
25. The Grinch – Christmas Door Decorations
If you like the movie How the Grinch Stole Christmas, why no use it as an idea for your front door decor? You will need a foam ring as well as a green deco mash to create the head of the Grinch. You can sew the mouth and eyes on yourself. Remember to add a Santa hat as well to the top of your wreath!
We trust that this pick of 25 Christmas door decorations has assisted you in finding something amazing! For more ideas concerning Christmas, besides Christmas door wreaths, such as Christmas cards or Christmas gift wrap ideas, check out our website!
Advert