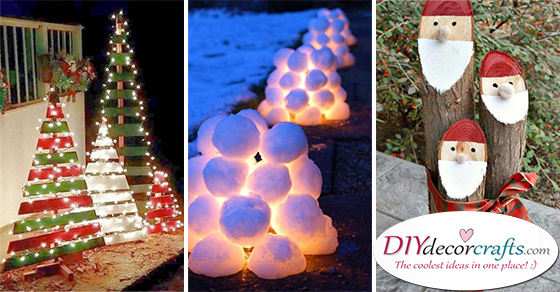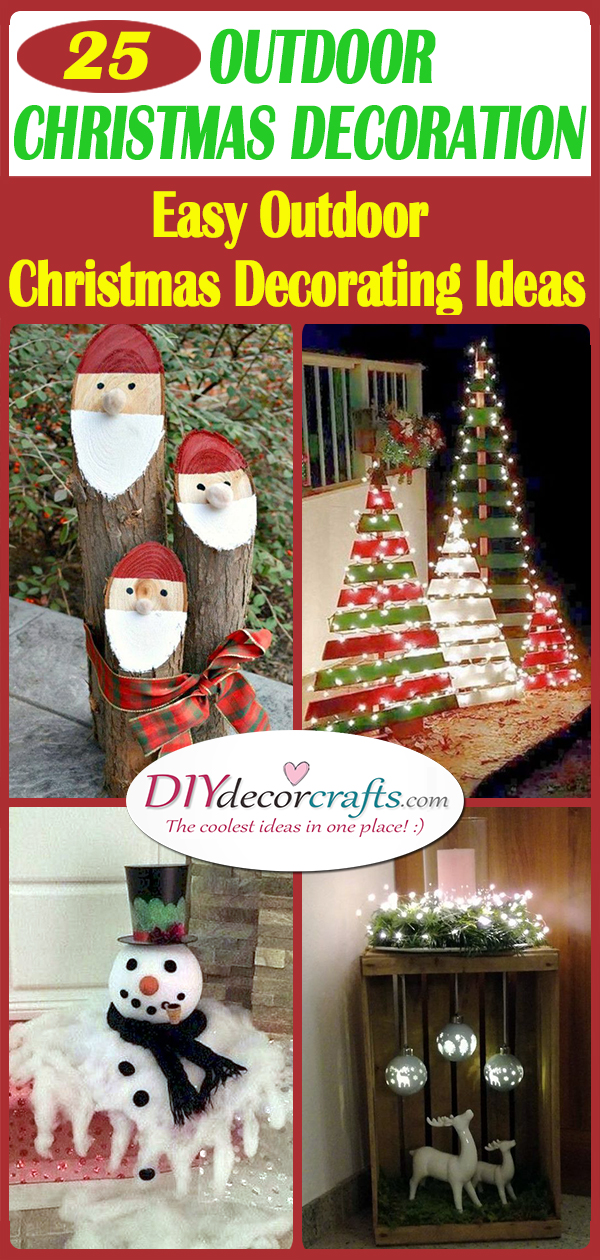 With the arrival of winter, Christmas is also going to be here soon! Which is no other than everyone's favourite winter holiday! The time of getting together with family and friends and celebrating love! Christmas is all about doing activities together, whether it's building a snowman with kids, baking gingerbread or wrapping presents. These great activities will help everyone get into the Christmas spirit. Another fun activity that you will be sure to do every year is decorating your front or backyard with easy outdoor Christmas decorating ideas. You might be thinking of making the ornaments yourself. So, why not take a browse through our 25 outdoor Christmas decoration ideas. Hopefully, you will be able to find a bit of inspiration concerning ideas for Christmas below!
1. A Pair of Skates – Alternative to a Vase
Do you have a pair of ice skates lying around the house, which no one uses anymore? Well, we have a fabulous idea on how to reimagine and reuse them. Hang them on your front door, or just one of the walls of your house. Then all you will need to do is fill them with all sorts of seasonal flora. We're talking about a few fir tree branches, a few sprigs of mistletoe and a pinecone here and there. This is guaranteed to give your home a natural and vintage look for Christmas.
2. Small Santa Claus Logs – Outdoor Christmas Decoration Ideas
Here is a super cute idea for outdoor Christmas decorations! Perhaps you have a few logs, cut into long slices. It's time to decorate these logs and turn them into something magical for the holidays! Paint the tops of the logs to resemble Santa Claus. This means painting a red layer and white layer, adding two dots for eyes and a pompom for a nose. You can even wrap strips of fabric around the logs as if Santa had wrapped a scarf around his neck to keep himself warm.
3. Jingle Bells – An Amazing Wintery Idea
Create a whole set of jingle bells for your outdoor Christmas ornaments this year! This one is a cheap and easy craft to make. First of all, you will need plastic planters and some metallic paint. Spray the outsides of the planters in this metallic paint, giving it a lovely shine. Now it's time to attach Christmas ball decorations to the inside of each planter. These will resemble the clappers, or tongues, of the bell. Now you will be able to jingle all through Christmas!
4. Pallet Wood – Easy Outdoor Christmas Decorating Ideas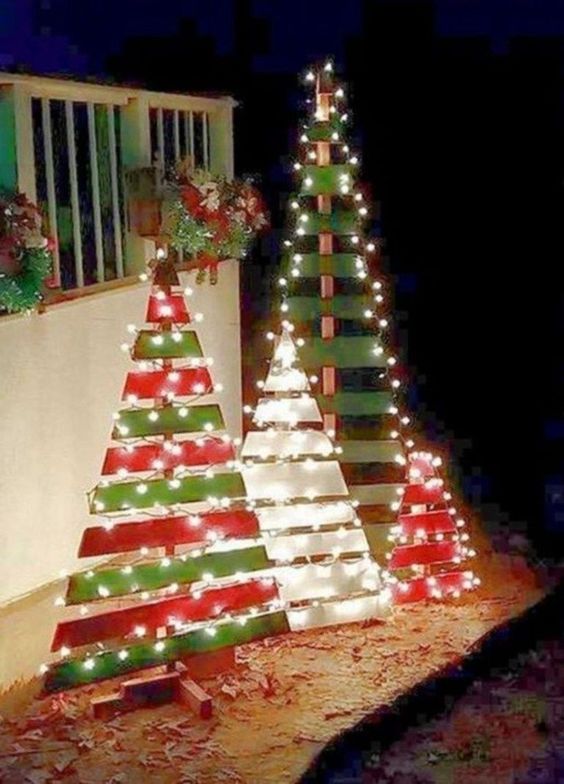 If you like getting creative with your hands and love working with wood, you will love this craft! Using wooden pallets, create Christmas trees for your front or backyard. You will have to cut the pallets beforehand, so each pallet is smaller than the one below it. Also, you will have to make sure that the ends of each pallet are cut diagonally, to resemble the branches of the fir tree. After finishing fixating everything together, you can wrap a string of fairy lights around it. You can also paint these outdoor Christmas ornaments in any colour you wish to!
5. A Gorgeous Window Pane – Rustic Vibes
Bring a rustic vibe and ambience to your garden for Christmas this year! Perhaps you have an old window pane, which you don't use anymore, somewhere around the house. If so, grab it and decorate it! You can wrap a festive ribbon around it and create an effortless bow. Attach some pinecones to it, as well as fir tree branches. And naturally, don't forget the mistletoe either! Use a glue gun to do this, as it will ensure that nothing falls off. You might also consider attaching a toy bird to the frame, as an extra touch. These will make wonderful outdoor Xmas decorations.
6. A Planter Snowman – Unique and Cute
If you are in search of simple and cheap outdoor Christmas decorations, go no further! Paint three of your planters white, creating the body and head of the snowman and paint one black for the hat. After placing them together, make sure to fixate them with a glue gun! Then it's time to create the face and further decorate your snowman. Add black buttons to the snowman's chest. Draw eyes, a nose and a mouth for the snowman as well! Also, wrap a scarf around its neck as a special effect! This decoration is cute and unique!
7. A Wrapped Door – Christmas Decorating Ideas
Create a huge version of a wrapped present for your Christmas front door decoration! If this doesn't bring Christmas vibes to your house, we don't know what will. You will need fabric to create the wrapping itself. You will need two long strips of fabric, one going horizontal on your door, the other vertical. Then attach frills or a bow to the part where the two strips of fabric cross. Your front door will look like a Christmas present!
8. Snow That Lights Up – Outdoor Lighting
Here is a fabulous way of lighting up your whole garden or just the path for winter! This is no other than snowball lanterns, which will illuminate your garden in a gorgeous way this winter. After creating a whole set of snowballs, place them on top of each other, creating a small snowball tower. Before closing the tower with a snowball, place a tealight inside. The lifeless candle will create a beautiful glow on the snowballs! This is perfect for winter!
9. Stacks of Christmas Gifts – Outdoor Christmas Decoration Ideas
Here is yet another awesome way of decorating your front porch! Create two stacks of presents. When we say presents, we actually mean empty boxes which are wrapped to look like Christmas gifts. Stack the boxes on each other and fixate them with a glue gun. You might consider placing a stone or two in the bottom box, to ensure the towers of presents won't fly away with the winter winds. The wrapping itself is completely up to you! Make sure to go for Christmas or wintery patterns though for these outdoor Xmas decorations!
10. A Winter Atmosphere – Reindeers and Lights
Why not create a winter atmosphere on your porch? If you have a wooden crate or box lying around at home, grab it and start to decorate it! Place fir branches or moss on the bottom of it and place figurines of reindeers onto that. Then hang some glowing Christmas tree ball decorations from the top of the crate. You can cut open these balls and place tealights inside of them. You might also consider placing a fir wreath on top of the box. Wrap a string of fairy lights around the wreath, making it glow beautifully as well.
11. A Winter Porch – Easy Outdoor Christmas Decorating Ideas
Create a merry and festive atmosphere on your porch, which is perfect for the winter holidays! So what should you add to make it deliver Christmas vibes? Make sure to add a wintery wreath to your front door or to each window. You might also consider adding a Christmas tree to your porch, next to your table and seats. Another great idea is to place a toy truck somewhere on your porch, which is carrying a small fir tree in the back. You can also place a few lanterns here and there, for that extra Christmas vibe.
12. Melting Snowman – Outdoor Christmas Decoration
When the winter holidays are just around the corner, you will be in search of funny and creative outdoor Christmas decorations! Well, you won't have to look any further, because here is a great idea for you! Create a melting snowman on your front porch, as if the warm weather had arrived too soon. You can create this snowman out of quite a few things, including cotton wool or fake snow, fake snow is actually quite easy to make! Then decorate your snowman in any way you'd like!
13. A Hanging Basket of Christmas – Beautiful and Refined
Create hanging baskets, filled with Christmassy elements! Hang them from the roof of your porch, bringing a winter vibe to your home! Fill the baskets with a selection of fir branches, pinecones and Christmas tree decorations! You might also consider trailing a string of fairy lights through your hanging basket! This way when night arrives, the baskets will illuminate your home in a gorgeous manner!
14. Wintery Lanterns – Christmas Decoration Ideas
Create a whole Christmas atmosphere in an easy and simple way! All you need are a few lanterns and some Christmas tree decorations! Instead of placing candles in the lanterns, fill them with an assortment of Christmas tree decorations! Make sure to include ball ornaments in all sizes and colours! Also, wrap a ribbon on top of each lantern and add a few fir tree branches to them.
15. Topsy Turvy Pots –

Christmas Decorating Idea
Here is yet another great idea for cheap outdoor Christmas decorations! Create a set of topsy turvy pots! Besides filling the pots with Christmassy elements, such as pinecones, fir tree branches and Christmas tree decorations, also make sure to paint each pot to look like a Christmas character! For example, create a Santa Claus, Rudolf and a snowman!
16. Shooting Stars – Festive Lighting for Your Garden
Make sure to decorate any trees in your garden as well! Give them a festive twist for Christmas! Attach star-shaped lights to the trunk of the tree and lead strings of lights bursting out from it. Your tree will look as if it is filled with shooting stars! This will be a perfect way to decorate any tree in your garden as well as adding Christmas party decorations to your garden!
17. Another Melting Snowman – Turning Into a Puddle
We have discussed decorating your garden or porch with a melting snowman! It's definitely a unique and cute way of adding a bit of winter to your garden! You can create the melting body of the snowman out of a slice of wood, which is cut out to look like a puddle. Place the head of the snowman on this wooden slice, and surround the edges of it with tea lights.
18. Joy to the World – Simple and Natural
Here is an adorable way of adding a hint of nature to your garden for Christmas! Add small buckets or pots, in which fir trees are planted, to each step of your stairs. Then write down letters that spell a word that has a Christmas vibe to it. For example, "joy."
19. A Watering Can – Filled With Mistletoe
Another fabulous idea on how to decorate your front porch or garden is with watering cans! Fill them up with branches of fir, mistletoe and pinecones! This will definitely bring a wintery vibe to your home for Christmas! A piece of winter decor such as this could also make a stylish Christmas table centrepiece!
20. Let it Snow – Outdoor Christmas Decoration Ideas
Create a cute welcome sign, inviting guests into your home as well as hoping for snow for Christmas. Create a pole wrapped in fir leaves, which has a snowman holding a sign on top. You can write a small message on the sign which the snowman is holding. Write "let it snow!"
21. A Christmas Train – Reusing Old Crates
Create a Christmas train running along your porch! Paint crates in Christmas colours, adding wheels to them. It will look as if Christmas had just arrived on your terrace! These outdoor Christmas decoration ideas are easy to put together!
22. A Joyful Sign 
A simple but beautiful way of decorating your garden for Christmas is with a sign or two. You can write words that are connected to Christmas on the signs. For example, a simple sign with the word "joy" will create a sense of peace and harmony!
23. Tires as Ornaments – Amazing Outdoor Christmas Decorations
Create Christmas ornaments out of used car tires! Cover the insides of your tires to creating spherical shapes instead of leaving them as rings. Then all you need to do is coat them in paint and add some sort of decoration to the front of them. For example, paint a snowflake on one tire and a Christmas tree on another.
24. A Snowman Garage Door – Christmas Vibes
Also, remember to decorate your garage door for Christmas! Make it look like a snowman for a wintery effect! Cut a nose, eyes and a mouth for it out of cardboard and stick it on the garage door! This is one of many awesome outdoor Christmas ornaments!
25. A Fir Elf – Easy Outdoor Christmas Decorating Ideas
Create a cute Christmas elf using elements of nature! Collect a whole pile of fir leaves and stack them on each other. Place a red elf hat on top of the pile of branches. Then create a small nose for it, using a potato! And voila! You've finished already!
We trust that we were able to inspire you with our collection of 25 outdoor Christmas decoration ideas! For other Christmas ideas, such as Christmas cards or Diy Christmas ornaments, visit our website.
Advert