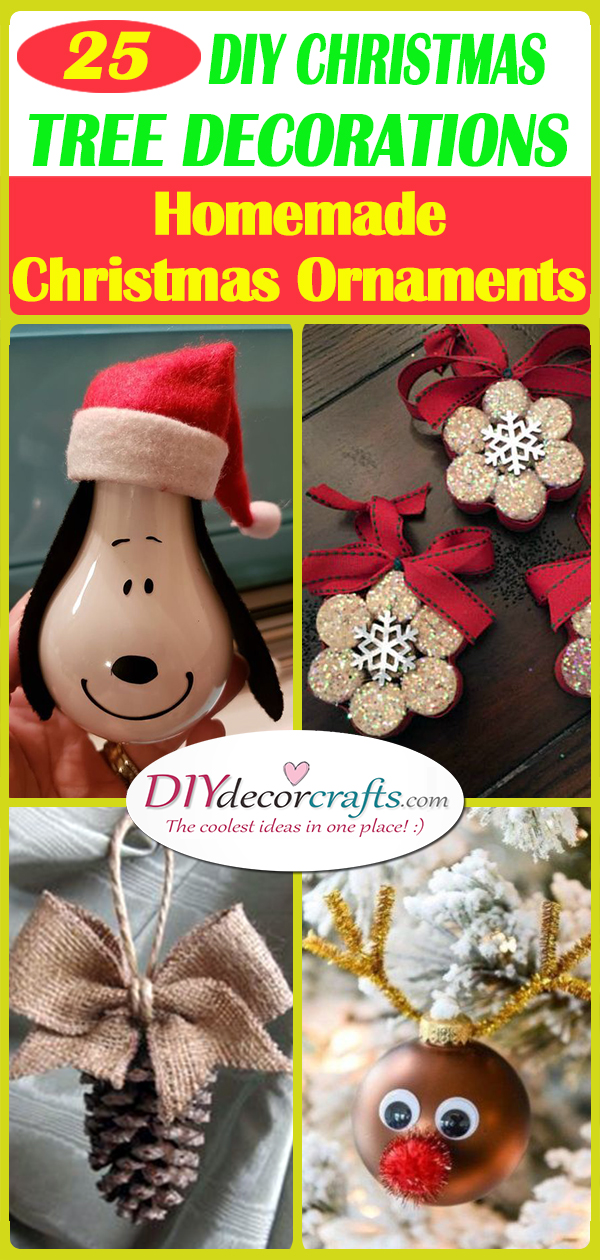 With the arrival of winter, Christmas is also going to be here soon! Which is no other than everyone's favourite winter holiday! The time of getting together with family and friends and celebrating love! Christmas is all about doing activities together, whether it's building a snowman with kids, baking gingerbread or wrapping presents. These great activities will help everyone get into the Christmas spirit. Another fun activity that you will be sure to do every year is decorating the Christmas tree together. You might be thinking of making the ornaments yourself. So, why not take a browse through our 25 DIY Christmas ornaments. Maybe you will be able to find a bit of inspiration regarding homemade Christmas tree decorations and Christmas ideas in general below!
1. Cute Cork Crafts – Homemade Christmas Tree Decorations
If you are in search of a cheap and easy craft for making Christmas ornaments, you might have just found it. Use simple corks for the heads of reindeers, then decorate them by drawing eyes on them. Cut another cork into thin slices, to which you can attach a glittery red nose and also draw a mouth. You can attach some sort of wires to their heads becoming antlers. These cute corks will serve as the perfect Christmas decoration for your tree! Not only are they adorable, but they will also be fun to create with the family!
2. Simple and Adorable – DIY Christmas Ornaments
Here is another easy and cheap handmade Christmas ornaments craft! First of all, you will need brown Christmas ball ornaments. These will serve as a base for your reindeer decorations. Now it's time to paste everything on it! Starting with two googly eyes, use a glue gun to truly attach and fixate everything. Then create a red pompom, which you will be able to use as the nose of the reindeer. Finally, using fuzzy wires, you can shape the antlers of the reindeer and place them on top of the ornament.
3. Tea Light Snowmen – Homemade Christmas Tree Decorations
Other simple and handmade Christmas decorations you can create out of cheap items is no other than tea light snowmen! This will make a great Christmas craft idea for kids! All you will need to use for this are some tea lights, which you can decorate with a sharpie. Draw a face as well as a mouth for the snowmen using small dots. Further decorate them by giving them small orange noses, which will resemble the carrots on actual snowmen. You can add a few other ornaments, such as a felt top hat or small earmuffs made out of fuzzy wires.
4. Let it Snow – Creative With Scrabble
Do you have a favourite Christmas soundtrack for the holidays? Does it include "Let it Snow"? If so, make sure to take inspiration for your favourite festive music! Create a Christmas tree ornament out of Scrabble, glueing letters together to form a word! For example, glue together the words "let it snow." Then simply attach a small ribbon to it, from which you will be able to hang it from the tree. This is a fairly simple craft and perfect for anyone who loves Scrabble!
5. Spectacular Snowflakes – Handmade Christmas Decorations
A typical wintery element is a snowflake! So why not create a few snowflakes for your Christmas tree ornaments? Paste together wine corks, with one wine cork in the middle, surrounded by six. You can cut out a snowflake from paper and stick it over the wine corks. This simple cutout will help produce the stunning look of a snowflake! You will also have to wrap a ribbon around the corks which will help you hang it from your Christmas tree. It's easy and cheap to create, so make sure to give this craft a try!
6. Snoopy Ornament – A Charlie Brown Christmas
Perhaps one of your favourite Christmas movies was A Charlie Brown Christmas. If so, make sure to incorporate at least one of the characters in your Christmas ornaments. One of everyone's favourites is Snoopy, the cute dog from the series and movie. Create his face using a light bulb and by drawing over it with a sharpie. Attach two black strips of fabric to the light bulb, these will become the ears of Snoopy. Then finally, place a Santa Claus hat on the top of his head.
7. Handmade Paper Snowflakes – Beautiful and Refined
Perhaps you are in search of some gorgeous ornaments you will be able to place on your Christmas tree, which will create a sophisticated atmosphere. Make sure to try out these paper snowflakes! Not only do they look stunning, but they are quite easy to put together. Not to mention they are also extremely cheap! After creating these snowflakes out of strips of paper, you will be able to coat them in layers of glitter, to give them a spectacular shine! There are so many shapes you can create with just a few strips of paper! 
8. Rudolf the Red-Nosed Reindeer – DIY Christmas Ornaments
Here is one of many adorable DIY Christmas decorations to make for your tree this year! You will need a few thin slices of wood. Use these as the heads of the reindeers. Draw eyes on it, add glittery noses to them, as well glittery antlers. You will have to drill a hole through the top of the reindeer. String a ribbon through this hole, which will help you hang your reindeers from the Christmas tree. Simple to make, but super cute and festive! It's definitely worth a try!
9. Musical Trees – Amazing Crafts for the Holidays
Another homemade decorative element you can create for Christmas is mini Christmas trees. But not any kind of Christmas tree! These ones are made out of sheets of music, which will give them an amazing look. Place wooden sticks into wooden bases. Then simply place folded and cut-out sheets of music onto these sticks. You can even attach small, golden stars onto the top of the Christmas trees. Use these as decor, but you can also give every member of your family or your friends one of these!
10. Gingerbread Men – Homemade Christmas Tree Decorations
Another way to decorate your Christmas tree will be with gingerbread men! Before baking a batch of gingerbread men, make sure to cut out holes in each figure! These will become the holes you can put a ribbon through. After stringing ribbon or yarn through each gingerbread man, it's time to hang them on your Christmas tree! If you have kids in the family, they will definitely love this idea as ornaments! The gingerbread might mysteriously disappear during the holidays though! Feel free to decorate your gingerbread with icing to give them a stunning look!
11. Mickey Mouse – Disney DIY Christmas Decorations
If you have any Disney fans in your family or group of friends, why not create a few Disney-themed ornaments? For example, create the heads of Mickey and Minnie Mouse. You will need one big ball ornament and two smaller ones, which will serve as the ears. Drill small holes in the big ball ornament. Then place small sticks or screws to the small ball decorations. These will make it able for you to attach the small balls to the large one. You can place cute bows on the Minnie Mouse ornament!
12. A Ball of Yarn – An Ornament for Knitters
Here is a beautiful and unique way of decorating your Christmas tree! If you like to knit, why not create a ball of yarn as a decoration for your tree? Simply twist and wrap wool around a ball ornament. Use glue to fixate it! Also, attach two knitting needles to the ball of yarn.
13. Wooden Twig Crafts – A Natural Ambience
If you like earthy and natural elements, make sure to use a touch of nature in your Christmas tree ornaments! For example, collect a few twigs from a nearby park or your garden. Using yarn or a glue gun, fixate the twigs together. You can create the shapes of snowflakes, stars or even small Christmas trees! Then attach a ribbon to the top of the ornament, so you will be able to hang it from your actual tree!
14. Use Your Handprint – Handmade Christmas Ornaments
Try out this fun craft for Christmas, which is absolutely perfect if you have any kids around! It will also make a great Christmas gift idea for moms! Have the kids dip their hands in white paint. Then have them press their hands on ball ornaments. Allow the paint to dry, before starting to decorate them further! Create small snowmen out of the fingers! You can use a sharpie to draw eyes, a nose and a mouth on each one. Also, add a few accessories to the snowmen, like scarves or hats. This will just give it a special effect!
15. Popsicle Stick Trucks – Taking Home the Fir Trees
If your family loves to eat ice cream, make sure to collect the popsicle sticks! After washing them thoroughly, paint them in a colour of your choice! Glue the sticks together to receive the shape of a truck or car. Use black buttons to create the tires of the car. Then paste mini Christmas trees on top of the trucks.
16. Recycle and Reimagine – Super Cute Snowmen
An awesome idea concerning Christmas tree ornaments is to recycle something you use in your everydays and reimagine it. Create something completely new out of it. For example, recycle your lightbulbs and create snowmen out of them! Glue cotton wool on them or white fabric. Then paste or draw eyes and a nose on the lightbulb as well. You can attach a strip of fabric around the neck of the lightbulb, this will make a perfect scarf for your snowman!
17. Photos of the Family – Personal and Lovely
Naturally, you can create ornaments for your Christmas tree, which are on the more personal side. For example, using photos of members of the family, and attaching ribbons to them. You will be able to hang anyone from the tree! This is a great way to create a cosy and heartfelt Christmas!
18. Snowmen and Santa – DIY Christmas Ornaments
There are so many decorations to create out of small slices of wood! You can draw faces on each one. For example, paint some slices of wood to resemble Santa Claus, other ones to look like snowmen! This will definitely bring Christmas vibes with itself!
19. Beads and Ribbon – Handmade Christmas Tree Decorations
Here is yet another beautiful Christmas ornament craft that can also become a beautiful Christmas window decoration. You will need a ribbon and some beads for this idea! It's all about threading and folding the ribbon, placing beads in between the folds. The folds of the ribbon should get smaller with each one, in order to resemble a Christmas tree at the end!
20. Pretty Pinecone – Earthy and Natural
If you have a few pinecones lying around at home from your autumn decor, make sure to use them for your Christmas tree ornaments. Simply attach a big ribbon to the top of the pinecone and a string of yarn. This will allow you to hang it from the tree!
21. Flower DIY Christmas Ornaments – Perfect and Festive
Another simple craft to create are these floral homemade Christmas ornaments! Coat your paper in glitter and fold small pieces of paper into cones before attaching them to each other. You should get a flower shape!
22. Gingerbread Stars – Strings of Stars
If you love to bake, make sure to create some gingerbread biscuits for Christmas! Cut them out in star shapes and pierce a hole through each star's middle. Then thread a string through the hole of each one, creating a string of stars for your Christmas tree. This is a creative alternative to tinsel!
23. Puffy Pompoms – Homemade Christmas Tree Decorations
Do you like making pompoms at home? These balls of wool are actually quite easy to create! Not to mention, they will make adorable homemade Christmas ornaments for your Christmas tree! Create a whole set of pompoms, each one made out of a different colour of wool.
24. A Popsicle Hat – For a Snowman
As we have mentioned before, popsicle sticks are a great source for making crafts! By sticking together popsicle sticks, create a snowman's hat! Use two longer popsicle sticks for the bottom of the hat, then use four or five for the top. You can attach a few leaves to the hat as well and red buttons as if there were a sprig of mistletoe attached to the hat!
25. Wooden Snowmen – DIY Christmas Ornaments
Do you have any wooden blocks lying around at home? Paint them white and draw faces on them, painting small carrots for noses. Wrap strips of fabric around the blocks' necks. And you're already done! You will have a whole set of wooden snowmen as homemade Christmas tree decorations!
Hopefully, you were able to find a few DIY Christmas ornaments for your Christmas tree which you can make yourself! For other Christmassy ideas, besides homemade Christmas tree decorations, such as Christmas card ideas, just visit our website! 
Advert