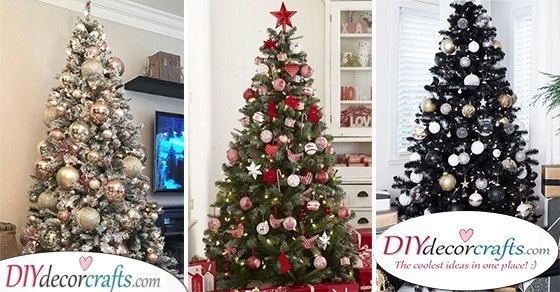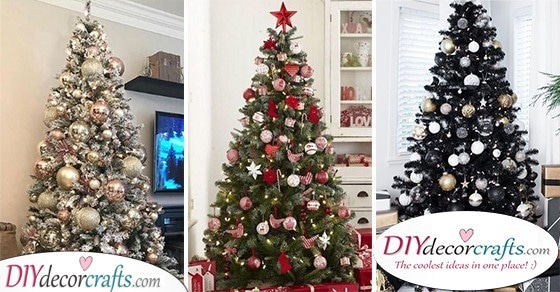 Christmas is going to be here soon! Everyone's favourite winter holiday! The time of getting together with family and friends and celebrating love! Christmas is all about doing activities together, whether it's building a snowman with kids, baking gingerbread or wrapping presents. These great ideas for Christmas will help everyone get into the Christmas spirit. Another fun activity that you will be sure to do every year is decorating the Christmas tree together. You might be looking for a more elegant way of dressing it up for this year's Christmas or special colour coordination. So, why not take a browse through our 25 elegant Christmas tree decorating ideas. Maybe you will be able to find a bit of inspiration regarding the best Christmas tree decorations below!
1. Overloaded With Gold – Sophisticated and Fancy
Make sure that you take your friends' and family's breath away with this year's Christmas tree decor! Instead of using multicoloured ornaments, stick to just one colour. Since it's Christmas you will want to choose a colour that can be closely associated with the holiday. This makes gold a perfect choice for the ornaments! Gold is the colour of holiness, as well as luxury, so it would only make sense to use it as the colour for the decor. So make sure that everything on your tree is gold!
2. A Coastal Christmas – A Combination of Blue and White
Do you live next to the beach or on the coast? If so, why not use elements of your natural surroundings in your Christmas tree decor? Use a combination of white and blue for the tree, representing the blue waves and blue sky, as well as the fluffy white clouds. Add a string of warm lights swirling around the tree, embodying the warm sand you will find on the coast. For additional items of decor, why not try adding seashells and starfish as ornaments to your tree?
3. A Classic Look – Best Christmas Tree Decorations
You might think about opting for a classic Christmas look for your tree! This involves using mainly three colours, red, white and green. For this classic Christmas image, make sure to use a lot of wintery decorations to the branches. For example, use a whole set of snowflakes, snowmen ornaments and bells! Make sure to wrap some sparkling red tinsel around your tree. This will be sure to give it your tree a wintery vibe as well as bring a bit of Christmas spirit into your home!
4. Shades of Brown – Unique and Creative
Perhaps you have been thinking of using a unique set of colours for your Christmas tree, to make your personality shine through. You don't have to stick to the classic Christmas colours and you also don't need to stick to a classic green Christmas tree! You can get artificial Christmas trees in a lot of other colours as well! For example, we recommend getting a brown artificial fir tree along with a set of brown ornaments. You can make sure to use a few elements of gold, to add a special touch to the overall look.
5. Black is the New Green – A Creative Tree
When it comes to Christmas trees, we usually have a classic image perched in our minds of what that tree should look like. However, we don't have to stick to a traditional image. Nowadays black Christmas trees are becoming more and more popular. Even though it sounds strange, they actually look amazing! Use a combination of white and gold ornaments for this sort of tree. These colours will not only match superbly with the colour of the tree, but they will also lend it a stylish elegance.
6. Blue and Gold – A Rustic Ambience
Perhaps you like rustic or traditional decorations! If so, make sure to stick to a green tree and try out a combination of brown and blue for the ornaments. Use your favourite set of Christmas decoration balls as well as stars. For a special effect, you can even paint some of your Christmas ornaments in wintery patterns. For example, painting snowflakes on the balls is a fabulous idea! Use a few ornaments which embody a rustic atmosphere, to bring out that homely vibe in your house!
7. A Stylish Turquoise – Elegant Christmas Tree Decorating Ideas
Here is another creative combination of two colours for your Christmas tree. Use a bright turquoise blue as well as a vivid green. The combination of these two colours will definitely bring a joyful and happy vibe to your home! The type of ornaments you use for your Christmas tree is really up to you! Use ball decorations, bells, snowflakes as well as ribbons! It will be a super fun activity for the family to get together and decorate the Christmas tree! This way everyone will help in dressing up the Christmas tree.
8. Silver and Green – A Jewelled Forest
Perhaps you read The Wizard of Oz years ago and were enchanted by Emerald City. Well, here is a tree which looks as if it has just stepped out of Emerald City! Instead of using a simple green tree, try out a silver artificial one. Then start decorating the tree with all sorts of incredible green ornaments. You might also consider hiding a hint of gold in between the decorations. This emerald-inspired Christmas tree looks like a jewelled forest in itself! It's spectacular and magnificent, what more could you ask for Chrismas?
9. Pretty in Pink – The Best Christmas Tree Decorations
There are a lot of people who prefer pink over any other colour! Which is no surprise, after all, pink is the colour of love and harmony! If you adore this rosy shade, why not use it for your Christmas tree decoration this year? You can even get a tree which is either white or pink, in order to create a fuller effect. Then simply decorate the branches of the tree with all sorts of pink ornaments. Use tinsel, ribbons, decoration balls and all sorts of beads. Your Christmas tree is guaranteed to look pretty in pink!
10. A Deep Plum – Try Out Geometric Ornaments
Using the colour plum as a decorative colour on your Christmas tree is a fabulous idea. Plum will bring a sense of elegance and richness to your Christmas tree. We don't even have to mention the fact that deep purple goes beautifully with green, making it a great choice for your tree decor. You might also consider trying out geometrically shaped ornaments, which will add a modern touch to your tree decorations. Another colour to use with purple is gold or brown. You can also try making sure that the Christmas gifts are wrapped in plum wrapping paper!
11. A Mixture of Green – Vibrant and Lush
Here is yet another beautiful way to decorate your fir tree for Christmas! Instead of going overboard with multicoloured decor, stick to using different shades of green. Naturally, you can add a few white or silver elements to the tree as well. You can use bright and sparkly greens to complete this look! Try out ribbons, ball decorations, tinsel, snowflakes and spiral! Another interesting idea on how to decorate your Christmas tree is to add some succulents as decorations! This will give it a natural vibe, which is a great idea!
12. Perfect in Purple – Best Christmas Tree Decorations
Find some amazing and elegant Christmas tree decorating ideas! As we have mentioned before, purple is a fabulous colour to use on your Christmas tree. You can go for more than one shade of purple, anything from light lavender to a deep violet will look stunning! Purple seems to add an air of elegance, so if you are in search of a more refined and sophisticated way of decorating your Christmas tree, this will be it! Combine the overall purple look with silver elements to truly bring a Christmas vibe with itself!
13. A Traditional Look – Festive for the Holidays
We have already mentioned, that there is a timeless classic when it comes to Christmas tree decorating. This involves using the combination of red and white. This traditional colour combination is perfect for Christmas! Go for more natural and rustic ornaments, for example, you can sew small birds out of fabric before stuffing them with cotton wool. Hang these up on the tree as well! Use a whole selection of ball decorations as well! Then to finish it off, place a star on top of the tree!
14. Laced With Gold – Thousands of Lights
Make sure to use the colour of luxury for decorating your Christmas tree! This colour is no other than gold. Use lacy ribbons which you can tie to the branches creating small bows. Also, make sure to wrap strings of small fairy lights around the tree. It will look as if thousands of stars have lit up to celebrate Christmas with you and your loved ones!
15. Simply Stunning – Elegant Christmas Tree Decorating Ideas
You don't have to go overboard when decorating your Christmas tree! Opting for a more simple decoration is also a fantastic idea. Wrap the tree with strings of fairy lights and a golden ribbon. Then all you will have to do as a finishing touch is add a few ornaments, such as stars and snowflakes here and there to a few branches.
16. An Element of Blue – Mesmerizing and Magnificent
While blue isn't a typical colour to use for Christmas, it will bring a mesmerizing and magnificent look with itself! Combine blue with silver, gold and white. This will definitely make your Christmas tree look magical! Make sure you decorate the tree with all of your loved ones! This way the tree will become a lot more special for everyone!
17. Gold and Blush – Elegant Christmas Tree Decorating Ideas
Not sure about what sort of colour combination you should use for your Christmas tree ornaments? Why not try out rose and gold! The two tones will go beautifully together and will help create an elegant and sophisticated look for your Christmas tree!
18. Wrapped in Ribbon – Interesting and Gorgeous
Another interesting idea is to use a wider ribbon to wrap around the Christmas tree. So instead of laying tinsel on the branches of your tree, find a wide ribbon to stream around it. The coloured choices are up to you and the rest of the ornaments you use!
19. Beautiful in Blue – Best Christmas Tree Decorations
As we have mentioned quite a few times now, blue is also a brilliant colour to use for your Christmas tree decor! It will definitely bring a feeling of excitement and joy to anyone who sees it. Pair your blue elements with gold and silver.
20. Add Some Lanterns – Red and Festive
An awesome ornament you might like to add to your simple Christmas tree this year is no other but lanterns! After decorating your tree with your usual ornaments, make sure to hang some lanterns from a few of the branches! This will present you with farmhouse vibes. Feel free to add some homemade Christmas tree decorations to your tree!
21. A Blue Ombre – Best Christmas Tree Decorations
If you like the design of an ombre, one colour fading into another, why not create an ombre Christmas tree? A blue ombre such as the one above would look miraculous for the winter holiday!
22. Gorgeous in Gold – Mixed With Blue
As blue has become quite trendy to use as a dominant colour for Christmas tree decorations, why not give it a try? As we mentioned before, mixing blue with gold will create an elegant Christmas ambience in your home!
23. Cute and Creative – Elegant Christmas Tree Decorating Ideas
Another awesome idea to add to your simple Christmas tree as an ornament is a wooden sign. The sign can have a quote written on it, something to do with Christmas. For example, "Believe in the magic of Christmas."
24. White and Gold – A Wintery Wonderland
You can make your Christmas truly look like an actual fir tree standing outside in nature during snowfall! Use a combination of gold, glittery ornaments paired with white! This will give your whole Christmas tree a winter wonderland image!
25. Add a Touch of Nature – Christmas Tree Ideas
Another gorgeous way to decorate your Christmas tree is by using an element of nature in the decor! For example, try out pinecones. These will give your whole Christmas tree an earthy touch! Feel free to also add some Christmas cards from your guests to the tree!
We hope that this pick of 25 elegant Christmas tree decorating ideas has helped you in finding something fantastic for the festivities! For more DIY ideas concerning Christmas, besides Christmas tree ideas, such as Wall christmas tree or Christmas cards, visit our website! 
Advert