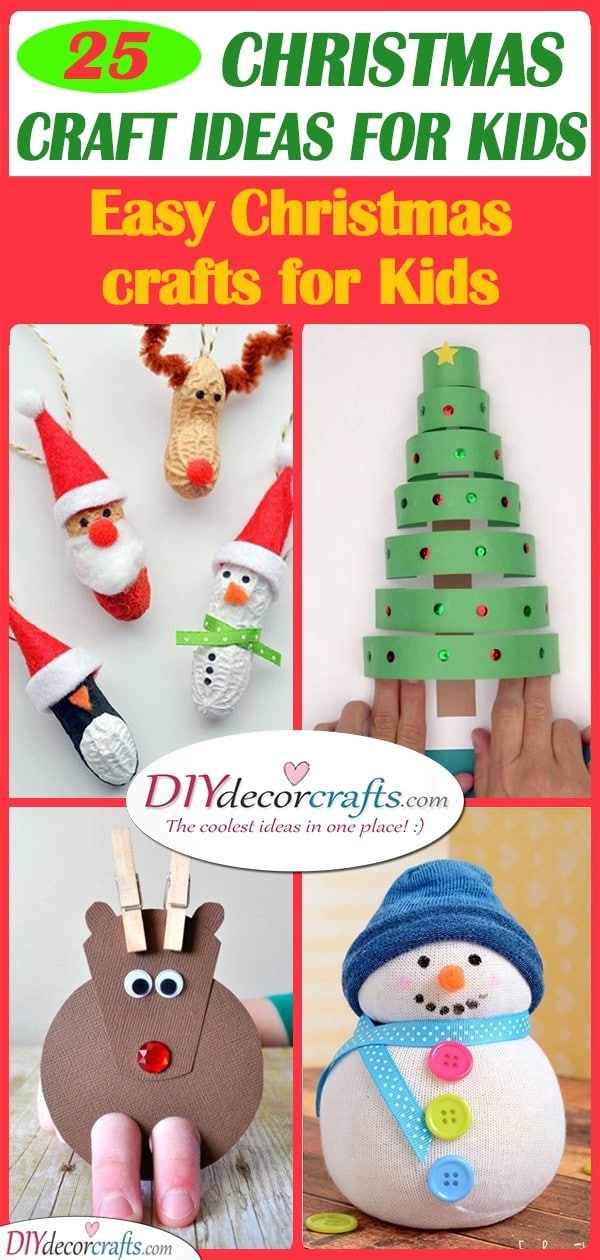 Christmas is just around the corner and it's never too early to prepare for this special holiday! Christmas is the perfect time to spend time with your loved ones, with your family and friends. There are so many amazing activities you can get up to during the holidays, buying presents for everyone is not the only thing! If you have kids in the family, make sure to get them involved in a collection of Christmas preparations as well! For example, why not try making a few easy Christmas craft for kids with their help? This will help the kids get into the Christmas spirit as well as lend a helping hand! We have collected 25 Christmas craft ideas for kids for you to choose from!
1. Wooden Peg Idea – Create Your Own Christmas Trees
Here is a simple and easy craft you can make with your kids at home for Christmas! All you will need to do is find a few wooden pegs. Then coat these in green paint and after allowing them to dry, paste them together. This will create the shape of the Christmas tree. Now it's time to add the ornaments to the tree! You can use small pompoms for the ornaments of the tree, as well as a cutout, sparkly star for the top of it.
2. An Adorable Reindeer – A Simple Finger Puppet
When you think of Christmas, what image pops into your mind almost immediately? Perhaps it is a reindeer! If so, why not create a small reindeer finger puppet? Firstly, cut out the shape of a reindeer out of paper, you can create the body to be a simple round shape. Cut out two holes in the body of the reindeer in which you will be able to place your fingers in. Use two wooden pegs for the antlers of the reindeer. Don't forget to add two googly eyes as well as a red button or sequin for the nose.
3. Crazy About Peanuts – Christmas Craft Ideas for Kids
If you are looking for a cheap idea for crafts, then check this out! All you need for this Christmas craft is a bit of paint and some peanuts! You will need to paint the peanuts in Christmassy colours. For example, coat one peanut in simple white. Then paint two small black dots for its eyes and a few black dots down its body. This one will resemble a snowman! You can even add an orange triangle underneath the eyes for the carrot nose. A few other peanut paintings include penguins, Santa Claus and reindeers.
4. Tea Light Snowmen – Cute for Christmas
Another simple craft you can create with a cheap item is to make tea light snowmen! All you will need to use for this are some tea lights, which you can decorate with a sharpie. Draw a face as well as a mouth for the snowmen using small dots. Further decorate them by giving them small orange noses, which will resemble the carrots on actual snowmen. You can add a few other ornaments, such as a felt tophat or small earmuffs made out of fuzzy wires.
5. Reindeer Antlers – Easy Christmas Crafts for Kids
Create a cool accessory for every member of the family for Christmas! This will definitely get everyone into the Christmas spirit! Using a template, cut out reindeer antlers, ears and a headband out of brown coloured paper. Then stick these together to create reindeer antlers for everyone in the family! This way, the whole family will be able to dress up as Santa's animal helpers. You might consider using red pompoms for the noses of the reindeers, it's really up to you!
6. A Santa Card – Creating Christmas Cards
There's nothing like creating a few Christmas cards for your family and friends for the festivities! Since it's Christmas, make sure the cards are designed in a similar theme. Something you can't really go wrong with is a card of Santa. Cut out his face and attach a pointy, red hat to his head. You can use googly eyes and a red pompom for his nose. Then all you will need is a lot of cotton wool, to create his beard out of! Write on the back of the card and send your loved ones' your best for Christmas!
7. Beautiful and Simple – 3D Christmas Tree Craft
If you like 3D crafts, then why not give this one a go? Make a 3D Christmas tree out of paper! You will need to cut out strips of green paper and one strip of brown paper. The brown will become the trunk of the tree, paste this vertically on a sheet of paper. Then stick the green papers across the tree trunk, creating ring shapes out of them. Add a cutout star to the top of the tree. And add beads and sequins to the green strips of paper, reenacting the ornaments.
8. The Kids as Reindeers – Cute and Fun
Get into the Christmas vibe by creating cute decor for home using the kids as inspiration. Create red-nosed reindeers out of the children, attaching antlers and red noses to photos of them. By the end, they should look like a herd of red-nosed reindeers, ready to help pull Santa's sleigh! Your whole family will love seeing these adorable photos of the kids, but with a small twist on them. Make sure to use these photos as Christmas decor during the winter season!
9. Decorate the Candy – Easy Christmas Crafts for Kids
If you are hosting a Christmas party, you will want to make sure that all your food is Christmas themed! This includes any sort of candy you might be serving! If you have a bunch of lollipops you want your guests to try out, then make sure to add a wintery wrap on these. A great idea is to cut out shapes out of paper, this might mean the faces of reindeers. Then simply stick them onto the lollipops, cutting out a hole where their nose is. The lollipop should fit right in the hole, giving each reindeer a colourful nose!
10. Recycle and Reimagine – Pretty Paintbrushes
If you have any paintbrushes that you have been planning to throw out as garbage, think again! Decorate them with the kids for Christmas instead! Coat the handles of the paintbrushes in red paint, adding small white dots to it. Then glue a layer of cotton wool around the metal part of the paintbrush. This will help create the image of Santa's hat on a paintbrush! Then simply add some eyes and a pompom for a nose for the face. You already have Santa's beard as the brush itself!
11. Egg Carton Reindeers – Christmas Craft Ideas for Kids
If you are in search of a cheap and easy craft to make at home with the kids for Christmas, check this out! First of all, cut the egg cartons out. Coat these in dark brown paint. After allowing them to dry, it's time to decorate! Cut out the shapes of antlers and ears, and stick them onto the cartons. You will also want to add googly eyes to give the reindeer a cuter look. Naturally, don't forget to add a red pompom for the nose of the reindeer!
12. Rudolf Gift Tags – Fun Christmas Craft Ideas
When giving people presents for Christmas, it's great to attach tags to them. This will ensure your presents from getting mixed up! Create your own tags for presents with the help of the kids. Cut out circles out of cardboard or thick paper. Attach googly eyes, a red pompom for a nose and twigs for antlers. You will have a whole set of Rudolf gift tags!