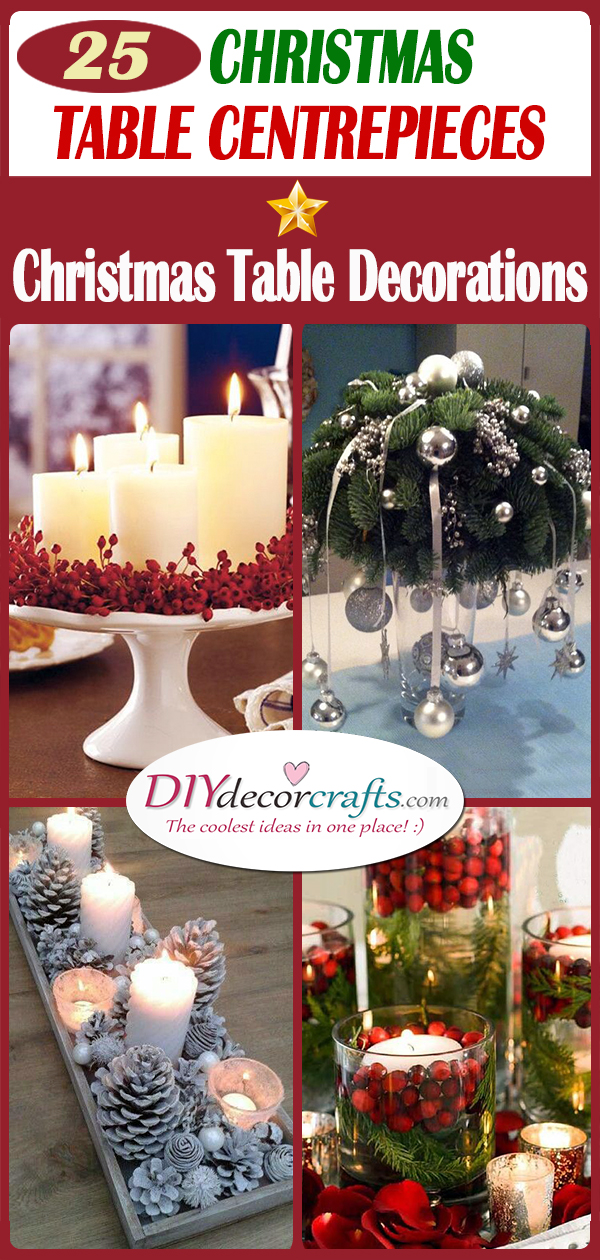 Winter is here and Christmas is just around the corner as well, it means it is time to get into the festive spirit! You can get into a Christmassy mood by making all sorts of crafts and decor, as well as baking. If you have been contemplating creating some sort of Christmas decor for your home, why not create table centrepieces for various parts of your home? There are so many gorgeous Christmas table centrepieces you can create to invite winter and Christmas into your home and heart! This way, whenever a guest arrives at your house, they will be uplifted by a sense of Christmas. We have collected 25 homemade Christmas table decorations for you to choose from and find inspiration amongst these ideas for Christmas!
1. A Tray of Christmas – Homemade Christmas Table Decorations
When creating a table centrepiece for winter in your home, you don't have to go over the top with it. Going for something simplistic will be able to create a tablescape just as beautiful. To create this Christmas table centrepiece, you will need a wooden tray and a selection of natural elements. By natural elements, we mean pinecones, sprigs of berries and a few branches of mistletoe. Place these all on the wooden tray, creating a wintery tablescape, you can include a few Christmas tree ornaments as well if you'd like. Then all you will need to do is put a lantern in the middle of it all, which will radiate a warm light on those long winter nights!
2. Branches of Fir – Christmas Table Centrepieces
Here is another spectacular table centrepiece for the winter holidays. It's easy to make yourself, all you will need is a rectangular, wooden box and a few of nature's gifts. Pick a few branches of fir, a few sprigs of berries or mistletoe and put them in the wooden box. Naturally, don't leave the pinecones out, scatter a few around the box here and there! Place a few flameless candles in between the fir leaves and other natural elements of the box.
3. Recycle Some Jars – Floating Candles and Cranberries
If you have some glass jars lying around at home which are unused, then it's time to recycle them! Fill them with water, placing fir tree branches inside as well as cranberries! The final touch is to place candles on the surface of the water, allowing them to float. All you will need to do is light the candles and in no time at all, you will have whimsical and romantic lighting on your table! This will be perfect for the winter festivities!
4. A Three-Tiered Tray – Elegant and Refined
Bring a sense of festivity and Christmas spirit into your home with this simple table centrepiece! You will need a three or two-tiered tray to create this beautiful and refined decor. Fill each tier with fir branches, pinecones and a variety of winter berries. Then all you will need to do is simply wrap strings of fairy lights around each tier of the tray. The small lights will create a wintery ambience. If you wish, you can add a few candles to the top tray for the true Christmas effect.
5. Jars Filled With Pinecones – Christmas Table Decoration Ideas
Another gorgeous way of decorating your tables for Christmas is with this idea! Find a few glass vases or glass jars for this simple idea. Fill them with wintery natural elements, such as pinecones, straw and branches of fir. It's really up to you on what you place inside! Then all you will need to do is run strings of fairy lights through the whole jars and vases. You will be able to turn on the lights every night for a beautiful ambience!
6. A Miniature Christmas Tree – Cute and Charming
When you think about Christmas, which image pops immediately into your mind? Perhaps it is a Christmas tree. If so, why not create a miniature Christmas tree for your table? You can use a glass vase as the trunk of your Christmas tree and add branches of fir to the top, creating a tree-like look. Now all you will need to do is decorate your Christmas tree! Add all sorts of ornaments to it, allowing them to hang down gracefully for the branches. The colour combination is up to you on what you'd like to pick! 
7. A Modern Look – Simplistic and Sophisticated
Here is yet another gorgeous Christmas table centrepiece which is all about simplicity! If you have a glass bowl, vase or jar at home lying around, it will be perfect for this tablescape! Fill the bottom part of it with small pebbles or stones, placing a candle in the very middle of it. Then all you will have to do is scatter pinecones around the candle itself. When you light it up on a winter night, the candle will fill the whole house with a warm ambience.
8. Adorable Snowman – Homemade Christmas Table Decorations
There are so many fun winter activities to do during the season! Making snow angels, having a snowball fight and of course, making snowmen! Use these winter activities as inspiration for your Christmas table decor and make a snowman your centrepiece! You can use a big foam sphere as the head of the snowman, adding beads to it to create the eyes and mouth. Also, make sure to add a triangular piece of fabric to it, resembling the carrot nose of a snowman. Place the snowman's head in an array of fir tree branches. You will be done in no time and you will receive a fantastic table centrepiece which is perfect for Christmas!
9. Small Tree Stumps – Creative Candle Holders
If you prefer a rustic style over modern and simplistic decor, you might love this idea! Create small tree stumps out of tree branches. Use these small stumps as candle holders, carving out the insides of them. Then place candles in the carved out areas. Surround these small tree stumps with fir branches and mistletoe, giving the whole setting a wintery atmosphere. If you decide on creating four candle holders, you can use them as Advent candles!
10. Red Candles – Christmas Table Decorations
If you have run out of time and ideas, then check out this simple Christmas table decor! All you need to do to create this beautiful tablescape is to gather an array of natural elements! Place fir branches, sprigs of berries and pinecones on a large slice of wood. Then the last items to place on top are a few candles. This way when you light them up on a long winter night, the candles will bring a gorgeous brightness into the room.
11. Reusing Wine Glasses – Candles and Ornaments
Here is a perfect look for your table which you can create in no time at all! You will need wine glasses, Christmas tree ornaments and candles. Fill the wine glasses with the ornaments, then turn them upside down and place them on a plate. It will look as if the Christmas tree ornaments were encased in glass. The last step is to simply place the candles on the feet of the wine glasses. This Christmas table centrepiece is easy to make and also looks incredible!
12. Silver and White – Homemade Christmas Table Decorations
When creating home decor or table centrepieces, something you should look out for is the colour combination! If you think of winter and Christmas, what colours would you like to use? You might like your table centrepieces to resemble the freshly fallen snow. If so, make sure to use white and silver as the dominant colours of your table decor. You can paint pinecones into silvery shades, placing them around a white candle. You might also consider placing white or silver Christmas tree ornaments around the candle as well to bring a true wintery effect.