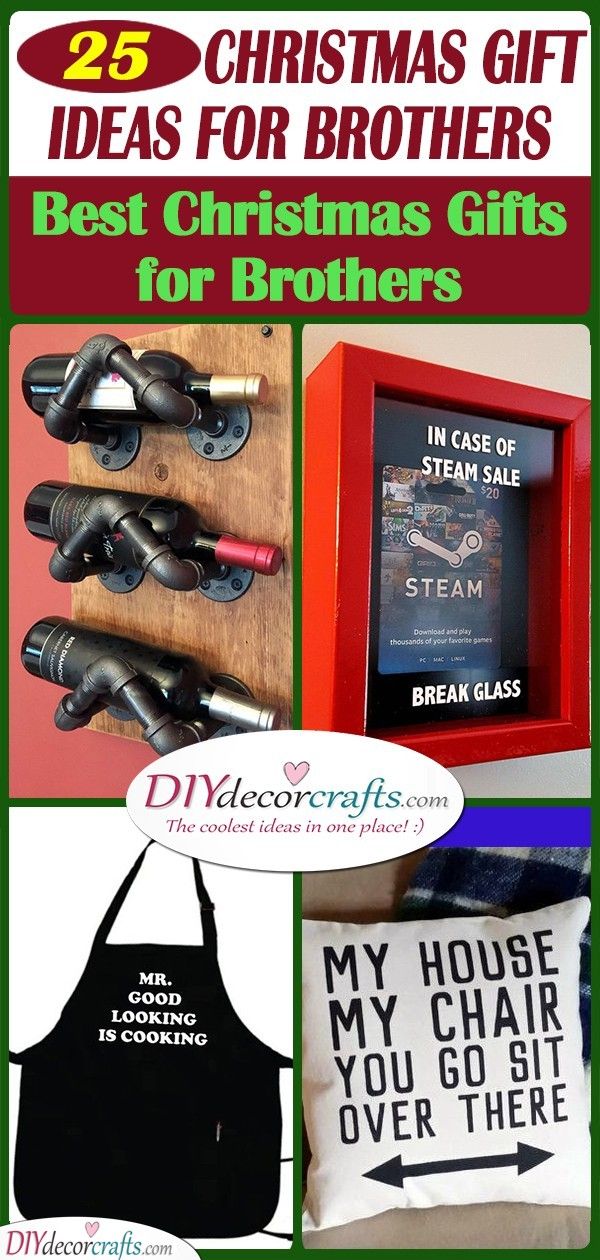 Christmas is going to be arriving soon and it's never too early to prepare for this special holiday! This winter festivity is the perfect time to spend time with your loved ones, with your family and friends. It's also a great opportunity to show how much you treasure these people, by showering them in a collection of Christmas presents! Do you have a brother who you need to buy a present for? If you have run out of time or simply have no idea about what to get your brother, take a look through our best Christmas gifts for brothers. We have collected 30 Christmas gift ideas for brothers, so you will be sure to find some inspiration!
1. Adorable Reindeer Beers – Cute Christmas Gifts for Brother
If your brother absolutely loves beer, then this will be the present for him! A crate of his favourite beer with a Christmas twist on it! So what can you start with a whole crate of beer? You can decorate them and use some sort of Christmas imagery as inspiration! For example, create reindeers out of your beers! You will have to attach antlers to each one, in the form of fuzzy wires. You should also glue googly eyes on the bottles as well as small red pompoms for the noses. This will look super cute and will be perfect for Christmas!
2. A Mini Bar in a Jar – His Favourite Drinks
Another perfect idea on what to get your brother is a selection of his favourite drinks. This is a great idea if you have run out of ideas or time and need to put something together for him quickly. All you need for this gift is an empty jar. Fill it with mini versions of his favourite drinks! Then simply attach a label to this jar which reads "minibar or open bar."
3. The Best Sort of Motorcycle – Drinks and Chocolate
When giving someone a present for Christmas, you can't really go wrong with alcohol and chocolate. Naturally, it would be a bit boring to just put these in a box or tie a ribbon around them, before presenting them to the receiver of the gift. So it's time to create a specific shape out of the drinks and chocolate! For example, think of your brother's likes. If he likes motorcycles or cars, why not create the shape of a motorbike out of them? Just take the picture above as a great example!
4. The Jar of Nothing – Funny Christmas Gift Ideas for Brothers
How many times have you asked your family or friends what they want for their birthday or Christmas and you got the reply "nothing." Has your brother said this to you recently that he doesn't want anything for Christmas? Well, maybe that should be your gift this year! All you need is an empty jar on which you attach a label. The label should read "the jar of nothing." Your brother may be a bit surprised, angry or have a good laugh when he receives this for Christmas. But it is what he asked for!
5. A Handmade Wine Rack – Industrial and Modern
Is your brother a connoisseur of wine? If so, make sure to give something wine-related to him for his birthday! Create a wine rack for him to store his wine on! All you will need is a wooden board and some metal pipes. Attach the metal pipes to the wooden board, screwing the pipes into it. Depending on what sort of pipes you use, you can create a modern and industrial look for the wine rack. We all know that handmade presents are the best sorts of gifts to give because they prove you put time and energy into making something special for the other person!
6. A Creative Wrapping Technique – Perfect for Siblings
Did you and your brother always pick on each other when you were younger? If so, you might like to express this on your Christmas presents! For example, get whatever you'd like for your brother for the winter holiday, but make sure to wrap it in a creative and funny way! Place zip ties all over the present, making it extremely hard for your brother to open. This will be a perfect prank for your sibling!
7. A Delicious Pizza – Christmas Present Ideas for Brothers
Perhaps your brother is saving up money to buy something for himself. This might be a laptop, a new phone or a small holiday. If you have no idea what to give him for Christmas, why not give him money? This will help him in collecting and saving a bit of money. But make sure to present the money in an interesting way! For example, create a pizza out of it! Place the money in a pizza box, creating slices out of the paper dollars. He will be surprised when he opens the pizza box to find a whole lot of money inside, with coins as the toppings!
8. A Definition – Of Your Brother
Give your brother a definition of himself, telling him how much he means to you! On a piece of paper, write up the word "brother." Underneath this word you can add that it's a noun. Then write a definition of your brother as well! You can make it funny and heartfelt at the same time. On the very bottom of the page write "see also: superhero." This piece of paper will look like a definition taken from a dictionary! You might consider placing it in a frame before giving it to your brother.
9. A Liquor Dispenser – Christmas Gift Ideas for Brothers
Does your brother love a good glass of alcohol or does he like to have a nightcap? If so, why not get him a liquor dispenser? It's the perfect way to pour yourself alcohol and give it an elegant twist. You can get him a liquor dispenser which has two pipes, so your brother can mix up his drinks. This way he will be able to concoct a whiskey cola or a vodka orange!
10. A Tasty Steering Wheel – Made Out of Chocolate
If your brother is just learning how to drink or he simply loves cars, why not create a steering wheel for him? But make it out of chocolates and candy! You can use your brother's favourite sorts of chocolate to make the steering wheel truly special. You might need to cut out the shape of a steering wheel out of cardboard first, before glueing the chocolates and candy onto it. Add the logo of your brother's favourite car brand onto the steering wheel as a final touch!
11. A Gift for Siblings – Have a Laugh
Here is yet another perfect present for Christmas for your brother! Create a coaster for your brother which has a personalised message on it just for him! You can create the coaster out of wood, then you will need to write your message on it, or even engrave it into it! The message can go something like "I'm smiling because you're my brother and laughing because there's nothing you can do about it!" This way, whenever he has a drink and places it on the coaster, he will be reminded of you!
12. In Case of Steam Sale – Break the Glass
Does your brother love playing video games? If so, then he is probably familiar with the amazing program and platform Steam. He will be able to buy his favourite games through this program. There are occasions when there is a sale on Steam, which means you can buy a whole set of games for cheaper. If your brother would like to purchase a few new games, why not get him a voucher for Steam? Place this in a box, which has a glass side. He will have to break the glass to take out the voucher! But he can only break it in case of emergencies!