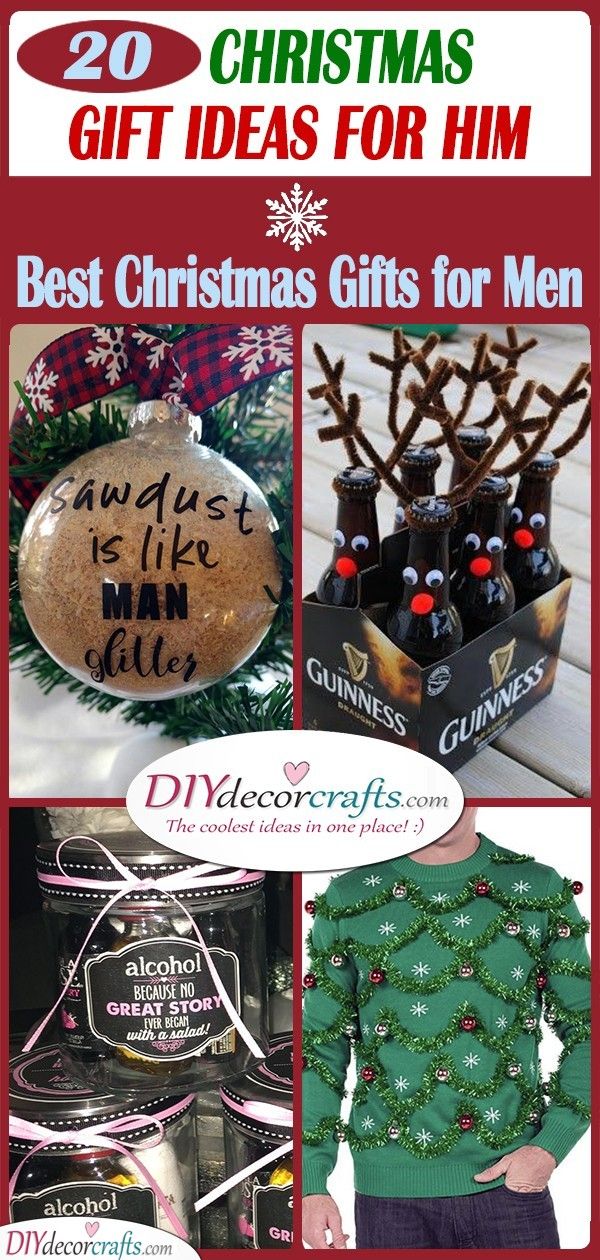 Christmas is quickly approaching and will be here in no time! Which means it's never too early to start thinking about presents. Instead of buying presents for your family and friends this year, why not make a few yourself? Handmade gifts will show your loved ones that you put time, thought and energy into creating something truly amazing for them! If you have a special man in mind, your friend, father, brother, grandpa or husband, make sure you make something fantastic for them for Christmas! We have collected the 20 best Christmas gifts for men to help you out! This way you will definitely be able to find a great collection of Christmas gift ideas for him!
1. Sawdust is Man Glitter – Best Christmas Gifts for Men
Have you been considering getting your special man friend something cute for Christmas? Why not go for a homemade Christmas tree ornament, after all, it is the season! Instead of going for something sparkly and glittery, put your own twist on the ornament. Get a see-through ball decoration, and fill it with sawdust. Then with the help of a sharpie, write on the ornament that "sawdust is like man glitter." This gift will definitely put a smile on the recipient's face. These Christmas gift ideas for him are also great because it's easy to put together and is cheap!
2. A Cute Bowtie – Perfect and Festive
Another fantastic idea on what to give your male friend or family member for Christmas is a bowtie! Instead of getting him a boring, storebought one, make one yourself which brings a festive vibe along with itself! For example, you can cut out the shape for the bowtie out of felt. You will have to sew the parts together or use a glue gun to attach them. Use Christmas colours for the bowtie, which means lots of green and red! You might also consider giving the bowtie a Christmassy look, by attaching reindeer antlers to it!
3. Building Life Together – Lovely Christmas Gift Ideas for Him
If the man you are trying to find a Christmas gift for has helped you in building up your life or has built memories with you, then check this idea out! Get this man a hammer! But put your own message on the handle of the hammer for him to read! For example, "thank you for helping me build my life." This will make a heartfelt present for any man and is the perfect sort of gift for a guy who likes tinkering things!
4. Keep Calm and Drink Beer –  A Beer Opener
If the man in question loves beer get him something that will suit his interests. Make sure he has a place in his house where he can always open his beers! Make him a beer opener which he can place on one of his walls. We suggest you put a small basket or bucket underneath it creating a cap catcher. This will prevent the caps from falling on the floor. You might also consider writing a message on the beer opener, something along the lines of "keep calm and drink beer."
5. Minibar in a Jar – Christmas Gift Ideas for Him
Another perfect idea on what to get your man in question is a selection of his favourite drinks. This is a great idea if you have run out of ideas or time and need to put something together for him quickly. All you need for this gift is an empty jar. Fill it with mini versions of his favourite drinks! Then simply attach a label to this jar that reads "minibar or open bar." While this isn't the most Christmassy gift you can possibly get, it will still brighten up his day!
6. Attaching Reindeer Antlers – Rudolf the Rednosed Rein-Beer
If the man you are giving a gift to absolutely loves beer, then this will be the present for him! A crate of his favourite beer with a Christmas twist on it! So what can you start with a whole crate of beer? You can decorate them and use some sort of Christmas imagery as inspiration! For example, create reindeers out of your beers! You will have to attach antlers to each one, in the form of fuzzy wires. You should also glue googly eyes on the bottles as well as small red pompoms for the noses. This will look super cute and will be perfect for Christmas!
7. You Rock – Best Christmas Gifts for Men
If you are thinking about expressing your feelings towards someone this Christmas and telling them that they rock, then check out this gift idea! Get a frame and place a sheet of paper inside which reads "you rock." Now all you will have to do is attach small stones and pebbles around the frame with the help of a glue gun. It's really as simple as that! And the small message combined with the decorative rocks will bring an amazing vibe with itself!
8. Painted Wood Coasters – Gorgeous and Creative
If you are in the mood for getting creative and artsy with your gifts, why not give this idea a try? You will need thin slices of wooden, which will act as coasters for cups and mugs. Paint all sorts of Christmas imagery on these wooden slices. For example, paint the head of a reindeer on one. On another, paint a Christmas tree with a star above it. It's really up to you and your creativity on what you do. This is a great gift because you put time and energy into creating something for that special man!
9. A Bountiful Gift Basket – Christmas Present Ideas for Men
Another thoughtful gift that any man will love is no other than a gift basket! A gift basket means you can choose a variety of items for the recipient. Make sure the gifts in the basket have an overall Christmas ambience though! For example, make sure to add a few candy canes to the basket or fir tree branches. The rest is up to you, on what you'd like to add to the gift basket as Christmas gift ideas for men!
10. A Fun Game – Handmade Ring Game
If the man in question loves playing games, we recommend making him one! For example, a great game which you can have loads of fun with is the rings game. It's all about throwing hoops or rings onto a board, trying to aim for the highest points. You can create this game on a wooden board and hammering some nails into it. Above each nail write a number, which will act as the number of points you gain if you can throw a ring onto the nail. Whoever ends up receiving this gift will be a lucky man!
11. A Pair of Socks – With a Funny Message
Now, here are Christmas gift ideas for men who just love to drink beer! Get him a pair of socks that have a message on their soles. It should say something along the lines of, "If you can read this, bring me a beer." Hopefully, someone will pay attention to his needs and will bring him a beer, while he is watching television or just relaxing on the sofa. These funny socks are a fantastic gift idea! You might place a few chocolates inside the socks as a special effect, after all, it is Christmas!
12. A Jar of Booze – Best Christmas Gifts for Men
Here is another minibar in a jar as Christmas gifts for him! Get your male friend or family member a selection of his favourite alcohol which you place in a jar. The bottles should be mini versions of themselves, this way you will ensure they all fit in the jar. Then all you will need to do is attach a label to the jar. It should read something along the lines of "Alcohol. Because no great story ever began with a salad!" This will definitely draw a smile on his face!
13. His Favourite Sports Teams – A Few Pillows
Does the man, whose Christmas present you are searching for, have a favourite sports team? If so, why not use it as inspiration for his x-mas gift? Use the logo of his favourite team as decoration on a pillow. Or use the number of his favourite sportsman's jersey as another source of decoration on this pillow. You can sew the pillowcase yourself if you are a fan of getting creative with fabric! We're sure he will adore this Christmas present!
14. His Cave, His Rules – Christmas Gift Ideas for Him
If the man in question lives in a house or apartment, which has the atmosphere of a cave, we have the perfect idea for a Christmas present for him! Create a welcome sign for his home. You will need a wooden board for the base of the sign! Then using paint, write up a message on the board as well. It should read something along the lines of "My man cave. My cave, my rules." He will be able to hang this up in his home, for everyone to see that he makes the rules there! Naturally, this will also make a great birthday gift for your boyfriend!
15. His Chair – With Pockets for Everything Important
Does the man, whom you are getting a Christmas present for, have a favourite spot at his place? Then make sure everyone else knows that it's his spot as well! Create a pillowcase for him, which has the words "his chair" written on it. Write this on the pillowcase with fabric paint! You can even create pockets for the remote control or for the snacks on the pillowcase, all you need to do is sew them on! He will definitely appreciate one of these as Christmas presents for him! This will make a fantastic Christmas gift idea for dad or even for grandpa!
16. A Christmas Pullover – Best Christmas Gifts for Men
We all have a friend or family member who loves to wear Christmas pullovers during the holidays! If you are in search of a gift for them for Christmas, why not create a Christmas pullover for them? You can wrap and sew tinsel around the pullover. Also, make sure to add Christmas tree decorations to it, as if the pullover were actually a Christmas tree! You might also think about adding a string of lights to the pullover as a special effect! This one is really up to you and your creativity, but you are sure to create something special and Christmassy with this idea!
17. Unique Piggy Banks – Encourage Him to Save Money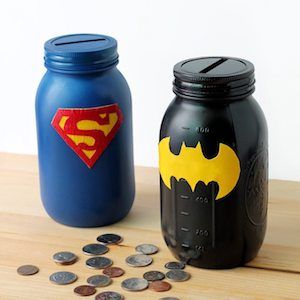 Encourage whoever you are getting a present for, to save money! Get a few mason jars, and paint them to make them look like superheroes! For example, use the symbols of Batman, Superman or the Hulk as inspiration. Create a slit in the lid of the mason jar, to drop money inside! These piggy banks will also make some amazing home decor in this man's room! These are fairly easy and cheap Christmas gifts for him to try and make!
18. A Beer Tank – Great Christmas Presents for Him
Create a beer tank for your male friend or family member for Christmas! These will make the best Christmas gifts for men who love beer! Use cans of beer for the tank itself and use a bottle of beer resembling the gun on the tank! You will need to wrap them up in fabric to attach them to each other, so they won't fall apart!
19. The Best Sort of Pizza – Fantastic Ideas
Perhaps the man in question is saving up money to buy something for himself. This might be a laptop, a new phone or a small holiday. If you have no idea what to give him for Christmas, why not give him money? This will help him in collecting and saving a bit of money. But make sure to present the money in an interesting way! For example, create a pizza out of it! Place the money in a pizza box, creating slices out of the paper dollars. He will be surprised when he opens the pizza box to find a whole lot of money inside, with coins as the toppings!
20. In Case of Emergency – Christmas Gift Ideas for Him
Here is a hilarious gift that your male friend or family member will only be able to use during emergencies! Place a cigar, a small bottle of alcohol and a condom inside a frame. He will need to break the glass part of the frame when he needs to use one of them! Write on the glass "In case of emergencies, break glass!"
We hope you have been able to find Christmas gift ideas for him! For other Christmas ideas, besides the best Christmas gifts for men, like Christmas gifts for boyfriends or Christmas gift wrap ideas, check out our website!
Advert