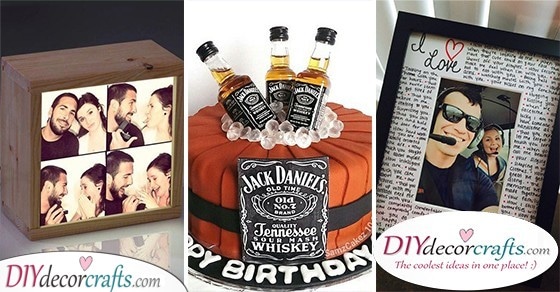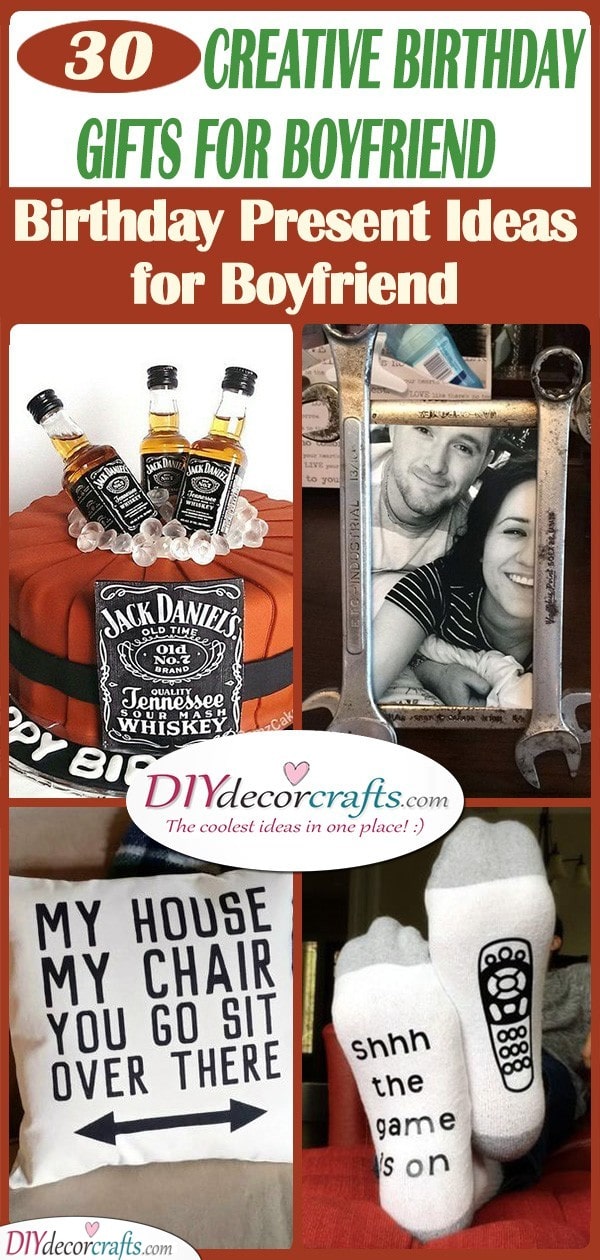 Birthdays are such fantastic celebrations! They always remind you that time flies by so quickly! Maybe it is going to be someone special's birthday in your life soon. If it's going to be your boyfriend's birthday, you might be in search of a present. We recommend you make something handmade for him, as that shows that you put time, energy and actual thought into making it for him. There are hundreds of awesome items you can create for his birthday, which will brighten his whole day! We have gathered 30 birthday present ideas for boyfriend to help you out in finding something great! So check out these creative birthday gifts for boyfriend!
1. A Birthday Box – Cute and Creative
If you already have some good birthday gifts for boyfriends, but you're not sure how to present it, why not create a fabulous birthday box? Place pictures of you and your boyfriend on the sides of the box. This way when he opens it, he'll be surprised and overcome with happiness to see pictures of the two of you inside!
2. Love Coupons – A Lovely Birthday Present Ideas for Boyfriend
Create a set of love coupons for your boyfriend's birthday which he can use at any time he wants! For example, you can write "pizza date" or "free hug" on the small coupons. This is a creative and unique way of celebrating your boyfriend's birthday.
3. Framed Polaroids – A Few Memories
Are you in search of a gift idea which incorporates polaroids? Then look no further! Grab a frame, placing some decorative paper on the back of the frame. Glue polaroids on the frame and also stick a message or a note on it! Wish your boyfriend a happy birthday with this truly personal and homemade birthday present!
4. A Pillowcase – For Cuddling With
Pillowcases make good birthday gifts for boyfriends, as you can decorate your bed or couch with them, not to mention cuddle with a pillow. Create a personalised pillowcase for your boyfriend's birthday. Put together pictures of the two of you creating a collage on the pillowcase. Your boyfriend is guaranteed to love this!
5. List of Reasons – With a Photo
When it comes to birthdays, personal presents are the best sort you can give. So following these thoughts, make sure to create a personal birthday present for boyfriends! Find your favourite picture of the two of you and place it in a frame. Then write a message around the photo, tell him why you love him, why you are grateful for his being with you!
6. A Box of Memories – Creative Birthday Gifts for Boyfriends
Here is yet another birthday box idea. This one is filled with memories and photos of you and your boyfriend! Place your favourite photos of the two of you in the box, as well as strips of paper. Each strip of paper should have a shared memory written on it, something which you deeply treasure or a reason why you love your boyfriend. Your boyfriend will be overcome with emotion while looking through this!
7. A Bundle of Letters – Open When
Write a dozen letters for your boyfriend's birthday! Put each one in an envelope and on the front of the envelope write down, when he is allowed to open the letter. Each letter should be for a specific occasion or an event, or just as a bit of support and positive vibes in his days!
8. The Key to Your Heart – Cute Birthday Gift Ideas for Boyfriend
If you are looking for a smaller gift, which is cute and has a bit of sentimental value to it, this might be a perfect choice for you. In a tiny bottle or jar, place a small key inside and sprinkle red glitter inside as well! Then simply attach a message to the bottle that reads "the key to my heart." Your boyfriend will know, that the key to your heart is with him! Naturally, this would also make a great birthday gift for your husband!
9. Reasons Why – Using a Pack of Cards
When you love someone, there are so many reasons why you adore every small part of them! Use a pack of cards and write 52 reasons why you love your boyfriend on each card. Attach the cards together at the end, making it look like a small booklet. Your boyfriend will feel super loved after reading through these reasons!
10. A Box of Everything – Fantastic Birthday Gifts for Him
Get creative with birthday gift ideas for boyfriends! Put together a birthday box for him! After decorating it with personal items, like for instance, polaroids and fairy lights, fill it up with your boyfriend's favourite things! This might mean some tasty chocolate, a bottle of perfume or his favourite alcohol.
11. A Sweet Birthday – Creative Birthday Gifts for Boyfriend
A great idea for any birthday present for boyfriends is to play around with words and thoughts. Present your boyfriend with his favourite candy or chocolate. You can attach a small note to the box or pack of candy, which reads "hope your birthday is sweet!" This is a super cute idea which your boyfriend will be sure to love!
12. Reasons of Love – In a Jar
The best sorts of gifts you can give are always personal, filled with sentimental thoughts and lots of love. Cut out small slips of paper. The point is to write down reasons why you love your boyfriend, and why you're grateful for his being in your life. Write up as many reasons as you'd like, then put them in a jar!
13. The Whole Alphabet – As Reasons of Love
Express how much you love your boyfriend using the whole alphabet! Write up a list of reasons, telling him what you love about him, then attach the slips of paper together in the end, creating a small booklet. For example, "h" can be for his great hair or "r" can be because he is a hopeless romantic at heart.
14. A Candleholder – DIY Birthday Present Ideas for Boyfriend
If your boyfriend likes to light a candle on some nights to help him destress, then he will love this handmade gift. Using a box, cut out shapes on each side and even a message. When he places a candle inside the shapes will light up the room in an amazing way!  We recommend cutting some hearts into the box!
15. Funny Socks – Perfect for Him
Socks are a present which everyone loves to receive! If your boyfriend loves to watch sports on television, then a pair of socks such as these will be perfect for him. So, if he loves to watch sports channels all day, then have a remote control printed on one of the socks, while on the other have a message, such as "shh the game is on" written.
16. A Box of Photos – Personal and Romantic
Are you bored of flipping through albums? Why not create an alternative to an album? A set of photos printed out on a long line of paper and then folded up to be placed in a small box. This is the perfect birthday gift for boyfriends who love personal and special presents. Include pictures of the both of you and shared fun memories in this photo series.
17. A Beer Garden – Unique Birthday Present Ideas for Boyfriend
Has your boyfriend been to Germany recently and been enchanted by its beer gardens? If so, make him a small beer garden of his own for his birthday! Place bottles of beer in a wooden crate. Place a few flowers and pot plants inside the crate as well. This will create a true garden image!
18. The Perfect Pillowcase – A Pocket for Everything
Create the perfect pillowcase for your boyfriend! This is the best pillowcase for nights in at home. Create three pockets on the pillow, one for the TV's remote control, another for snacks and the last one for beer. This will make a fantastic birthday gift for boyfriends!
19. A Delicious Cake – Use His Favourite Booze
If you love baking, why not bake a scrumptious cake for your boyfriend's birthday, using his favourite alcohol as inspiration? You can also decorate the cake to make it look like a bottle of alcohol or at least bear a resemblance to the alcohol you use in the cake. Keep in mind that fondant is a great way of decorating cakes!
20. A Beautiful Flipbook – Send Him a Message
Send your boyfriend a message through a flipbook! Take photos of yourself holding messages on cardboard. You can send your boyfriend an entire message through this small book. He will love this creative birthday gift!
21. Plenty of Polaroids – Birthday Gift Ideas for Boyfriend
Are you feeling creative? Why not incorporate some of your favourite memories with your boyfriend into his birthday present? Print out photos of the two of you during your favourite moments. Instead of placing them in a frame, string them across the frame, as well as both of your initials! This is a super personal gift which your boyfriend will love!
22. Bottles of Wine – For Each Occasion
If your boyfriend loves wine, why not make him a board of wines. Get him different bottles of wine, one for every sort of occasion. Then place them on a blackboard and write next to them what sort of wines they are and when he should drink them.
23. A Mechanic Frame – Birthday Present Ideas for Boyfriend
Is your boyfriend somewhat of a handyman who likes tinkering things around the house? Create a special frame for him which reflects his interests. Using a glue gun stick wrenches together to create a frame, giving it a very modern and mechanical look. Then stick a picture of the two of you in the frame and you're already done!
24. Another Pillow – His Spot
Does your boyfriend have a favourite spot in the house, which is his and only his? Create a pillowcase for him which is a statement of this. Have the text "my house, my chair, you go sit over there" with two arrows pointing sidewards printed on the pillowcase. This will make the perfect birthday present for him.
25. Decorate the Alcohol – Creative Birthday Gifts for Boyfriend
If you are thinking about giving your boyfriend a bottle of his favourite alcohol, make sure you decorate it beautifully! There are a lot of tutorials online with fantastic ideas of how to decorate bottles in a gorgeous manner!
26. An Open Bar – A Special Treat for Him
Does your boyfriend like his alcohol? If so, make sure to get him a whole jar filled with his favourite types of booze! After all, a birthday is a special celebration, and a celebration calls for drinks! You can create the lid of the jar to have a funny message written on it, for example, "open bar."
27. A Rubik's Cube – The Two of You
Does your boyfriend love logical games like Rubik's cubes? If so, make a personalised Rubik's cube for him! Use photos of you on the sides of the cube, instead of the standard colours. Your boyfriend will be guaranteed to love this amazing Rubik's cube, which is just one of many creative birthday gifts for boyfriend!
28. A Light Up Box – Cute Lamp
A great sort of gift to give is a personalised lamp as a bit of bedroom lighting! Use photos of you and your boyfriend on one side of the lamp, so when it lights up you will see yourselves. This will make a perfect bedside table lamp as well as a great source of decor!
29. Jenga Filled With Love – Creative Birthday Gifts for Boyfriend
Express how much you love your boyfriend with a simple game, Jenga! Buy a set of Jenga which has no instructions written on the wooden blocks yet. Write up all sorts of reasons why you love your boyfriend or funny instructions for him, to make the game more enjoyable. You can also write shared memories on the blocks. When the two of you will be playing this game of Jenga, your boyfriend will be surprised to read all of these lovely messages meant for him!
30. Important Locations – Birthday Present Ideas for Boyfriend
Create a sentimental gift for your boyfriend's birthday! Do you remember where you first met and where you first kissed? Cut out these locations on maps in the shape of hearts. Stick them on a piece of paper with the texts underneath "we met" and "we kissed." Place it in a frame. These important locations placed in a frame is a romantic gesture for his birthday!
We trust that you have been able to find some creative birthday gifts for boyfriend! For other birthday gift ideas, besides birthday present ideas for boyfriend, such as Gift Ideas For Girlfriends or Gifts for Men, go to our website!
Advert