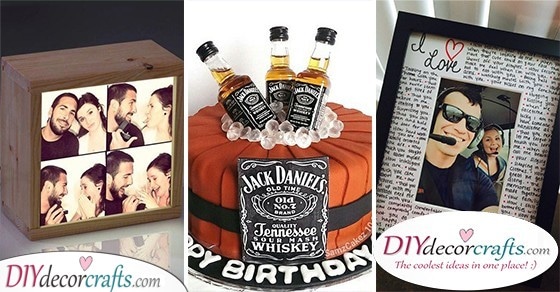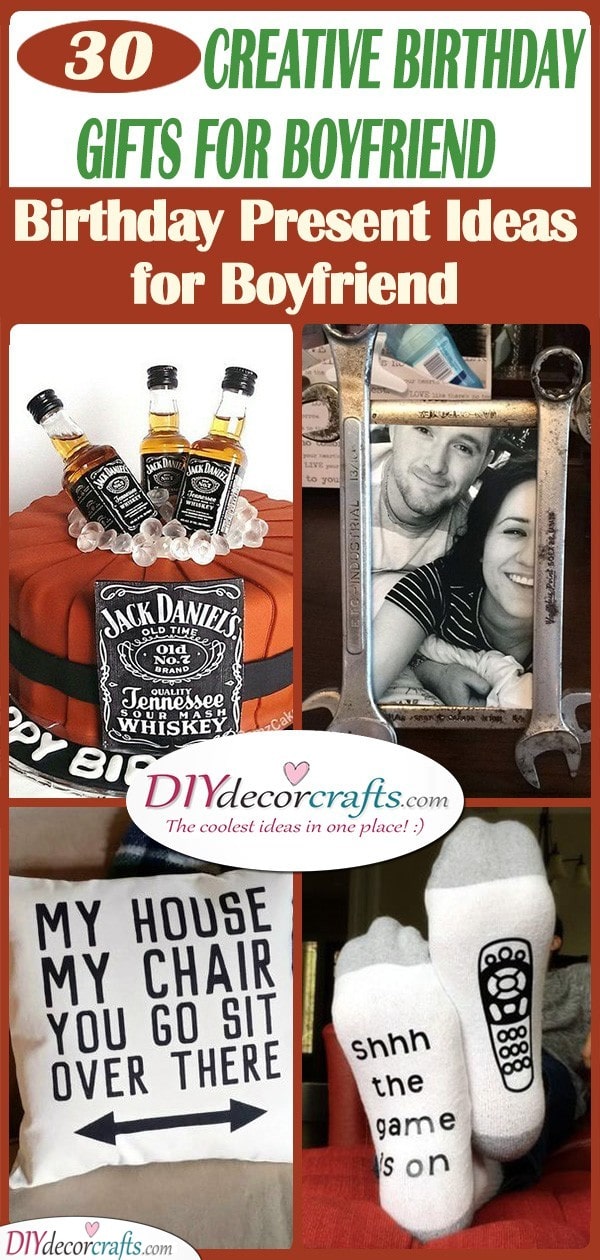 Birthdays are such fantastic celebrations! They always remind you that time flies by so quickly! Maybe it is going to be someone special's birthday in your life soon. If it's going to be your boyfriend's birthday, you might be in search of a present. We recommend you make something handmade for him, as that shows that you put time, energy and actual thought into making it for him. There are hundreds of awesome items you can create for his birthday, which will brighten his whole day! We have gathered 30 birthday present ideas for boyfriend to help you out in finding something great! So check out these creative birthday gifts for boyfriend!
1. A Birthday Box – Cute and Creative
If you already have the presents you'd like to give your boyfriend, but you're not sure how to present it, why not create a fabulous birthday box? Place pictures of you and your boyfriend on the sides of the box. This way when he opens it, he'll be surprised and overcome with happiness to see pictures of the two of you inside!
2. Love Coupons – A Lovely Birthday Present Ideas for Boyfriend
Create a set of love coupons for your boyfriend's birthday which he can use at any time he wants! For example, you can write "pizza date" or "free hug" on the small coupons. This is a creative and unique way of celebrating your boyfriend's birthday.
3. Framed Polaroids – A Few Memories
Are you in search of a gift idea which incorporates polaroids? Then look no further! Grab a frame, placing some decorative paper on the back of the frame. Glue polaroids on the frame and also stick a message or a note on it! Wish your boyfriend a happy birthday with this truly personal and creative present!
4. A Pillowcase – For Cuddling With
Pillowcases make great gifts, as you can decorate your bed or couch with them, not to mention cuddle with a pillow. Create a personalised pillowcase for your boyfriend's birthday. Put together pictures of the two of you creating a collage on the pillowcase. Your boyfriend is guaranteed to love this!
5. List of Reasons – With a Photo
When it comes to birthdays, personal presents are the best sort you can give. So following these thoughts, make sure to create something personal for your boyfriend! Find your favourite picture of the two of you and place it in a frame. Then write a message around the photo, tell him why you love him, why you are grateful for his being with you!
6. A Box of Memories – Creative Birthday Gifts for Boyfriends
Here is yet another birthday box idea. This one is filled with memories and photos of you and your boyfriend! Place your favourite photos of the two of you in the box, as well as strips of paper. Each strip of paper should have a shared memory written on it, something which you deeply treasure or a reason why you love your boyfriend. Your boyfriend will be overcome with emotion while looking through this!
7. A Bundle of Letters – Open When
Write a dozen letters for your boyfriend's birthday! Put each one in an envelope and on the front of the envelope write down, when he is allowed to open the letter. Each letter should be for a specific occasion or an event, or just as a bit of support and positive vibes in his days!
8. The Key to Your Heart – Cute and Lovely
If you are looking for a smaller gift, which is cute and has a bit of sentimental value to it, this might be a perfect choice for you. In a tiny bottle or jar, place a small key inside and sprinkle red glitter inside as well! Then simply attach a message to the bottle that reads "the key to my heart." Your boyfriend will know, that the key to your heart is with him!
9. Reasons Why – Using a Pack of Cards
When you love someone, there are so many reasons why you adore every small part of them! Use a pack of cards and write 52 reasons why you love your boyfriend on each card. Attach the cards together at the end, making it look like a small booklet. Your boyfriend will feel super loved after reading through these reasons!
10. A Box of Everything – Fantastic Birthday Gifts for Him
Here is another birthday box! After decorating it with personal items, like for instance, polaroids and fairy lights, fill it up with your boyfriend's favourite things! This might mean some tasty chocolate, a bottle of perfume or his favourite alcohol.
11. A Sweet Birthday – Creative Birthday Gifts for Boyfriend
A great idea for any birthday present is to play around with words and thoughts. Present your boyfriend with his favourite candy or chocolate. You can attach a small note to the box or pack of candy, which reads "hope your birthday is sweet!" This is a super cute idea which your boyfriend will be sure to love!
12. Reasons of Love – In a Jar
The best sorts of gifts you can give are always personal, filled with sentimental thoughts and lots of love. Cut out small slips of paper. The point is to write down reasons why you love your boyfriend, and why you're grateful for his being in your life. Write up as many reasons as you'd like, then put them in a jar!