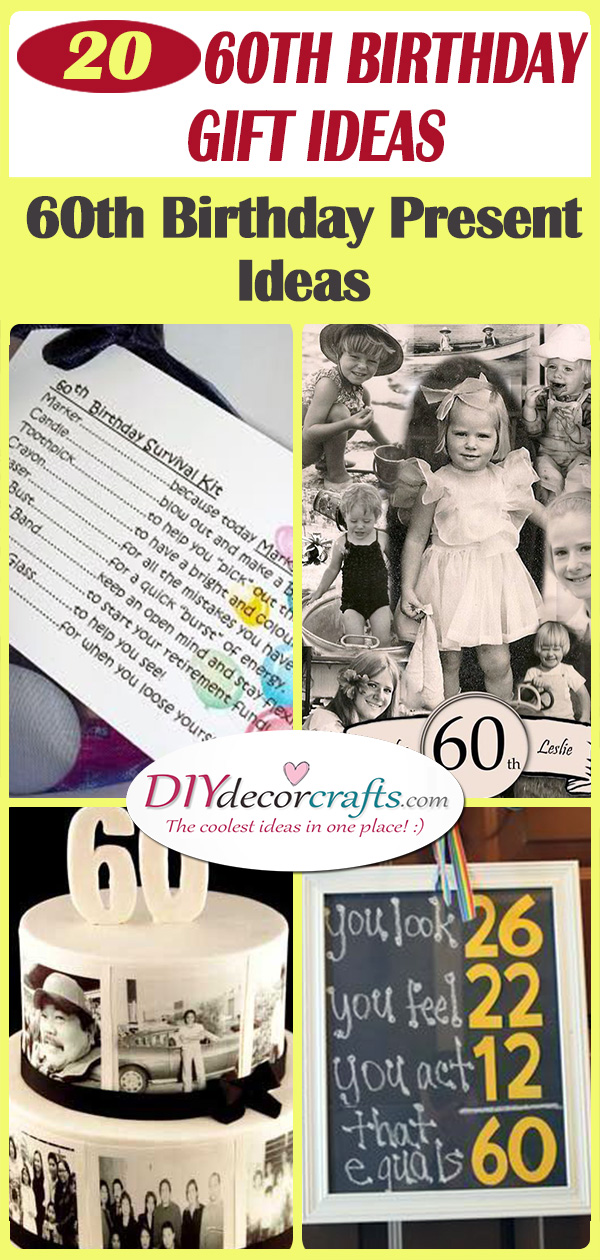 Reaching the age of sixty means you have arrived at a new milestone in your life. Sixty years, or six decades, is a long time in human years. So if someone from your family or your close group of friends is turning sixty, it calls for a birthday celebration! We all know that you can't arrive empty-handed to a birthday, so take a look through our gift ideas for 60-year-olds. We recommend you make something handmade for the birthday celebrant because DIY gifts show you put thought, energy and time into creating an array of birthday presents. So why don't you browse through our collection of 20 60th birthday gift ideas? We are certain you will find a few awesome 60th birthday present ideas!
1. A Survival Kit – For Your Sixties
A fun way of celebrating the sixtieth birthday is by creating a survival kit for the birthday lady or gentleman! A survival kit will guarantee that the soon to be sixty-year-old has a good laugh on their birthday. Write up a list of things they will need in their upcoming years of life. For example, you can write up "teeth" so they will have some when they lose their own. Or write up "magnifying glass" which they will need to help them see! You can even buy some of these items and put them all together in a box. Hopefully, the birthday lady or gentleman will not take offence at this hilarious survival kit!
2. A Collection of Old Photos – 60th Birthday Gift Ideas
Create a collage for the 60-year-old. Use a collection of old photos, beautiful memories from older times, sticking them together making a gorgeous compilation. The sixty-year-old will be taking a trip down nostalgia lane before they know it, remembering all the nice moments they experienced. Use photos from their childhood all the way to their more important moments in adulthood. For example, pictures of their graduation or their wedding are perfect for this! This idea would be amazing as a 70th birthday gift as well for someone who is turning 70!
3. A Scrumptious Birthday Cake – A Delicious Sixty
A birthday party always calls for a birthday cake. If you love to bake and are good at it, why not bake the soon to be sixty-year-old a cake? You can design the cake to be the number sixty, the age they are turning. The rest is up to you on how you decorate it. You can use flowers, macarons, forest fruit and buttercream to top the cake off. We're sure everyone will appreciate this birthday gift, not only the birthday celebrant.
4. Fabulous Scrabble Ideas – 60th Birthday Present Ideas
If you play a lot of scrabble with the person who is turning sixty soon, why not use it as inspiration in their gift? Create a small poster or card for them, using scrabble letters to spell out "sixty." If you look at the points above the letters, the word "sixty" will give you fifteen points! Then you can write underneath the scrabble letters that sixty is only fifteen in scrabble. This gift will definitely draw a smile on the birthday celebrant's face, as well as make them feel a tad bit younger!
5. A Beautiful Cake – Filled With Memories
If you love baking at home, you might consider baking the birthday lady or gentleman a birthday cake! After all, a birthday isn't a birthday without a birthday cake! A great idea on how to decorate a birthday card is with edible photos. Find the best memories and best photos of the sixty-year-old's life and place those around the cake. This way the birthday cake won't only be a cake, but will be an album as well! We're completely certain that the sixty-year-old will love this birthday gift!
6. Sixty Years Ago – What Happened Then
Remind the birthday celebrant what was happening around the world during the year they were born in! Write up fun facts, such as, what sort of music or movies were popular or which famous people were born in the same year as them. Also, write down big events that occurred during their birth year or how many people lived on the planet. Naturally, you can put things into perspective as well, for example, how much something used to cost sixty years ago. They will be able to compare what the world was like in the year they were born, to what it is like in our modern-day.
7. A Creative Card – Birthday Card Ideas
A fantastic way to surprise anyone on their birthday is with a beautiful birthday card! Write a cute and funny message on the front of the card, for example, "you're not sixty, you are eighteen with forty-two years of experience." Hopefully, this will make the sixty-year-old feel a bit younger than they actually are. The rest is up to you, concerning the message you write on the inside of the card. Make sure to send the birthday celebrant the best birthday wishes!
8. Sixty Things We Love – An Array of Reasons
Write up a list of reasons why everyone loves the birthday lady or gentleman on a piece of paper. This is a great gift exactly because it's extremely personal and heartwarming. Since they are turning sixty, make sure to write sixty reasons why you love them. For example, you can include their great sense of humour, their ability to tell stories or jokes and how much they have taught you. It's really up to you what you decide to include as reasons. Place this piece of paper in a frame before presenting it to the birthday celebrant.
9. A Big Sixty – 60th Birthday Gift Ideas
Draw a smile on the sixty-year-old's face with this birthday present! Create a collage out of photos from their 60 years of life. You can include important moments of their life, for example, their birth, their first day of school, their graduation or their wedding. The important thing is to use a vast amount of memories to create something truly special and personal for them. You can even write something like "superb at sixty" underneath the collage. Place this collage in a frame before presenting the birthday celebrant with it! If the birthday girl or boy is turning a different age, such as 30, and you are looking for 30th birthday gifts, then switch out the numbers!
10. Back in the Days – A Different Perspective
We have mentioned collection information about the year in which the birthday celebrant was born. Here is another way of using these fun facts to make a birthday present. Collect all the sorts of interesting facts, which were deemed as important back in the days. For example, which actor and actress won at the Oscars, or what was the most popular music in that year. Mentioning sports events is also a great idea or writing down who was the president or prime minister during that year.
11. Look, Feel and Act – 60th Birthday Present Ideas
While turning sixty means you have officially entered elderly age, it does not mean that they have to feel old. Write up underneath each other "you look", "you feel" and "you act". Also write a number next to each one of these, expressing how old the birthday celebrant looks or acts. If you add all three numbers together, you should get a total of sixty! This is just stating that the birthday celebrant isn't actually all that old as they might think! This is one of many great presents for sixty-year-olds.
12. A Jar of Memories – Sixty Years of Memories
If you have been thinking about giving the soon to be sixty-year-old a personal and homemade birthday gift, here's something perfect for you! On small slips of paper, write down all sorts of memories which you experienced with the birthday celebrant. Fold up these slips of paper and place them in a jar. The birthday lady or gentleman will be able to read these memories and relive the memories and moments thanks to you. This is a truly special gift to give a sixty-year-old, as it's personal and loving.
13. Funny T-Shirt Ideas – Funny 60th Birthday Gifts
A gift you can't go wrong with is a funny t-shirt. This t-shirt is perfect for 60-year-olds, especially if they like to have a laugh at their age. Using fabric paint or pens write a hilarious message on the shirt. For example, a great idea is, "Sixty is the new… What was I saying?" This will reflect the fact that while it's amazing to be sixty, you will also probably reach a new level of forgetfulness. We're sure that the birthday celebrant will love wearing this t-shirt!
14. Sixty Years – Is Equal To
While we know that the birthday celebrant turned sixty years old, what does that number mean exactly? Write up on a poster what these sixty years are equivalent to. For example, sixty years is six decades, seven hundred and twenty months, approximately three thousand and one hundred weeks, etc. Write up all this information underneath each other, ending the information on time with seconds. This will be great for the birthday boy or girl to look at, realising how much they have lived! Place this poster or piece of paper in a frame before giving it to the sixty-year-old.
15. A Funny Alternative – To a Birthday Cake
You don't have to necessarily bake a birthday cake, there are a few alternatives to creating a cake! For example, you can use tiers of toilet paper rolls to create a cake-like object. Decorate these tiers of toilet paper with streamers, a cut-out number sixty, hygiene products making it obvious that this birthday "cake" was planned for a sixty-year-old. You can also place a collection of messages and puns for the birthday celebrant on various parts of the cake, which will make it clear why the cake is put together out of toilet paper. For example, "everything turns to crap at sixty" or "cheers to wiping away another year" or "holy shit you're old!"
16. Chocolate Treats – 60th Birthday Gift Ideas
If you don't have that much time to create a big and extravagant gift, here's an easy idea for you to put together at home! Create the number sixty out of chocolates or candy, sticking these numbers on two wooden poles or sticks. Place these in a planter, as if these chocolates were growing out of it as if it were an actual plant. The soon to be sixty-year-old will love this!
17. Sixty Years Ago – Using a Small Blackboard
Here is another idea on how to remember what happened sixty years ago, besides the birth of the soon to be sixty-year-old. Grab a small blackboard and write up fun facts and random information on it, telling everyone what the world was like sixty years ago. For example, how much the annual income was during that year or what famous political events occurred. The birthday celebrant will be able to use this as decor in their house or even at their birthday party!
18. It Took Sixty Years – To Look This Great
Here's a funny t-shirt idea which will definitely make the soon to be sixty-year-old feel a bit younger and better about themselves! Use fabric paint or pens to write a creative or funny message on the t-shirt. A good idea, for example, is "it took sixty years to look this great!" The birthday celebrant will probably wear this shirt proudly!
19. Sixty Reasons – 60th Birthday Present Ideas
Create a collage of reasons why you love the birthday lady or gentleman! We have mentioned before, that collecting a number of reasons with which you express why you love the birthday celebrant is a fantastic idea because it's extremely personal! Arrange these in an interesting manner, some reasons going diagonally, some placed vertically, while others are horizontal. Make sure there are sixty reasons, after all, the birthday boy or girl is turning sixty!
20. A Lucky Present – 60th Birthday Present Ideas
Has the birthday celebrant always dreamed about winning the lottery? Buy them a dozen lottery tickets and scratchcards and arrange them to look like tiers of a cake by sticking them to boxes. They will have to scratch to find out whether they won anything or not. Hopefully, the sixty-year-old will get lucky on their sixtieth birthday and finally win something! If you decide on creating this awesome present make sure to actually buy enough lottery tickets or scratchcards to be completely sure that the birthday gentleman or lady will win something!
We hope that this collection of 20 60th birthday gift ideas has given you a few ideas of what to give the birthday celebrant! For more ideas concerning gifts, besides 60th birthday present ideas, such as birthday presents for grandma or gift ideas for grandpa, just visit our website!