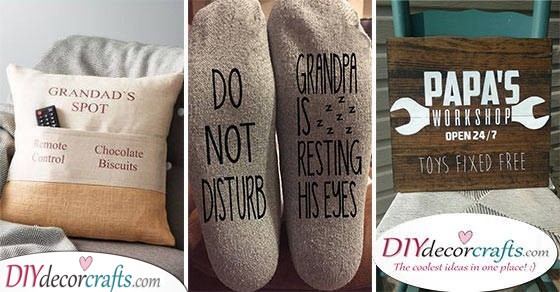 Is it going to be your grandpa's birthday or Christmas soon? Have you run out of ideas for what to buy for your grandpa? Well, we've collected 30 awesome presents for grandad to help you find the perfect gift. It might be hard to find an array of present ideas since a grandpa has lived for decades and probably has all the things he needs. But that's exactly why we are here, so scroll through our 30 best gifts for grandpa. 
1. A Series of Generations – A Great Concept
If you'd like to present your grandpa with a sentimental and personal gift, then this might be a great choice for you! Take portraits of each generation, holding the same frame, just like in the picture above. Then take a picture of grandpa holding the frame of generations.
2. Personalised Scrabble Board – A Beautiful Present
This beautiful idea will make a great gift for any grandpa! Using scrabble letters, put together the names of all your grandfather's grandchildren. You can put this in a frame, so your grandpa will be able to hang it up on one of his walls.
3. A True Description – Best Gifts for Grandpa
Make sure your grandpa knows how you feel about him. Gather words which describe him and arrange these words in a way so that they spell out grandpa when you look at it vertically. You can highlight the letters that spell his name.
4. An Adorable Apron – For a Master Chef
If your grandpa loves to cook and grill during family lunches or gatherings, then give him this cool present! It's a simple apron, on which you can have the words "grill master" or "master chef" printed on it. The apron should also have a small barbeque or grill drawing on it. But what really makes this apron special is that the grandchildren can dip their hands in fabric paint (preferably red, orange or yellow coloured) and press their hands on the apron where the drawing of the grill is. Their handprints can represent the flames of the grill. 
5. The Handyman – Workshop Sign 
Is your grandpa a handyman who can fix anything gone wrong around the house? Then this DIY workshop sign will definitely light up his day! All you need is a wooden board, on which you can write "Papa's workshop" and "toys fixed for free." This board is just a small sign of gratitude towards your grandpa because he is always around to help.
6. Funny Socks – Gift Ideas for Grandad
As we get older, sleeping and naps get more and more important! Make sure that no one disturbs grandpa while he is sleeping by buying him these funny socks as a present! The socks should have funny messages written on their soles, like for example, "do not disturb."
7. A Keychain of Generations – Gifts for a Grandpa
Announce the big news to your dad that he is becoming a grandpa with this keychain! All you need is two small discs, both should have the years engraved in them when he became a dad and now a grandad! A keychain is also a great gift because it will always help him find his keys!
8. A Personal Mug – Creative Gift Ideas 
If grandad and one of the grandkids like to make things or fix things around the house together, then this personalised mug will make the perfect present for grandpa! Use a footprint of the grandkid on the mug, and draw a wooden handle attached to it. This will represent a hammer. You can also write a small message on the mug, like the one in the picture above.
9. A Mechanic Frame – Amazing Presents for Grandad
Is your grandpa the living definition of a handyman? If you're thinking of giving him a picture, then make sure the frame complements his style and characteristics. If he is a true handyman, make him a frame out of screwdrivers or different tools. This is sure to become his favourite decor in his home.
10. Cute Bookmarks – Don't Leave Your Grandkids Hanging
Is your grandpa a bookworm? Well, make sure to get him some bookmarks so he'll know where he left off at. Print out pictures of his grandchildren hanging on a rope or tree. Cut out the figures of the grandchildren and attach a ribbon or some yarn to their hands. These cute bookmarks of his grandchildren will brighten up his day when he opens his book.
11. Hand in Hand – Unique Gifts for Grandad
Are you in search of a more personal and unique gift? Well, this might be it then! On colourful sheets of paper draw the shape of all the grandchildren's hands, then cut them out. Stick the cut-out hands on each other on a sheet of paper, the smallest on the very top, the largest on the bottom. You can write each grandchild's name on the fingertip of their paper hand. This way grandpa will know who's hand is who's. Naturally, you can place this in a frame, and you can present your grandad with it.
12. A Collection of Photos – Best Gifts for Grandfather
Give your grandpa a lovely collection of photos of all his grandchildren. After all, grandchildren bring sunshine and happiness into life – in other words, they make life grand.