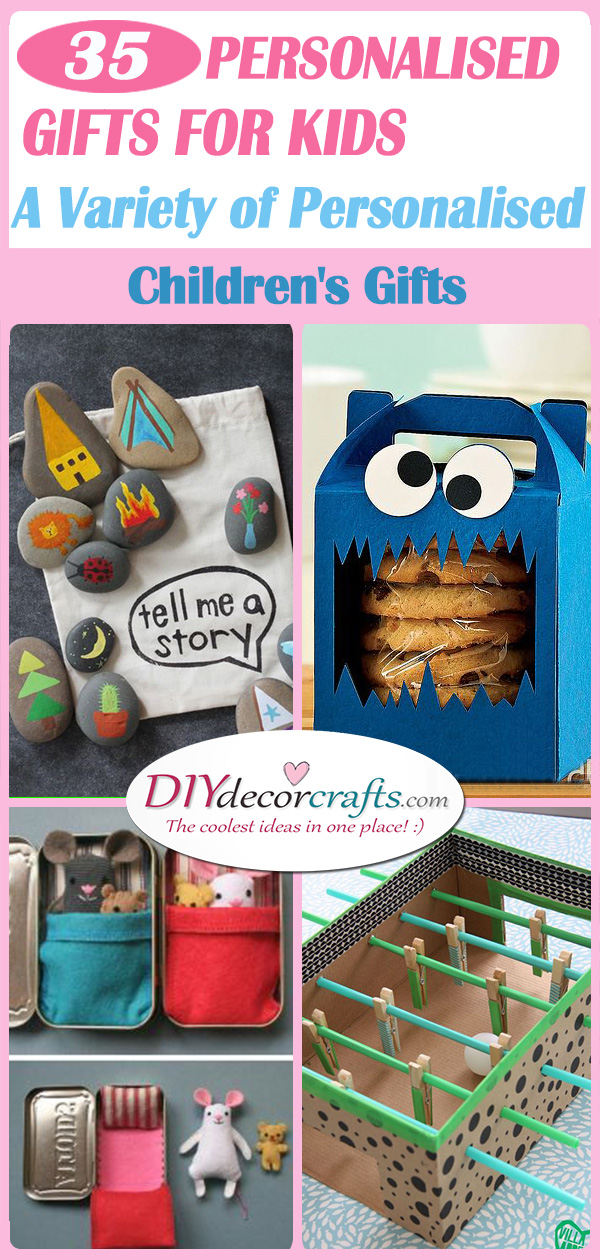 Sometimes it can be extremely difficult to find a great gift for a child. Whether it's a birthday, Christmas or a different sort of holiday, it takes a while to come up with a good present idea, as kids have a completely unique preference when it comes to gifts. So why not make DIY personalised gifts for kids? You can combine useful and practical with fun and quirky, making the perfect presents. So instead of buying them a teddy bear or a toy car, try out one of our ideas. We have gathered 35 personalised children's gifts, for you to be able to choose from.
1. Monster Pencil Holders – Personalised Children's Gifts
A great way to start making a gift is by recycling. Using old items in a new way is not only a cheap solution, but it's also a small step to helping out the planet by fighting pollution. Cut and decorate old shampoo bottles to make them look like monsters, like in the picture above. You can use as many googly eyes as you want – after all, these are monsters! These cute monsters will make the best pencil holders!
2. Story Pebbles – A Modern Way of Telling Stories
Every child has an aspiring writer hiding in them, so how about you help bring that out? Paint small symbols on various pebbles, for example, a boat, a forest, a princess, a bear or the sun. The child can make up stories using the symbols giving, or they can ask their parents to tell them a story using only a few of the pebbles. This is a great way to enhance anyone's creativity!
3. A Jar of Magic – Handmade Gifts for Kids
Every child adores unicorns! Magical and mysterious creatures with so many wondrous qualities. Since you can't actually get a unicorn for a kid, make them these cute unicorn mason jars instead! Decorate the jars with horns, flowers and eyes, then you can fill them up with whatever you'd like – candy, chocolate or just a tonne of pretty beads.
4. Cat Wrap – Wrapping the Presents up Beautifully
While you might have already found a great gift for the kid, have you thought about wrapping it up? You can create a cute animal themed wrapping in only a few moments. For this cat, all you need to do is wrap the box, attach some ears, whiskers, eyes and paws to the box. It's super easy, and will give your gift an adorable look!
5. Glove Monsters – Cuddly and Cute Plushies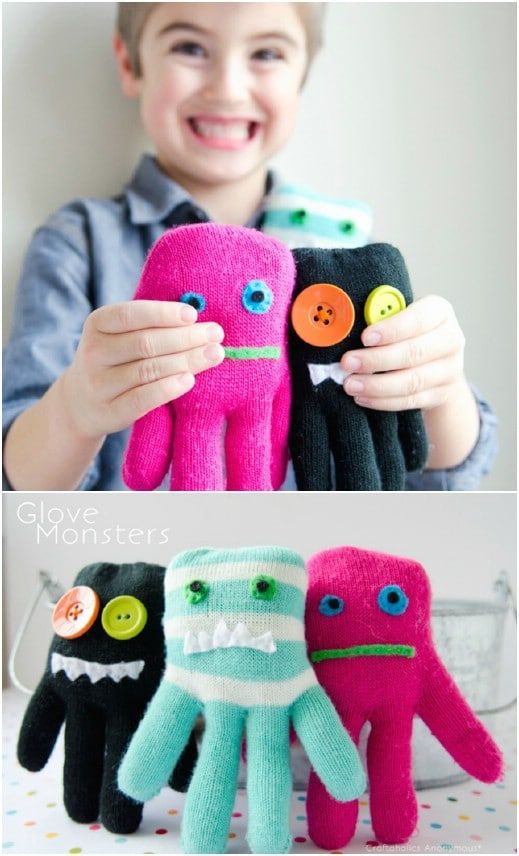 Are you in search of a cheap and quickly made DIY gift? Then this might be the one for you! Make glove monsters out of your old and unused mittens and gloves. Stuff them with cotton balls and sew them together at the end. You can sew on buttons for eyes and white fabric for teeth. They make the cutest and cuddliest toys!
6. Owl Handwarmers – Great Gift Ideas for Children
Using pieces of fleece make these cute hand warmers! They are perfect for chilly autumn or winter days. All you need to do is pop them in the microwave for 10-15 seconds, and they're already lovely and warm!
7. Beautiful Butterflies – Personalised Children's Gifts
Have you run out of time to create something more detailed? That's okay, we have the best solution for you, it's simple and quick to put together. Decorate wooden pegs with googly eyes and fuzzy wires for their antennas. Stuff two plastic bags with candy and attach them to both sides of the wooden peg. You will have a beautiful butterfly carrying candy.
8. Unicorn Pots – Caring for Pot Plants
Get the kids into gardening with this awesome present idea! Decorate planters and make them look like unicorns, draw eyes on them, attach flowers and a horn to the top. You can plant succulents or flowers into the pot itself, this way the child will be able to care for the plants and watch them grow.
9. Sharky Soap – Unique and Personalised Gifts for Kids
Maybe your kid is interested in marine biology or has just watched Jaws a few times. If so, make shark-filled soap for them! All you need to do is prepare the soap at home, and pour it into block moulds, which already contain shark figurines. Your kid will love taking a bath with this soup!
10. Cute Mice – Living in Tin Houses
If you've bought a few tiny toys for your kid, then they will also need a place to live! Place a small pillow and a tiny blanket into a tin can. You can put the tiny toys in here to sleep. These personalised gifts for kids will make perfect gifts for children who travel a lot because this way they just need to put their favourites in the tin container, and that into their bag.
11. Tic Tac Toe – Easy DIY Gift
Every kid loves a great game of tic tac toe! Gather 9 pebbles for them, decorate 5 of them with crosses and 4 with circles. Then place them in a small burlap bag, which already has a grid drawn on it. This is a great way of playing this old-school game!
12. Paper Finger Puppets – Personalised Children's Gifts
A great game or activity to play with kids is by using finger puppets to tell stories. Print out templates of animal puppets, cut holes in them and colour them! These cute animals will be a super way of telling stories to each other!