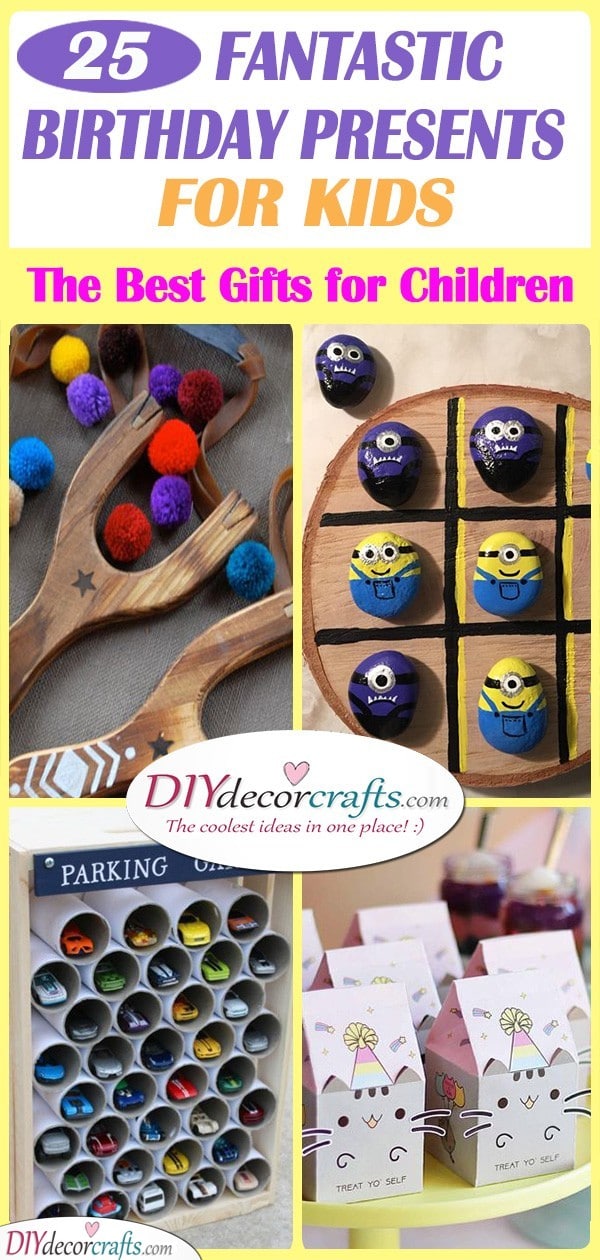 It is sometimes difficult to find a child a gift, as they don't have clear preferences yet of what they like or dislike. At times like this, it's always a great idea to create something at home for them. Handmade birthday gifts mean so much more than gifts bought in stores. Since you are going to be making something for a child's birthday, make sure it incorporates an element of fun! Make the personalised children's gifts something interesting that they will be able to play with or another awesome idea is to bake them something delicious! Take a look through our collection of 25 birthday presents for kids to find a bit of inspiration!
1. A Box of Balloons – A Birthday Surprise
Surprise the birthday kid on their special day. Get them a large box, in which you place their birthday present, as well as an array of helium-filled balloons. When they open the box, the balloons will fly out to their surprise. It's up to you whether you attach a birthday card to the box as well to wish them all the best. This flight of balloons will definitely become a memory which they will remember for a long time to come.
2. Fishing Time – Handmade Birthday Gifts for Kids
Create this awesome DIY gift for a kid's birthday! Sew together the shapes of fish out of fabric. Then create a fishing pole out of a long wooden pole, with some yarn attached to the end of it. So far so good. Make sure the kid actually is able to hook some fish onto their fishing pole! Try placing a magnet inside the body of each fabric fish, then also attach a magnet to the fishing pole's yarn's end. This way the child will be able to fish for fish anywhere and anytime!
3. A Cool Slingshot – With Pompoms
Slingshots are great toys! Not because kids can hit anyone they want with them, but because it helps improve aiming skills. Create a safe sort of slingshot for the birthday kid, which enables them to play with these toys, but will prevent anyone from getting actually hurt. After creating the slingshot, replace the rocks or pebbles kids would normally use with pompoms. This will ensure anyone from getting hurt, not to mention windows from being broken!
4. A Few Reasons – Personalised Children's Gifts
With time flying by, we get older and wiser! Depending on which birthday you are celebrating, express to your child how much they have grown as a person since their birth! Write down the numbers on a big sheet of paper or a poster, up until the age they have reached. Then gather all their best personality traits and reasons why you love them, writing one next to each number. So if the child turned nine, you should have nine reasons why you love them. If they turned ten, you should have ten points! This will also help boost the kid's self-confidence, which is super important!
5. A Play Dough Kit – Creative and Unique
Playdough makes a great activity for kids to play with and create things out of! You can easily make a playdough kit at home as a present by yourself. Include a rolling pin in the kit, or some cookie cutters, so the child can get creative! If you would like to give them something special next to the playdough kit, why not create a small booklet of things they can create out of playdough? For example, different types and species of flowers will make a perfect choice! Not only will the birthday kid refine their artistic skills, but also their botanical knowledge!
6. Pusheen the Cat – Birthday Gifts for Kids
Everyone loves Pusheen the cat! This cute image of a cat has become popular in modern culture! Find a box template of this cat, and cut it out, then create a box out of it. If you have been unsure of what to get the birthday kid, then place an assortment of goods inside this small box. For example, you can't really go wrong with chocolate or candy!
7. Unicorn Spa Jar – For a Beautiful Bubble Bath
Everyone deserves a bit of relaxation, even the little ones! Create a spa jar for the birthday child! All you need to do is place bath items, for example, bath salts or a bath bomb inside a mason jar. You can even try making these at home, creating them in the scent you'd like! If you'd like the give the spa jar a bit of a boost, make sure that the colours inside are linked to something kids love, like unicorns!
8. A Rainbow – Great Birthday Presents for Kids
If the birthday party is going to be unicorn themed and decorated with an abundance of rainbows, make sure your birthday gift fits in! Instead of getting or making the child a toy or an object, why not bake them a delicious cake? Cupcakes are becoming trendy nowadays, building actual pull-apart cakes out of them! If you love to bake, this will serve as a great idea, put together a rainbow cupcake cake! This will fit into the theme of the party, not to mention it is a lot easier to put together than an actual cake!
9. Tic Tac Toe – With Cute Minions
Tic tac toe is a game we all remember from our childhood. Recreate this same game with the help of pebbles for the birthday child! Find ten pebbles, and paint over them. To make the game a bit more interesting for kids, you can create half of the pebbles to look like the Minions from Despicable Me. Make the other half look like evil Minions. Also remember to make a board for the birthday kid, on which they can play tic tac toe! These will make great birthday gifts for kids!
10. Design and Decorate – Blackboards and Chalk
Kids love drawing and creating art with chalk! Whether it's on the pavement of a sidewalk or on the garden stepping stones, they love it! Why not present the child with a blackboard on their birthday and some coloured chalk to go with it? To make it more fun, you can try finding blackboards which are each a letter! Spell out the name of the birthday kid with the use of blackboards, allowing them to decorate their name any way they'd like!
11. Wool Felt Stick Horses – DIY Birthday Presents for Kids
Does the birthday kid love to run around the garden, pretending they are a knight riding on a horse? Well, it's time to get them a horse then! Make them a stick horse, out of wool and felt. Use the tutorial above for this awesome DIY birthday gift! While this present takes a bit of time to make, it will be totally worth it! The celebrated child will be able to gallop around in the yard on their trusty new steed!
12. Under the Sea – Mermaid Birthday Party
If the birthday kid is planning on having a mermaid-themed party, make sure the presents she receives on her birthday are also linked to the theme of the birthday party. Why not create a hole-board, which will also serve as the main attraction at the party? Paint the image of a mermaid swimming around under the sea, with the face missing. All the kids will be able to place their faces in the hole and have their picture taken here! These would make great gifts for 7 year old girls! 
13. A Lego Cake – A Fantastic Birthday Cake
If the birthday kid loves to play with lego, building houses and vehicles out of it, why not get them something lego themed? Bake a cake that resembles a lego building block, covering it in fondant to get a better shape! You can place small lego men all around the cake, holding wooden toothpicks which have letters attached to them. The letters should spell out "happy birthday." Any kid who loves lego will love a cake like this one!
14. Wrapping it Up – Personalised Children's Gifts
Sometimes it's also important to wrap gifts in a unique way! Since we are talking about getting a birthday gift for a child, you might think about decorating the wrapped gifts as well, to give them an interesting and quirky look! We recommend using animal-themed decorative elements for this. For example, you can create an elephant, by placing a balloon on the wrapping paper as their head and trunk, drawing up the rest of their body around them!
15. C is for Cookie – Chocolate Chip Cookies
Does the birthday kid love watching Sesame Street and singing along to all the fun songs in it? If they are a fan of the Cookie Monster how about you make them a birthday gift centred around this character? If you love to bake, create a batch of chocolate chip cookies, then place them in a blue box that resembles the Cookie Monster.
16. A Panda Mug – Adorable Birthday Presents for Kids
An adorable panda mug is the perfect sort of gift to give a child! Especially if it has a pocket at the front of it, where you can slip a cookie inside. The birthday kid will be able to sip their hot chocolate from this awesome mug and have a holder for their cookie as well! Naturally, this would make an amazing birthday gift for your best friend, or for whoever loves pandas!
17. Telling a Story – With the Help of Pebbles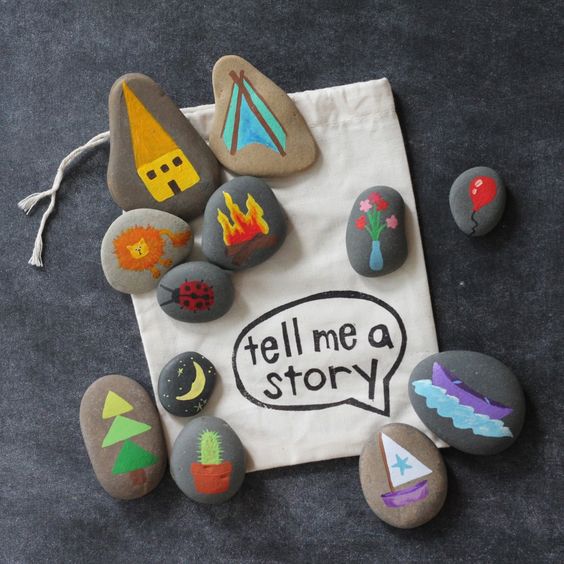 Every child has unlimited creativity, so how about you help bring that out? Paint small symbols on various pebbles, for example, a boat, a forest, a princess, a bear or the sun. The child can make up stories using the symbols giving, or they can ask their parents to tell them a story using only a few of the pebbles. This is a great way to enhance anyone's creativity and communication skills! It would make perfect gifts for 7 year old girls or boys!
18. Unicorn Balloons – For a Magical Party
If the child you are getting a birthday gift for, loves unicorns, why not surprise them with an abundance of unicorn-shaped and coloured balloons? These balloons will look great at a magic-themed or unicorn-themed birthday party!
19. Animal Bags – DIY Birthday Presents for Kids
Does the birthday kid love woodland animals? Make them a purse or small bag, which resembles their favourite animal. You can use felt for the fabric of the bag. Sew the animal two eyes and a mouth out of black thread and use a button for its nose. Just look at the cute fox bag above as an example!
20. Puppy Dog Pals – Wash Cloth Ideas
If you would like to give the kid something more useful and practical, why not give them a washcloth or a towel? Fold it up in a way to make it look like a dog, attaching ears, eyes, a nose and a mouth to it. It's a simple, but useful birthday gift! Try making these for birthday ideas for boys or girls!
21. Plastic Bottle Game – Cheap and Handmade Gifts
There are so many fun games you can create out of simple, everyday objects. Plastic bottles are a great example of this! Cut off the top of a plastic bottle, decorating it in any way you'd like. Tie a string around the neck of the bottle, attaching a small ball to the other end. The game the child can play with this is to throw the ball and catch it with the plastic bottle.
22. Photo Frame – Gifts for 7 Year Old Girls
We've mentioned unicorn-themed parties before. Here's another present you can make for the birthday celebrant if they are hosting a unicorn birthday party! Cut out a large frame out of cardboard, and decorate it in a rainbow of colours. Everyone at the birthday party will be able to use this as a photo booth frame for pictures!
23. Crayon Lego – Creative Drawing Utensils
If the birthday kid loves to draw, gift them something they can create a bit of art with! Melt together crayons in moulds, creating shapes of lego men, then let them harden and take form. The kids will be able to play around with these, drawing with their lego men! All you need for this idea are plastic forms, in which you can melt crayons! These will make perfect birthday presents for kids!
24. Parking Garage – Homemade Birthday Gifts for Kids
Does the birthday kid have a lot of toy cars, but has no space to store them? Make a parking lot for the kid's birthday! You can use toilet rolls for the holes to store the cars in. Place these on top of each other, creating a whole parking space. You can place these in a box or a wooden frame put together of boards. Remember to glue the toilet rolls together, so the car park won't fall apart! This will make a fantastic personalised gift for kids!
25. Lego Cupcakes – Birthday Treats
Here is another fantastic lego idea for a birthday kid who loves these building blocks! Instead of baking a big cake, bake some cupcakes. After piping some cream or frosting on the tops of the cupcakes, place a lego on each one. These cupcakes will be perfect for a lego-themed birthday party and birthday ideas for boys!
While it might be a bit harder to find the perfect birthday presents for kids, we hope you were able to gather some inspiration from the ideas above! For more ideas concerning gifts, like personalized children's gifts or homemade birthday gifts, visit our website!
Advert