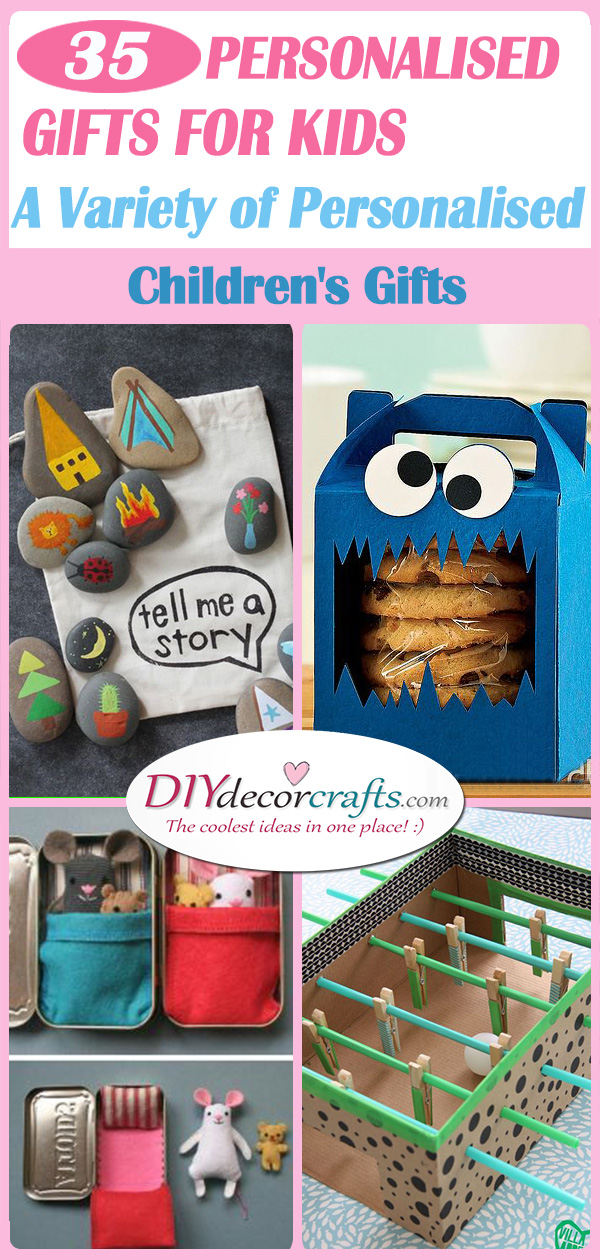 Sometimes it can be extremely difficult to find a great gift for a child. Whether it's a birthday, Christmas or a different sort of holiday, it takes a while to come up with a good present idea, as kids have a completely unique preference when it comes to gifts. So why not make DIY personalized gifts for kids? You can combine useful and practical with fun and quirky, making the perfect presents. So instead of buying them a teddy bear or a toy car, try out one of our ideas. We have gathered 35 personalised children's gifts, for you to be able to choose from.
1. Monster Pencil Holders – Personalised Children's Gifts
A great way to start making a gift is by recycling. Using old items in a new way is not only a cheap solution, but it's also a small step to helping out the planet by fighting pollution. Cut and decorate old shampoo bottles to make them look like monsters, like in the picture above. You can use as many googly eyes as you want – after all, these are monsters! These cute monsters will make the best pencil holders!
2. Story Pebbles – A Modern Way of Telling Stories
Every child has an aspiring writer hiding in them, so how about you help bring that out? Paint small symbols on various pebbles, for example, a boat, a forest, a princess, a bear or the sun. The child can make up stories using the symbols giving, or they can ask their parents to tell them a story using only a few of the pebbles. This is a great way to enhance anyone's creativity!
3. A Jar of Magic – Handmade Gifts for Kids
Every child adores unicorns! Magical and mysterious creatures with so many wondrous qualities. Since you can't actually get a unicorn for a kid, make them these cute unicorn mason jars instead! Decorate the jars with horns, flowers and eyes, then you can fill them up with whatever you'd like – candy, chocolate or just a tonne of pretty beads. This would also make a fantastic birthday present for kids!
4. Cat Wrap – Wrapping the Presents up Beautifully
While you might have already found a great gift for the kid, have you thought about wrapping it up? You can create a cute animal themed wrapping in only a few moments. For this cat, all you need to do is wrap the box, attach some ears, whiskers, eyes and paws to the box. It's super easy, and will give your gift an adorable look!
5. Glove Monsters – Cuddly and Personalised Children's Gifts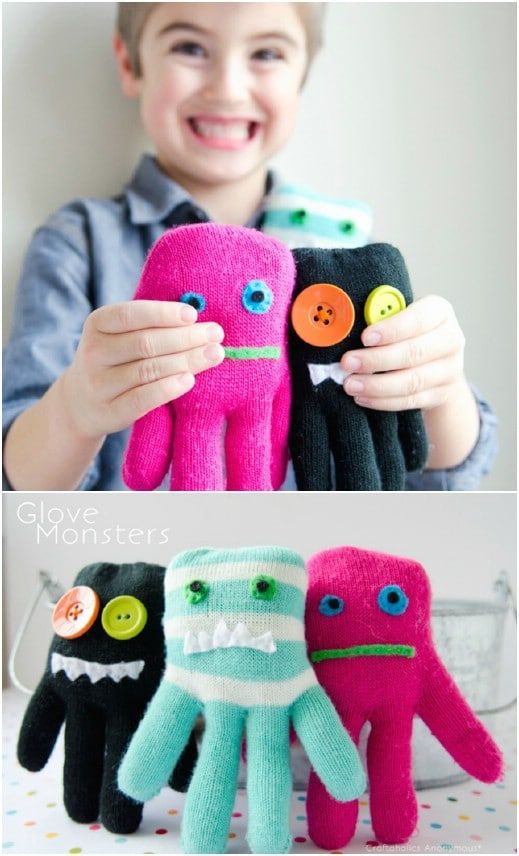 Are you in search of a cheap and quickly made DIY gift? Then this might be the one for you! Make glove monsters out of your old and unused mittens and gloves. Stuff them with cotton balls and sew them together at the end. You can sew on buttons for eyes and white fabric for teeth. They make the cutest and cuddliest toys!
6. Owl Handwarmers – Awesome Kids Gift Ideas
Using pieces of fleece make these cute hand warmers! They are perfect for chilly autumn or winter days. All you need to do is pop them in the microwave for 10-15 seconds, and they're already lovely and warm!
7. Beautiful Butterflies – Personalised Children's Gifts
Have you run out of time to create something more detailed? That's okay, we have the best solution for you, it's simple and quick to put together. Decorate wooden pegs with googly eyes and fuzzy wires for their antennas. Stuff two plastic bags with candy and attach them to both sides of the wooden peg. You will have a beautiful butterfly carrying candy.
8. Unicorn Pots – Caring for Pot Plants
Get the kids into gardening with this awesome present idea! Decorate planters and make them look like unicorns, draw eyes on them, attach flowers and a horn to the top. You can plant succulents or flowers into the pot itself, this way the child will be able to care for the plants and watch them grow. Try this out as an easy spring craft for kids! Then let your children plant their favourite flowers in them!
9. Sharky Soap – Unique and Personalized Gifts for Kids
Maybe your kid is interested in marine biology or has just watched Jaws a few times. If so, make shark-filled soap for them! All you need to do is prepare the soap at home, and pour it into block moulds, which already contain shark figurines. Your kid will love taking a bath with this soup!
10. Cute Mice – Living in Tin Houses
If you've bought a few tiny toys for your kid, then they will also need a place to live! Place a small pillow and a tiny blanket into a tin can. You can put the tiny toys in here to sleep. These personalized gifts for kids will make perfect gifts for children who travel a lot because this way they just need to put their favourites in the tin container, and that into their bag.
11. Tic Tac Toe – Easy DIY Kids Gift Ideas
Every kid loves a great game of tic tac toe! Gather 9 pebbles for them, decorate 5 of them with crosses and 4 with circles. Then place them in a small burlap bag, which already has a grid drawn on it. This is a great way of playing this old-school game!
12. Paper Finger Puppets – Personalised Children's Gifts
A great game or activity to play with kids is by using finger puppets to tell stories. Print out templates of animal puppets, cut holes in them and colour them! These cute animals will be a super way of telling stories to each other!
13. Unicorn Card – DIY Card Ideas
So you've got your present and wrapped it up, but haven't been able to get or make a card? Make a cool 3D unicorn card for the kid! It looks magical and is guaranteed to draw a smile on any child's face!
14. Playhouse Tent – The Best Indoor Cubby House
If you want to give your kid not just any sort of present, but an actual experience, we highly recommend this DIY no-sew tent. It's extremely easy to put together, instead of sewing you will need to glue the parts onto each other. This will make the perfect hideout for any child, meaning it's one of many fantastic homemade gifts for kids!
15. Unicorn Sleeping Masks – Personalised Children's Gifts
Here's another one of a few unicorn-themed handmade gifts for kids, make a cute sleeping mask for your kid! You don't even need to sew the parts onto the mask, all you need to do is glue it all on!
16. Sleeping Pocket  – Sleeping Together with Favourite Toys
Do your kids fall asleep each night in their children bedroom cuddling up with their toys? Well, make sure the toys also have a comfortable place to sleep by making a small sleeping pocket, which you can attach to the side of the bed. This is the perfect gift for any child who loves sleeping with their toys!
17. Garage for Cars –

Personalized Gifts for Kids
Does your kid have way too many cars but can't find a way to store them neatly? Make them this cool garage out of a wooden crate and paper rolls! Slide each car into a paper roll, just like in the picture above. This way all the vehicles will be in a safe place!
18. Awesome Blocks – Unique Gifts for Kids
A great way to develop visual skills is by giving kids blocks to play with. Paint animals on blocks, one half of the animal on one block, the other half on the other. You can also write the child's name on the blocks. They will have to find the other half by putting the blocks together. This is a great gift for small toddlers.
19. Pillow Pockets – A Bed for Everyone
If you want all of your kids favourite toys to have a place to sleep at night, sew little pockets onto a pillow. This way your child will be able to slide every single one of his toys into the small pockets for a good night's rest. This is one of many super great personalised children's gifts!
20. Table Soccer – Homemade Gifts for Kids
If your kid can't reach the handles on standard table soccer, make sure they get their own version of this fun game! Use wooden pegs as the soccer players and attach them to straws. Use a cardboard box as the soccer field and remember to cut out two holes on two opposite side as the goals. Then you can fit your straws through the cardboard box as well, and you're ready to play!
21. DIY Octopus Toys – Personalized Gifts for Kids
Making toys out of yarn is a fantastic idea! Yarn is a fuzzy and soft material, perfect for cuddling! Create a yarn octopus, by braiding strings of yarn to make tentacles. Then tie these tentacles together, forming your octopus! It's one of many easy and unique gifts for kids to make, not to mention super cute!
22. Paper Pinwheels – Great Presents for Children
Paper pinwheels are not only super easy to make but they also look really good as decor! This is a perfect gift for kids who like to discover how nature works, watching how the window blows the pinwheel around and around is an enchanting feeling.
23. Animal Tic Tac Toe –

Personalised Children's Gifts
As we mentioned before, tic tac toe is a fun game to play! Instead of painting crosses and circles on pebbles, paint them to look like animals. For example, you can make a set of bees and ladybugs and the game will work the exact same way.
24. Hungry Monsters – Ideas for Laundry Bags
25. Scooter Bag – Personalised Children's Gifts
If your kid can't decide on whether to go out scootering or play at home with their toys, make sure they can do both! Create a small bag out of any sort of pretty fabric, which the child can place on their scooter. You can pop the toy inside the bag, this way your child will be able to go out scootering with their best furry friend!
26. Animal Wrapping – Wrap Up Your Presents
Have you already boxed up your presents, but haven't been able to find the perfect way to wrap them up? Use this cute and simple idea! Turn them into bears! Cover your presents in a simple brown wrapping paper, then cut out small ears and attach them to the present. Draw two eyes and a bear snout on one side of the paper, and you're already done!
27. C is for Cookie – Cookie Monster Ideas
Baking cookies for a kid are always great personalized gifts for kids, they're delicious treats, perfect for any hour of the day. Present them in a cookie monster box for a better effect! You can cut this box out of cardboard, painting it blue and attaching two googly eyes. This gift is perfect for kids who love Sesame Street.
28. Pinecone Fairy – Cute Personalised Children's Gifts
Add a touch of Mother Nature to your handmade gifts by making a pinecone fairy! Using a pinecone as a base, attach a wooden ball as the head to the top of it and also attach pieces of fabric for the wings. Decorate the fairy in any creative way you'd like. This fairy will make a great toy or gorgeous decor for any child!
29. Growth Chart – Measuring the Kids
The perfect present for any child is a growth chart! Measuring how much the kids grow each month will be a great thing to look back at in their later years.
30. An Adorable Bookmark –

Personalised Children's Gifts
Encourage your children to read books by giving them bookmarks! You can string an array of beads onto a thread or ribbon. This cute bookmark will help make it easy for kids to find where they left off in the book!
31. Unicorn Pencil Holder – Keeping Your Kid's Desk Neat
Here's another great unicorn themed present! A unicorn pencil holder! Recycle a tin can by wrapping some white paper around it and decorating it to look like a unicorn! This pencil holder is guaranteed to keep your kid's desk neat!
32. Pusheen Plushie – Personalized Gifts for Kids
Even though a lot of plushies look complicated, there are some super easy ones to make! Just take a look at the tutorial above, you can easily put together a cute cat plushie out of a grey sock!
33. A Bit of Candy – Candy for Each Day
34. Huggable Unicorns – Personalised Children's Gifts
If you decided on getting chocolate for the kids, make sure to wrap them up in a creative way! Since unicorns are a super popular form of decor nowadays, use them to wrap up your chocolates as well!
35. Fruity Backpacks – Creative and Unique Gifts for Kids
A cute bag is a perfect gift for anyone – including kids! If you like to sew and make things out of fabric, this gift idea is perfect for you! Create bags that look like fruit, like the pineapple bag above!
Although it might be a bit hard to find a good idea for a present for a child, we hope that we were able to inspire you with these 35 personalized gifts for kids! It's always great to create handmade gifts as they are truly special, and kids love them as well! For more ideas on gift ideas, like Gifts for Children, visit our website.
Advert