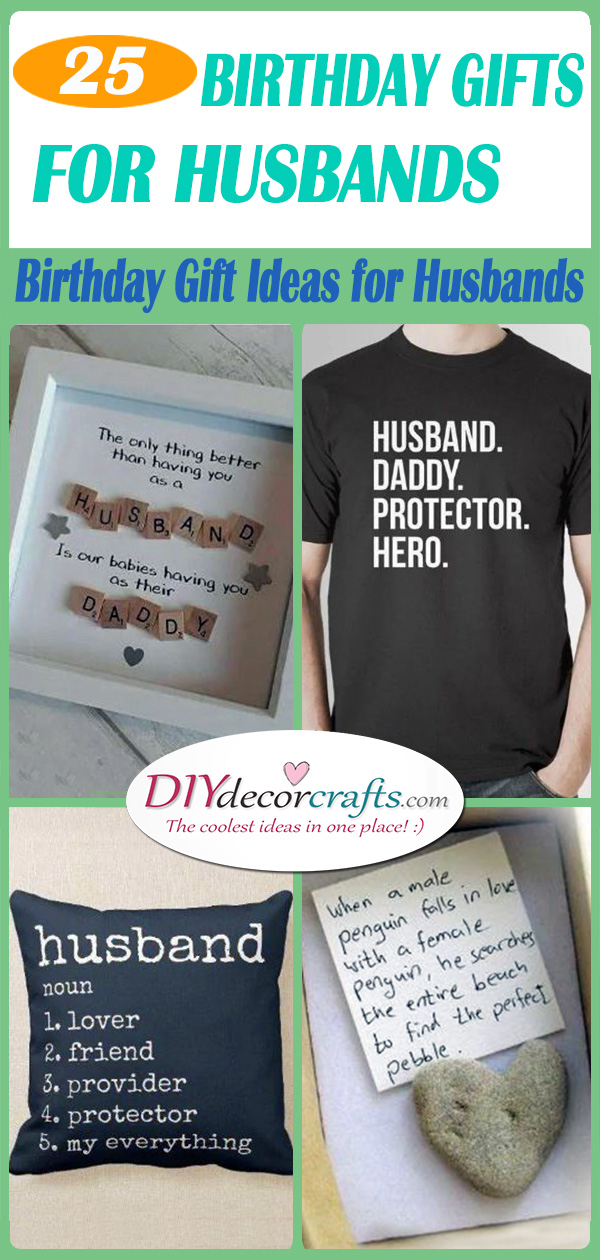 Whenever it's someone's birthday, it is important to try to find them a gift which they will appreciate and to show them that you thought of them. If your husband's birthday is coming up, make sure to express your love towards him and get or make him the best gift you can! DIY gifts mean a lot more than store-bought gifts, so why not try creating something special for him? Even if it's small, the thoughtfulness of a birthday gift for husbands will mean much more than something grand. We have collected 25 birthday gift ideas for husbands, to help you out in finding something perfect for him!
1. Days and Days of Love – DIY Birthday Gifts for Him
Have you ever calculated how many days you or your husband have been alive for? Here's a simple, but super romantic present you can create for him. Calculate how many days your husband has been alive, and also calculate how many days out of that you have loved him for. On a piece of paper or a card, write up "you have lived for x days. I have loved you for y of them." This is a meaningful message to your husband, which he is guaranteed to appreciate!
2. A Few Details – Everything on a Card
There are so many small details about a person, it's practically impossible to gather all of them! Collect the most important traits or information about your husband and arrange this all on a card in an elegant way. It's up to you what information you'd like to place on the card. It can a list of some of the things he is, for example, a husband, a father and a brother. You can write up how many pets you have, a few of his characteristics or his favourite hobbies. All these words should add up to him! Make this birthday gift for husbands!
3. Husband and Father – Birthday Present for Husband
Create a piece of decor for your husband, using scrabble letters to spell out a few words. On a piece of paper write "the only thing better than  having you as a husband, is the babies having you as a father." You can replace the written words of "husband" and "father" with scrabble letters. Then place this in a frame before presenting him with it. This loving and thoughtful present will mean the world to him and would also be a great choice as a Christmas gift for your husband!
4. A Coupon Book – Unique and Funny Ideas
Here's a unique birthday gift for husbands that you can make for him! Put together a coupon booklet for your hubby! All this means is creating coupons for him, which he can use whenever he wants to. For example, you can include an hour-long massage, mowing the lawn instead of him, going on a date night together or cooking him his favourite dinner. Your husband will love this small coupon booklet, especially if it contains things he really loves!
5. A Special Location – Where He Stole Your Heart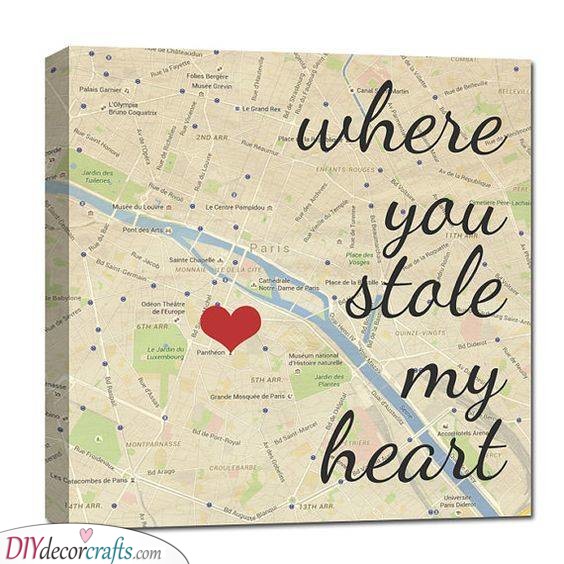 Another fantastic way to express your love to your husband is by taking him down a trip on nostalgia lane! There are probably a few places around town which are important to you. For example, where you first met, where you had your first date, where your first kiss was, etc. Print out a map of a city, sticking it on his birthday card. Then draw a big red dot at a significant location. You can write above this dot that "this is the place where you stole my heart." This small gesture will take both of you back to earlier times!
6. Reasons Why You Love Him – Birthday Ideas for Husband
There must be hundreds of reasons why you love your husband! Gather these reasons, writing them all up on a card or maybe a small board. For example, you can write reasons such as his sense of humour or his passion for astronomy. If you decided to create a board, your husband will be able to use it as a source of decor in the bedroom. If it's a card, you can place it in a frame later.
7. Back in Time – Events From His Birth Year
What year was your husband born in? While that year is clearly special for you, as one of the most important people in your life was born in it, hundreds of other things happened as well! Here's a unique and fantastic idea to create for your husband's birthday! Find events, sports or music related to the year your husband was born in. Then arrange them up on a page, which is all about your husband's birth year! For example, you can find which movies came out in that year or what was the most popular music.
8. Milestones in His Life – Birthday Gift for Husband
A keychain is a great gift idea for anyone, especially if it has something personal on it! For example, create a keychain made out of metal discs. Each one should have a year engraved on it, as well as what happened that year. For example, you can write up when he was born, when he was married and when he became a father.
9. Penguins and Pebbles – Inspiration from Animals
While we wouldn't think it, animals express love to each other in so many different ways! For example, penguins gather pebbles for each other. If you and your husband love these cute birds, why not use them as inspiration for DIY birthday gifts for him? Find a pebble or a stone for them, place it in a small box and attach a message to it, "when a male penguin falls with a female penguin, he searches the entire beach to find the perfect pebble." This small romantic gesture is going to melt your husband's heart!
10. Five Days and Ways – Birthday Gift Ideas for Husband
Get your husband five birthday presents! Each gift should involve using one of the senses: sight, touch, taste, smell and sound. For example, for sight, you can give him an old photo of the two of you. For smell, you can get him his favourite bottle of perfume. Touch can involve a big hug or a massage! This is completely up to you and your creativity!
11. Important Dates – That Changed Your Lives
There are so many days of our lives when we bring decisions that lead to everything changing. When you meet someone new and go on your first date, you might not even think that he or she will be your future spouse! If you have been searching for a special present for your husband, then here is a perfect idea for you! Write down the important dates of your lives, the days on which you were born, the day when you became a couple, the day when he asked for your hand in marriage and the day you got married. All the decisions you made led to your marriage!
12. A Hero and a Husband – Birthday Gift for Husband
Your husband probably means a lot more to you, than just a husband. He might also be a father by now, making him a protector of the family.  A husband is also a true hero, helping you in whatever he can when he has time! If you feel there are a few words to describe him, such as, husband, father, hero, etc, then collect these words and print them on a t-shirt for him!
13. A Description of Him – A Pillowcase
How would you define your husband? There are probably hundreds of traits or characteristics that come to your mind! Make your husband a pillowcase, which resembles a definition of a word in a dictionary. For example, on the top of the pillowcase, write "husband" and underneath it "noun." Then it's up to you what you define him as!
14. Date Activities – Birthday Present for Husband
While you and your husband have probably been together for some time, there still must be dozens of date activities you haven't done yet. Write date ideas on paddle sticks, before placing them in a jar. You can colour code the sticks, according to what sort of activities they are. This will ensure that the two of you get to spend some quality time together during the bleak days of the week! There are countless date ideas which you can do together! These will be fantastic birthday ideas for husbands!
15. A To-Do List – A Dirty Birthday Card
If you have been planning to surprise your husband with a cheeky card, then here's a great option for you! Create a card for your husband which hints at getting naughty with you on his birthday! After all, what more does a man want on his birthday?
16. A Whole Heart – Birthday Messages for Him
Surprise your husband on his birthday with a whole set of birthday messages! This will make a fabulous birthday gift for husbands that he will love! Write messages for him on small slips of paper, before sticking them on the bathroom mirror in the shape of a heart. This will be the first thing he sees in the morning when he drowsily walks into the bathroom! Naturally, this wouldn't only be a super idea for his birthday, but would make an awesome Valentine's Day gift for him as well!
17. Leather Wallet – Best Birthday Gift for Husband
Leather wallets are necessities for men. They are a truly elegant and manly way to stores money and cards. Get your husband a leather wallet for his birthday, but with a romantic twist on it. Write a message for him on one of the inside pockets. Whenever he opens it, he will be immediately reminded of you! Again it's up to you on what you'd like to write to him, it can be an old memory or an intimate and romantic meant only for his eyes!
18. A Trail of Gifts – Surprise Your Husband
Surprise your husband in the morning or when he gets home from work. Arrange wrapped gifts on the floor, leading from the front door to his room. This trail of gifts will definitely surprise him and bring a bit of joy to his day!
19. A Small Box of Photos – Birthday Gift Ideas for Husbands
Are you bored of flipping through albums? Why not create an alternative to an album? A set of photos printed out on a long line of paper and then folded up to be placed in a small box. This is the best birthday gift for husbands if you are in search of something personal and intimate. Include pictures of both of you and shared fun memories in this photo series.
20. 365 Reasons – Romance and Love
There are probably hundreds of reasons why you love your husband! Write down 365 reasons why you love him in a notebook, each on a different page. On each day of the year, he can only read one reason. This birthday gift for husbands, none other than a romantic book of love, will give his days a better start!
21. A Huge Blanket – Birthday Gift Ideas for Husband
Do you and your husband love cuddling on the sofa while watching a bit of television during the weekdays? Get your husband the perfect blanket in which the two of you can snuggle with! Have photos of the two of you printed on a fleece blanket, making it a very special birthday gift!
22. A Tree of Love – Beautiful Birthday Gift for Husband
Here is a unique and personalised gift, perfect for your husband's birthday! Use a  sheet of paper that has sentences about love written on it as the background. Stick cut-out paper tree branches in front of the sheet of paper. Try finding black paper for this as it's the most effective. Hang two red hearts from the branches, both hearts bearing each of your names on them. Place this romantic imagery in a frame. Your husband is guaranteed to love this homemade birthday gift!
23. Turn Back the Clock – Being Together for Longer
If your husband has been in need of a watch but has not had the time to buy one yet, why not get him one for his birthday? Make sure the watch has a special message for him, engraved in the back of it. For example, you can tell him that you wish you could turn back time to find him sooner and love him for a longer period of time. Whatever you decide on writing to him, we're sure he will love it!
24. A Love for Beer – Birthday Gift Ideas for Husband
If your husband loves beer this will make the perfect birthday present for him! Get him a beer glass, on which you engrave or write a message for him. The message can be something like, "I love you more than you love beer." He will definitely have a laugh at this!
25. A Beer Cake – The Best Sort of Birthday Cake
Does your husband consider himself a beer lover? Then here is one of many fantastic birthday gift ideas for husbands to try out! Buy some cans of beer, arranging them in tiers. The bottom tier should be the largest, the middle one a bit smaller and the top one the smallest. Tie them together with ribbons, to make sure they stay in place. You can add some decorative banners to it or candles as if these cans of beer were actually a cake!
We hope that we have been able to give you some inspiration amongst these birthday gift ideas for husbands! We're sure he will love anything you make him! For more birthday gift ideas, such as birthday gifts for men or birthday gifts for women, visit our website!
Advert