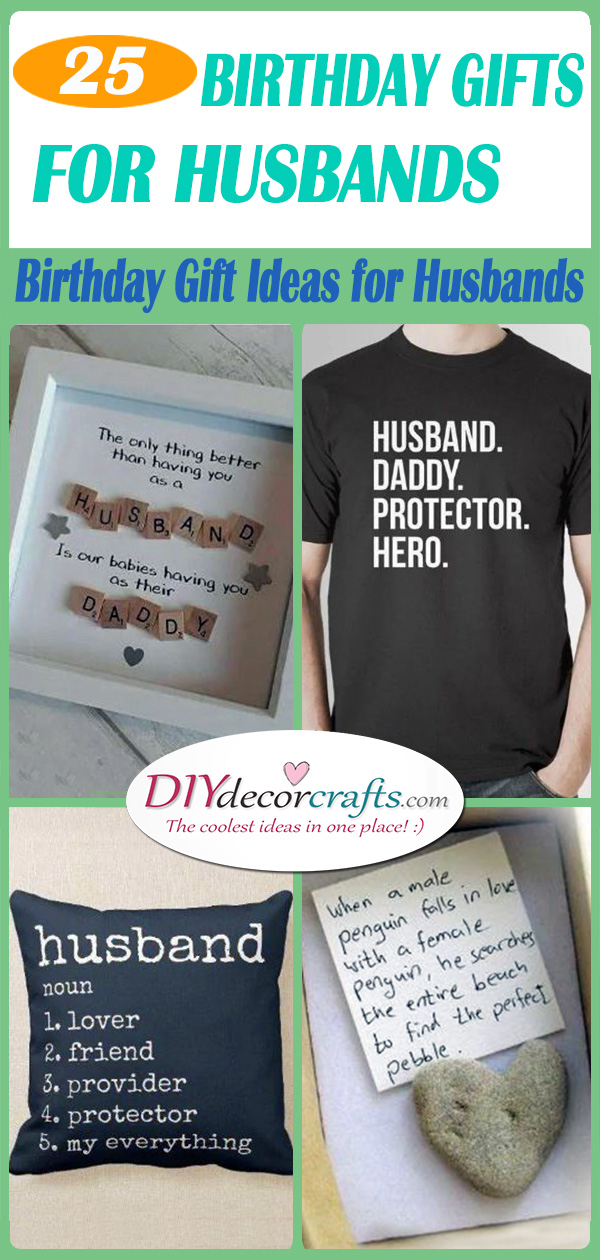 Whenever it's someone's birthday, it is important to try to find them a gift which they will appreciate and to show them that you thought of them. If your husband's birthday is coming up, make sure to express your love towards him and get or make him the best gift you can! DIY gifts mean a lot more than store-bought gifts, so why not try creating something special for him? Even if it's small, the thoughtfulness of the birthday gifts for husbands will mean much more than something grand. We have collected 25 birthday gift ideas for husbands, to help you out in finding something perfect for him!
1. Days and Days of Love – Adorable Gifts for Him
Have you ever calculated how many days you or your husband have been alive for? Here's a simple, but super romantic present you can create for him. Calculate how many days your husband has been alive, and also calculate how many days out of that you have loved him for. On a piece of paper, or a card, write up "you have lived for x days. I have loved you for y of them." This is a meaningful message to your husband, which he is guaranteed to appreciate!
2. A Few Details – Everything on a Card
There are so many small details about a person, it's practically impossible to gather all of them! Collect the most important traits or information about your husband and arrange this all on a card in an elegant way. It's up to you on what information you'd like to place on the card. It can a list of some of the things he is, for example, a husband, a father and a brother. You can write up how many pets you have, a few of his characteristics or his favourite hobbies. All these words should add up to him!
3. Husband and Father – Birthday Present for Husband
Create a piece of decor for your husband, using scrabble letters to spell out a few words. On a piece of paper write "the only thing better than  having you as a husband, is the babies having you as a father." You can replace the written words of "husband" and "father" with scrabble letters. Then place this in a frame before presenting him with it. This loving and thoughtful present will mean the world to him!
4. A Coupon Book – Unique and Funny Ideas
Here's a unique gift you can make for your husband's birthday! Put together a coupon booklet for him. All this means is creating coupons for him, which he can use whenever he wants to. For example, you can include an hour-long massage, mowing the lawn instead of him, going on a date night together or cooking him his favourite dinner. Your husband will love this small coupon booklet, especially if it contains things he really loves!
5. A Special Location – Where He Stole Your Heart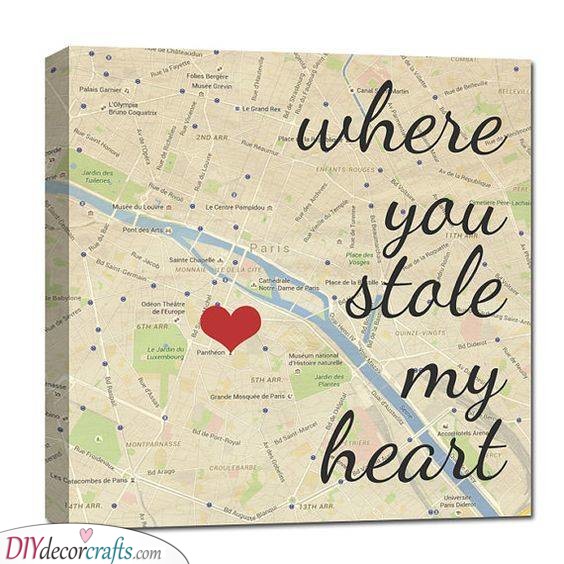 Another fantastic way to express your love to your husband is by taking him down a trip on nostalgia lane! There are probably a few places around town which are important to you. For example, where you first met, where you had your first date, where your first kiss was, etc. Print out a map of a city, sticking it on his birthday card. Then draw a big red dot at a significant location. You can write above this dot that "this is the place where you stole my heart." This small gesture will take both of you back to earlier times!
6. Reasons Why You Love Him – Romantic Birthday Presents
There must be hundreds of reasons why you love your husband! Gather these reasons, writing them all up on a card or maybe a small board. For example, you can write reasons such as his sense of humour or his passion for astronomy. If you decided to create a board, your husband will be able to use it as a source of decor in the bedroom. If it's a card, you can place in a frame later.
7. Back in Time – Events From His Birth Year
What year was your husband born in? While that year is clearly special for you, as one of the most important people in your life was born in it, hundreds of other things happened as well! Here's a unique and fantastic idea to create for your husband's birthday! Find events, sports or music related to the year your husband was born in. Then arrange them up on a page, which is all about your husband's birth year! For example, you can find which movies came out in that year or what was the most popular music.
8. A Cute Keychain – Milestones in His Life
A keychain is a great gift idea for anyone, especially if it has something personal on it! For example, create a keychain made out of metal discs. Each one should have a year engraved on it, as well as what happened that year. For example, you can write up when he was born, when he was married and when he became a father.
9. Penguins and Pebbles – Inspiration from Animals
While we wouldn't think it, animals express love to each other in so many different ways! For example, penguins gather pebbles for each other. If you and your husband love these cute birds, why not use them as inspiration for a birthday present? Find a pebble or a stone for them, place it in a small box and attach a message to it, "when a male penguin falls with a female penguin, he searches the entire beach to find the perfect pebble." This small romantic gesture is going to melt your husband's heart!
10. Five Days and Ways – Birthday Gift Ideas for Husband
Get your husband five birthday presents! Each gift should involve using one of the senses: sight, touch, taste, smell and sound. For example, for sight, you can give him an old photo of the two of you. For smell, you can get him his favourite bottle of perfume. Touch can involve a big hug or a massage! This is completely up to you and your creativity!
11. Important Dates – That Changed Your Lives
There are so many days of our lives when we bring decisions that lead to everything changing. When you meet someone new and go on your first date, you might not even think that he or she will be your future spouse! If you have been searching for a special present for your husband, then here is a perfect idea for you! Write down the important dates of your lives, the days on which you were born, the day when you became a couple, the day when he asked for your hand in marriage and the day you got married. All the decisions you made led to your marriage!
12. A Hero and a Husband – T-Shirt Ideas
Your husband probably means a lot more to you, than just a husband. He might also be a father by now, making him a protector of the family.  A husband is also a true hero, helping you in whatever he can when he has time! If you feel there are a few words to describe him, such as, husband, father, hero, etc, then collect these words and print them on a t-shirt for him!