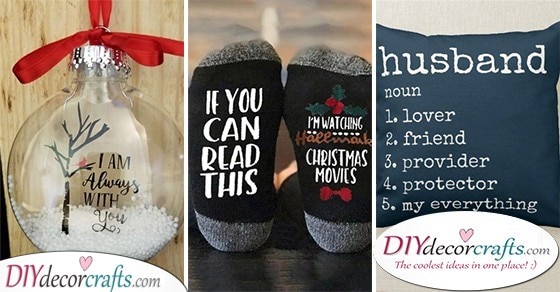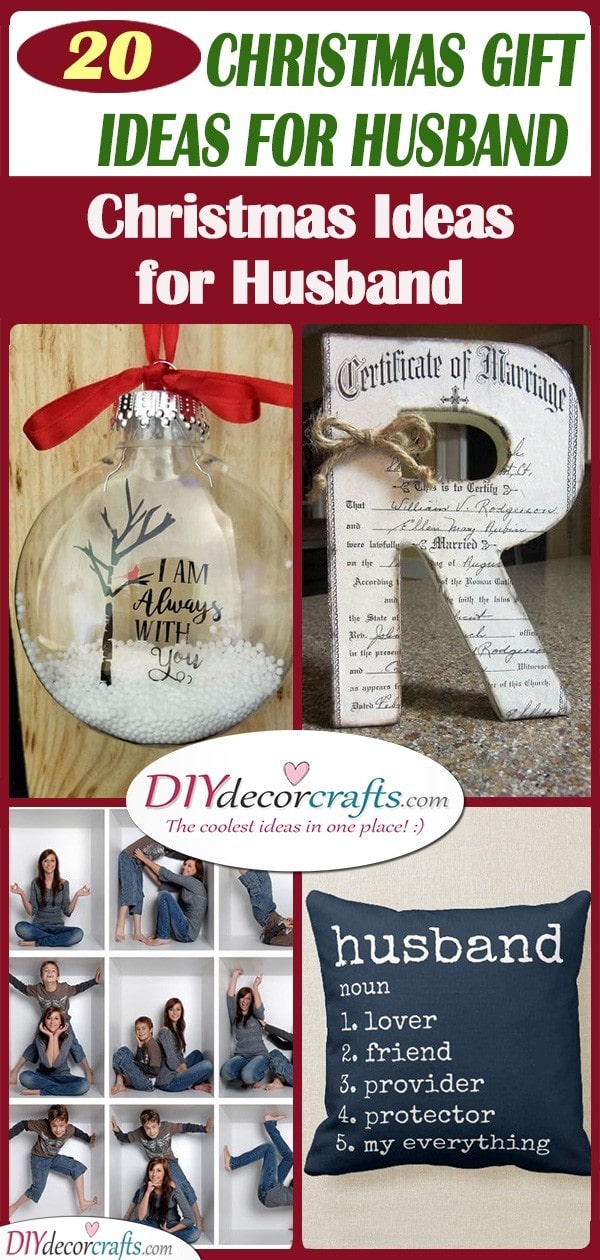 Winter is quickly approaching and will be here in no time, which means Christmas will be here soon as well! And that means it's never too early to start thinking about presents. Instead of buying presents for your family and friends this year, why not make a few yourself? Handmade gifts will show your loved ones that you put time, thought and energy into creating something truly amazing for them! You can take a look through a collection of Christmas gifts for inspiration! Perhaps you are in search of a gift for your husband, something which you know he will love! We have collected the 20 best Christmas gifts for husbands to help you out! This way you will definitely be able to find a great Christmas idea for husband!
1. A Special Letter – Unique and Beautiful
Use your marriage and your marriage certificate as inspiration for a Christmas present for your husband. An easy and unique idea to make for Christmas is no other than a bit of home decor. For example, create his initial out of cardboard or out of wood. Then simply paste a copy of your marriage certificate over the initial. Your husband will be able to use this as decor around the house anywhere! And whenever he looks at it, he will be reminded of you immediately! You can add a few ribbons to this initial block as an extra touch.
2. Adorable Matching Pyjamas – Hubby and Wifey
It's always fun to get matching clothes with someone who is special to you! Why not get you and your husband matching pyjamas for Christmas? You can paint words on the front of the t-shirts yourself using some fabric paint! For example, you can paint the words "wifey" and "hubby" on the t-shirts of the pyjamas! These will make awesome gifts since pyjamas are so comfortable. So if the two of you decide on having a lazy day at home, these will be the perfect clothes to wear!
3. Your First Christmas – Best Christmas Gifts for Husband
Since it's Christmas, it would only make sense to get your husband a Christmas-themed gift for the holidays! If you have run out of time or don't have the energy to make him something grand, then check this gift idea out! You will need a Christmas tree ornament which you fill up with sparkles or cotton wool. Then use a sharpie to write a message on the ornament. If it's your first Christmas together, as husband and wife, then write up a similar message. For example, "Our first Christmas together, as Mr and Mrs."
4. Something Fun for Each Month – Thoughtful and Cute
Make sure that each upcoming month of the new year will bring fun and excitement with itself! Create small letters or cards for your husband, altogether twelve of them. On each card, write an activity that you will have to do during that month. By activity, we mean going on dates, going camping or taking a trip. This is up to you and your creativity! This is a simple gift idea, but it will help your husband understand what to expect next year! These dates will also ensure that the two of you get some rest during your everydays! 
5. Funny Pillowcases – Christmas Ideas for Husband
Does your husband, whom you are getting a Christmas present for, have a favourite spot at home? Then make sure everyone else knows that it's his spot as well! Create a pillowcase for him, which has the words "husband's chair" or "dad's chair" written on it. Write this on the pillowcase with fabric paint! You can even create pockets for the remote control or for the snacks on the pillowcase, all you need to do is sew them on! He will definitely appreciate this as a Christmas gift!
6. Rocking Your World – Simple and Easy
Express towards your husband, exactly how you feel about him! Create something small and easy for Christmas for him, but it will be all the more special for him! Get a frame and place a sheet of paper inside which reads "you rock." Now all you will have to do is attach small stones and pebbles around the frame with the help of a glue gun. It's really as simple as that! And the small message combined with the decorative rocks will bring an amazing vibe and meaning with itself!
7. Love Should Be True – A Sentimental Keychain
Create a keychain for your husband, which will remind him of you in his everydays! You can have a sentimental message engraved on a small piece of metal. It's completely up to you, on what message you would like to send him, but we'll give you a great example as well! "To my Husband. Love doesn't need to be perfect, it just needs to be true." This message will definitely warm his heart as well as draw a smile on his face. This is something small but perfect for Christmas!
8. Building a Life Together – Best Christmas Gifts for Husband
Maybe you are trying to find a Christmas gift for your husband, who has helped you in building up your life or has built memories with you! If so, make sure to check out this Christmas gift idea. Get your husband a hammer! But put your own message on the handle of the hammer for him to read! For example, "thank you for helping me build my life." This will make a heartfelt present for your spouse and is the perfect sort of gift for the sort of husband who likes tinkering and fixing things!
9. Watching Christmas Movies – A Pair of Funny Socks
Get your husband a pair of socks for Christmas! Customise them yourself with a funny or unique message! For example, write messages on the soles of the socks. One sock can say "If you can read this", while the other sock can read "I'm watching Hallmark Christmas movies." You can do this yourself by using fabric paint to write up the messages. Your husband will definitely appreciate these socks if he wants to be left alone during the holidays to watch movies!
10. Bookmarks for a Bookworm – Christmas Ideas for Husband
Create bookmarks for your husband, using pictures of yourself! All you need to do is print out photos of your full body. Cut the shape of your body out and attach ribbon or yarn to your hands. It will look as if you were holding onto something or hanging from somewhere. You might decide on laminating these bookmarks of yourself, so they won't get torn! These cute bookmarks will make the perfect Christmas gift for a husband who loves to read.
11. May the Force Be With You – Star Wars Inspired
Perhaps your husband is a huge fan of Star Wars. If so, why not use the franchise as inspiration for his Christmas present? You can create a t-shirt for him, which has the message "may the force be with you" written on it. But since it's Christmas put a special twist on this, and spell out these words to form the shape of a Christmas tree! You might consider adding a few gift boxes underneath the tree itself. This t-shirt will bring the perfect Christmas vibe with itself, combined with Star Wars!
12. His Favourite Sports Team – Christmas Ideas for Husband
Here is an idea for a husband who is a huge sports fan! Perhaps he has a favourite sports team, who he always cheers for. If so, why not use this sports team as inspiration for his Christmas gift? Use the logo of his favourite team as decoration on a pillow. Or use the number of his favourite sportsman's jersey as another source of decoration on this pillow. You can sew the pillowcase yourself if you are a fan of getting creative with fabric! We're sure he will adore this Christmas present!