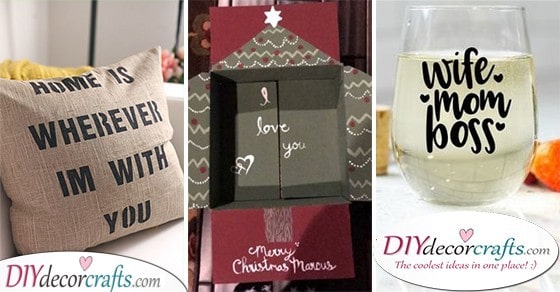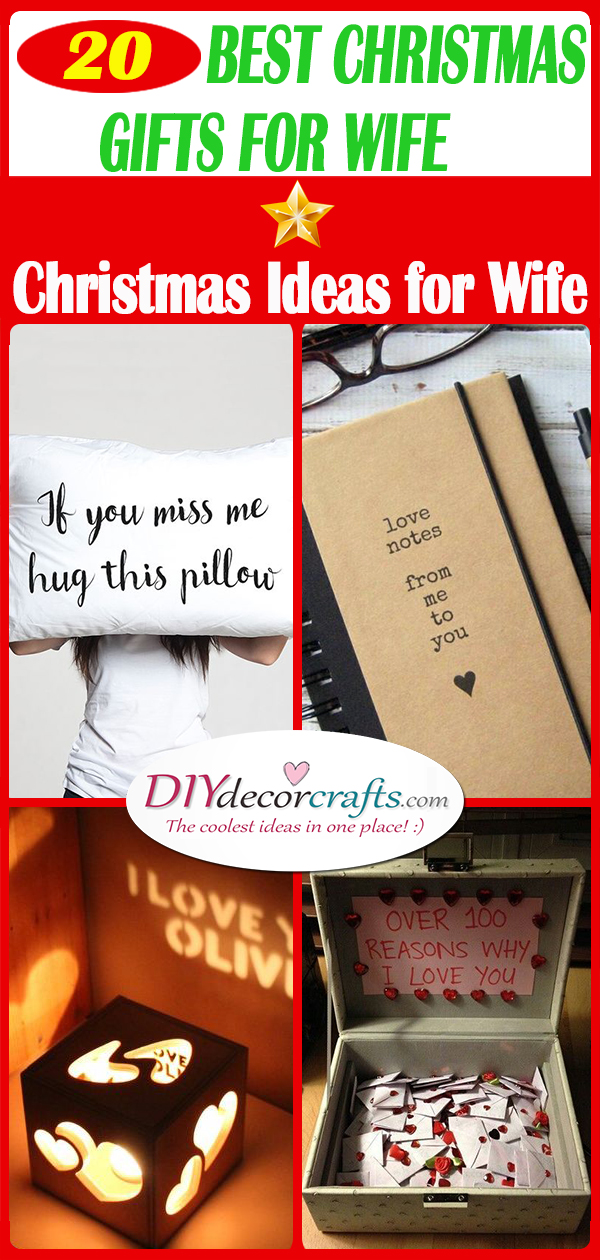 The season of winter is just around the corner, which means Christmas will be here soon as well! And that means it's never too early to start thinking about presents. Instead of buying presents for your family and friends this year, why not make a few yourself? Handmade gifts will show your loved ones that you put time, thought and energy into creating something truly amazing for them! Perhaps you are in search of a gift for your wife, something which you know she will adore! We have collected 20 best Christmas gifts for wife to help you out! This way you will definitely be able to find great DIY Christmas present ideas for wife!
1. A Tablet Holder – Creative and Useful
Perhaps your wife loves to watch tv series on her tablet while cooking and baking in the kitchen. Or maybe she likes to read the steps of a recipe on her tablet while making it? Create a tablet holder for her out of a wooden chopping board! You will need to attach a small wooden stand to the chopping board, which will help the tablet stand. This will look great in the kitchen while she is at work, and it will keep her tablet from getting messy! And she will also be able to enjoy her favourite music or movies!
2. Missing Her a Lot – Christmas Ideas for Wife
Maybe there are days or weeks when you and your wife have to be apart from each other. It might be because of work or family matters. Make sure that your wife has some sort of replacement for you when you're gone! For example, a handmade pillowcase. Create a message on a pillowcase, with the help of fabric paint. It can say something like "if you miss me, hug this pillow." This way, if you are ever gone from home, she will be able to hug the pillow, reminding herself of you!
3. A Collection of Love Notes – Christmas Gifts for Wife
There's nothing more romantic or heartfelt for Christmas than a few loving words. Give your wife a notebook for Christmas, so she can jot her thoughts down on paper whenever she needs to. But make sure to put your own twist on the notebook. For example, create the front cover of the notebook yourself, writing a small message for her on it. And instead of leaving the first-page blank, make sure to write a message for her on it.
4. A Christmas Tree Gift Box – Funky and Fun
Make sure you give your Christmas presents a Christmas theme! This might include wrapping gifts in a unique and special way. For example, why not make your gift box look like a Christmas tree? Decorate it to make it look like a tree, cutting out the sides to give them a zig-zag look. Place your presents inside the box, before closing it up. Not only will the presents inside act as a surprise to your wife, but the box as well! It will definitely bring a festive and Christmas vibe with itself!
5. The Best Wife Ever – An Awesome Mug
A great gift you can't go wrong with during Christmas is a mug! So if you have run out of ideas on what to get for your wife or time, then opt for a mug! You can put a personal message on it with the help of a sharpie! Write a cute message on it, for example, "this lady is the best wife ever." Also, make sure to include an arrow pointing upwards towards your wife who will be drinking from this mug. This is a simple but sweet gift for Christmas!
6. Home Is Where the Heart Is – Lovely Pillowcase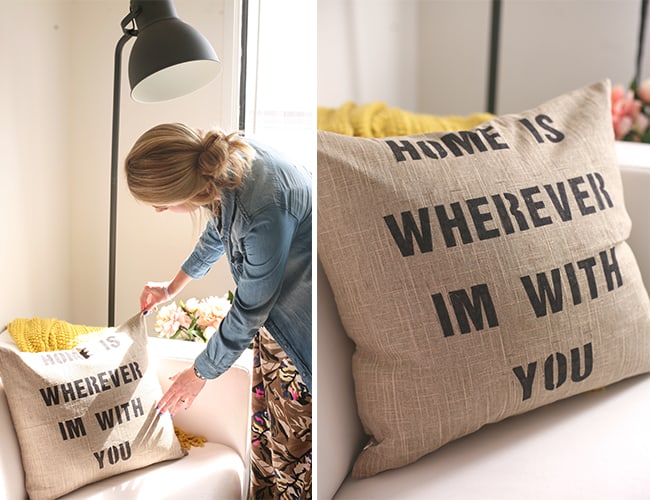 Giving great gifts is all about expressing your feelings and sending love to whoever you are giving your gift to! A pillowcase is a perfect way to channel your message. So why not give your wife a pillowcase with a personalised message on the front of it. A beautiful way of sending her love is by writing a message that comes from the heart! For example, "home is wherever I'm with you." This expresses perfectly that home is not a place, it's a person in your life. Your wife is guaranteed to treasure this pillowcase!
7. A Sweet Message – Christmas Ideas for Wife
As we mentioned before, a great idea for gifts is letting the recipient know how much they mean to you! So tell your wife how much she means to you, how much you love her and how grateful you are for her! You can write this all down on a sheet of paper, decorating it a bit. The message can go something like "behind every great man is a truly amazing wife." Place this in a frame so your wife can hang it up in your home! She will treasure these words!
8. A Gorgeous Candleholder – Romantic and Handmade
Another fabulous idea which will make the perfect Christmas gift is a handmade candleholder! If your wife is the sort of person who loves to relax next to a lit candle, then she will appreciate a DIY candleholder! Create one which looks like a box. You might consider cutting out patterns on the sides of the candle holder or even a message. When your wife places a candle inside, the whole room will light up beautifully, and your messages will become readable in the forms of light and shadows.
9. A Wine Glass – Christmas Presents for Wife
If you and your wife like to drink a glass of wine on the weekends, why not get her a special wine glass for Christmas? Put a special twist on it, using her personality as inspiration! Write a few words on the glass which all describe her. Create these with glass paint, but a sharpie might word just as well! It's completely up to you on which words you decide on choosing to describe her. It might be something like "wife, mom, boss." But you might also use personality words to describe her, for example, "loving, kind, gorgeous."
10. Growing Stronger Each Day – True Love
If you really love someone, you might feel your sense of affection growing stronger each day. You get to know them better and better, and they become more dear to your heart gradually! As we have talked about it before, expressing your feelings to a loved one is the best possible gift you can give! You might give your wife a tile, on which you have a loving message engraved for her. A truly heartfelt message might go something along the lines of "I love you more than yesterday but not as much as tomorrow."
11. A Funny T-Shirt – Best Christmas Gifts for Wife
Here is a fantastic idea, if you would like to give your wife something funny for Christmas! Create a message on a t-shirt which says "I love it when my wife lets me ride my motorcycle." Make sure that the words "I love" and "my wife" are in big bold letters, and the rest of the text is tiny compared to these words. Of course, you can replace the "ride my motorcycle" with anything which resembles the two of you and your relationship!
12. Starting a Piggy Bank – For Adventures Together
Have you and your wife been planning to travel and go on adventures together? If you have, but can't seem to put enough money aside for going on a trip, why not give her a piggy bank for Christmas? Even if you only put a few dollars in each week into the piggy bank, you are still on the right road to saving up for a trip! You can create this piggy bank yourself, using a frame for it and cutting a small slit on the top of it. Also, consider placing a map inside the frame, showing where you want to go with your wife!