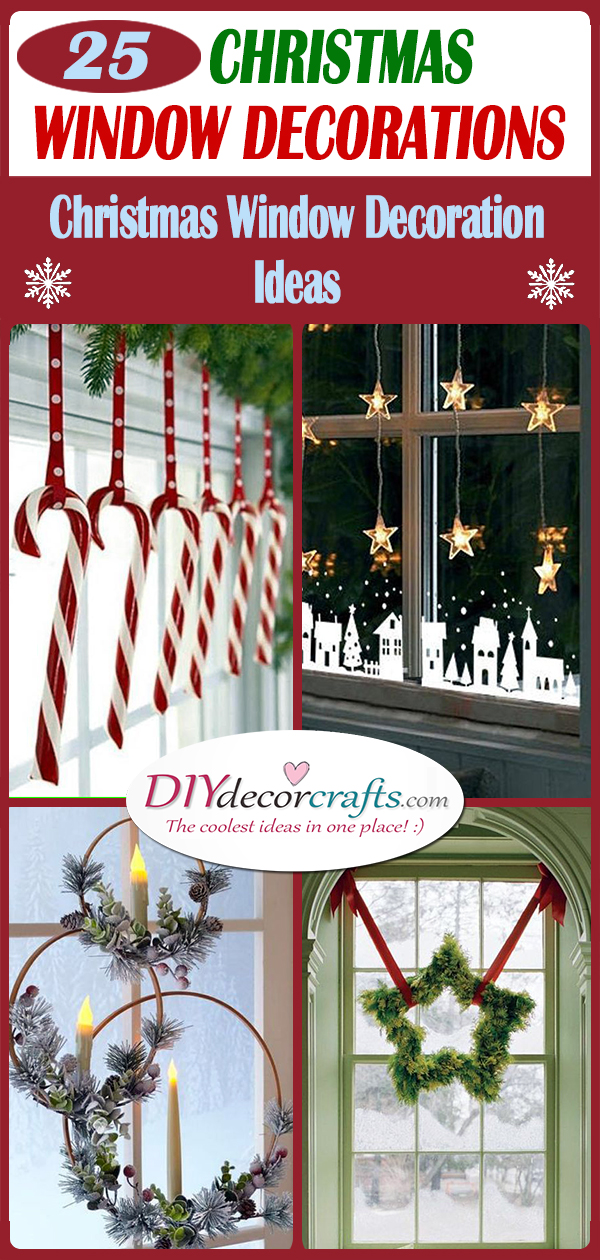 Christmas is going to be here soon! Everyone's favourite winter holiday! The time of getting together with family and friends and celebrating love! Christmas is all about doing activities together, whether it's building a snowman with kids, baking gingerbread or wrapping presents. These great activities will help everyone get into the Christmas spirit. Another fun activity that you will be sure to do every year is decorating the house together. You might be in search of fun and festive Christmas ideas for your windows, such as Christmas window candle lights. So, why not take a browse through our 25 Christmas window decorations. Maybe you will be able to find a bit of inspiration regarding the best Christmas window decoration ideas below!
1. Snowy Trees and a Starry Sky – Christmas Window Decorations
Create a wintery landscape on any one of your windows! Attach branches of fir to your window panes. You might consider spraying some white paint over the branches, to give them a snowy effect! This will only help accentuate the winter vibes! Then wrap strings of fairy lights around the foliage of leaves and hang star ornaments from them. The fairy lights will assist in adding a gorgeous illumination to any window you decide on decorating for this Christmas. You might even think about adding a few sprigs of mistletoe to it as a special touch!
2. Cute Candy Canes – Fabulous and Festive
Another cute way of decorating your window is with this simple technique. Hang a selection of candy canes from the window. Candy canes come in all sorts of colours nowadays, anything from purple to blue. We recommend opting for candy canes which are coloured in a simple red and white, maybe with an addition of green. You can also make sure that you use red ribbons to hang the candy canes from. Naturally, add some fir leaves to the window as well, for that wintery ambience.
3. Tree Ornaments – Christmas Window Decoration Ideas
When Christmas arrives, it means it's also time to decorate the Christmas tree! You will probably use a variation of tinsel, fairy lights and all sorts of ornaments to dress it up beautifully. Use the image of a fully decorated Christmas tree as inspiration for your Christmas window decor! Hang Christmas tree decorations from the windowpane, in all sorts of shapes, sizes and colours! You can use yarn to achieve this or even pretty ribbons! We recommend using a selection of ball ornaments in mainly red and gold colours.
4. A Kitchen Setting – Perfect for the Holidays
Give your kitchen window a Christmas ambience as well! There are so many creative ways to decorate a kitchen window. You can incorporate cooking or baking utensils to give the window a kitchen vibe as well as a wintery look. Besides using an array of Christmas tree ornaments, why not use a few cookie cutters as well? Hang them from the window as well as the decorations. This is a great idea for anyone who bakes a lot for the Christmas festivities and would like to express this with their home decor!
5.  Rows of Stars – Gorgeous and Graceful
When you think of Christmas, what image comes to your mind almost immediately? Perhaps it is a fully decorated Christmas tree or Santa riding on his reindeer-pulled sleigh. A typical Christmas symbol is no other than a star, so make sure to use a few stars as decoration. This may come in the form of strings of lights that are shaped like stars. You might also try pasting cut-out paper on the windows. For example, the shapes of houses and fir trees. This will give your window a beautifully festive look for the season!
6. Treats and Sweets – Christmas Window Decoration Ideas
The season of winter has arrived and with it Christmas! You might spend your holidays eating all sorts of Christmas candy! If so, make sure to use them as inspiration in your Christmas window decorations! Attach an array of fir leaves to the windowpane itself. Add all sorts of ornaments to it, including white glittery snowflakes, red ball decorations and all sorts of candy-shaped ornaments! Besides using candy canes, you can create red and white swirly ornaments, which resemble lollies or candies in wrappers. It's all up to you and your creativity!
7. Elegant and Sophisticated – Christmas Wreaths on Windows
If you are in search of an elegant and sophisticated way of decorating your window for Christmas, you might have just found the perfect idea! Create garlands, as well as a wreath out of fir branches and leaves! Hang them around the sides of your windows and place the wreath in the middle of your window. Add Christmas tree ornaments to both the garlands and the Christmas wreath, to give them that true Christmas vibe. You might also consider adding big, red ribbons to them! This will give your windows a gorgeous and refined look for the winter festivities!
8. Cute for Christmas – Snowmen, Reindeers and Stockings
Here is another great way of creating a wintery landscape on your window! Cut out shapes and images from paper and stick them on your windows! You might also consider using stickers for this. Whatever works for you! Add a whole multitude of snowflakes to your windows, as well as the figures of snowmen and reindeers. Naturally, you can try out any sort of outdoor window Christmas decorations that channel a Christmas vibe! This is a fun and simple craft to create during the winter holidays, and if you have any kids, they will definitely love this!
9. Modern Christmas Wreaths – With Flameless Candles
Create modern wreaths for your windows for Christmas! It's simple to put together, all you need are three metal rings, each a different size. Attach artificial plants to them, sticking them onto the wreaths. Using artificial plants is a must, as real plants would wilt in a few days. After wrapping these around the wreaths, add a flameless candle to each wreath as well. The flameless candles will ensure that nothing catches on fire! Then glue the wreaths together to create a three-ringed one. These lighted Christmas window decorations will spruce up your home for the season!
10. A Wintery Woodland – Outdoor Christmas Window Decorations
Create a small woodland landscape for your wintery decoration for any of your windows! You will need a thin wooden board for the base of it. Decorate it with artificial moss and add a few figurines to it as well. Include a few small Christmas trees and mushrooms. You might also like to add an elf or gnome figurine to it. Then attach two strings to each end of the wooden board. You will create a swing out of the wooden board this way. Hang it in front of any of your windows for the perfect Christmas ambience!
11. Superb in Silver – Create a Winter Wonderland
Create a silver spectacle for any of your windows. Hang all sorts of silver beads and silver Christmas tree ornaments in front of your window. Silver is a great colour choice for Christmas, as it brings the ambience of snow along with itself, but also has a mystical quality to it. Make sure to put a twist on this decoration, by adding some figurines underneath the hanging ornaments. For example, two reindeers would look perfect. The whole image of your window will look as if snow were falling over the lands.
12. A Star Wreath – Festive for the Winter Holidays
As we mentioned before, stars have become a symbol of Christmas. This all derives from the Bethlehem star, which showed the shepherds the way to the holy family. Use a star as inspiration for your Christmas window decoration! Create a star-shaped base, out of wooden sticks or metal rods. Then wrap it in fir leaves, creating a gorgeous and green star. You can add a few Christmas tree ornaments to it if you'd like, it isn't necessary though. Hang this star wreath in your window for a classic Christmas effect!
13. A Touch of Nature – Using a Branch
Perhaps you are in search of a more natural or bohemian piece of decor. If so, make sure you use a variety of natural elements for your Christmas window decorations. You can use a branch to hang strings of pinecones and fir leaves down. You might also opt for attaching a few Christmas ornaments to this piece of decor, to bring a more festive vibe to it. Then simply hang this on one of your windows for a wintery and natural atmosphere. This could also make some fabulous homemade Christmas tree decor!
14. Decorative and Dazzling – Christmas Window Decoration Ideas
Use the imagery of a Christmas tree as inspiration for decorating your windows for Christmas! This idea is one for the outer windows! You can achieve this by placing Christmas wreaths on windows and hanging them from the panes with red ribbons. Then place pine leaves and branches on the windowsill. Wrap a ribbon around these leaves and add some large Christmas ornaments to them! This outdoor Christmas decoration will bring out a true essence of Christmas with itself, which is what you would like to achieve after all!
15. Cut Out Some Snowflakes – Easy and Beautiful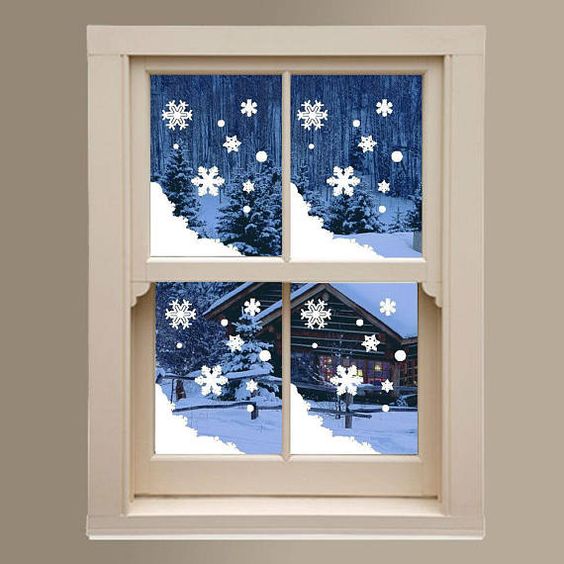 Advert
If you are in search of an easy and cheap craft to make your windows look like a winter wonderland for Christmas, you have found the right idea! All you will need to do is cut out the shapes of snowflakes from paper. There are quite a few online techniques and guides on how to make these! You can create different sized and shaped snowflakes, to make your windows look unique! This is a great Christmas craft that you can get the family involved in. Cutting snowflakes is something that will get everyone into the festive spirit!
16. An Array of Candles – Sparkling Pinecones
Make sure to use silver in your Christmas decorations! It will create a magical atmosphere that is perfect for Christmas. Use silver paint to coat the candles in. You can create an ombre effect, by using more silver at the bottoms of the candles and less at the top. Place a row of them on your windowsill. Hang pinecones from the window itself, but before hanging them make sure to cover them in silver glitter as well! Feel free to add fir tree leaves as additional touches to the windowsill. These Christmas window candle lights will look perfect!
17. Santa Claus Hats – Christmas Window Decoration Ideas
Here is a simple Christmas decoration for a window or even a door! All you will need for it is half a dozen or more Santa hats. Attach them to the curtain rods upside down. This means the tip of the Santa caps should be hanging down, where the pompoms are. Creating this in your home will only take a few minutes, so if you are looking for a decoration that is not time-consuming and is fairly cheap, make sure to try this one out!
18. Spirals and Ornaments – In Red and Green
We have mentioned using Christmas tree ornaments to decorate your window for the festivities! Why not try out spiralling ornaments as well? Attach them to the top of your window, letting them curl down ending in an ornament on the very bottom. Use ornaments and spirals which are coloured green and red. They might have a few gold accents on them, which is an elegant touch for Christmas!
19. Spectacular Stickers – Christmas Window Decoration Ideas
There are a lot of easy ways you can decorate your window, and these don't take much time! For example, you can get window stickers with which you can dress up your window in no time at all. There are a lot of interesting and unique window stickers, which will definitely give your home a Christmassy atmosphere. For example, reindeers in patches of snow.
20. The Holy Night – Lighted Christmas Window Decorations
You don't need to go overboard with your Christmas window decorations to create a Christmas ambience. Scatter a few fir leaves and branches across your windowsill and add a few pinecones. You might consider adding a bell or a candle to the window, this way illuminating your window in a delicate and soft glow. This will definitely allow everyone to feel the silent holiness of Christmas!
We trust that this pick of 20 Christmas window decorations has helped you find something for the festivities! For more ideas concerning Christmas, besides Christmas window decoration ideas, such as homemade Christmas cards or Christmas craft ideas for kids, visit our website.
Advert