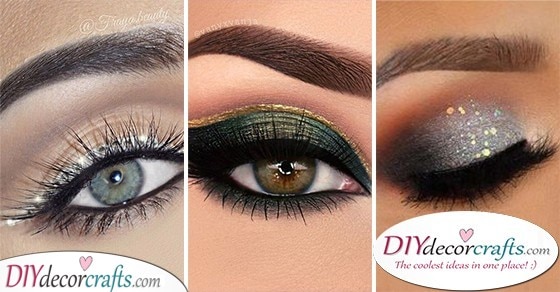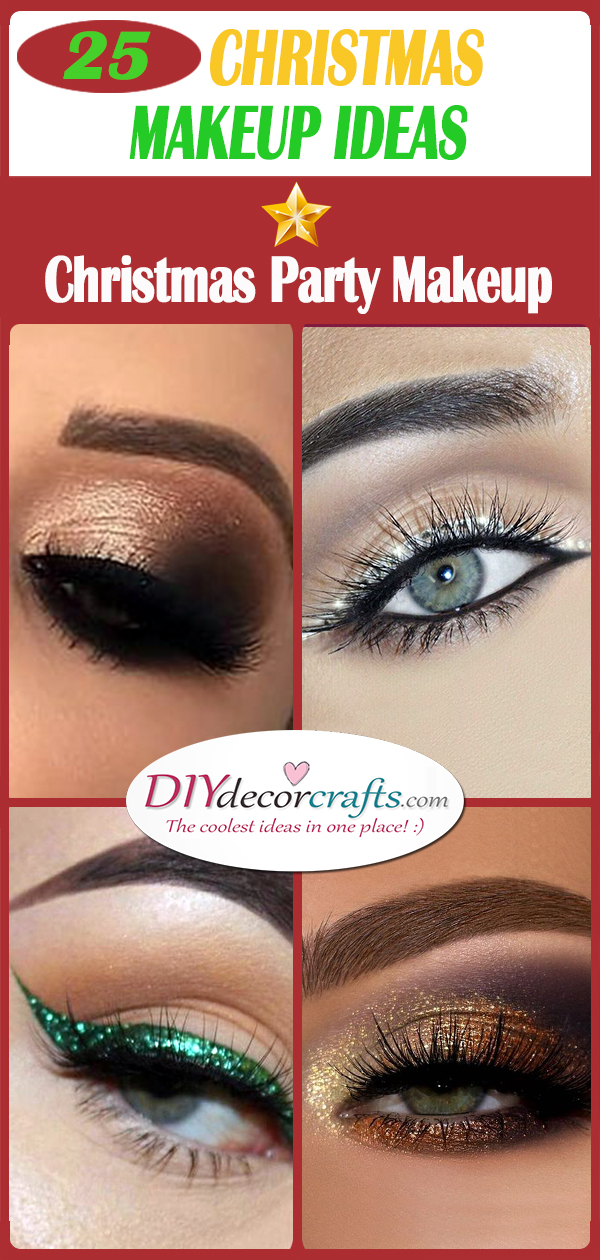 The season of winter is just around the corner. A time, when the days are short and the nights are long, making it perfect to cuddle up next to the fireplace. During this snowy season, there are so many fun activities to do. Going ice-skating, skiing, having a snowball fight or getting ready for Christmas, are just a few fantastic Christmas time ideas. Of course, Christmas is also a time to also bring out the newest trends in clothes and beauty products. It's important to look your best during the holidays, from head to toe! We have gathered 25 Christmas makeup ideas for you to choose from. Hopefully, you will be able to find Christmas party makeup which is perfect for the holiday season!
1. Gold and Bold – Festive for the Holidays
Give your eyes a stunning glow, by covering them in shimmering gold. A golden eyeshadow will create a bold and seductive look. So if you are thinking about going to a fabulous Christmas party, this is definitely a design to try out! Coat the outer eyelid in a dark and glittering brown, which will look beautiful next to the gold. You can paint around your creases with this same dark brown to create an even more stunning look. Draw with black eyeliner above your lash line, creating wings for both your eyes. You might consider sticking to deep nude lipstick.
2. Gold and Green – Christmas Makeup Ideas
Get ready for the Christmas holidays with a truly spectacular look! It's all about giving your eyes colour and a vibrant shade this year. Coat your eyelids in glimmering gold, using a darker brown to create depth to your eyes. Cover the inner corner of your eyes with a dash of white, this will help make your eyes look brighter! Then it's time to colour your lower lash line as well. We recommend using a bold green for this as it goes perfectly with gold.
3. Add Speckles of Glitter – Magical and Sparkly
Christmas is all about bringing a bit of love and magic into our lives! So it would only make sense to create some magical eye makeup for the winter festivities! Using various shades of shimmering silver, create smokey eyes. This means using darker tones on your outer lid and brighter ones on your inner lid. After drawing a thin line above your lashes with eyeliner, it's time to add the final touch. Add speckles of glitter all over your eyelids. This easy addition will give your eyes a beautiful and magical vibe, which is what you'd like for Christmas!
4. Gold and Glamorous Eyes – Christmas Party Makeup
With this makeup you will be turning heads at any Christmas party you go to! Perhaps you will be wearing gold-coloured clothes or golden accessories during the holidays? If so, make sure to use gold in your eye makeup! Use a bright gold starting from your inner eye corners lasting until the middle of your eyelids. Then add some dark brown or black to your outer eyelids and creases. Finish off your look with an addition of matte lipstick. You can use a deeper red or coral to complement the gold!
5. Exciting in Emerald – Ready for Christmas
When thinking about Christmas, which colours pop into your mind almost immediately? Perhaps it's red, silver or gold. But let's not forget green either, the colour of your Christmas tree! Use this colour as inspiration to create a dazzling eye makeup. Coat your eyelids in a glittering emerald, you might consider using nude shades for your creases to create a smokey effect! This all you will need to do is draw a line with your eyeliner and curl your lashes with some mascara!
6. The Golden Girl – With Bold Red Lips
We have mentioned before, that using gold for your eyes during Christmas is a fabulous idea. Gold really brings a festive vibe with itself, so make sure to use it for your eyes. But don't only use it for coating your eyelids, also add a hint to the inner corners of your eyes as a special effect. Using eyeliner, create a bold line and tail above your eyes, really bringing out the shape of your eyes. Finally, it is time to do your lips! If you are thinking about going bold for Christmas, why not use a vibrant matte red for your lips? It is guaranteed to look gorgeous!
7. Stunning in Silver – Christmas Makeup Ideas
Silver is a stunning colour, which will make your eyes look brighter and bigger! So make sure to try it out during the winter holidays! First of all, cover your eyelids in a light silver powder or nude shades. Then, after creating a line with eyeliner, add silver rhinestones or glitter along your upper lash line. This will give your eyes a magical image. It's simple but breath-taking at the same time!
8. Simple and Spectacular – Idea for the Winter Season
A simple yet spectacular combination you might want to try out for Christmas is no other than gold and green! Use a dark green to coat your eyelids as well as your lower lash line. You might even think about creating a line with the green eyeshadow which goes directly up to the outer v. Then simply pull a golden line above the green, accentuating the shape of your eyes. Add a stroke of eyeliner as well to your upper lash line and you're already done!
9. Smokey and Sensual – With a Bit of Sparkle
If you don't want to go overboard for Christmas with vibrant sorts of makeup, why don't you create a simple smokey eye? But make sure to put your own Christmas twist on it! Using either black, grey and white or browns to create your smokey eyes, it's time to add a festive and fun vibe to them! Use golden or silver glitter to draw a thin line on your lower lash lines. This will be sure to add a glamorous edge to your whole look, as well as bring a sense of Christmas to your eyes!
10. Falling Snowflakes – Simple Christmas Makeup
Adding a few wintery elements to your makeup will help bring the atmosphere of the season with itself! For example, why not try creating a few falling snowflakes around your eyes? You can use a white eyeliner for this task, and it is guaranteed to look gorgeous! For the rest of your eyes, use a combination of deep plum and gold to create a festive look? These two colours go really well together and will remind anyone of Christmas immediately! Add a small dot of white to the inner corners of your eyes to add a bit of brightness.
11. Bold and Beautiful – Dark Shades for Winter
You might be considering using vibrant and bold shades for your eye makeup for Christmas! Create smokey eyes for yourself, using the bold colours of magenta, plum and finishing it off with a deep purple that is almost black! Add a bit of white to your inner corners, as well as adding some highlights underneath your eyebrows. Using black eyeliner, draw a line from the beginning of your upper lash line to the end, forming a wing. This bold makeup will draw everyone's breath away during the holidays!
12. Pretty in Pink – Delicate and Sweet
Maybe you adore the colour pink. If so, make sure to use it as inspiration for your Christmas makeup! Use sparkling pink to cover your eyelids with, you might consider using a few hints of gold to really bring a shiny effect to them! Paint your lips in a pink matte lipstick, to bring out the colour even more! Naturally, you can paint your nails in the same pink shade. By the end, you will be pretty in pink and ready for Christmas.