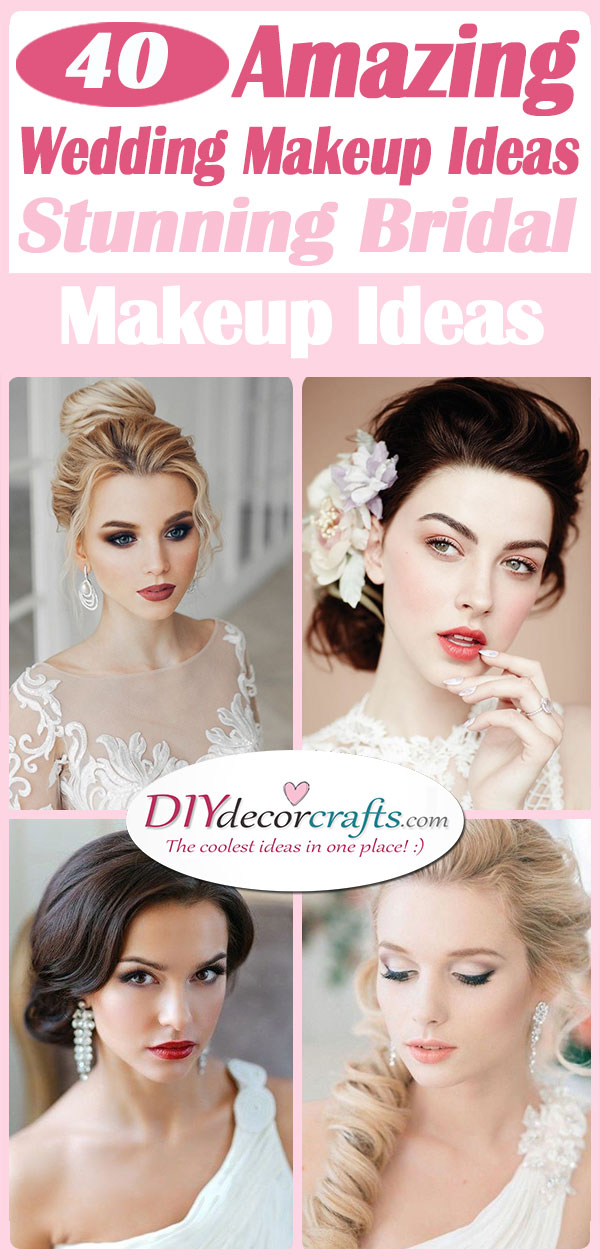 Have you been looking for wedding makeup ideas, but you still haven't found the right one? Well if your big day is drawing closer and you're out of wedding ideas, take a look down below. We have collected 40 stunning bridal makeup ideas just for you! After all, you want to look perfect on your wedding day, and in order to achieve this result, you need the perfect makeup! Depending on what your personal style is or what trends you follow, we're certain, that you will be able to find wedding makeup ideas best suited to you. Without any further ado, let's take a look at our 40 bridal makeup ideas!
1. Stylish and Chic – Try Something Beautiful
If you like a bit of glamour and want to show this style off at your wedding, then check out this idea! Smoky eyes and a bold shade of lipstick is the combination for the best bridal makeup.
2. Sparkling Eyes – Wedding Eye Makeup
Nothing shines as beautifully, as sparkling eyeshadow! It can give your overall look a sense of elegance, especially if your wedding dress is going to be more on a simple and classic side. This is one of many great bridal makeup looks.
3. A Hint of Blue – Beautiful Wedding Makeup Ideas
Take a look at the wedding eye makeup tutorial above, isn't it simply stunning? Outline your eyes with black first. Then add white and blue eyeshadow on the sides and under the waterlines of your eyes. This wedding day makeup will lend you an enchanting glow.
4. Elegant and Natural – An Effortless Look
If you're going for a more natural look for your wedding makeup, but still want it to show elegance, then this is a perfect choice for you! Paler smokey eye makeup and a simple dash of lipgloss will give you a combination of pure beauty, as well as a natural vibe.
5. Rosy Shades – Bridal Makeup Ideas
If you want coral and rose pink to be dominant colours for your wedding makeup, then this is a great idea. Dare to try out a bold and vibrant lipstick, and to accentuate this colour, use only a bit of pink or coral eyeshadow. This will give you an overall rosy and fresh vibe and it's not too over the top.
6. Spring Vibes – Simple Wedding Makeup Ideas
Are you trying to embody a natural, fresh spring look? Then try out this wedding makeup idea! Simple smoky eyeshadow on your eyelids, a bit of blush and a nude lipstick or lipgloss is guaranteed to make you look like a goddess of spring. This is a perfect idea for natural wedding makeup!
7. Lovely Lilac – Brilliant and Beautiful
If you have blue eyes and really want to bring out its colour, then we suggest trying out a light lilac for eyeshadow. This wedding makeup will really make your eyes pop! Make certain that your wedding makeup matches your wedding hairstyle!
8. Romantic Glow – Stunning Wedding Makeup Ideas
Do you want to look like a heroine who has just stepped out of a romantic novel on your wedding day? Then this is an excellent choice for you! Smoky eyeshadow paired with a pink or red lipstick will grant you sophisticated wedding makeup.
9. Beautiful Eyes – Bridal Makeup Ideas
Are you planning on emphasizing your eyes, but want it to look natural as well? Use nude coloured eyeshadow and with black eyeliner paint the upper lash line. Pull the eyeliner up to the outer v to give it a stylish wing. This is a perfect wedding eye makeup! 
10. Fabulous Red – Going for a Bold Choice
Red might be a daring colour, but it looks so great as wedding makeup! Your whole elegant and pure white image will be highlighted by such a bold colour.
11. Stunning Eyes – Spectacular and Dreamy
Are you thinking about doing your own bridal makeup at home? Then check out the tutorial in the picture above. It's simple to do, even though it takes a bit of practice to get it right. Smoky eyes are a perfect look for weddings.
12. Bronze Shades – Wedding Makeup Ideas
A smoky effect, but with bronze shades this time! Using bronze shades instead of monochrome will give you more natural wedding makeup.
13. Fancy and Elegant – Dazzling Bridal Makeup Ideas
A gorgeous look for any bride to be is the one above. This wedding eye makeup is will draw attention to you immediately with its eccentric smoky effect. 
14. Sunkissed Makeup – Wedding Makeup Ideas
If you are searching for more natural wedding makeup, we recommend this sunkissed glow. Use a highlighter on your cheekbones to give you a beautiful shine and use bronze shades for your eyelids.
15. Hooded Eyes – Lovely and Pretty
Here is another tutorial for all those ladies out there, who want to acquire this hooded eye look on their wedding day. It's simple to do it by yourself at home, so you don't even need to go to a makeup artist! This wedding eye makeup lends its wearer elegance and beauty.
16. Glamour Glitter – Fabulous Wedding Makeup Ideas
Do you like sparkly eyeshadow and wedding makeup that really bring out the shape and colour of your eyes? Take a glance at the picture above, it's a step by step tutorial for this beautiful blue smoky eye look. This is a great idea for people who have blue eyes because it brings out the colour even more!
17. Graceful and Stunning – Wedding Eye Makeup
Would you like to embrace your feminine grace and beauty on your wedding day? Then dark brown smoky eyes paired with striking red lips is the wedding makeup meant for you! It will go beautifully with your wedding gown.
18. Timeless Beauty – A Classic Style
This look is of timeless beauty and elegance, not to mention it's a great choice for your wedding makeup. Make it look natural, using colours that go well with your skin tone. 
19. Classic Makeup – Bridal Makeup Ideas
A very classic and gorgeous look. Not too little, not too much – this wedding makeup idea is perfect for anyone who wants to stick to something that accentuates their features. Using a more vibrant shade of lipstick will not overshadow your makeup.
20. Sparkly Bronze – Magnificent and Magical
Here's another great tutorial for everyone who wants to do their own wedding makeup. This tutorial shows us a version of bronze and sparkly smoky eyes. This is a natural look that radiates a summer glow.
21. Simple Elegance – Easy and Effortless
A pale eyeshadow, like white or light brown, can help give you a simple and elegant look. Use black eyeliner to paint your lash lines to give your eyes a radiant gleam. Use a paler shade of lipstick to compliment this wedding makeup.
22. Intense Shine – Beautiful Wedding Makeup Ideas
Do you want to radiate like the sun on your wedding day? Then take a look at this glittery, radiant wedding makeup. It's a perfect look for anyone who wants to host their wedding during summer. The makeup gives off an intense shine making it feel as if you've spent a weekend on the beach.
23. Gorgeous Eyes – Perfect for any Occasion
Another great wedding eye makeup tutorial. If you want to make your eyes look bigger then this is the perfect eye makeup for you! Using white, on your waterline or underneath it, creates an illusion that your eyes are bigger than they actually are! This smoky eye tutorial is elegant and stylish, and is guaranteed to look great at any formal event!
24. Golden Glow – Bridal Makeup Ideas
A beautiful colour to use as wedding makeup is gold. It's a majestic and brilliant colour, that will give you a heavenly glow on your wedding day! Gold goes really well with white, so it would come as no surprise if you used gold themed makeup to complement your wedding dress. Try finding bridal jewellery that will match your makeup!
25. All About the Lips – Bridal Wedding Makeup
If you want to have a more neutral look at your wedding, then this is a perfect option for you! Paint your eyes with soft coloured wedding makeup, then use a bold and daring colour for your lipstick. Depending on your style you can go for a vibrant red, hot pink or a deeper shade of purple or brown lipstick.
26. Brilliant and Simple – Great Wedding Makeup Ideas
Do you want to bring casual elegance to your wedding? Well, this wedding makeup is a winner! It's simple but carries a timeless elegance with itself. Smoky eyes and a natural coloured lipstick are a great combo!
27. Pink Splendor – Creative Bridal Makeup Ideas
Do you want to get more creative and try out a wedding eye makeup with unique colours? Take a glance at the tutorial above. It's quite simple to do by yourself at home, not to mention it's a glamorous look that will take everyone's breath away at your wedding.
28. Magical Aura – Wonderful and Gorgeous
This is another example of astonishing wedding eye makeup. Blended beautifully, it creates an elegant and harmonious effect. This wedding eye makeup is especially recommended for brunette ladies.
29. Flawless and Simple – Huge Lashes
Are you going for more simple and graceful wedding makeup than an extravagant look? Then this might be the right wedding makeup for you! Use natural colours for a completely natural look. This sort of makeup only highlights your best facial features, making it perfect for not only weddings but for all sorts of events!
30. Glowing Eyes – Bridal Makeup Ideas
In need of some sort of wedding makeup inspiration? This idea is sure to spark your interests. Another example of beautiful smoky eyes, natural-looking highlights and bold coloured lipstick. This wedding makeup is perfect for spring or summer weddings, where you want to bring a fresh vibe to your ceremony.
31. Bohemian Vibes – Simple Wedding Makeup
If you're planning a rustic or bohemian wedding, it's best to keep your wedding makeup simple and radiant as well. You want your overall bridal look to complement the theme of the ceremony. This wedding makeup idea doesn't even require much makeup, it's more about making your face have a natural glow and covering any sorts of blemishes.
32. Dreamy and Elegant – Wedding Makeup Ideas
Another classic bridal look. This wedding makeup is more on the natural side, as it only helps accentuate your best angles and features. To give this look a beautiful glow, use lipgloss instead of lipstick. It will present you with a look of freshness and joy.
33. Pale Shades – Perfect Bridal Makeup Ideas
You don't have to go any further to find the perfect wedding makeup, because it's right here! This a natural and sophisticated wedding makeup idea. Use an eyeshadow palette and bronzer that are both close to your natural skin colour.
34. Pure Simplicity – Gorgeous Wedding Makeup Ideas
If your wedding is going to have a more homely and loving atmosphere with a rustic or vintage theme, then you might prefer simpler wedding makeup. This picture shows a great example of doing your eyes with a smoky effect and leaving everything else untouched. This will leave your face looking natural and glowing.
35. A Romantic Look – Perfect for Your Big Day
A classic and romantic wedding makeup idea. To make your eyes look brighter put some white eyeshadow around your eye's inner corner and tear duct. You can also powder your brow bone (the part underneath the curve of your eyebrows) with white eyeshadow to make your eyes shine even brighter.
36. Sparkling Pink – Going for Glitter
If you're a fan of both glitter and the colour pink, then this wedding makeup was meant for you! It embodies pink glitter not only on eyelids but on lips as well. It will lend you an elegant look for your wedding makeup.
37. Elegant Style – Gorgeous Wedding Makeup Ideas
Give your wedding day makeup a quality of elegance and radiance with this idea! Use a mix of blushing pink and light browns to create a rosy aura. It keeps your face looking natural but adds a tone of refinement and freshness to it.
38. A Silvery Glow – Amazing Wedding Makeup
If you want to add an element of shiny silver, then use some sparkly eyeshadow around your eyes. This will not only make your eyes look brighter, but they will also match your white wedding dress, making this the best bridal makeup.
39. Stunning Beauty – Wedding Makeup Ideas
Another stunning example of how makeup can put emphasis on your eyes. Using a pale shade of pink or white will make your eyes pop. Pair this with a lighter shade of pink lipstick to give your wedding makeup an even more gorgeous appearance. 
40. Natural and Unique – Simple Wedding Makeup
If you are planning on hosting a bohemian wedding and don't want to cover your face in too much makeup, go for something simple! Maybe only use a bit of mascara and eyeshadow, but try to keep it natural. After all, bohemian and a natural style walk hand in hand with each other.
We sincerely hope you were able to find inspiration for wedding makeup amongst these ideas, or at least get a clearer idea of what type of makeup you'd like. Ultimately, you want the perfect look for your big day.
If you're in need of help concerning wedding hairstyles, for example, wedding hairstyles for medium length hair or Beautiful Bridal Hairstyles for Long Hair, check out our website!
Advert