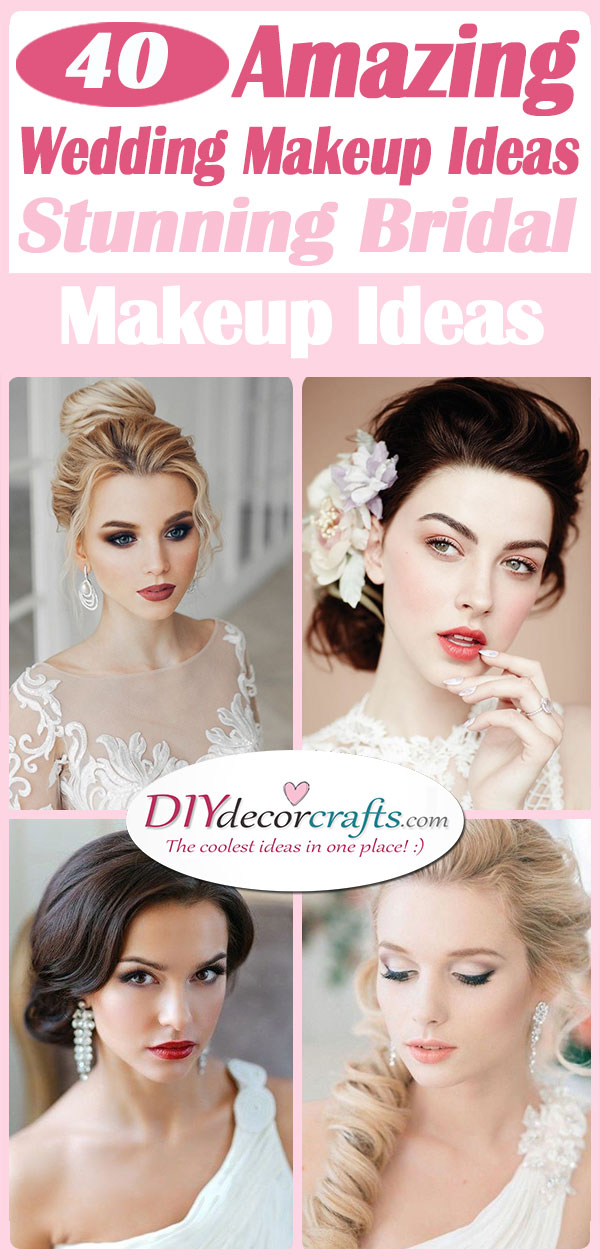 Have you been looking for wedding makeup ideas, but you still haven't found the right one? Well if your big day is drawing closer and you're out of wedding ideas, take a look down below. We have collected 40 stunning bridal makeup ideas just for you! After all, you want to look perfect on your wedding day, and in order to achieve this result, you need the perfect makeup! Depending on what your personal style is or what trends you follow, we're certain, that you will be able to find wedding makeup ideas best suited to you. Without any further ado, let's take a look at our bridal makeup ideas!
1. Stylish and Chic – Bridal Makeup Ideas
If you like a bit of glamour and want to show this style off at your wedding, then check out this idea! Smoky eyes and a bold shade of lipstick is the combination for the best bridal makeup.
2. Sparkling Eyes – Wedding Eye Makeup
Nothing shines as beautifully, as sparkling eyeshadow! It can give your overall look a sense of elegance, especially if your wedding dress is going to be more on a simple and classic side. This is one of many great bridal makeup looks.

3. A Hint of Blue – Beautiful Wedding Makeup Ideas
Take a look at the wedding eye makeup tutorial above, isn't it simply stunning? Outline your eyes with black first. Then add white and blue eyeshadow on the sides and under the waterlines of your eyes. This wedding day makeup will lend you an enchanting glow.
4. Elegant and Natural – Great Wedding Makeup Ideas
If you're going for a more natural look for your wedding makeup, but still want it to show elegance, then this is a perfect choice for you! Paler smokey eyes and a simple dash of lipgloss will give you a combination of pure beauty, as well as a natural vibe.
5. Rosy Shades – Bridal Makeup Ideas
If you want coral and rose pink to be dominant colours for your wedding makeup, then this is a great idea. Dare to try out a bold and vibrant lipstick, and to accentuate this colour, use only a bit of pink or coral eyeshadow. This will give you an overall rosy and fresh vibe and it's not too over the top.
6. Spring Vibes – Simple Wedding Makeup Ideas
Are you trying to embody a natural, fresh spring look? Then try out this wedding makeup idea! Simple smoky eyeshadow on your eyelids, a bit of blush and a nude lipstick or lipgloss is guaranteed to make you look like a goddess of spring. This is a perfect idea for natural wedding makeup!
7. Lovely Lilac – Bridal Makeup Ideas
If you have blue eyes and really want to bring out its colour, then we suggest trying out a light lilac for eyeshadow. This wedding makeup will really make your eyes pop!
8. Romantic Glow – Stunning Wedding Makeup Ideas
Do you want to look like a heroine who has just stepped out of a romantic novel on your wedding day? Then this is an excellent choice for you! Smoky eyeshadow paired with a pink or red lipstick will grant you sophisticated wedding makeup.
9. Beautiful Eyes – Bridal Makeup Ideas
Are you planning on emphasizing your eyes, but want it to look natural as well? Use nude coloured eyeshadow and with black eyeliner paint the upper lash line. Pull the eyeliner up to the outer v to give it a stylish wing. This is a perfect wedding eye makeup! 
10. Fabulous Red – Fantastic Wedding Makeup Ideas
Red might be a daring colour, but it looks so great as wedding makeup! Your whole elegant and pure white image will be highlighted by such a bold colour.
11. Stunning Eyes – Great Bridal Makeup Ideas
Are you thinking about doing your own bridal makeup at home? Then check out the tutorial in the picture above. It's simple to do, even though it takes a bit of practice to get it right. Smoky eyes are a perfect look for weddings.
12. Bronze Shades – Wedding Makeup Ideas
A smoky effect, but with bronze shades this time! Using bronze shades instead of monochrome will give you more natural wedding makeup.