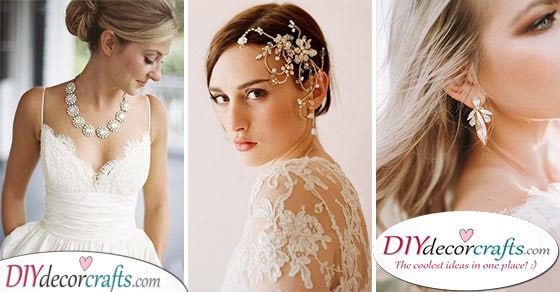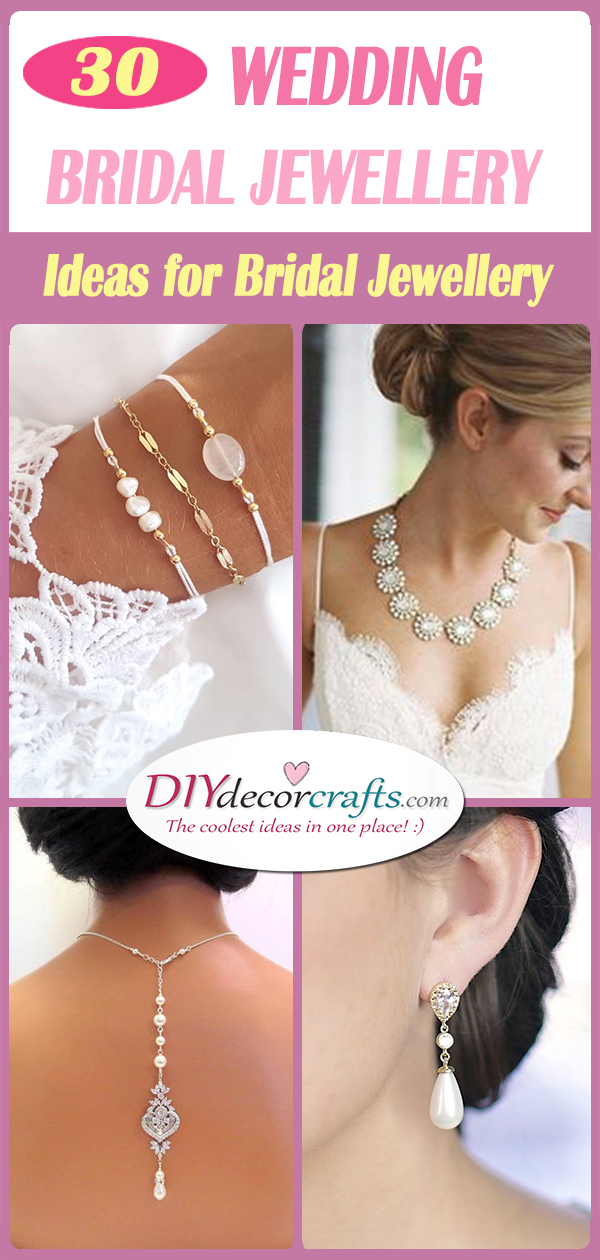 Your big day is just around the corner and you want everything to be completely perfect. From the wedding decor to the wedding cake, to the wedding dress, every wedding idea has to be on point. While it might not be the first thing you think of, something important to consider on your big day is the bridal jewellery you will be wearing. Naturally, we're not talking about the wedding rings, but the other accessories you will be putting on to get the full bridal look. The jewellery and other accessories you choose to wear will not only have to complement your wedding dress but will also be a way of expressing yourself and your personality. We have collected 30 fantastic wedding bridal jewellery ideas so you will be able to find an item to complete your look!
1. Stylish Earrings – Wedding Bridal Jewellery
You might not want to go over the top with jewellery, just enhance your facial features and your hair. If so, have you considered wearing a pair of earrings for your wedding? For a stunning look, try out chandelier earrings! These are especially great if your dress is more on the simple side.
2. Brilliant Bracelets – A Natural Vibe
If you're a sort of person who prefers to go with the flow, you love nature in all its forms and you are down to earth, then these bracelets will be a perfect addition to your wedding look! A few small delicate bracelets decorated with small pearls or crystals will give your appearance a truly natural vibe!
3. Bridal Hair Vine Ideas – Romantic Hairpieces for Your Wedding
If you'd like to achieve a whimsical and romantic look for your big day, make sure to add some bridal hair vines to your wedding hairstyle for long hair! You can weave it into a braid or a bun or use it as a wreath. The small crystals and beads will glitter and shine in your hair throughout the whole night!
4. Classic Teardrop – Wedding Earrings and Bridal Necklace 
For a classic and gorgeous look, try out some matching teardrop jewellery! A set of teardrop earrings and a teardrop necklace will give you an ethereal appearance. These items of jewellery will look perfect with a fancier or ballgown styled dress.
5. A Simple Backdrop Necklace – Bridal Jewellery Ideas
If your dress is going to have a deep cut-out at its back, make sure to add an accessory to enhance your look! Jewellery that is becoming more and more popular are backdrop necklaces. It can be a simple necklace with a small pendant or crystal hanging down at the back.
6. Big Teardrop Earrings – Elegant

Wedding Bridal Jewellery
If your wedding dress is going to be more simple, maybe in the shape of a mermaid gown, try using bolder and bigger accessories. These big teardrop wedding earrings will lend you that bridal elegance you didn't know you needed! Put together of two parts, a big crystal or diamond teardrop in the middle, outlined with a teardrop of small crystals, will give you that wedding glow!
7. Bohemian Essence – Silver and Simple
If you love bohemian styled things, then this set of wedding jewellery will be perfect for you! A ring, a bracelet, earrings and a bridal hair brooch all in the same style will give you a perfect look. Since we're talking about bohemian, it doesn't have to be over-the-top jewellery, it can be simple, silver accessories with detailed designs.
8. Floral with a Pearl – Perfect Bridal Look
Now here's a bridal necklace that is perfect for dresses that are strapless. Crystals cut and put together to form floral shapes, with a teardrop pearl hanging down in the middle. If you're thinking about getting earrings to match this necklace, consider getting teardrop pearls to hang from both your ears!
9. Drop Pearl Earrings and Necklace – Wedding Accessories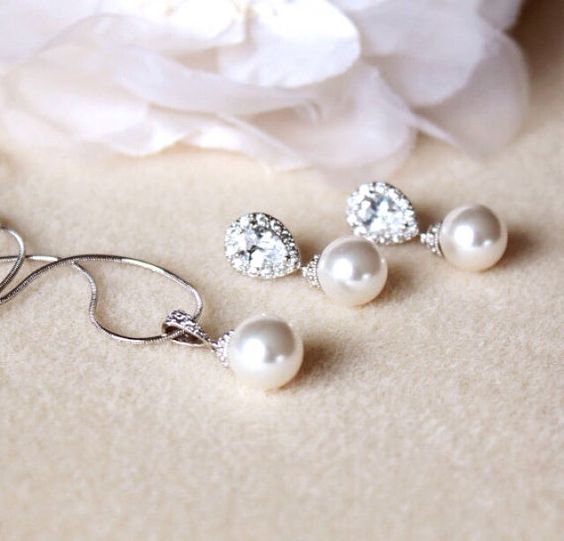 If you prefer jewellery that is more simple and refined, these earrings and necklace will be a perfect choice for you! Pearls formed in drops, with small crystals decorating the tops of them, will give your overall look an elegant bridal vibe. The great thing about pearls is that if they're white, they'll go perfectly with your wedding dress, no matter what their form is!
10. Bridal Forehead Band – A Bohemian Essence
Are you bored of bridal tiaras or floral headpieces? If you love the bohemian style and your wedding is going to incorporate the same essence, make sure you get a headpiece that resembles this! A bohemian forehead band is unique and stylish. While it will give you that hippie vibe, it will also make you look like an enchanted princess. This will look good whether you have long or medium length wedding hair!
11. Stylish Heels – Don't Forget About the Footwear
While you might be contemplating what sort of accessories to wear on your big day, don't forget about the footwear either! After all, what you wear on your feet on your wedding day is super important as well! A pair of white or pearl coloured heels with an immaculate design will boost your wedding look.
12. Floral Backdrop Necklace –

Wedding Bridal Jewellery
If you hear the word wedding, what comes immediately to your mind? Flowers? Well, you're not wrong! Flowers play a huge role in weddings, not only in decor or the bridal bouquet, but it's also an important accessory! If you're going to be using a floral headpiece, make sure your necklace matches its style. Go for something more unique, like a floral backdrop necklace. It will lend you a sense of delicate elegance.
13. Strings of Pearls – A Bold Choice for Necklaces
Have you been searching for a bold wedding necklace that will give your overall look a bit of colour and vibrancy? Well, how about wearing strings of pearls. However, we're not talking about your ordinary white pearls. You can include beautiful pink shades or sandy colours amongst the white. While these two colours will give you a burst of uniqueness, they won't overpower your overall white image. Incorporate the same colours in your bridal bouquet that you use for your necklace!
14. Beautiful Hair Vines and Florals – Bridal Headpieces
Here's a headpiece that looks as if it's popped out of the Roaring Twenties, an era in which Great Gatsby is set. Delicate beads and pearls strung to your hair, to create a unique and modern look, will give you timeless elegance. This headpiece will go perfectly with a lace wedding gown.
15. A Set of Bracelets – Silver and Pearls
For a look of sophistication choose a few bracelets, that all embody the same sense of style. Two bracelets made up of pearls will go perfectly with a small silver bracelet, which has the infinity symbol attached to it. After all, it's your wedding day and you've said your vows, which last for a lifetime, so it's only appropriate to use an infinity symbol in your wedding accessories.
16. Bohemian Beauty – Natural and Earthy Look
If you have been dreaming of a bohemian wedding, and you've got your wedding dress with a deep cut out at the back, make sure you wear some backdrop wedding necklaces! Use a variety of them, you can have colourful crystals and beads attached to them, to give it a classic bohemian vibe!
17. Simple but Fabulous – Floral Inspired Necklace
If you're unsure about what sort of necklace you should wear, it's always great to stick to floral-inspired items! For example, the necklace above is put together of big white flowers, it's not too extravagant, but it's also noticeable and eye-catching. This necklace is great because of its fluidity, it goes well with any sort of wedding dress!
18. Wedding Sandals – Foot Accessories for a Bridal Look
If you're going to be hosting your wedding on the beach, make sure you're wearing appropriate footwear! Walking around in heels on sandy dunes would not be an easy task, however, you can find the perfect sandals for your wedding. White and comfortable sandals paired with a few ankle bracelets or toe rings will make you shine on your wedding day!
19. Drop Dead Gorgeous – Wedding Bridal Jewellery
Pearls are perfect for weddings, as they already have that pure white glow surrounding them. If you're a fan of nature's beautiful gifts, pearls, then make sure to use them on your wedding day. A simple drop earring will enchant everyone present at your wedding!
20. Floral Birdcage Veil – A Modern Bandeau Wedding Veil
Wedding veils come in all shapes and sizes. Some are long and lacey, others are shorter with a modern twist on them. One new trendy arrival is the birdcage veil, which is shaped to look almost like a bandeau. It's a modern take on a veil, and it also means you won't have to worry about tripping on your long trail of fabric! You can enhance this look with some fresh flowers attached to your hair.
21. A Feeling of Couture – Bridal Earring Ideas
Here's a more modern take on earrings, with cut crystals put together to make it look like a part of nature, like a few leaves or a flower. These drop earrings will make the perfect accessory to any wedding gown, as they are just a small detail which accentuates the whole bridal vibe.
22. Crystal Clustered Earcuff – Wedding Bridal Jewellery
If you're not looking for drop earrings, try out something just as trendy! Earcuffs are becoming more and more popular, we don't even have to say why they look absolutely fabulous! You can have a cluster of crystal leaves or vines running up your ear, just like in the picture above!
23. Picturesque Backdrop Necklace – Unique Bridal Accessories
Have you ever found yourself admiring exotic or oriental patterns? This backdrop necklace embodies nature in an exotic pattern. Small cuts of crystals as leaves and flowers joined with pearls, to make a stunning necklace. Don't even think about leaving your back bare, if you can find a backdrop necklace such as this one!
24. Pearly Pins – Hair Accessories for Your Big Day
If you love hair accessories, consider using pearly pins for your wedding day. Pearls incorporate a sense of wedding, with their white and shiny shapes. You can decorate your hair with a set of these, which will make it look as if there were magical fairy lights trailing through your locks
25. Flowers and Beads – Heels for Your Wedding
It's important to look perfect from head to toe on your wedding day, and this includes the heels you choose to wear! Have the colour of them match your dress, and if you have decided on incorporating flowers and beads into your other accessories, make sure your heels contain them as well!
26. Dazzling Hair Clip – Timeless Beauty
If you are planning on wearing your hair in a bun, a downdo or a twist on your wedding day, make sure you find the right hair accessories for it! A shiny hair clip attached to the back of your head will go perfectly with any wedding gown of your choice. It's a simple, but a super elegant choice!
27. Long Floral Drop Earrings – The Best Ideas for Your Wedding
If you'd like to spruce up your wedding look, how about you try out these long drop earrings? Put together out of crystal flowers and decorate with small fans of metal, this will be a great addition to your appearance, especially if you are going for a more bohemian or hippie style.
28. Beautiful Gemstone Pendants – Elegance and Sophistication
If you have a favourite gemstone which really resonates with you, make sure you use it for your wedding jewellery! You can get one or two pendants on necklaces celebrating the gemstone itself.
29. Sparkling Chandelier Earrings – Wedding Bridal Jewellery
Chandelier earrings are perfect if you'd like to take your wedding look up a notch. You can get chandelier earrings which have strings of beads, pearls or small crystals hanging from their bottoms. Make certain that your wedding makeup is on point as well!
30. Bridal Anklets – Barefoot Sandals
Whether you're going to have a beach wedding or one in nature, you might want to be barefooted. It's a fast-growing trend amongst women to arrive at their wedding in no shoes at all. It's all about heading back to nature and being one with the Earth. If you are thinking about doing this, why not accessorise your feet with anklets instead? It will still provide your feet with an elegant look.
We hope that this collection of 30 wedding accessories has assisted you in finding a great idea for your big day! After all, you will want to look absolutely perfect at your wedding! For more ideas concerning weddings, such as wedding decoration ideas, visit our website!
Advert