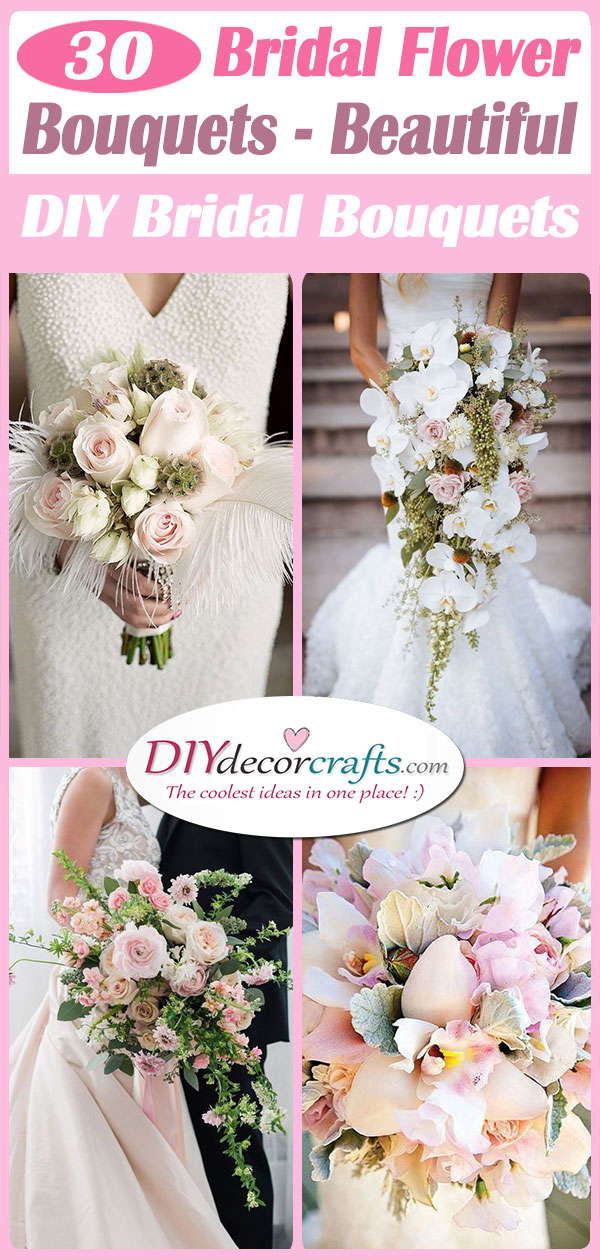 Your wedding day is one of the most important events of your life, you'll remember it until the end of your life. It's the day when you profess your love to someone and decide to stand by their side for the rest of your lives. You want everything to be perfect on this day, the decor of your venue, the wedding cake, the music, the wedding dress and naturally the bouquet! We have gathered 30 bridal flower bouquets for you to gather inspiration from for your wedding! These DIY bridal bouquets are not only beautiful, but they are also easy to put together by yourself! So take a look through our collection of wedding ideas!
1. An Essence of Spring – Pink and Green
If you are hosting your wedding during the season of renewal and rebirth, spring, make sure to get a DIY bridal bouquet that complements the time of year. A flurry of pink, green and white flowers is perfect for a spring wedding. Depending on what your favourite types of flowers are, feel free to get creative and use whatever species you like the best!
2. Pearl Embellishments – Gorgeous Bridal Flowers
If you would like a beautiful hand-sewn bunch of bridal flowers for your bouquet, look no further! Out of fabric, create the petals of the flowers and sew them together. You can further decorate the flowers by sewing pearls or jewels on them. This wedding bouquet idea is great, because the flowers will never end up wilting, so you will be able to keep the bouquet as a memory forever.
3. Trendy Flowers – Gorgeous Protea Bouquets
A trendy flower, being used more and more at weddings, is the protea. Proteas come in a huge variety of shapes, sizes and colours, so you will easily be able to find a type of flower that matches the rest of your wedding decor and your bouquet. They are also perfect for DIY bridal bouquets because they are great to use as a bouquet centrepiece as you can arrange other flowers around them easily.
4. Rose Gold Flowers – Stunning Wedding Flora
Will you be wearing rose gold jewellery at your wedding? Then make certain, that your bridal bouquet matches it! Spray paint your flowers and leaves with rose gold to get an amazing metallic effect! To make your bouquet perfect, remember to use natural flowers which haven't been spray painted yet.
5. A Cascade of White Flowers – Bridal Bouquet Ideas
Cascading bouquets will make a perfect addition to any wedding. They look refined and elegant. You can add a fountain of vines or leaves streaming down from the bouquet. Just make sure you don't trip on the tangling vines while walking down the aisle! You may choose a cascading bouquet to match the rest of your wedding decor!
6. Pretty in Pink – Interesting Bouquets for Your Wedding
Are you in search of a special and interesting wedding bouquet? You might just have found the right one! Combine pink roses with an interesting succulent, like on the picture above. On the slimmed-down stems, you can attach pearls or beads. This will produce a dazzling image!
7. Simple and White – Bridal Flower Bouquets
We talked about sticking to all-white bouquets for traditional weddings. Instead of using the standard white roses for your bridal bouquet, try out a different species. For example, the white hydrangea is a gorgeous type of flower, so consider using it for your wedding.
8. Small and Simple – Brilliant Bridal Bouquet Ideas
Sometimes less is more, and this bouquet idea is a great example of this saying! String together an assortment of roses, peonies and wildflowers! If you're having a modest or rustic wedding, a bouquet on the simpler side is a great idea! Make sure the flowers you combine match according to colour as well!
9. Exotic Composition – Unique and Different
If you are going to be hosting your wedding in a tropical environment, be certain that your bouquet of flowers also reflects the choice of theme and nature of your wedding. For a wedding set in a tropical environment or close to the beachside, you might want to find an array of exotic flowers. Include some ferns or native flora in the bouquet!
10. White Beauty – Classic DIY Bridal Bouquets
Instead of white roses, try out white ranunculus! These flowers are just as beautiful as roses, and they are perfect in both traditional and modern bouquets! A combination of white flowers with an array of green leaves and buds will go perfectly to any wedding decor or wedding dress!
11. A Wintery Wonder – Bridal Flower Bouquets
Are you planning on hosting your wedding during the winter? If so, make sure you use red or burgundy flowers in your bouquet. You can use an assortment of red berries and budding flora as well to make it stand out even more! Naturally, combine these with white flowers to give it that true wintery effect!
12. Feathers and Flowers – DIY Bridal Bouquets
While you might like using feathers as a source of decor around your house, have you thought of using it as an ornament in your wedding bouquet? It's not something commonly used, giving it a unique essence and vibe. Naturally, depending on your personal preferences, use any sorts of flowers you want for the bouquet itself!
13. Vintage Meets Glamour – Gorgeous White Anemone
Here's a beautiful DIY bridal bouquet that brings vintage vibes with itself! Anemone flowers are a unique and beautiful species, they symbolize anticipation and excitement for something in the future, making it a great choice for weddings, as your big day is an event that will define your future! Combine white anemones with an assortment of greenery for a stunning look!
14. Delicate Spring Bouquet – DIY Bridal Bouquets
A spring wedding is the best time for using a variety of vibrant flowers! Use soft colours like orange, pink and yellow for the florals. Also, include some white lilies for a spectacular image! Tune it up further with some green ferns, vines and leaves to give it a natural look. You may try to use the same sort of bouquets in vases for your wedding table decoration! This will help create harmony at your wedding venue!
15. Perfect Pink Lilies – Great Wedding Bouquet Ideas
Lilies have been considered to be a beautiful species of flowers even in the time of ancient Greece, playing a role in its mythology. Pink lilies represent prosperity and wealth, so using these types of flowers for your wedding will mean a good omen! You can add some different pink flowers to the bouquet as well for an even more dazzling effect!
16. A Bundle of White Flora – Winter Landscape
If you're going to have your wedding held during wintertime, make sure your bouquet is giving off the same winter vibes as the environment! Use silvery green leaves and white flowers for a beautiful wintery look! This bouquet really looks like a snowy landscape!
17. Pale Pink Orchids – Bridal Flower Bouquets
Orchids are an exotic type of flowers. Fragrant and vibrant, they are considered to be a symbol of luxury and good taste since the Victorian era. There's a great variety of orchids you can choose from, but a very beautiful coloured type of orchid is the pale pink one. This is perfect for spring weddings, especially if you combine them with some similar pink roses or peonies!
18. White Orchids and Pink Roses – Bridal Bouquet Ideas
Are you in search of a combination of flowers for your bridal bouquet, that picture a traditional look but bring in a sense of modernity and exoticness? Use pale pink roses and orchids to achieve this stunning effect!
19. Magical Lilac and Purple – Fantastic Wedding Bouquets
Are you planning on using a lot of purple or lilac in your wedding decorations? Create a magical effect with a variety of purple flowers. Use lavender, peonies, hydrangea and lilies. Attach delicate ferns to the bouquet as well to give it an extra burst of colour.
20. Shades of Pink – Bridal Flower Bouquets
Pink is the colour of harmony and love, so using a wide range of pink florals will convey the loving environment of your wedding. Roses, peonies and baby's breath are the perfect combination of flowers for a wedding bouquet, especially if they are all pink!
21. White Dahlia – Gorgeous Ideas for Your Bouquet
When it comes to creating a bouquet that is eye-catching and stands out, the dahlia is a flower we can also depend on! Its multi-layered petals create a beautiful effect, making it the star of any bouquet it has been built into. If your bouquet is going to be put together out of mainly white flowers, use a white dahlia as well! It will look beautiful!
22. A Train of Roses – Cascading Bouquet Ideas
Here's another amazing cascading bouquet! Pale pink flowers matched with a drape of greenery will create a stylish effect. This is a perfect touch to a spring or a summer wedding!
23. Succulents and Shrubbery – Unique Wedding Bouquet Ideas
Using succulents or interesting types of shrubs at weddings are becoming more and more fashionable. Why not consider using them as a part of your bridal bouquet as well? They will create an interesting contrast popping out between bunches of white roses.
24. A Rainbow Effect – A Festival of Flora
If you have a lively and outgoing personality, make sure your bouquet suits your inner characteristics! If you are a vibrant person, who loves seeing the positive side of things, this wedding bouquet will be perfect for you! Use a multitude of colours and flowers to create an actual rainbow of your bouquet! Use orange, pink, yellow, purple and even blue flowers to create this beautiful image! You can even include succulents for an even prettier effect!
25. A Range of Roses – Gorgeous and Romantic
Here's another fabulous bouquet idea for anyone who loves floral cascades! Blush pink roses combined with white calla lilies will create a beautiful picture! Remember to add a fountain of greenery as well, green vines and leaves sprouting out of everywhere will give it a bohemian and natural vibe!
26. Pure White Orchids – Unique Bridal Bouquet Idea
Here's yet another great wedding bouquet idea for winter weddings! Pure white orchids mixed with a multitude of pale pink roses tumbling down in a cascade, which looks similar to the falling snow outside! This bouquet goes perfectly with any dress.
27. Strings of Flowers – Bridal Flower Bouquets
Are you trying to spruce up your classic and traditional bouquet of flowers for your wedding? Then look no further, here's one of many DIY bridal bouquets! Add a touch of handmade decor to white peonies or roses. Attach flowers to strings, which you can wrap to the bouquet itself, letting them hang loose and fall to the ground. It will look like a waterfall of small white flowers!
28. Autumn Wedding Vibes – Colours of the Season
Look for the perfect autumn bridal bouquet that will complement the colours of the season? Check out this gorgeous arrangement! The orange flowers look like pumpkins you find outside on peoples doorsteps during Halloween! Add small berries to the bouquet as well as black calla lilies!
29. A Few Rays of Sunshine – Yellow and Joyful
If you are thinking of using a lot of warm yellows for your wedding decor, make sure you include the shade in your wedding bouquet! Yellow flowers brighten everyone's days, as they look like small drops of liquid sunshine. This is a beautiful floral arrangement for a summer wedding!
30. Branching Out Bouquet – Bridal Bouquet Ideas
If you've been thinking about using blush pink roses for your wedding bouquet, then take a quick glance at the example above. A plentitude of roses and other pink florals grouped together, with branches of flowers stemming out from the bouquet itself. It has an enchanting look, not to mention a pale pink will go well with any colour wedding dress! This would look amazing for a spring wedding, and the same flowers would also make perfect spring floral decorations around the wedding venue!
We hope that this pick of 30 bridal flower bouquets has lent you some sort of inspiration for your own bouquet! After all, everything should be perfect from head to toe on your big day! For more wedding bouquets, just visit our website!
Advert