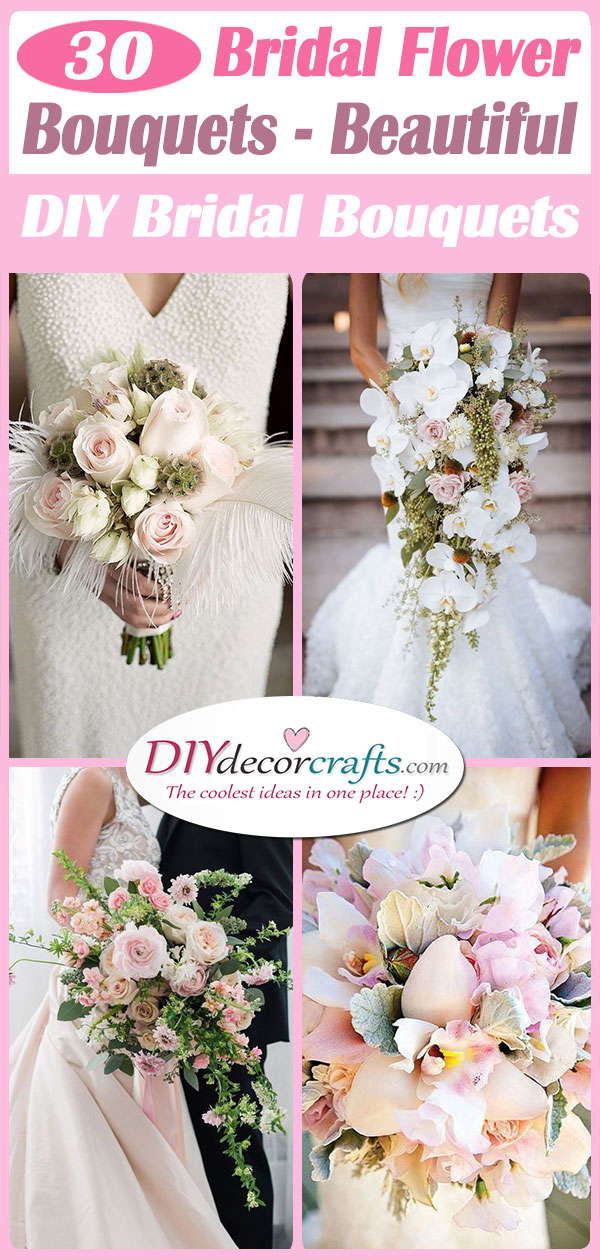 Your wedding day is one of the most important events of your life, you'll remember it until the end of your life. It's the day when you profess your love to someone and decide to stand by their side for the rest of your lives. You want everything to be perfect on this day, the decor of your venue, the wedding cake, the music, the wedding dress and naturally the bouquet! We have gathered 30 bridal flower bouquets for you to gather inspiration from for your wedding! These DIY bridal bouquets are not only beautiful, but they are also easy to put together by yourself! So take a look through our collection of wedding ideas!
1. An Essence of Spring – Wedding Bouquet Ideas
If you are hosting your wedding during the season of renewal and rebirth, spring, make sure to get a bridal bouquet that complements the time of year. A flurry of pink, green and white flowers is perfect for a spring wedding. Depending on what your favourite types of flowers are, feel free to get creative and use whatever species you like the best!
2. Pearl Embellishments – Gorgeous Floral Ideas
If you would like a beautiful hand-sewn bunch of flowers for your bridal bouquet, look no further! Out of fabric, create the petals of the flowers and sew them together. You can further decorate the flowers by sewing pearls or jewels on them. This wedding bouquet idea is great, because the flowers will never end up wilting, so you will be able to keep the bouquet as a memory forever.
3. Trendy Flowers – Gorgeous Protea Bouquets
A trendy flower, being used more and more at weddings, is the protea. Proteas come in a huge variety of shapes, sizes and colours, so you will easily be able to find a type of flower that matches the rest of your wedding decor and your bouquet. They are also perfect for DIY bridal bouquets because they are great to use as a bouquet centrepiece as you can arrange other flowers around them easily.
4. Rose Gold Flowers – Stunning Wedding Flora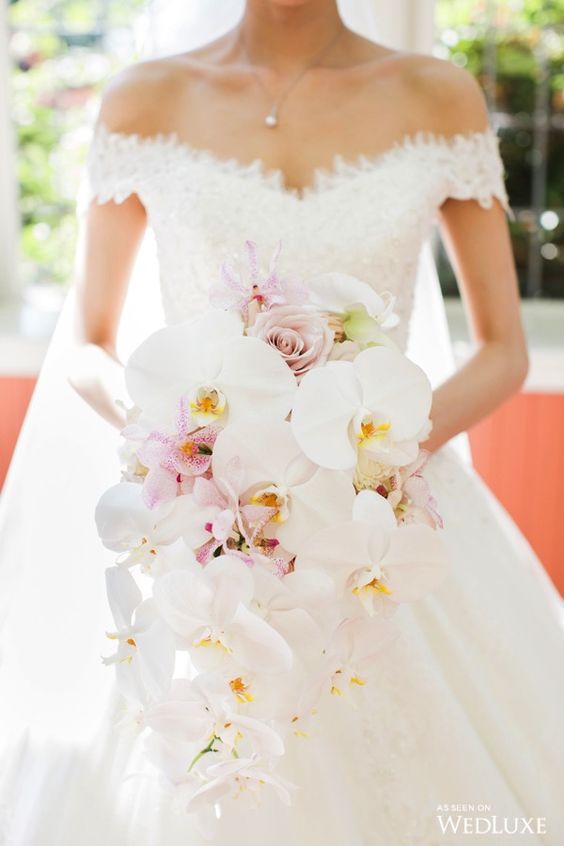 Will you be wearing rose gold jewellery at your wedding? Then make certain, that your bridal bouquet matches it! Spray paint your flowers and leaves with rose gold to get an amazing metallic effect! To make your bouquet perfect, remember to use natural flowers which haven't been spray painted yet.
5. A Cascade of White Flowers – Great Bouquet Ideas
Cascading bouquets will make a perfect addition to any wedding. They look refined and elegant. You can add a fountain of vines or leaves streaming down from the bouquet. Just make sure you don't trip on the tangling vines while walking down the aisle!
6. Pretty in Pink – Interesting Bouquets for Your Wedding
Are you in search of a special and interesting wedding bouquet? You might just have found the right one! Combine pink roses with an interesting succulent, like on the picture above. On the slimmed-down stems, you can attach pearls or beads. This will produce a dazzling image!
7. Simple and White – Bridal Flower Bouquets
We talked about sticking to all-white bouquets for traditional weddings. Instead of using the standard white roses for your bridal bouquet, try out a different species. For example, the white hydrangea is a gorgeous type of flower, so consider using it for your wedding.
8. Small and Simple – Brilliant Bridal Bouquets
Sometimes less is more, and this bouquet idea is a great example of this saying! String together an assortment of roses, peonies and wildflowers! If you're having a modest or rustic wedding, a bouquet on the simpler side is a great idea! Make sure the flowers you combine match according to colour as well!
9. Exotic Composition – Beautiful Bouquets for Your Wedding
If you are going to be hosting your wedding in a tropical environment, be certain that your bouquet of flowers also reflects the choice of theme and nature of your wedding. For a wedding set in a tropical environment or close to the beachside, you might want to find an array of exotic flowers. Include some ferns or native flora in the bouquet!
10. White Beauty – Classic DIY Bridal Bouquets
Instead of white roses, try out white ranunculus! These flowers are just as beautiful as roses, and they are perfect in both traditional and modern bouquets! A combination of white flowers with an array of green leaves and buds will go perfectly to any wedding decor or wedding dress!
11. A Wintery Wonder – Bridal Flower Bouquets
Are you planning on hosting your wedding during the winter? If so, make sure you use red or burgundy flowers in your bouquet. You can use an assortment of red berries and budding flora as well to make it stand out even more! Naturally, combine these with white flowers to give it that true wintery effect!
12. Feathers and Flowers – DIY Bridal Bouquets
While you might like using feathers as a source of decor around your house, have you thought of using it as an ornament in your wedding bouquet? It's not something commonly used, giving it a unique essence and vibe. Naturally, depending on your personal preferences, use any sorts of flowers you want for the bouquet itself!