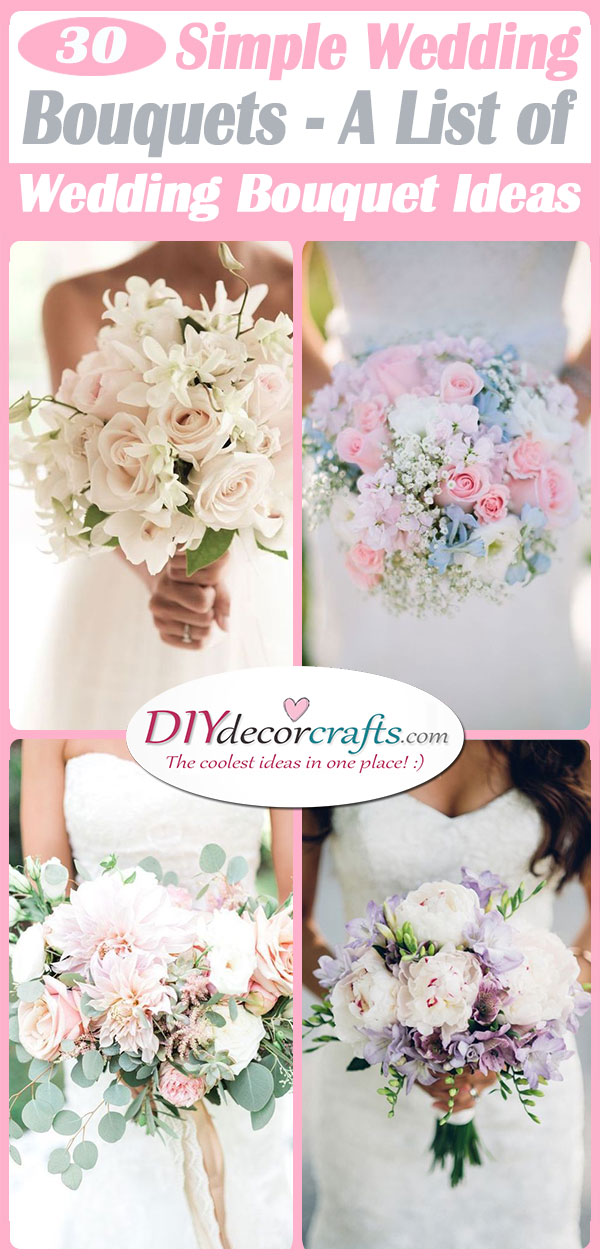 Finding the perfect bridal bouquet can prove to be a difficult task. They come in all shapes, sizes, flowers and colours. As well as having to make it match your wedding dress and your wedding look, the bouquet will also have to complement the overall theme of the wedding decor. Are you in search of wedding bouquet ideas so you can find the perfect one? Well, take a look through our great pick of 30 simple wedding bouquets, so you will be able to find some inspiration for your own bridal bouquet of flowers. 
1. Romantic Roses – Beautiful Ideas for Your Bridal Bouquet
If you are going to have a wedding on the traditional side, then why not use an abundance of roses in your bridal bouquet? They not only look stunning but smell amazing as well! You can combine white roses with pale pink ones for a classic and beautiful effect.
2. Pleasant in Pastel – Wedding Bouquets
The perfect bridal bouquet is all about finding a bunch of flowers with the right textures and vibrant bursts of colour. If you are going to have a wedding during spring, so try out a bouquet that incorporates a lot of pastel colours. Pastel shades are great exactly because they are soft enough to complement a white wedding dress but they also add a bit of colour to the overall look.
3. Elegant in Lilac – Simple Wedding Bouquets
This is a bouquet everyone will want to catch, and not necessarily because everyone wants to get married! If you're looking for a bit of colour to add to you white flowers, add lilac ones to your bridal bouquet. This will provide your bouquet with an elegant glow.
4. Orchids in Bloom – Sophisticated and Exotic Choice
During the Victorian era, orchids were very rare and only found in the tropics. This made it hard for people to buy flowers such as these. People from the higher class in Victorian society would collect orchids as a status symbol, meaning that they had a sense of luxury and refined taste. So bring a bit of refinement and exoticness to your bridal bouquet and use orchids!
5. Shades of Pink – Rustic Bridal Bouquet
Find a beautiful harmony in your bridal bouquet, by assembling a variety of pink flowers. You can use their leaves for the head of the bouquet as well, green and pink compliment each other perfectly. Tie long ribbons around the bouquet for a magical effect!
6. Roses and Baby's Breath – Wedding Bouquet Ideas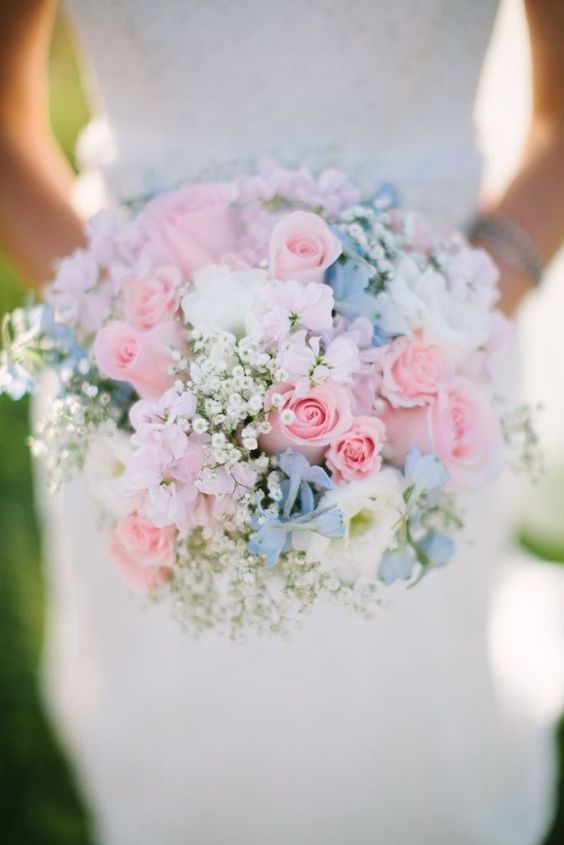 Combine baby's breath with roses for a truly breath-taking effect. These two flowers will create a whimsical and romantic look for your bridal bouquet. It's up to you to decide on what coloured roses you'd like to use in it, we recommend pale pink!
7. Pink Florals – A Bouquet for Summer Weddings
Are you hosting your wedding in the summer? Then find a bridal bouquet that will remind you of the season! Use warm colours, such as yellow, orange and pink for the flowers. If you'd like a more exotic effect, you can hide a few succulents or native flowers of the landscape in your bouquet as well.
8. Traditional White – Great and Simple Wedding Bouquets
Use the traditional wedding colour in your bouquet, especially if you are planning on hosting a classic and conventional wedding. There is no other colour such as white, which brings gentle elegance and sophistication to its wearer or user.
9. Unique and Vibrant – Bridal Bouquets for Your Wedding
This one of many simple wedding bouquets, which is perfect for anyone, who would like their flowers to complement the season! Get an autumn-inspired bouquet if you're going to have an autumn wedding. Use darker shades of pink, orange, red or burgundy to picture the trees turning into different colours.
10.  Pink, Coral and White – Awesome Bouquets
Everyone is sure to fight over this bouquet when you're getting ready to throw it into the crowd! Use the colours pink, coral and white for a vibrant and summery vibe! The combination of colours will make it look like a sunset of flowers, making this bouquet absolutely perfect for a beach wedding, at which you watch the sun go down in the evening next to the sea!
11.  White and Green – A Classic Combination
Mix together a variety of white flowers with all types of leaves and vines for a dazzling effect. While this bunch of flowers exudes the elegance and refinement of a traditional bridal bouquet, it also brings a touch of wildness and a natural feeling with itself.
12.  A Ball of Roses – Elegant Bridal Bouquet
Roses a well-known symbol of love, so it would only make sense to use them in your bridal bouquet! For an elegant bouquet, get your flowers shaped into the form of a ball. This will give your flowers a clean arrangement, instead of looking messy and all over the place. This is a great bouquet for a more traditional wedding.