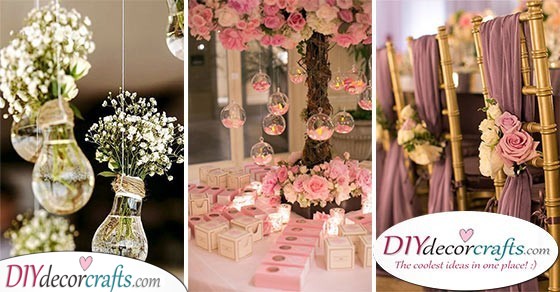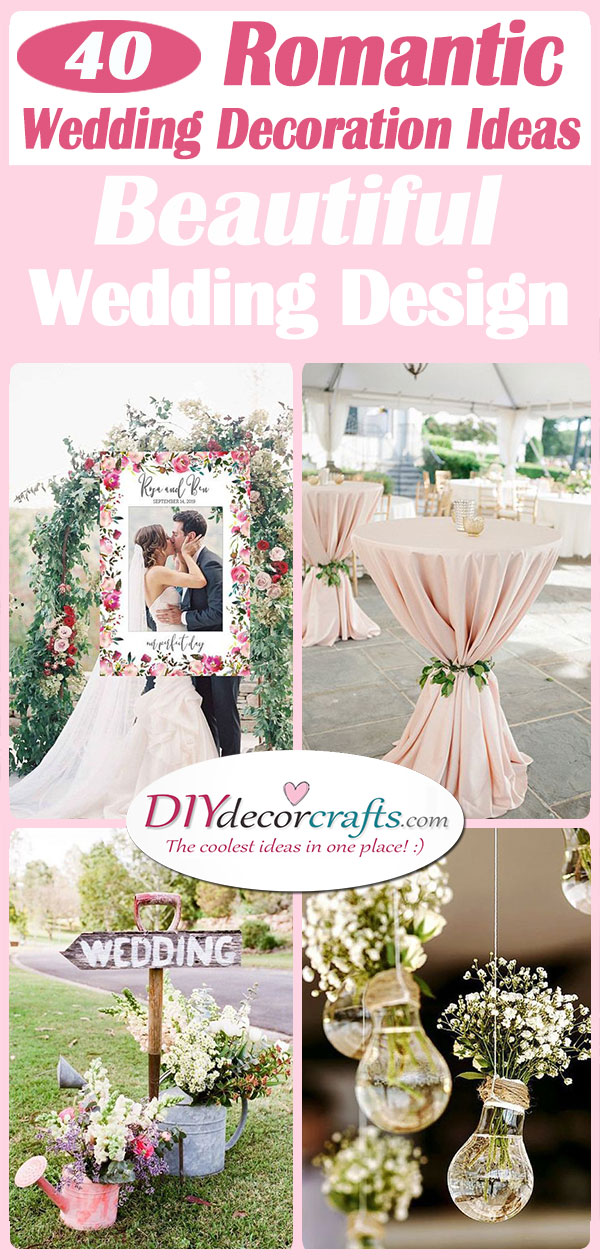 The big day – a moment you have been waiting for all your life – has finally arrived. Your wedding day is a milestone, it's something you will never forget. To make your big day perfect, you want everything else to be perfect. Including the wedding decor. We have a collection of 40 romantic wedding decoration ideas to help inspire you. After all, it's incredibly important that you make your wedding environment a reflection of the love you and your partner share for each other. Hopefully, you will be able to find a great idea amongst these ones. Naturally, don't be frightened to get creative, maybe you'll invent some wedding decor of your own!
1. Blossoming Tree – Pink Wedding Decoration Ideas
Are you thinking about using pink as the main theme at your wedding? Take a look at the picture above. Instead of using vases of flowers as centrepieces, put the flowers in branches and twigs formed to look like a tree. Your flowers will look like a cherry blossom blooming in spring. To make it look even better, hang some terrariums from the tree's branches, which are filled with the same pink flowers.
2. Fabric and Flowers – Elegant Wedding Decor
To make your wedding stand out, robe it up in sheer sophistication. You can attach cloths to chairs to give it a waterfall effect and wrap vines and ribbons around it. This is guaranteed to give your wedding reception's decor an elegant look.
3. Frame Your Wedding with Romance – A Great Wedding Decor Idea
A fantastic idea that not only you but also your guests will love, is getting a large cut-out frame that is decorated with your names and the date of the wedding. You and your guests can have your picture taken with the frame.
4. A Whimsical Setting – Secret Garden Wedding Decor
If you want your wedding reception to give your guests an enchanted vibe, then try sprucing up your venue with a bunch of flowers. Decorating the place with candles will give it a truly special glow at night.
5. Bright Flowers – Wedding Aisle Decor
Your wedding reception's decor is not only the important decor you need to concentrate on. Decorating your wedding aisles is also a big part of designing your big day. A great idea is to use mason jars as vases, put some flowers in them and place them along the aisle. You can decorate the aisle itself with flower petals.
6. Floral Lanterns – Lighting up Your Wedding
Using lanterns as a form of decoration give any special day an extraordinary sense of romanticism. To make your lanterns look even more beautiful, attach some flowers to it.
7. Gorgeous Cocktail Tables – Wedding Decor Ideas
Will you have a set of cocktail tables standing at your wedding reception? Make them look fabulous with this easy tip. Don't just throw a drape of linen or silk over it. Tie a ribbon or a vine around the middle of the table's leg, to make it look a bit more elegant. Place candles or flowers on the top of it. 
8. Strings of Light – Romantic Wedding Decoration Ideas
Naturally, your wedding party won't only be going on for a few hours, it will probably last until the late hours of the night or until dawn breaks and the first rays of sunlight pop up. A great way of lighting up your venue at night is by attaching strings of light to the walls or edges of the tent, of where you will be hosting your wedding party. This will give your wedding an enchanted vibe.
9. Huge, Frilly Pompoms – A DIY Wedding Decor Idea
If you want to create your own wedding decor, here is a fantastic idea! You can make huge pompoms at home with this simple technique, to turn your wedding venue into an idyllic place. Choose the same colours for your pompoms that will also play a dominant part in the rest of the wedding decorations.
10. Unique Vases – The Best Wedding Decor Ideas
Just like most weddings, we're certain that yours will also incorporate flowers. To make your flowers stun all your guests, put them in uniquely shaped, tall vases.
11. Balls of Flowers – Another Great DIY Wedding Decoration Idea
Are you into DIYs and you want to design wedding decor for your big day? Check out the picture above. It's a simple, yet beautiful idea for wedding decor. You can cut out small flower petals from paper or fabric, and with pins, you can stick them into a globe made out of foam. You can place these balls of flowers anywhere, whether it be cocktail tables or dining tables.
12. Gorgeous Flower Arrangement – Wedding Decor at it's Best
An absolutely gorgeous way of arranging flowers for your wedding is in this way. Cut off the stems of the flowers and place them in large glass bowls. Pour water into the bowls and this will make your flowers float. It's a simple idea, but it shows really well!