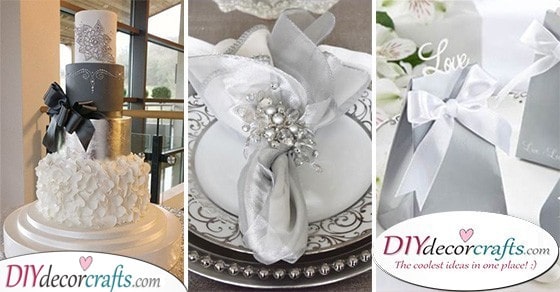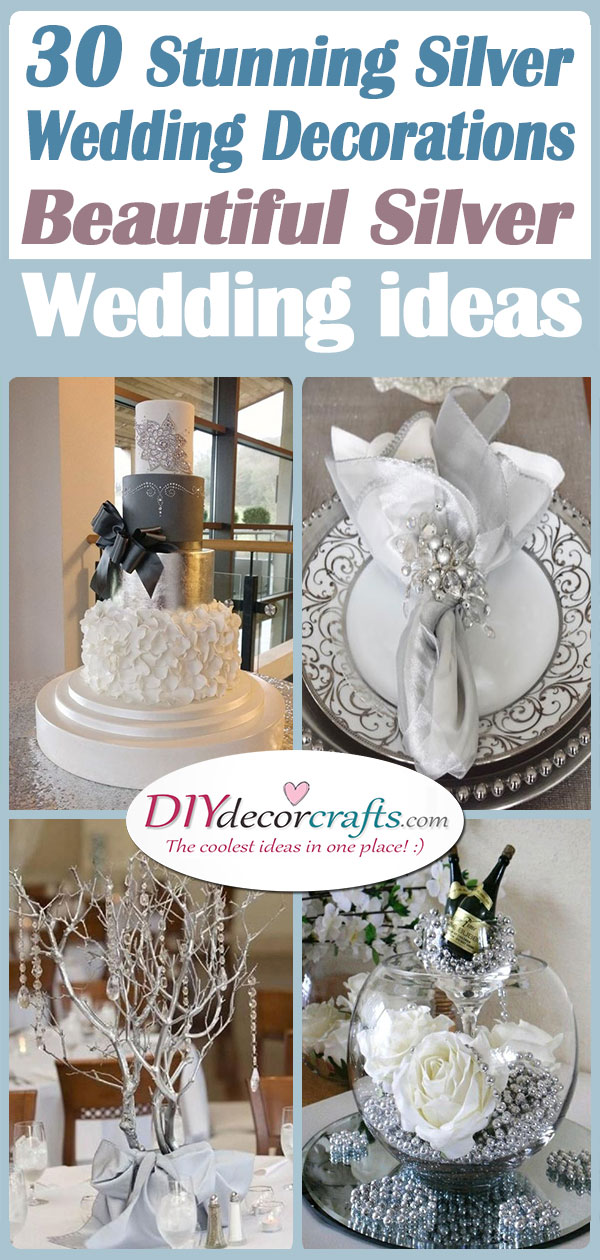 Silver, the elegant and glamorous colour of riches. Not only does this metallic shade represent wealth, but it also brings an essence of mysticism, sublime and grace. Silver is also the traditional gift for twenty-fifth wedding anniversaries. This colour is used in all sorts of decor, so it would not come as any surprise if you decide on using silver wedding decorations for your big day! We have gathered 30 beautiful silver wedding ideas, for weddings and for anniversaries. We trust that you will be able to find a spark of inspiration amongst these decor ideas.
1. Silver Wreath – Gorgeous and Elegant
If you are planning on celebrating twenty-five joyful years of marriage, make sure you add something silvery to your decorations! A heart-shaped wreath can be a perfect choice for such an occasion, decorated with silver roses and leaves. You can hang this ornament on the door, so all your guests know exactly what you're celebrating. Also, a fun fact, Romans crowned their wives with silver wreaths on their twenty-fifth anniversaries!
2. Silver Board of Seats – Great Silver Wedding Ideas
If you're hosting a huge party for your twenty-fifth anniversary, then make sure your guests all have a spot! You can present them with place cards, but an even better idea is to write everyone's name on a huge silver board, directing them to their tables. This silver decor should make it easier for your guests to find their seats for the celebration.
3. Hanging Ornaments – Huge Numbers
To make your twenty-fifth-anniversary party's theme evident, hang large silver numbers from the ceiling. Obviously, the numbers should be twenty-five. This silver decor will illuminate your anniversary.
4. Cake Decor – Make Sure Your Cake is Silver
What better way is there to commemorate twenty-five happy years of being married, than with a cake? Get your cake decorated with edible silver for the additional wow factor. You can decide whether you'd like a traditional cake or something with a modern edge. Whatever you choose, your silver cake will sweep everyone off their feet!
5. Warm Candles – Lovely Silver Wedding Decorations
If you're looking for simpler silver wedding decorations for tables, you have come to the right place. Place some silverish candles along with the tables' centres. To make your tables look even more beautiful, consider running leafy vines through the middle and adding some white flowers.
6. Silver Table Decor – You Can Never Have Enough Silver
Whether you are hosting a wedding or a silver anniversary, silver ornaments make any environment magical. Using silver plates and cutlery will give your tables a sophisticated look. For other ornaments use blue ones to complement the silver, as they show beautifully together.
7. A Clash of Warm and Cold – Unique Silver Decor
To bring out the sparkling and cool effect of silver, place warm coloured ornaments next to the silver decor. These can consist of red, pink and orange flowers or warm coloured candles. Vibrant, warm colours will make the silver table decor shine.
8. Shrouded in Silver Mist – Gorgeous Ideas
If you'd like to take wedding pictures in front of a simple background, use a thin veil of silver fabric. Let it hang from the ceiling, decorating it with white and silver flowers for a beautiful effect. You and your guests will be able to take dozens of beautiful pictures in front of a silver background.
9. Fluffy Clouds – Beautiful and Unique Ideas
Give your wedding or silver anniversary a heavenly atmosphere with this great idea! Make fluffy clouds out of round lampshades and cotton wool. Hang them from the ceiling. When night arrives, they will bask your venue in a radiant light.
10. Silver Pearls – Fantastic Silver Wedding Ideas
Run out of ideas for silver table decor? You don't have to look any further! In large bowls pour silver beads and pearls and add a few roses, and with that, you're already done! These are simple silver wedding centrepieces, but they will absolutely give your silver wedding anniversary a special glow.
11. Dazzling Trees – Unique Silver Beauty
In search of silver wedding centrepieces? These beautiful trees make great centrepieces for weddings or silver anniversaries. Spraypaint tree branches with silver, and hang strings of beads from them. They will make your tables look exquisite.
12. A Bunch of Balloons – Silver Wedding Designs
A great way of decorating any venue is by blowing up balloons with helium and letting them fly up to the ceiling. Balloons give a bubbly and joyful vibe to any occasion. Naturally, use silver balloons for your silver wedding anniversary.