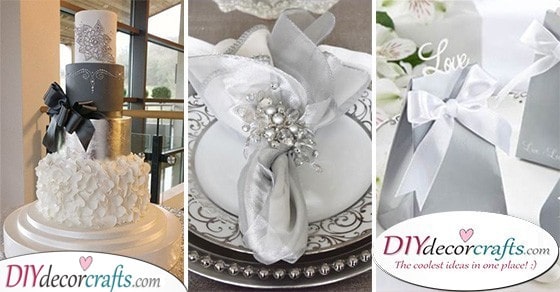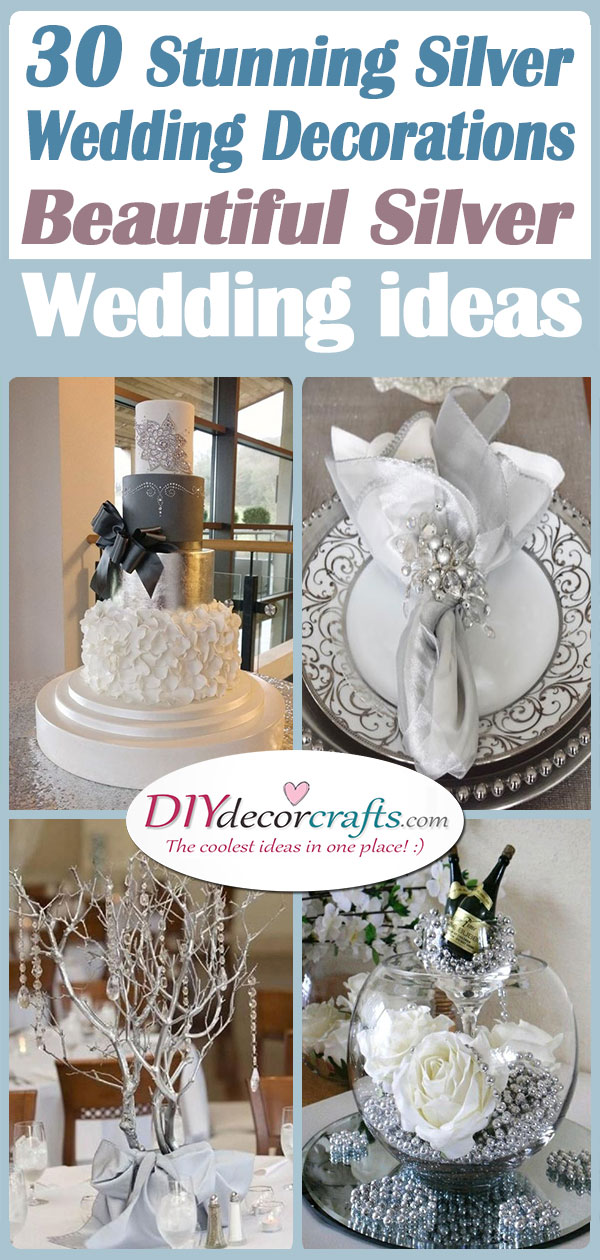 Silver, the elegant and glamorous colour of riches. Not only does this metallic shade represent wealth, but it also brings an essence of mysticism, sublime and grace. Silver is also the traditional gift for twenty-fifth wedding anniversaries. This colour is used in all sorts of decor, so it would not come as any surprise if you decide on using silver wedding decorations for your big day! We have gathered 30 beautiful silver wedding ideas, for weddings and for anniversaries. We trust that you will be able to find a spark of inspiration amongst these decor ideas.
1. Silver Wreath – Gorgeous and Elegant
If you are planning on celebrating twenty-five joyful years of marriage, make sure you add something silvery to your decorations! A heart-shaped wreath can be a perfect choice for such an occasion, decorated with silver roses and leaves. You can hang this ornament on the door, so all your guests know exactly what you're celebrating. Also, a fun fact, Romans crowned their wives with silver wreaths on their twenty-fifth anniversaries!
2. Silver Board of Seats – Great Silver Wedding Ideas
If you're hosting a huge party for your twenty-fifth anniversary, then make sure your guests all have a spot! You can present them with place cards, but an even better idea is to write everyone's name on a huge silver board, directing them to their tables. This silver decor should make it easier for your guests to find their seats for the celebration.
3. Hanging Ornaments – Huge Numbers
To make your twenty-fifth-anniversary party's theme evident, hang large silver numbers from the ceiling. Obviously, the numbers should be twenty-five. This silver decor will illuminate your anniversary.
4. Cake Decor – Make Sure Your Cake is Silver
What better way is there to commemorate twenty-five happy years of being married, than with a cake? Get your silver wedding cake decorated with edible silver for the additional wow factor. You can decide whether you'd like a traditional cake or something with a modern edge. Whatever you choose, your silver cake will sweep everyone off their feet!
5. Warm Candles – Lovely Silver Wedding Decorations
If you're looking for simpler silver wedding decorations for tables, you have come to the right place. Place some silverish candles along with the tables' centres. To make your tables look even more beautiful, consider running leafy vines through the middle and adding some white flowers.
6. Silver Table Decor – You Can Never Have Enough Silver
Whether you are hosting a wedding or a silver anniversary, silver ornaments make any environment magical. Using silver plates and cutlery will give your tables a sophisticated look. For other ornaments use blue ones to complement the silver, as they show beautifully together.
7. A Clash of Warm and Cold – Unique Silver Decor
To bring out the sparkling and cool effect of silver, place warm coloured ornaments next to the silver decor. These can consist of red, pink and orange flowers or warm coloured candles. Vibrant, warm colours will make the silver table decor shine.
8. Shrouded in Silver Mist – Gorgeous Ideas
If you'd like to take wedding pictures in front of a simple background, use a thin veil of silver fabric. Let it hang from the ceiling, decorating it with white and silver flowers for a beautiful effect. You and your guests will be able to take dozens of beautiful pictures in front of a silver background.
9. Fluffy Clouds – Beautiful and Unique Ideas
Give your wedding or silver anniversary a heavenly atmosphere with this great idea! Make fluffy clouds out of round lampshades and cotton wool. Hang them from the ceiling. When night arrives, they will bask your venue in a radiant light.
10. Silver Pearls – Fantastic Silver Wedding Ideas
Run out of ideas for silver table decor? You don't have to look any further! In large bowls pour silver beads and pearls and add a few roses, and with that, you're already done! These are simple silver wedding centrepieces, but they will absolutely give your silver wedding anniversary a special glow.
11. Dazzling Trees – Unique Silver Beauty
In search of silver wedding centrepieces? These beautiful trees make great centrepieces for weddings or silver anniversaries. Spraypaint tree branches with silver, and hang strings of beads from them. They will make your tables look exquisite.
12. A Bunch of Balloons – Silver Wedding Designs
A great way of decorating any venue is by blowing up balloons with helium and letting them fly up to the ceiling. Balloons give a bubbly and joyful vibe to any occasion. Naturally, use silver balloons for your silver wedding anniversary.
13. Silver Table Decor – Refined and Sophisticated 
Maybe you wouldn't like silver to be the main theme at your wedding or silver anniversary, but you would still like to include it in some special way. Use silver cutlery, silver plates or a silver tablecloth to achieve the silver effect. This way the metallic colour won't overwhelm your whole decor.
14. The Importance of Napkins – Silver Wedding Ideas
Highlight the theme of your celebration with one very tiny thing, your napkin! This is a perfect idea if you are drinking to a silver wedding anniversary. All you need to do is provide each guest with a simple silver napkin. Tie a ribbon around it and attach a rose to make it look even prettier.
15. Silver Gift Boxes – Elegant Silver Wedding Decorations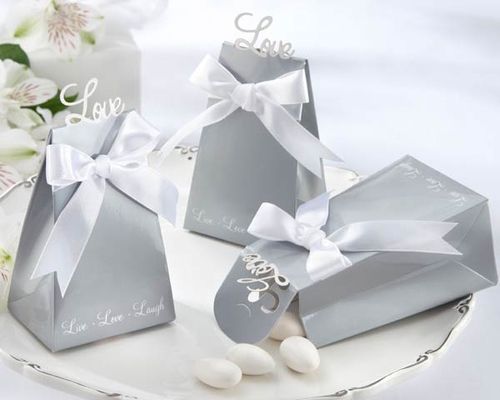 Advert
Give thanks to your guests for coming to your wedding or silver anniversary. Present them with small gift boxes or bags, which contain chocolates or treats. Make sure your boxes or bags are silver!
16. A Vase of Roses – Silver Wedding Ideas
Use tall vases of roses for your silver wedding centrepieces. They will lend your anniversary or wedding a refined elegance.
17. A Tower of Cupcakes – Scrumptious Decor
Instead of sticking to a standard cake, why not use cupcakes? You can stack tiers of decadent cupcakes on each other. If you are celebrating your silver wedding anniversary, make sure your cupcakes are decorating with silver icing and sprinkles. You can also stick the number 25 at the top of the cake, symbolizing the years of shared love.
18. Branches of Beads – Decorative Silver Wedding Ideas
Another one of many great silver wedding centrepieces. Place a tree in the middle of each table, spray paint it with silver and hang strings of beads and crystals from it. Place candles underneath it, this way when night rolls in, the candles will illuminate the tables and the table centrepieces beautifully, making everything sparkle and shimmer in brilliance.
19. Eat Like a King – Silver Wedding Plating
Make your guests feel like kings and queens at your silver wedding anniversary, by feeding them from silver plates. Place a silver wedding napkin on top, that is tied together with a string of silverish beads. Naturally, don't forget the cutlery either, make sure that they are all silver as well.
20. A Shiny Background – Great Silver Wedding Ideas
Make sure your silver wedding anniversary has a photo booth section for anyone who wants their pictures taken. A simple and easy design for a photo booth is a long piece of sheer fabric draped around a wall. To ensure your silver wedding anniversary is truly silver, even on the photos, make sure that the fabric you are using is sparkling silver.
21. Glowing Candles – Perk Up Your Anniversary
Your silver decor can't be complete without some glowing silver candles. Place your candles all around the venue of your silver wedding anniversary, use them as table centrepieces. Put them on silver plates for an even more gorgeous and classic effect.
22. Traditional Cake – The Best Part
If you are going to have a cake at your silver wedding anniversary and you'd like it to be more on the traditional side of cakes, make sure it still has a touch of silver on it! Wrap a silver ribbon around one of the tiers or decorate it with silver fondant roses. Your guests will not only love to eat it, but they will also have their breaths taken away by a cake like this.
23. Silver on Everything – Silver Wedding Decorations
It doesn't matter whether you are in love with the colour silver, and want a silver themed wedding, or if you are celebrating your twenty-fifth wedding anniversary and are in need of silver decor. You can use the colour practically anywhere, silver lace on your wedding cake, silver vases or silver suits on men. It's all great! Get creative and try using silver in as many decor elements as you can!
24. Small Figurines – Ideas for Your Cake
If you are going to be serving your guests some delicious cake at your silver wedding anniversary, decorate it with figurines. The wedding dress can be silver, representing the fact you have been married for an amazing time of twenty-five years.
25. Beautiful and Elegant Table Decor – Fine Dining
Bring an air of elegance and refinement to your wedding or silver wedding anniversary by using sparkling silver in the table decor. Your cutlery, plates, serviettes, and glasses can all carry an element of silver, highlighting the theme of the ceremony.
26. Number Your Tables – Useful Ideas
Arrange a seating plan for your guests at your silver wedding. This will make a lot of guests feel more comfortable, knowing they are sitting in a crowd of people you choose for them. Use wedding place cards and table numbers to make it a lot quicker and easier for them to find their way to their tables. Accentuate your table numbers with silver frames. These can also be used as a silver wedding centrepiece.
27. An Abundance of Balloons – Amazing and Fun
Make certain, that your guests know what event they have come to! Spell it out with silver balloons for them. Glue balloons together to get two large numbers: a two and a five. This way, everyone will know that it's your silver wedding anniversary.
28. Nostalgic Invitation Cards – Awesome Silver Wedding Ideas
Twenty-five years is a very long time. A lot of things change over a quarter of a century. But, if you're hosting your silver wedding anniversary, then one thing's for sure, your love hasn't diminished over the years. Invite your friends and family to your silver wedding anniversary by sending out two cards. One should be a card of the day you got married, the other one should be a picture of you two now. It will be interesting not only for you but your guests as well to see how you've changed over twenty-five years of marriage.
29. DIY Wax Paper Backdrop – Breathtaking Silver Wedding Decorations
Make your silver wedding anniversary venue special by making the decorations for it by yourself! For a great backdrop, check out our idea above! Cut wax paper up into small half-circles, and roll them up into cones. Attach the cones onto strings, and it will produce a stunning effect when you hang them from the ceiling. It will make your venue look like an enchanted castle.  
30. Fairy Lights in Mason Jars – Brilliant Silver Wedding Ideas
Create a magical atmosphere for your silver wedding anniversary with this idea! In countless mason jars place strings of fairy lights. Then place all these jars around various parts of your venue, you can use them as table centrepieces or simply place them in windows. These jars of brightness especially match the style of rustic or outdoor venues. 
Twenty-five years of being married are not something everyone gets a chance to experience, making it something you definitely want to celebrate. So for your silver wedding get creative and decorate your venue the way you want, with a whole tonne of silvery ornaments. We trust that these 30 stunning silver wedding decorations have helped you to find your own excellent ideas for your silver wedding.
Visit our website if you are looking for more inspiration concerning other wedding ideas, including wedding invitation cards or wedding thank-you gifts. Naturally, we have a whole variety of topics covering weddings, so feel free to browse!
Advert