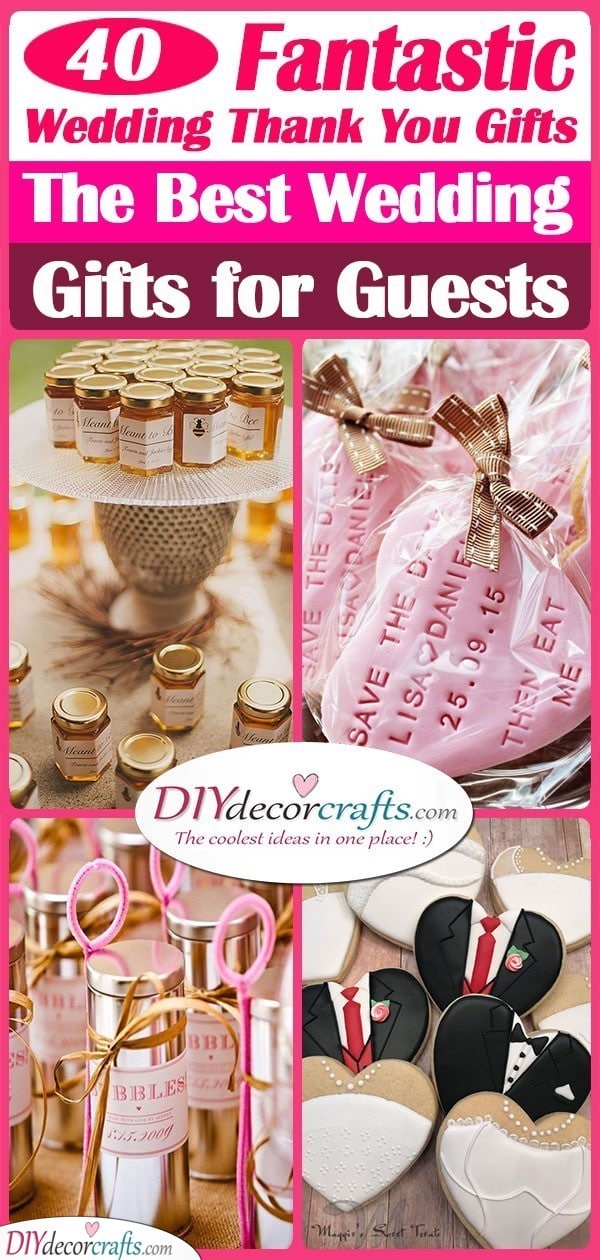 Wedding thank you gifts are a huge part of the ceremony. These are the gifts that the newlywed couple give to their guests, thanking them for being present and celebrating their big day with them. Wedding gifts for guests are usually piled on a separate table, so it's important that they blend into the theme and decor of the wedding. Of course, if you have the time and energy, you can get super creative and try making DIY thank you gifts, to show your guests how much they mean to you. If you don't have any idea about what sort of wedding thank you gifts you should give your guests, then go no further! Scroll down and you will find 40 fantastic wedding thank you gift ideas! As well as our whole array of wedding ideas.
1. Small Bottles of Champagne with Straws – Bubbly Wedding Gifts for Guests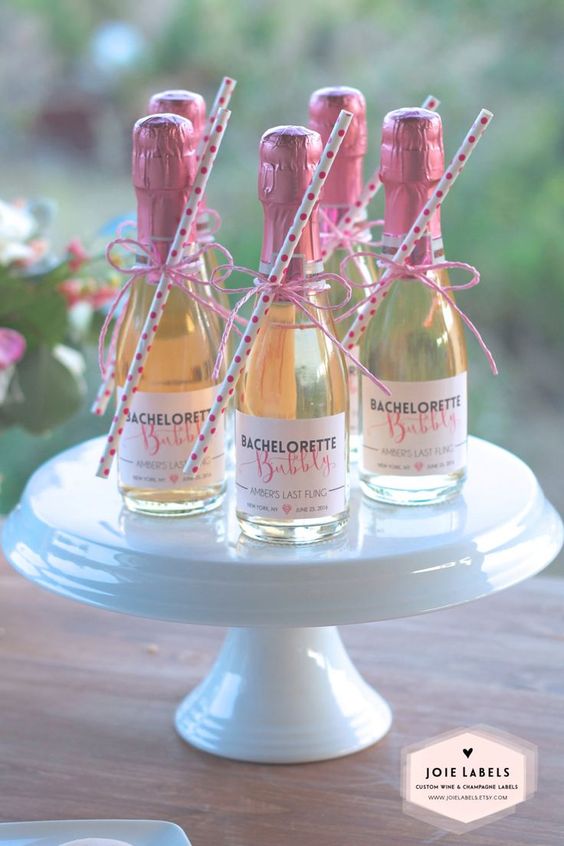 This is a super stylish idea, giving small bottles of champagne to your guests. The bottle should be labelled with the newlywed couples' names and the date of their union. Tie a colourful straw to the bottle to give it a cute vibe.
2. Sweeter than Honey – Great Wedding Thank You Gift Ideas
They say that love is sweeter than honey. Giving a small jar of honey is becoming more and more popular. You can decorate the jar with a personalised label. This is a refined and more sophisticated wedding thank you gift.
3. Let Out the Inner Child – Funny and Small Wedding Gifts for Guests
This idea was inspired by the feeling of "never growing up." Nowadays, it's not only children who love playing with bubble blowers but adults as well. This is a funny gift, it will make your guests feel young and free-spirited again. We don't even need to mention the fact, that everyone blowing bubbles will make the wedding photos look awesome.
4. Elegant Bites of Chocolate – Tasty Wedding Thank You Gifts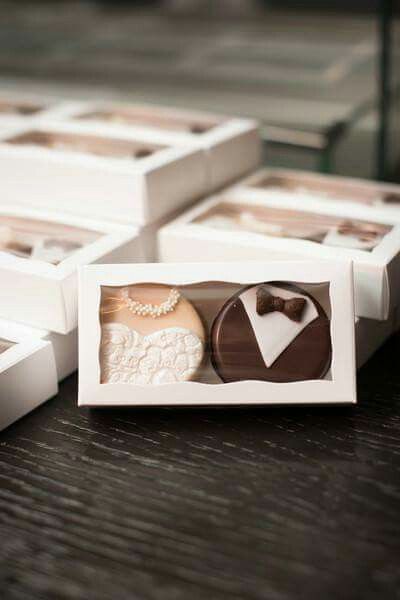 If you're searching for an elegant and exquisite, then you might like these two small chocolates that come in the form of a bride and groom. You can make this at home if you like to cook or bake. You can flavour the chocolates in any way you want. 
5. Nutella – Unique Wedding Gifts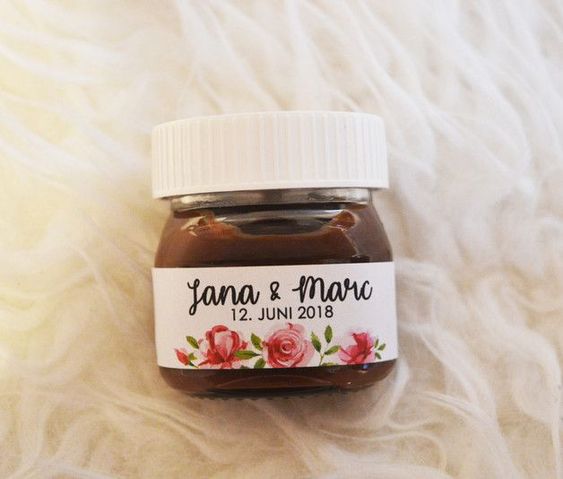 Who doesn't like Nutella? This unique thank you gift is a guaranteed success! All you have to do is spoon Nutella into smaller jars and glue on a label with your names and the date of your big day on it.
6. Snacks Wrapped in an Adorable Manner – Wedding Gifts for Guests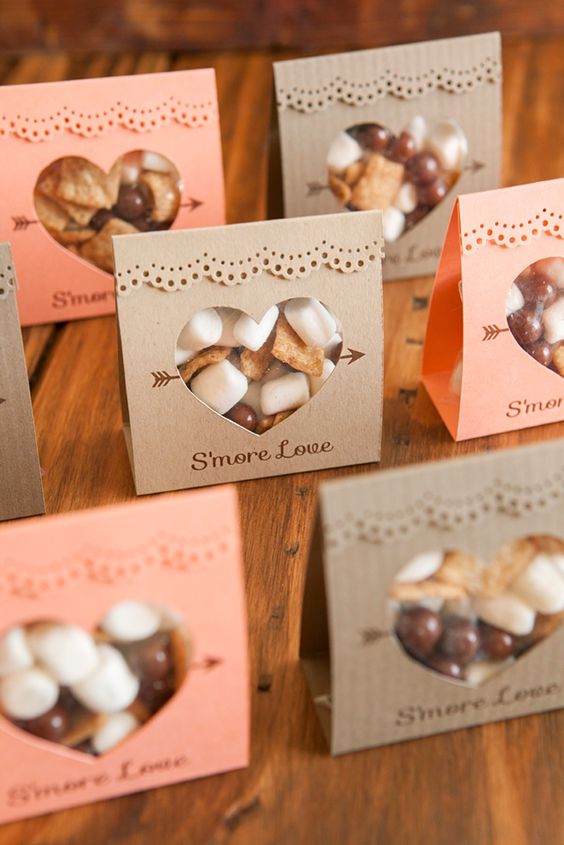 The emphasis is on the packaging involving this gift. The wrapping of the snacks can be colour-coded, for example using the same colours in the wrapping, as the same colours you use for your wedding decor. Decorate the small bags with lace, flowers, small decor stones or anything you want. Finally, write your names on it and the small package is already finished! You can put whatever you'd like in the small bag of goodies – sweets, chocolates or nuts.
7. Make Your Own Playlist – Wedding Thank You Gifts
If you would like to present your guests with a more personal gift, then this might be a great choice for you. Pick out a few songs, which define your relationship with your significant other, these may even be songs that are played at your wedding, and burn these onto a CD. It's a really great and unusual idea because everyone loves music. Whenever your guests want to remember what a great night they had at your wedding, all they will have to do is pop the CD into a player and listen to music.
8. Special Bonbons – Wedding Thank You Gift Ideas
Everyone loves sweets and desserts, making this is a great thank you gift. These handmade bonbons dipped in either dark or white chocolate, symbolize the bride and the groom. This is a truly elegant and creative idea and will definitely show well in see-through wrapping paper. By placing a sticker on the small package, you can write up the date of the wedding and the names of the married couple.
9. Elegant Macarons – How to Make your Guests Happy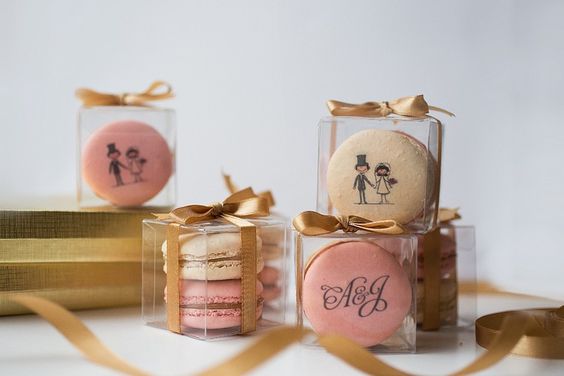 If you're going for a more elegant and girly atmosphere, then these macarons will be perfectly suited to your style. They are simple desserts but look really good. If you want something more special then you can decorate the macarons with your initials or any other sort of pattern.
10. Favourites as a Gift – Wedding Thank You Gifts your Guests Will Love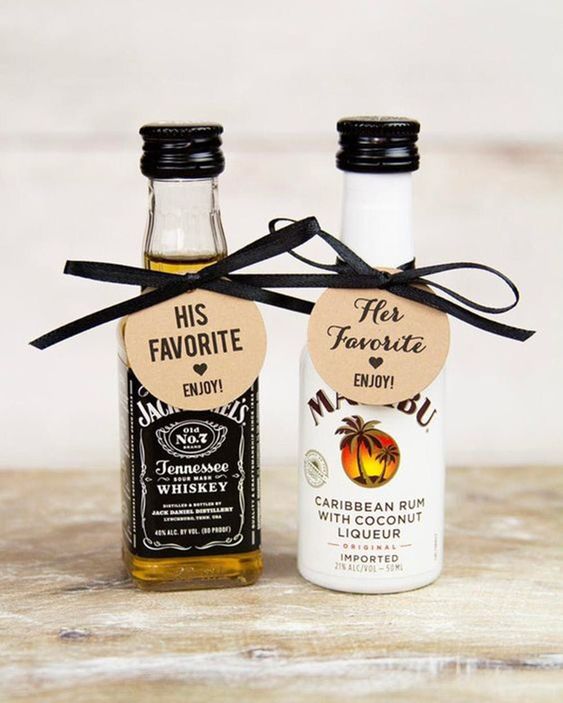 If you're looking for a chill thank you gift and you want to bring a smile to your guests' faces, then this is a great idea. All you need to buy are small bottles of you and your fiancée's favourite drinks. Then attach small labels to both, reading "His Favourite" and "Her Favourite".
11. Hangover Kits – A Reminder for the Next Day
This is certain to make all your guests laugh, but will actually be very useful during the next day when everyone is hungover. It's important not to put any painkillers in the small kit, as there will probably be children at your wedding. Maybe just pop some sort of candy inside that symbolises the pill. This will be appreciated by the parents at your wedding.
12. Candies in a Cute Suitcase – Great Wedding Thank You Gifts
This is a cute and creative thank you gift for couples who love to travel and are also thinking of using travel as the main theme in wedding decoration.