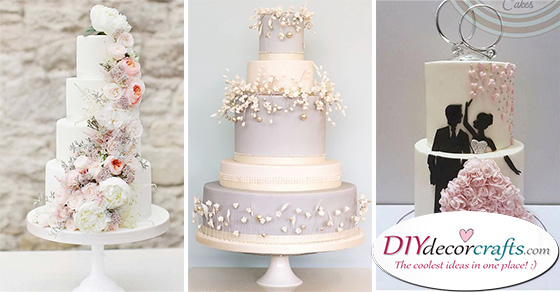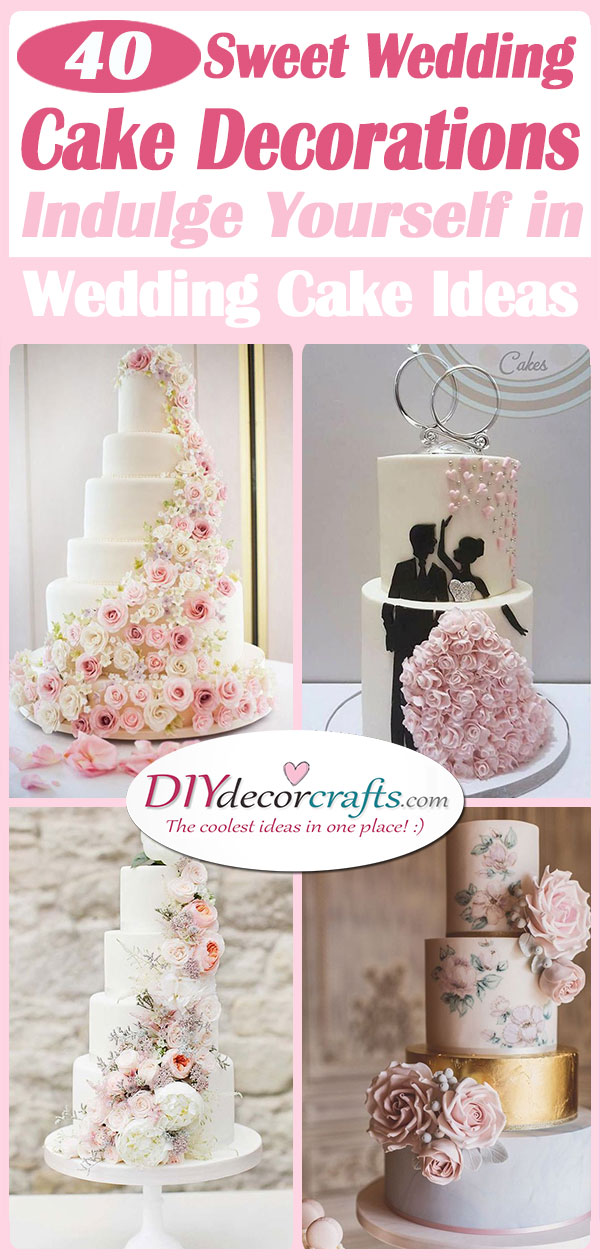 Getting married? Marriage poses a lot of important questions and decisions, you have to decide on so many things. So go ahead and check out our collection of wedding ideas. Where and when are you hosting your wedding? What sort of music should be playing? Do you need to invite that relative, who you've only seen once when you were still only a child? Should you involve your pets in the ceremony? So many questions! But you haven't even reached one of the most important ones, what is your wedding cake going to be like? A good cake has two crucial factors: heavenly taste and an exquisite look. In this post, we have gathered 40 great ideas concerning wedding cake decorations to make your job easier. It should be as easy as cake to find your perfect wedding cake ideas here!
1. A Tower of Flowers – Floral and Fabulous
Let's be real. Who wouldn't want their wedding cake to look like the one above? A cascade of flowers, blossoming down from the top, it almost looks like a secret garden. This cake has been decorated to look magical and enchanted. You can decide whether you want your flowers to be real or made out of fondant or marzipan. 
2. Grey Marble – Refined and Sophisticated
Add a modern effect to your cake by incorporating this stylish marble. Marble designs lend not only a modern factor to elegant wedding cakes, but they also give a sense of luxury and beauty. Add roses to a few tiers to make this look even better.
3. Couture Cake – Right Out of a Magazine
An incredibly glamorous option is the cake in the picture above. It looks as if has just popped out of a magazine. Each tier is decorated differently, in a unique and creative way. If this cake was described with a fashion lexicon, it would be talked about as the haute couture of beautiful wedding cakes.
4. Floral Decor – Romantic and Unforgettable
As a child, I would love to wander around in my grandmother's garden and collect various herbs and flowers. It's one of those nostalgic memories you keep in your heart for as long as you live. This cake brings back exactly that feeling, an array of flowers arranged beautifully on a cake. Maybe you have a memory that is close to your heart and would like to incorporate it in your wedding cake, adding the best and final ingredient – an essence of yourself.
5. Eclectic Cake – Wedding Cake Decorations
Maybe you want a few types of wedding cake designs to be present on your cake. Take a look at the cake above, the top two tiers have branches painted on them, while the tier on the bottom has a marble effect and is decorated with lace. It's a clash of styles, yet it creates a perfect harmony together. This cake may be a reflection of the wedding decorations used at the venue!
6. A Creative Timeline – Amazing Wedding Cakes
Are you thinking about decorating your wedding cake in a personal way? Well, show all your guests your story: when you first met, when you got engaged and when you got married. You can create silhouettes of yourselves with black coloured fondant and you can cut out the dates of these important days. Use these wedding cake images to tell your story!
7. Traditional White – Stick to a Classic Style
Perhaps you are going to have a wedding on the traditional side. A traditional wedding demands a classic wedding cake, so how about just decorating your cake with white fondant. On top of the cake, you can place marzipan figures of you and your partner.
8. A Compromise – Funny and Unique
Are you and your fiancée having trouble figuring out what flavour your wedding cake should be? Well, don't worry about it too much, we have the perfect solution for you. Why not merge two different flavours into one cake? So if you like white chocolate but your partner prefers dark chocolate, then make a compromise and make half the cake one flavour, the other half will be the other flavour. Use wedding cake figures to show who wanted which flavour. This cake decoration idea is guaranteed to make your guests amused.
9. Shades of Purple – Wedding Cake Decorations
Maybe you'd like to spruce up your white, classic wedding cake with a different colour?  How about purple? It's a regal and elegant colour and goes superbly with white. This will be even more perfect if you have used purple flowers in your wedding bouquet. Just take a look at the picture above, the assortment of purple fondant flowers makes the cake look absolutely beautiful.
10. Metallic Ribbons – Wedding Cake Ideas
A beautiful and impeccably detailed cake! Depending on the colour scheme of your wedding use the same colours for your cake decorations. Wrap metallic ribbons around the bottom of each tier to make it look superb. Then use the same coloured wedding cake flowers and place them on the very top. You might want to use your names or initials as wedding cake toppers.
11. Floral Elegance – A Plentitude of Flowers
Create a classic wedding cake, that won't only be delicious, but your guests won't be able to take their eyes off it. This is another great idea if you'd like to meld flowers to your wedding cake. Simple pearly coloured flowers will give your cake a natural wedding look. 
12. Satin and Burgundy – Refined and Beautiful
A material that provides timeless inspiration is silk. If you love the touch and the look of silk, then use it as a source of inspiration for your wedding cake. Take a quick glance at the picture above – the top three tiers bring a classic elegance of silk and satin. Then to take the cake to the next level, use a different colour, such as burgundy, for wedding cake decorations. This is a perfect mix of modern and classic.
13. Pure Beauty – Amazing Decor Styles
Let's be completely honest, this is the sort of cake that is too beautiful to cut up, not to mention eating it would be a sin! This cake creates a pearly effect due to the pale colours used to decorate it. Small flowers and bulbs have been placed around the tiers, making it look like a beautiful landscape. This is truly a beautiful, classic wedding cake.
14. Flickers of Silver  – Wedding Cake Ideas
Want to add a bit of uniqueness to your wedding cake designs? A great tip for anyone willing to try something new out is using edible silver or gold leaf flakes. Not only do edible flakes of silver and gold look super stylish, but they taste great as well. Your guests will be surprised after realising they have eaten a bit of metal.
15. Laced with Beauty – Make Your Cake Gorgeous
Are you a lover of traditional looking wedding cake designs? If so, this one might be perfect for you! Have each tier decorated with different patterns using buttercream or icing. You can create swirls, zigzags and all sorts of textures with the cream or icing, it's totally up to you.
16. Simple and Modern – Elegant and Effortless
This wedding cake is a stunning example of "less is more." You don't have to overdecorate your cake to achieve a gorgeous image. A simple combination of colours and the addition of a few wedding cake flowers will only help in uplifting your wedding cake. Make sure your cake matches the wedding table decorations, to create a sense of harmony in the wedding venue.
17. Lace and Flowers – Awesome Wedding Cake Decorations
Would you like to make your wedding cake look like an incredible and ethereal world? Then this is the one for you! Using fondant and loads of buttercream, you can create lace and flowery patterns on your cake. Each tier can be designed to look different yet similar. Use an ivory colour for all the wedding cake decorations to give it that true wedding vibe.
18. Romantic Waterfall – Whimsical Vibes
If you like the idea of a waterfall of roses tumbling down your cake, then why not use it for your own wedding cake? If your cake has any other sorts of ornaments decorating it (for example ribbons), then try matching the colour of the wedding cake flowers to those. 
19. Sent Straight from Heaven – An Angel in Disguise
This wedding cake is almost too beautiful to serve as food. It should just be used as a table centerpiece. Five or six tiers delicately decorated with a multitude of white wedding cake flowers is a sight to be seen.
20. Pretty in Pink – Wedding Cake Ideas
Perhaps the colour pink will be the main theme at your wedding. If so, match your wedding cake decorations with this colour. Anyhow, pink is the colour of love and harmony, so it's the perfect colour to use for a wedding.
21. A Modern Touch – Simple Wedding Cake Decorations
Cakes don't need to be all about sparkling and glittering. You can decorate your wedding cake in a more simple manner and still make it look gorgeous. Creating strings of buttercream or icing, running around in messy circles and swirls, can help do exactly this. This is a great example of a classic wedding cake.
22. Geometric Patterns – Interesting and Modern
Maybe you prefer geometric patterns over lacy or floral ones. If so, try sprucing up your cake with rose gold geometric ornaments. This will give your wedding cake a unique look that your guests will definitely remember.
23. Traditional Elegance – Wedding Cake Decorations
If you are going to have a more traditional wedding, then create this cake to complement the overall theme. For the wedding cake decorations, create small fondant pearls and flowers that you can attach to the tiers of the cake.
24. Elegant Lace – Wedding Cake Ideas
To create an elegant effect for your wedding cake use lace! With very delicate piping methods, you can make a beautiful lace effect with icing. Techniques such as these produce the most amazing wedding cakes.
25. Coffee Colour – Unique Hues for Your Cake
A beautiful and natural colour, with which to decorate your wedding cake is brown. The colour brown may hint that your cake tastes of chocolate or coffee, which might please your guests. Use fondant for your wedding cake decorations.
26. Rustic Feeling – Beautiful Wedding Cake Ideas
A rustic themed wedding would be in need of a simpler, less decorative cake. Take a look at the cake above, simple with a few flowers used as decor. This wedding cake idea is great for spring weddings, as the wedding cake flowers bring a sense of renewal to the cake.
27. Exquisite Lace – Wedding Cake Decorations
Just because you'd like a white cake, doesn't mean it has to be traditional. You can get as creative with white as you'd like, create interesting patterns with icing and buttercream. The picture above is a perfect example of this, it's an innovative cake with exquisite lace details. The lace almost reminds you of a mermaid's tail that is decorated with shells and pearls. Cakes such as these make elegant wedding cakes.
28. Pearls and Purple Flowers – Wedding Cake Ideas
As we mentioned before, purple wedding cake flowers bring a majestic quality to any sort of decor. In this case, we're talking about cake. With an arrangement of purple flowers, you will be able to sweep your guests off their feet.
29. Swirls of Cream – Dreamy Decorations
Have you ever noticed how the wind blows sand into lines that ripple like waves? You could stare at it for hours and it would fill you with a feeling of relaxation. Use these natural mesmerising lines as decoration on your cake. With a spoon or knife draw lines in the outer layer of cream. Decorate a few areas of the cake with flowers to make it even more gorgeous. This is another one of many beautiful wedding cake designs.
30. Only Orchids – Gorgeous Wedding Cake Ideas
If you're contemplating using wedding cake flowers, maybe you would like to use different flora. We highly recommend orchids, an exotic type of flower which is sure to present your cake with sheer elegance, no matter what colour you choose.
31. Blushing Flowers – Floral Decor
If you have been looking for simple yet gorgeous wedding cake decorations, look no further! This cake, with a diagonal arrangement of blushing flowers, will remind you of spring when everything is in bloom.
32. The Merge of Metallic and Vintage – Wedding Cake Ideas
Combining two sorts of styles doesn't necessarily always work out, but if you look at the cake above, you'll find that there are a few instances when it does. The combination of grey marble, gorgeous gold and vintage painted flowers present a chic and stylish look, making these amazing wedding cakes.
33. Album or Cake? – Creative Ideas
A unique way of expressing your love, through your wedding cake, is by decorating it with photos of yourselves. You can print edible images onto fondant, enabling your guests to eat a few pictures of you and your soon to be spouse. These wedding cake images will make your guests smile. Further, decorate the cake with roses. 
34. Boxes of Pearls – Wedding Cake Ideas
This is a great option for anyone who wants a square shaped wedding cake or unique wedding cake designs. Line the sides of the cake with small, fondant pearls. Place white flowers and their leaves between the tiers, after all, white and green are a perfect combination.
35. Fancy Decor – Wedding Cake Decorations
Make your guests feel as if they have just stepped into a fairytale with this cake! A lacy bottom tier with floral tiers above it, make this cake an elegant choice for any wedding. Amazing wedding cakes such as these ones carry an essence of refinement with itself.
36. Sophisticated Look – Elegant Wedding Cake Ideas
A wedding cake is a statement in itself. It expresses the couple's personality and also the wedding theme. So if you are aiming for sophistication and elegance, these are the best wedding cakes for you. Icing decorating the cake like chandeliers and ruffles of fondant make this cake truly beautiful.
37. Pure White Luxury – Beautiful and Delicious
The wedding cake above is another great example of using white flowers on a white cake. You can't really go wrong with wedding cake flowers.
38. Glorious Gold – Wedding Cake Ideas
Would you like to amaze your guests with something special you don't see every day? How about using gold for your wedding cake? Gold is a bold colour, so in order not to overwhelm your cake with this shade, only use it for one or two tiers. If you'd like, you can place you and your partner's initials as wedding cake toppers.
39. Wedding Rings – Top Off the Cake with This Idea
Rings are a symbol of love and marriage, so it would come as no surprise if you use them as wedding cake toppers. Depending on how you decorate the cake's layers, you can place two rings on the very top of the cake representing your love. 
40. Lilies and Roses – Wedding Cake Ideas
Another great alternative to using standard flowers are lilies. Mix white lilies with red roses to get a whimsical cascade of flowers swirling down your cake. Depending on your preference, you can create fondant lace or pearls for lining some of the tiers. This combo of lilies and roses will create beautiful wedding cakes.
As you'll remember your wedding day forever, you will also remember what sort of wedding cake was served at your wedding. It is not only the taste that is important but also the wedding cake decorations. Hopefully, you have found some inspiration amongst these amazing wedding cakes! For more wedding ideas, like wedding hairstyles for medium hair, just check out our website!
Advert