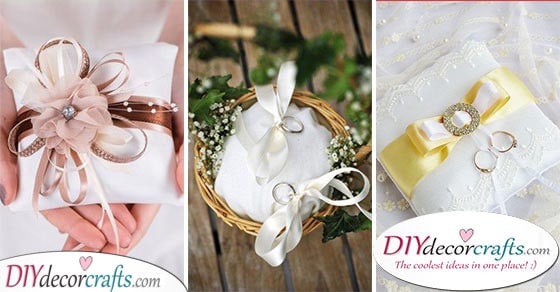 Is your big day just around the corner? Your wedding might be a day you have been waiting for since you were just a child. It's a celebration of love and you will want everything to be perfect on this special day. This includes the wedding decor, the cake, the place cards for guests, the dress, the food and the music. However, there is a smaller element in each wedding, which is just as important as the rest but seems to be forgotten a lot of the time. This is no other than the wedding ring pillow, on which the rings are brought out to the couple getting married. The shape, size, colour are all important on these little pillows. Look through our collection of 30 wedding ring cushions to find one which will be perfect for your wedding! Also, have a look through our array of wedding ideas! 
1. Heart Full of Love – Unique Cushion
What better pillow can you use as your ring holder, than a heart-shaped one? Depending on the theme and colours you use at your wedding, make sure the pillow is designed in the same way! To stop the rings from falling off the pillow on your big day, make sure to attach them to the cushion somehow.
2. A Mini Garden – Fantastic Ideas
Here is a fantastic idea to use as a wedding ring holder. A small box, filled with flowers and succulents and the wedding rings placed right on top of all this. This will create a beautiful image and will look perfect at a more earthy or natural wedding.
3. Lace on Lace – Beautiful and Elegant
If you are going to be hosting a wedding that is more on the traditional side, then make sure your wedding ring holder cushion fits into the same category. Use a standard, small pillow, which is delicately lined with lace.
4. A Cute Basket – A Great Alternative
A great alternative to a small pillow is a basket! Line the basket with a cloth and stick some flowers inside of it. Place the two rings inside. A basket is a great idea because it will guarantee that the rings don't fall out as they are being carried to the altar by the ring bearer.
5. Shades of Brown – Wedding Ring Pillow
Is your wedding decoration going to include brown, beige or coffee colours? Then make sure your wedding ring pillow incorporates them as well! Use ribbons that are in several shades of brown, and tie them on the pillow creating big bows.
6. A Piece of Art – Unique Ring Bearer
If you are looking for a unique design for your ring holder, this might just be it. A wooden block with two metal branches sticking out of it on which the rings can be placed. Decorate it with an array of flowers, you can even place a bird toy on it for a more stunning effect.
7. Simplistic and Sophisticated – Ideas for Your Wedding
Here is a beautiful wedding ring bearer, which screams simplicity and sophistication. Tie a ribbon around the pillow, create a bow to which you can attach your rings to. You can even place a brooch on this bow to give it an extra dazzle.
8. A Rustic Box – For Rustic Weddings
If you are planning on creating a rustic-themed wedding, then this little rustic box will be the perfect ring holder. Instead of a cushion, use a small wooden box, which you can decorate by lining it with lace. Boxes are good ideas if you don't want the rings to fall accidentally off the cushion.
9. A Heart Crown – Made Out of Flowers
Now here is something special and beautiful for bearing your rings. Create a big heart-shaped crown, made out of a plentitude of flowers. Tie ribbons to each side of it, out of which you create a bow joining at the middle. This is what you will be able to attach the rings to.
10. Gold Leaves – Beautiful Wedding Ring Pillow
Here is a simple, yet beautiful wedding ring cushion. A brown cushion with a dark brown ribbon running around it. Attach both rings the ribbon. For a finishing touch, add golden leaves as well to the cushion. This is just decor which will take your pillow to the next level.
11. A Gorgeous Shell – Straight Out of the Ocean
Are you going to be holding your wedding by the seaside? If so, why not use the ocean or sea as inspiration for your wedding ring cushion? A shell, made out of metal, which when opened will reveal the two wedding rings inside. You might even consider placing a pearl inside the metal shell, as a special effect.
12. Save the Date – Lovely Idea
You might like to put your wedding ring pillow away for the years to come, as a memento of your big day. If so, how about saving the date of your wedding on the pillow as well. Create a calendar-like month out of fabric, and sew it on the pillow. With red thread, sew a heart around the day you are getting married. This will be a great pillow to place your rings on!
13. Scrabble Letters – Creative and Unique
Make sure that your wedding ring pillow is unique and made in a creative way. You can sew the pillow yourself and attach a few scrabble letters to the pillow. Spell out something like "we do" which fits into the theme of the wedding. Place two safety pins in the pillow, on which you will be able to attach the rings to.
14. A Small Stump – With Holes
If you are hosting a rustic or bohemian wedding, a great idea for a ring holder is a small tree stump. Cut two holes in the inside, in which you can slip the wedding rings. You can write the initials of the soon to be wedded couple's names next to the holes for the rings.
15. A Beautiful Pattern – For Your Wedding Ring Holder
If you have decided to stick to a standard wedding ring cushion, make sure to decorate it beautifully. Create a pattern on it, using some thread and your sewing skills! You can create a field of flowers and plants, sew some hearts on the pillow, etc. This will look beautiful!
16. Gorgeous Lace – Simple and Beautiful
We have already mentioned using a simple lace pillow for your wedding rings if you are hosting a more traditional wedding. Tie a ribbon around the pillow to create a simple yet beautiful look for your cushion. Make sure the colour of the ribbon is the same colour you use for other decor items at the wedding.
17. A Rustic Vibe – Wedding Ring Bearer
Here is another cute pillow for your wedding rings. Using linen as the fabric for the pillow will create that rustic vibe you might have been searching for. You can have the pillow embroidered with your initials and the date of the wedding.
18. A Floral Look – For a Spring Wedding
Are you going to be holding your wedding during the spring? If so, why not make your pillow shaped to look like a flower. You can achieve this by sewing strands of fabric on other strands. Tie a bow in the middle of the pillow to attach your rings to later on.
19. A Small Plate – With a Touch of Nature
Using a small ceramic plate for your wedding rings is a great alternative to a pillow. Place a selection of plants on it, including flowers and succulents. This will give your plate a beautiful and earthy look.
20. A Cute Cushion – Wedding Ring Holders
Here is another classic pillow, perfect for traditional weddings. Lined with white lace, containing hints of gold, give it an elegant and fancy glow. Tie a gold ribbon around it, to which you will be able to attach the wedding rings to later on.
21. A Horseshoe – A Unique Alternative
Here is another fabulous alternative to a standard wedding ring pillow. A horseshoe! If you and your partner love horses, make sure to use this as the ring bearer at your ceremony. Decorate the horseshoe with ribbons and flowers to which you will be able to attach your wedding rings.
22. Names on Lace – A Beautiful Pillow
A fantastic idea for wedding ring pillows is to have you and your soon-to-be-spouse's names written on the pillow. Further decorate your pillow with some beautiful lace, covering it fully in it. You can even write up the date of your wedding next to your names!
23. In a Rose – The Perfect Ring Bearer
There is no flower more romantic than a rose. So it would only make sense to use a rose as your ring holder at your wedding, especially if you are going for more natural vibes. You can use an artificial rose, which might be better for holding your rings safely inside its cup. Using a rose is a beautiful way of presenting the wedding rings to the couple at the altar. This rose will look amazing next to a wedding bouquet filled with roses.
24. A Glass Terrarium – Modern and Natural
Use a geometric terrarium as your wedding ring holder! Place succulents or flowers inside, on which you can place the rings. This wedding ring holder is perfect for weddings which have an earthy theme but a modern twist on them at the same time. This ring bearer is definitely stunning and unique!
25. A Wooden Ring Cushion – A Great Idea
If you are going to be embracing and earthy and natural vibe at your wedding, make sure to use it in every element of your wedding. This includes the wedding ring holders. Create small wooden boxes, with holes inside of them. Fill the holes with flower petals or tree leaves, before placing the wedding rings inside. This is an absolutely stunning way of presenting the rings at a wedding!
26. Say Yes – Decorate the Cushion Yourself
Create your own ring pillow for your wedding! Decorate it yourself with fabric paint, writing up your names and the date of your big day. Also write a huge "yes" on the pillow, which alludes to both of you saying these important words after your vows. Sew a ribbon onto the pillow as well, to which you will be able to attach the wedding rings. Decorate the pillow further with flowers or hearts with fabric paint!
27. A Fluffy Cloud – A Natural Essence
Have your wedding rings brought to you on a little fluffy cloud. Use cotton wool for the cloud, then wrap a ribbon or a piece of felt around this piece of cotton. You can cut holes in the ribbon or felt, to stick the rings into. Place flowers or small vines into the wool as well, to give your cloud an even more beautiful essence. This is definitely a beautiful way to have your rings brought to the altar.
28. Beautifully Sewn Flowers – Wedding Ring Pillow
Get creative with your wedding ring cushion! Sew flowers to decorate the top of it. You can use any sort of fabric to achieve this with. There are many sorts of flowers shapes you can create with fabric and thread, so try finding your favourite ones! You will be able to place the rings inside of the flowers or on their petals.
29. Rustic Wooden Ring Holder – Gorgeous and Earthy
Here is another beautiful idea on how to use wood as an alternative to a pillow. A small slice of a log, with the names of the happy couple engraved into it, as well as the date of the big day. You can place a bit of moss in the middle of the slice of wood, with your rings on top of it!
30. Sand in a Shell – Beautiful Nature
Are you hosting your wedding on the beach? Use a shell as your ring holder. Fill it with sand before sticking both rings into it. This is a truly beautiful way of incorporating the environment around your wedding into the wedding ring holder.
Hopefully, you were able to find a bit of inspiration amongst these ideas. For more inspiration for weddings, like wedding napkins or wedding thank you cards, just visit our website!
Advert