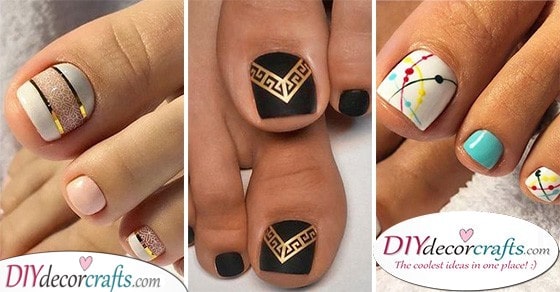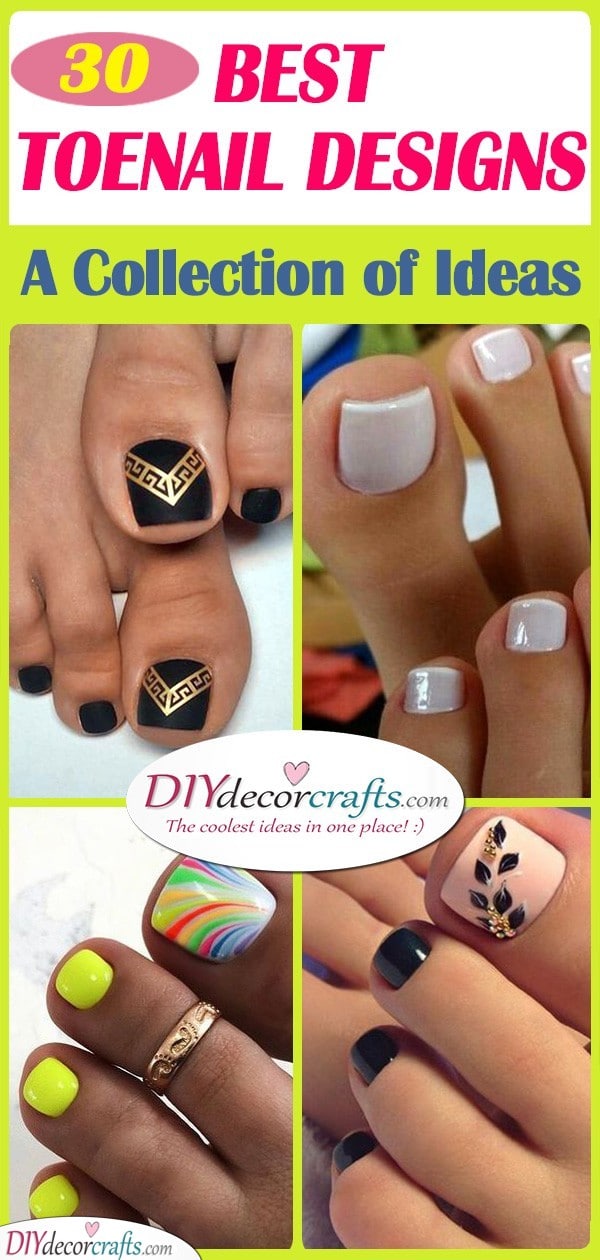 There are so many small details on our bodies, which we would like to be perfect. Especially if we are going out somewhere! This includes doing your hair up beautifully, choosing the right clothes, making sure your makeup is on fleek and last but not least, your nail designs! If it's summer, you might like to paint your toenails as well! It will give you an extra boost of colour you didn't even know you needed! We have collected 30 cute toenail designs just for you and we hope that you will be able to find nail inspiration amongst them!
1. Glowing With Glitter – Pink and Gold
Stay classy and elegant with a simple, yet gorgeous design. Firstly, coat your nails in a shade of pale pink or nude. Then add sprinkles and specks of a gold glittering polish to your big toenail. This is a perfect pedicure design if you want to show off your feet a little!
2. An Ancient Design – Exquisite and Exotic
If you like the designs of pottery found in Ancient Greece or Rome, you will definitely love this toenail idea! Each and every one of your toenails coated in matte black polish, with an exquisite gold pattern decorating both of your big toenails. These golden patterns should be reminiscent of decorative motives you'd find in ancient culture.
3. A Simple Elegance – White, Pink and Gold
Combine the colours of white, gold and pink on your toenails to get something absolutely stunning! You can create floral designs on parts of your toenails, leaving the other half white, with golden lines dividing the two. This is a perfect design for any time of the year!
4. Pink and Purple – A Superb Combination
If you love the colours purple and pink, make sure to use them in your pedicure design! Paint all your toenails in a shade of matte purple, except for the largest toenail, which you should leave coated in matte pink. Decorate the cuticle of your big toenail with small purple jewels. This nail design is guaranteed to look astounding!
5. Blue Hearts – Cute Toenail Designs
Now, this toenail design has real beach vibes! So if you are going to be hitting the seaside this year, make sure that you and your toenails look your best. Coat your toenails in a turquoise hue, all except for your big toenails. Leave these white, then paint hearts on them, which are mixed with turquoise and deep blue.
6. Stunning and Sparkling – Modern Beauty
Here is a toenail design that embraces the essence of modern beauty. Coat your nails in pearl and golden shades of nail polish. Make sure your big toenail is covered with a pearly colour. Then paint two golden lines crossing through your nail. This will give it an extra burst of beauty!
7. Deep Colours – Shades of the Night
If darker and deeper shades of colours are your cup of tea, why not use them in your toenail design? Paint them in a dark shade of blue, which resembles the night sky. You can add golden jewels or stones to your big toenail, in order to really bring out the colour. This toenail design is perfect if you want to show off a bit, as it will definitely give your feet an elegant and lovely glow.
8. A Rainbow Burst – Vibrant Colours
If you love vibrant colours, you will love this one of many fantastic pedicure designs! Paint your four smaller toenails in a sunny yellow, vibrating the energy of the sun. On your big toenail, create a burst of a rainbow, using all the vibrant colours you can find to achieve this. This toenail design is perfect for summer days, especially if you are going to be hanging out at the beach!
9. A Simple Touch – Gorgeous Pedicure Designs
If you aren't looking for a design which is too fancy or too colourful, why not try out this idea? Coat your toenails in a simple shade of grey. Then add a thin white line to the top of each nail. While simple, this toenail design is effortless!
10. Superb Swirls – Silver and Purple
Combining a deep, mysterious purple with a glowing silver is a fabulous idea! Coat each of your toenails in a darker shade of purple, adding silver swirls to a few of them! This pedicure design is going to give your feet a beautiful look!
11. Small Blossoming Flowers – Cute and Bubbly
Do you like walking on the streets during the springtime, which are filled with blossoming trees? Flowers are blooming everywhere and you can feel a sense of rebirth happening around you. Use this scenery as inspiration for your toenail design. Try painting small and detailed flowers on your big toenail. Leave the rest of your toenails coated in either a shade of pale pink or white.
12. Adorable Polka-dots – Cute Toenail Designs
If you adore polka-dot designs, you will love this toenail idea! Coat your nails in two colours, one white and the other can be a colour of your choice. Add white polka-dots to your coloured toenails. While this is a simple and easy pedicure design to create at home, it will give you a fun and happy glow!
13. A Lovely Rainbow – Cute Toenail Designs
Use a variety of colours to create a rainbow. Paint each one of your nails a different colour from the spectrum except for your big toenail, which you should coat in white. Then add small dots and blobs of colour to your white toenail giving in a colourful and vibrant spark!
14. Pink and Blue – Pedicure Nail Designs
Here is a look of simplicity and modernity. Paint each nail half baby blue, half pale pink. Add a silver line, dividing them in the middle. While this toenail design is simple, it definitely bears an essence of elegance.
15. An Edgy Matte – With a Hint of Gold
Do you prefer an edgy and cool look to your clothes and accessories? If so, you might like this toenail design. Paint your nails in a matte black, all except for the big toenail on which you can include a patch of matte purple. Then paint a thin line of gold, dividing the black from the purple. This will give it an extra edge.
16. A Bit of Abstract – Creative and Unique
To decorate your toenails in a unique and creative style, you will have to find an interesting pattern. After painting your nails in a simple coating of colour why not draw abstract lines running across your biggest toenail? Use different shades of nail polish to achieve a true abstract look for this nail.
17. Geometric and Modern – A Funky Look
Geometric patterns have become super trendy nowadays. Use them as inspiration for your toenails as well! Create triangles and diamond shapes, using black nail polish over a light pink. Using geometric patterns to decorate your nails and toenails with is a perfect look for a festival or party you might be attending.
18. A Lotus Flower – Perfect Toenail Designs
Using different types of flowers for inspiration is a fantastic idea when it comes to nail designs. If you have always admired the lotus, why not use its simple shape for your toenails? Paint the petals of a lotus on both of your big toenails. Decorate the rest of your toenails with small jewels or stones.
19. Flowing Colours – Cute Toenail Designs
Create a flow of colours on your toenails. Use shades of blue and green, first coating some of your nails in simple shades of these. Then create swirls of these colours on your remaining nails. These nails will look like pieces of art! They are perfect for any time of the year, but best for summer! The swirls of blue and green definitely give off ocean vibes!
20. Bedazzled and Beautiful – Purple Toenail Ideas
Purple is a majestic colour, and it will look beautiful during elegant or fancy events! If you like this colour, why not paint your toenails in a coating of it? Add some stones and jewels to your big toenails in order to give it an extra glow.
21. An Essence of Nature – Pedicure Nail Design
Perhaps you love being in nature when you have a bit of free time. If so, why not use a few natural elements to decorate your nails with? Coat your toenails in a pale shade of pink, then draw the silhouettes of branches and leaves on them with white nail polish. This will definitely give your toenail design an earthy and natural look!
22. A Floral Pattern – With a Modern Twist
Floral patterns are definitely the way to go if you are in search of something more elegant and feminine. But to give it a little bit of edge, paint the flowers in a modern style. You can even insert some jewels or stones on the flowers. It's up to you on what sort of colours you would like to use. We recommend using a combination of black, pink and gold.
23. Dots and Lines – Abstract Toenail Ideas
If you are an admirer of the abstract arts, you will love this pedicure nail design. To create this abstract look on your nails, coat some of your nails white. Draw different coloured lines and dots on the nails. the lines don't have to be straight, they can be curved or wiggly. You can feel free to get creative with this idea!
24. Blossoming Flowers – A Gorgeous Purple
Here is another floral idea if you haven't found the right one yet! Paint beautiful flowers on your nails, coloured in a deep shade of purple. You can attach small jewels and stones to their stems. If you decide to leave one or more of your toenails in a simple coating of polish, make sure that it's the same purple as the flowers!
25. Modern in Monochrome – Flowers and Leaves
Using black and white together will give your nails a modern look! Coat some of your toenails in black polish, the others in white. Leave the black as they are while painting black leaves and flowers on the white nails. These silhouettes will look awesome as pedicure ideas!
26. Pretty in Pink – A Timeless Look
Here is a timeless look as your pedicure nail design! Coat your nails in a natural colour, either a paler pink or a nude. You don't need to do much after this! Further, decorate the big toenails with small stones at the cuticles. This will give your toenails a natural but special glow to them!
27. Hot Pink – Fun and Glamorous
Are you in search of a more girly and fun toenail design? Then you might like this hot idea! Coat your smaller nails in hot pink polish and cover your big toenail in matte hot pink. You can add a bit of silver glitter to the cuticle of your big toenail. This is a great look for any sort of party you might be heading to and would like to show off your feet!
28. Black and Bold – Cute Toenail Designs
Black is a timeless colour that goes well with anything, not to mention it brings a mysterious elegance with itself. So make sure to use black in your toenail art! Coat your toenails with glossy black lacquer. You can add small stones or some form of glitter to the cuticles of the toenails for an even more gorgeous effect.
29. A Glow of Red – Seductive and Sexy
If you would like to add a hint of seductiveness and sexiness to your toenail design, look no further. Coat your nails in a deep shade of red. You can create some to be glittery but you can also paint small hearts on a few of your toenails. This is a perfect pedicure for Valentine's Day!
30. Cherry Blossoms – Gorgeous Pedicure Ideas
Capture the essence of spring on your toenail design! Paint a few cherry blossom branches blooming. Paint the rest of your nails in the same colour of pink you use for the cherry blossom flowers. This is a great nail look for spring!
We hope you found cute toenail designs for any special event or occasion you might be going to or hosting. For more nail ideas, like cute nails for kids or nail designs for short nails, visit our website!
Advert