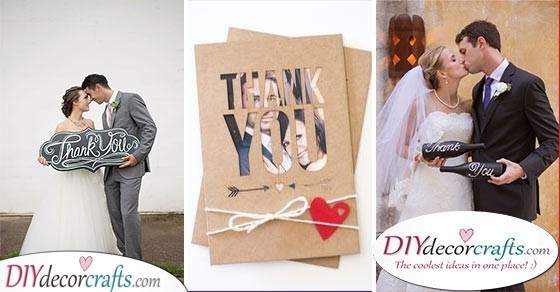 You will remember your wedding day as one of excitement, happiness and love. Everyone who is important to you will be there to support you throughout the ceremony. So make sure they know how grateful you are to them for standing by your side with these wedding ideas! We have gathered 30 personalised wedding thank you cards, which will hopefully help you in expressing your thanks to the guests. So don't hesitate any further and dive into our collection of photo wedding thank you cards!
1. A Chalkboard Thank You – Great Gratefulness
A great way of saying thank you to all your guests for showing up to your big day is by taking a photo of you and your beloved. Together, holding a blackboard in your hands, which has "thank you" written on it in chalk, take a shot of this. You can send this picture to all your guests after the wedding.
2. Divine Elegance – The Best Thank You Cards
If you'd like to send out photos as a thank you card, then this one might have been made for you! Rose gold foiled see-through cards hanging above your picture will give your wedding thank you cards an amazing elegance.
3. Feel the Love – Brilliant Banner Idea
Here's another great photo wedding thank you card idea! With your spouse, hold a string of banners which spell out "thank you", then take a picture of this. Then naturally, send it to all the guests who were present on your big day. 
4. A Rustic Card – With a Touch of Nature
Make sure your wedding thank you cards are representations of what theme and style the wedding was like! If you had a rustic or more nature-themed wedding, this thank you card will be perfect for you! Send out cards to everyone, with a sprig of rosemary or lavender attached to them. If you would like to get really creative, you can try out fingerprinting the card, as if forming a few flowers. One fingerprint is yours while the other is your spouse's.
5. A Bundle of Pictures – Awesome Thank You Card Ideas
If you like the idea of sending a few photos as a thank-you card, why not do it? Find some photos taken of you and your spouse on your wedding day, and attach them together. Remember to attach a big thank you note in front of the photos.
6. Postcard Effect – Lovely Wedding Thank You Cards
If you had an old-fashioned vintage wedding or a rustic one, make sure your thank you cards express this same style! Design your own postcard, using a picture of the happy couple on the front, with the words "thank you" decorating it as well. Make the back of it look like a postcard, where you can write a more intimate thank you to your guests.
7. A Modern Style – Thanking Your Guests the Best Way
Go for something more simple and modern with this awesome idea! You'll need a photo of you and your spouse, which is in the background of the card. Then place a "thank you" over the top of this photo, just like in the picture above. You can write a small message underneath, for example, "thank you, for being a part of our day" or "thank you, for being there with us on our big day."
8. Vintage Vibes – Thank You Card Ideas
Design and decorate your wedding thank you cards to look fun, vintage and quirky! Cut out the words "thank you" on a sheet of paper, you can draw some hearts around the thank you. Then put this sheet of paper above one of your wedding photos, so your faces are visible. Tie the photo and the card together with a string of yarn, and voila! Perfection!
9. Relive the Moment – A Thank You CD
In our modern days, we have to resort to using modern technology! So there's no better idea than using a CD or a USB as an alternative to a thank you card. You can not only put pictures and video footage of your wedding on a CD, but you can also add a short thank you note. Your guests will be able to pop the CD into their computer any time, to relive the moment of your wedding day!
10. Simple and Sophisticated – Personalised Wedding Thank You Cards
Sometimes it's best to keep things simple and clean, as less is sometimes more! Select your favourite picture of you and your spouse, and write up a thank you along with your names. Even though it's simple, it still has an air of sophistication!
11. A Collection of Photos – Perfect Thank You Card Ideas
Express your thanks with a whole collection of photos arriving in an envelope! Your wedding guests are guaranteed to love these. Naturally, place photos of the newlyweds in the envelope, but you can also include photos of the guests. For example, if you're sending thanks to your best friend, make sure to include a photo of them in the envelope as well!
12. Creative Collage – Photo Wedding Thank You Cards
If you're looking for an elegant and unique way of expressing your gratefulness to your guests, you might have just found the right one! Design a collage out of your favourite wedding pictures and of course, don't forget to write a thank you somewhere in between the pictures.